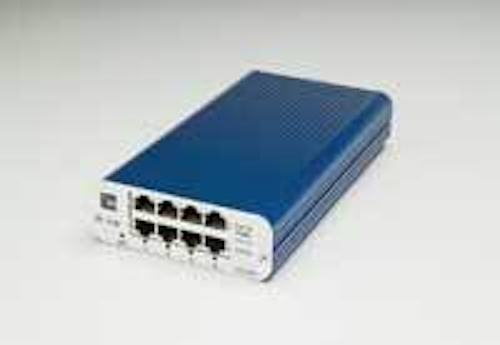 A recent report from market research firm Venture Development Corp. (VDC; www.vdc-corp.com) contends that, since the inception of the IEEE's (www.ieee.org) 802.3af Power over Ethernet (PoE) standard defining the ability to power network devices over the existing data wiring, the PoE market has established firm roots-and, in fact, may be on the cusp of significant growth.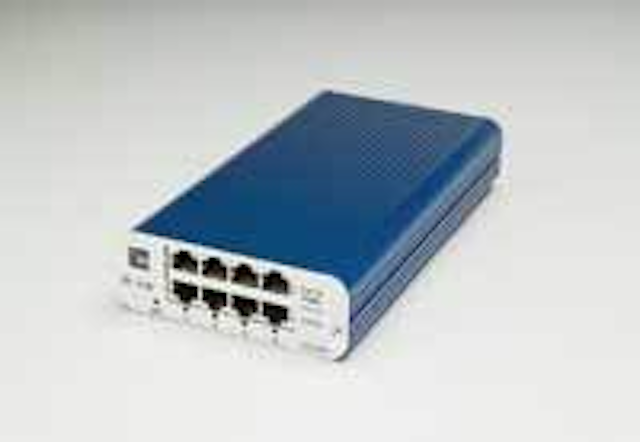 While endspan power sourcing equipment (PSE) is on the rise, the market for midspan technology--such as this compact four-port TrueNet PoE controller, from ADC--is expected to escalate sharply over the next two years.
Click here to enlarge image
Representatives from two of the industry's main suppliers, Israel-based PowerDsine (www.powerdsine.com) and data networking provider Belden-CDT (www.beldencdt.com), concur. "I think that at this point in time, with the IEEE standard having been ratified since July 2003, the folks in the marketplace that were saying to themselves, 'we'll sit on the sidelines and wait to make sure everything works with this technology'-I think there's very few of those folks left," offers Lance Rasmussen, Belden-CDT's director of sales and marketing.
"I think that most end users are accepting of the technology, and as new applications come along for them on their sites, they're willing to go forward with it without any sort of disbelief," Rasmussen adds.
The 802.3af standard specifies the operation of two different types of Ethernet power-sourcing equipment (PSE)-endspan and midspan-as well as the operation of powered devices (PDs) for end-user applications. The present standard accounts for delivery of 15.4 watts per port at a nominal 48 volts direct current (DC) over UTP wiring, including Category 5, 5e, and 6 media, as well as patch panels, outlets, and connecting hardware.
Endspan PSE is comprised of a Ethernet switch chassis with embedded power supplies for delivering both power and data. The 802.3af standard allows endspan PSE to supply power on either the 1-2 and 3-6 pin-pairs, or on the 4-5 and 7-8 pairs; endspan devices are compatible with 10Base-T, 100Base-TX, or 1000Base-T data transmission.
Midspan PSE involves standalone hubs or patch panels residing on a network between the PDs and existing, non-powered switches or routers. Under the present standard, midspan devices can only use the 4-5 and 7-8 wire pairs to carry power; the 4-5 and 7-8 pairs can't be used to route data traffic through the midspan PSE. Also under the present IEEE PoE standard, midspan PSE doesn't support 1000Base-T transmission.
"Especially in the last six months, a continuous trend has really accelerated, [this being] the introduction of more and more PoE switches to the market," maintains Igal Rotem, CEO of PowerDsine. Rotem reports that, for his company, the penetration of endspan PSE to the switching market in terms of ports shipped so far is about 15% for 2006, with overall penetration expected to reach approximately 18% by the end of the year.
"A reasonable number would be maybe 45 million ports to be shipped this year," he continues. "Last year, that number was around 28 to 29 million ports, accounting for about 10% of PoE penetration. I think we will continue to see this trend, with the anticipation that, within a few years, penetration of PoE will exceed 90-plus percent."
The VDC report, Power over Ethernet: A Global Market Demand Analysis, also sees a steady rise in the market for endspan PSE. Since the 802.3af standard's ratification, the analysis sees worldwide port shipments of 85 million in 2005, rising to 140 million in 2006 and reaching 175 million for 2007.
"The major reason why endspan is ramping so fast is the fact that the premium on PoE switches compared to non-PoE switches came down to, I would say, below 20%," judges Rotem. "Many companies are saying, look, if I'm going to invest in your switch, then with the same rationale for why I'm considering buying a Gig switch versus a 10/100 switch, I'll buy a switch with PoE. Such switches are future-ready, with a standards-based configuration, allowing customers to know that when they deploy voice over IP or wireless LAN, or any other technology that utilizes PoE, the switches are capable of providing this basic and mission-critical function."
Nonetheless, the VDC analysis also projects steady growth within the market for midspan PSE, which is seen escalating from 3.25 million ports shipped in 2005 to 4.95 million ports in 2006 and 8.1 million in 2007. Significantly, the report contends that the 28:1 ratio of endspan to midspan port adoption for 2005 and 2006 will fall to a ratio 22:1 in 2007.
Why such optimism in the forecast for midspan PoE deployments? "The variety of products that are going to be emerging will take PoE, but not necessarily IEEE standard-style PoE," submits Belden-CDT's Rasmussen, who notes that while the PoE market initially saw demand based on the powering of devices such as IP phones and wireless access points, the future for PoE applications promises to be "much broader."
Rasmussen adds, "Endspan is one specific tool-midspan is like the Swiss army knife of PoE. The standard can only take a snapshot on a given day and say, ''OK, this is what we can account for on this day, and that's great. But to act like a product is non-standard that somehow you shouldn't use it, I think, does a disservice to the end user-because there's a huge variety of products that are non-standard, and they work perfectly for what the end-user needs them to do."
The VDC survey asked product manufacturers across a range of technologies to rank additional devices that are suitable for PoE applications but that have voltages differing from the IEEE-standard 48 volts and 15 watts specified for endspan PSE. Such 24-, 12-, or 5-volt PDs can include IP-based network security cameras, RFID tag readers, thermostats and smoke detectors, print servers, bar code scanners, alarm systems and sensors, security access controls (such as badge readers), stage lighting and lighting controls, industrial clocks and timekeepers, and in-flight entertainment systems.
This wealth of application possibilities is "going to drive the need for midspan products with mix-and-match capability and the ability to power different types of PoE protocols, even from the same chassis," says Rasmussen. "An endspan switch will never have that capability-it'll only [support] one PoE style for that one particular powered Ethernet switch."
In contrast, PowerDsine's Rotem claims that his company has recently seen a decrease in the number of midspan ports being shipped. "Midspan was created as an interim solution to allow customers that already have switches, but now need PoE functionality to upgrade their networks with PoE functionality without replacing the switches," he explains. "But as we move further along and the availability of switches with PoE is there-and the premium that people have to pay is becoming smaller and smaller-I would say the barriers for customers not to upgrade their networks are becoming less and less. And, therefore, we see some decline in the number of [midspan] ports shipped."
What about the standard-based limitation placed upon midspan PSE in terms of support for 1000Base-T Gigabit Ethernet devices? "Gigabit support is available in midspan today," insists Belden-CDT's Rasmussen. "It's in our 6000 series that has 8-port modules. The way the technology works, the data is on wires 1,2,3, and 6, and the power is super-imposed over the data wires-also on 1,2,3, and 6. That technology's been proven already for data and power on the same pairs, because that's the way that endspan operates today."
Rasmussen continues, "We took that same technology, super-imposing power over the data wires, and we're doing it in this Gigabit application. You might say, 'that's a non-standard product'-and you'd be right. But the 802.3af standard doesn't account for 1,000-Mbit support. We make both standard product and lots of non-standard product, and customers buy the non-standard product because it works to support their applications."
In terms of standard compliance and the limitations therein-whether perceived or actual-another crucial factor expected to positively impact the future uptake of both endspan and midspan PoE technology is the pending approval of the IEEE's 802.3at, also known as the "PoE plus" standard. Representatives from PowerDsine and Belden-CDT occupy seats on the IEEE P802.3at DTE Power Enhancements task force (www.ieee802.org/3/at/public/index.html), a committee charged with extending the 802.3af standard's specifications for power delivery and port-level resiliency capabilities, to further extend the number of applications that may benefit from PoE.
"The new standard was created in order to allow much more power to be delivered per port," confirms PowerDsine's Rotem, noting that the 15.4 watts per port provided in the existing IEEE 802.3af standard is not sufficient to support higher voltage applications, such as Wimax transceivers, laptop computers, thin clients, security cameras with IPTV capabilities, biometrical sensors, and "high volumes" of other devices that require more power.
"The range of power that we believe eventually will be approved is somewhere around 45 to 50 watts per port, or three times more power," says Rotem.
But will the eventual ratification of the PoE Plus standard provide an equal boost for both endspan and midspan PSE? According to Rotem, "Absolutely, because what will happen is that the total available market for PoE will go up dramatically, mainly for end devices. Timing for potential ratification is end of '07, maybe Q1 '08, but I think that the major goal is end of '07 to ratify."

-Matt Vincent
---
Short runs…
MOUNTAIN VIEW, CA
-The Ethernet Alliance (www.ethernetalliance.org) says it has formed subcommittees chartered to support IEEE 802.3 standards development. The 10G EPON (10-Gigabit Ethernet Passive Optical Network) subcommittee will support the IEEE's recently formed 10G EPON study group, while the 10GBase-T (10-Gigabit Ethernet over twisted-pair cabling) subcommittee will support interoperability demonstrations. The Alliance hopes to support development of technical proposals for the creation of a 10G EPON standard, which will support delivery of advanced video services, gigabit-capable home networks, and high-bandwidth connections to multi-tenant and multi-dwelling units. Meanwhile, the 10GBase-T subcommittee seeks to support the development of interoperability and conformance test suites, technology whitepapers, and technology demonstrations for a standard that was on track for ratification last month.
NEW YORK CITY-High-performance WLAN infrastructure developer Extricom (www.extricom.com) has unveiled its TrueReuse technology, designed to achieve 3x increase in channel capacity in a limited space. It features the company's Interference-Free channel blanket topology designed to achieve robust coverage and seamless mobility, and real-time frequency reuse inside the channel blanket. The company says TrueReuse can decide when to permit multiple access points to transmit to multiple clients simultaneously on the same channel, without causing co-channel interference even in dense access point deployment. CEO and co-founder Gideon Rottem claims the technology "is the path to the long talked-about Gigabit wireless LAN."
SUNNYVALE, CA-Using just a standard USB cable, PLX Technology (www.plxtech.com) says its USB Duet technology can transfer data between two or more computers at up to 480 Mbits/sec without the need of a network switch, hub, or router. The cable technology, based on the company's NET2280 programmable peripheral controller that's optimized for fast data transfer between the PCI and USB buses, lets multiple computers use USB to quickly share files, transfer disk drive contents, and allow a USB Duet-enabled PC to back up files by using another computer as a secondary storage device. The company believes the application programming interface (API) for its cable technology will allow development of USB-based mass storage, systems free of RS-232 and serial ports, and remote network driver interface specification designs.
BASKING RIDGE, NJ-Avaya (www.avaya.com) has been named one of 10 companies to participate in a $4 billion U.S. Army project that will overhaul voice and data infrastructures of its bases worldwide. The Infrastructure Modernization (IMOD) contract will work toward providing the Army with a single communications system that will seamlessly integrate voice, data, inside/outside cable plant, and transmission products and services. Avaya's Internet Protocol (IP) telephony solutions have been used in key categories for U.S. military command and control applications around the world, including rigorous "small end office" (SMEO) categories. The company says it is the only vendor certified in the SMEO category for IP telephony, which requires 99.999% reliability, duplicated processors, and no single point-of-failure for support of critical command and control missions. Other companies awarded IMOD contracts are: AT&T Government Solutions, Bechtel National, Engineering and Professional Services, Federal Network Systems, General Dynamics Network Systems, Lucent Technologies, NextiraOne, Science Applications International Corp., and Siemens Government Services.
BRICK, NJ-Given a timetable of six weeks, security systems integrator North American Video (NAV; www.navcctv.com) recently completed an installation at the 650,000-square-foot Cummins Inc. distribution center in Memphis, TN. The project included installation of a 12-camera indoor/outdoor security surveillance system for the recently expanded warehouse, and an active 16-port hub device to allow long-distance transmission from the video cameras back to the security control room.
WATERTOWN, CT-Siemon (www.siemon.com) says that, according to recent certified third-part testing, its Category 7/Class F TERA end-to-end cabling system is the only copper cabling system to meet TEMPEST/EMSEC guidelines for use in high security classified networks. The government guidelines define the counter-intelligence standards developed to protect secure data transmissions from electronic espionage. Although actual requirements and test parameters are classified, TEMPEST/EMSEC specifications establish extremely strict limits on signal radiation from data networks. The company says that to meet TEMPEST requirements in the past, copper systems required labor-intensive installation practices, such as placing all cables individually in ferrous conduit, and physically separating the cabling into secure and non-secure areas. But Siemon says that tests certified by Dayton T. Brown Inc., a National Security Agency testing facility, showed that TERA channels do not require conduit as a security measure, and can be installed with limited separation between secure and non-secure channels. The TERA technology features fully-shielded S/FTP cable and connectivity; each pair is individually shielded, and an overall braid shield surrounds all conductors. Test findings indicate the shielding eliminates potential security gaps caused by signal radiation or emission.