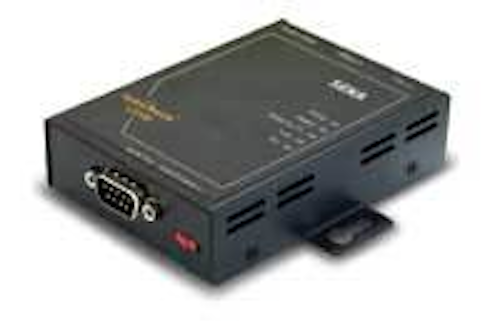 Serial-to-Ethernet converter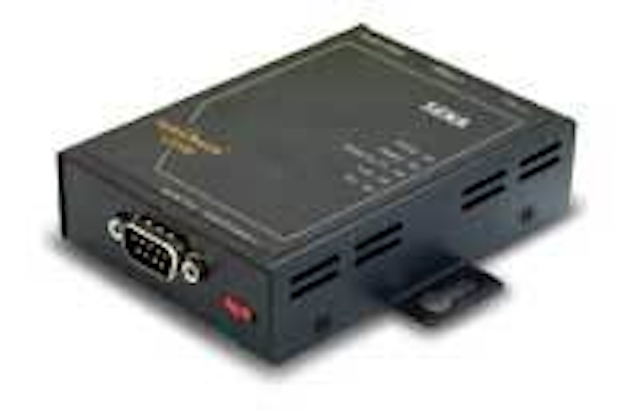 Click here to enlarge image
The LS100 serial device server for LAN/WAN classroom control application, remote monitoring, and maintenance of audio-visual equipment, is equipped with a RJ-45 Ethernet port and a 9-pin D-Sub serial port designed for simplified network integration into new or existing room control installations. The converter has a TCP/IP protocol stack, and can be configured via telnet or the serial console port with user ID/password protection. In combination with the optional NetControl room control software, the LS100 can be used for event scheduling, projector theft warning and lamp life status, e-mail notification, and direct device control. The converter comes with free management software for device server setup, null-modem cable, and a five-year limited manufacturer warranty.
BITLOGIX SOFTWARE LLC
www.bitlogix.com
Heavy-duty cable clamp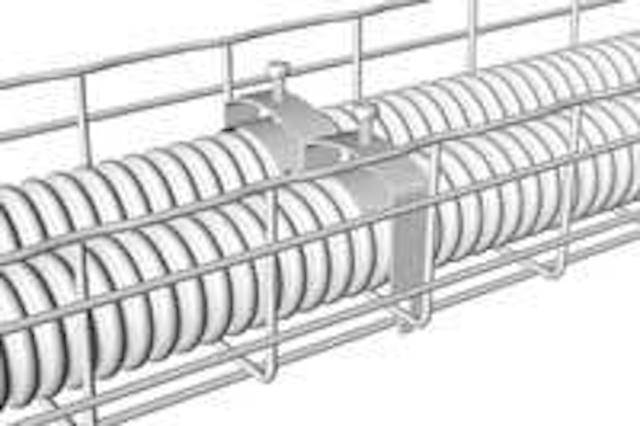 Click here to enlarge image
This cable clamp is designed for securing large- or small-diameter cables to a cable tray. The company says its heavy-duty clamps provide maximum grip, and are especially suited for such demanding applications as vertical plenums in high-rise buildings. The one-piece clamps with Electrozinc finish come ready to install. A universal bolt head requires no special tools and, according to the company, can be quickly attached with one hand. You can reconfigure cabling without disassembling the tray. The clamps are available in eight sizes to accommodate cables from .25 inches to 4.25 inches.
CABLOFIL
www.cablofil.com
Specialty cable ties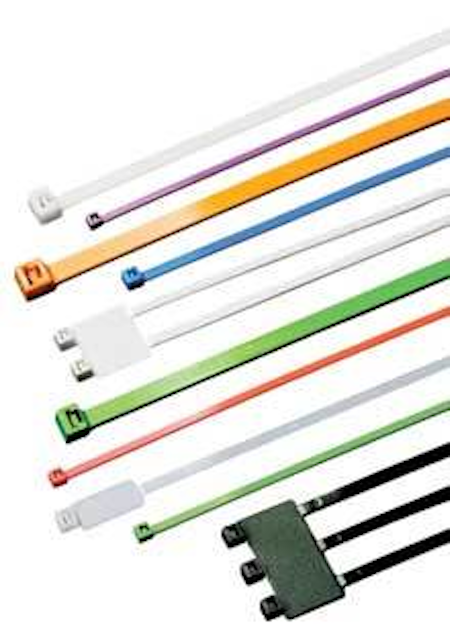 Click here to enlarge image
The Unirap line of cable ties now includes Tefxel and Halar, aerial support spacer, identification, Velcro, mounting bases, and military applications. A new catalog numbering system and packaging, plus lower prices, according to the company, are all designed to simply the selection and ordering processes. Unirap ties feature compact heads and pre-bent tips designed to simplify cable bundling. All ties are fabricated of one-piece nylon, offer high tensile strength, and are resistant to solvents, alkalies, oils, grease, and diluted acids.
FCI
www.fciconnect.com
10-GbE certification tool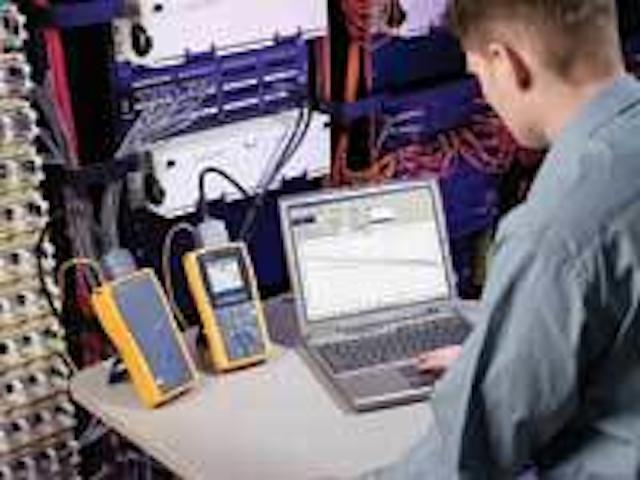 Click here to enlarge image
The DTX 10 Gig solution is designed to certify link performance for high-speed transmissions over copper. According to the manufacturer, the device has been proven over recent months by hardware suppliers who are working to finalize the IEEE 802.3an, TIA TSB-155, and ISO TR 24750 testing guidelines for 10-Gigabit Ethernet (10-GbE). The DTX 10 Gig solution lets you measure and evaluate alien crosstalk parameters in addition to conducting cable certification tests for each individual link up to 500 MHz. When combined as a kit with the DTX-1800 CableAnalyzer, the company says you can measure crosstalk between all possible wire pair combinations in approximately 30 seconds. The DTX 10 Gig kit consists of a set of communications modules that snap into the DTX-1800 main and remote units, and a Windows-based program to calculate alien crosstalk power sum test parameters designed to analyze the combined effect of all disturber links on the victim link. The kit enables tests in a channel as well as permanent link configuration.
FLUKE NETWORKS
www.flukenetworks.com
Pre-terminated
Category 6 system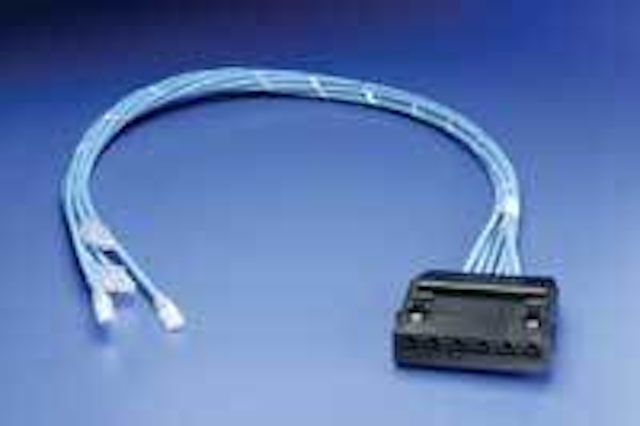 Click here to enlarge image
RapidNet Category 6 copper UTP solutions are designed especially for data centers and other high-performance requirements, including Gigabit Ethernet. This pre-terminated system features proprietary bundled cables terminated to patented cassettes. The system offers new cassette-to-plug and cassette-to-open-end configurations; the former lets you cable directly into a server or switch, and the latter lets you terminate an open cable end on the jobsite. Since RapidNet does not require on-site termination or certification testing, and features a patented plug-and-play installation system, the company says that installation time can be reduced by 75% or more. Each link is 100% factory tested to TIA specifications, with certification test reports included with all links.
HELLERMANNTYTON
www.hellermann.tyton.com
Rack-mount keyboard and monitor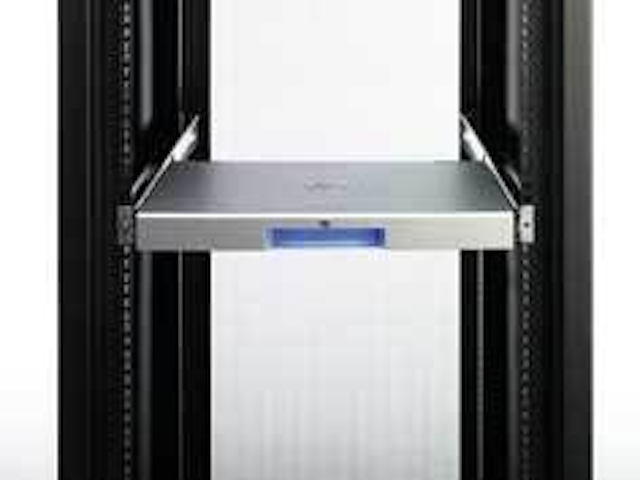 Click here to enlarge image
The TFT7600 rack-mount keyboard and monitor (RKM) is a 17-inch WXGA+ monitor and keyboard with touch pad in a 1U format, with room to mount a KVM switch behind it. The RKM provides PS2 and USB connectivity, and a USB port on the front of the keyboard for USB pass-through with compatible KVM switches. The RKM is designed especially for data center use, as well as corporate telecommunication rooms, or where local access to servers is needed at the rack. Universal tool-less rails are designed for easy installation.
HEWLETT PACKARD
www.hp.com/go/rackandpower
Cable performance tester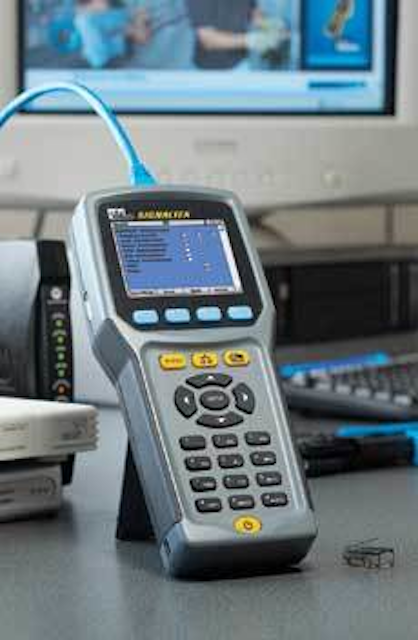 Click here to enlarge image
The Signaltek cable performance tester is designed to verify that installed cabling will support voice, video and data applications (including Gigabit Ethernet). This handheld tester features a graphical interface, transmits 10/100/1000 Mbits/sec Ethernet packets, and measures errors on the link in accordance with the IEEE 802.3ab Gigabit Ethernet standard. The tester also supports bit error rate testing (BERT) for VoIP, data, and video-over-IP applications. An integrated time domain reflectometer is designed to accurately measure cable length and aids in finding faults such as shorts, split pairs, and opens. In addition to a snapshot performance test, Signaltek can be configured to run for several minutes or hours at a time to stress-test the link for dropped packets. An intelligent autotest function then performs the correct test suite based on the link's current configuration. Thousands of test results can be stored on the unit's 32 MB of internal memory.
IDEAL INDUSTRIES
www.idealindustries.com
Converter adds NIDs
New fiber-to-fiber hardware modules and software enhancements have been added to the iConverter system of media converters. iConverter 2FXM is a two-port Fast Ethernet Network Interface Device (NID) with integrated network management services, while the 2GXM is a two-port Gigabit Ethernet NID, also with integrated network management services. Small Form Pluggable (SFP) transceivers have been added to both NIDs, as well as to the company's current copper-to-fiber GX/TM and 10/100M NIDs. The new NIDs are available in standalone units and modular chassis configurations. Plug-in modules can be combined in a 2-, 5- or 19-module chassis and share data via Ethernet backplane ports to enable what the company says is effective access and demarcation for multiple customer access ports. The devices support 802.1Q VLAN with Q-in-Q to enable E-Line and ELAN services, as well as 802.1p quality of service prioritization for real-time voice and video over Ethernet. Software enhancements include new hardware support and auto-discovery for the company's devices; and graphical user interface control facilities for 802.3ah extension and the company's Secure IP-less OAM management modes.
OMNITRON SYSTEMS TECHNOLOGY
www.hellermann.tyton.com
Ratcheting cable cutters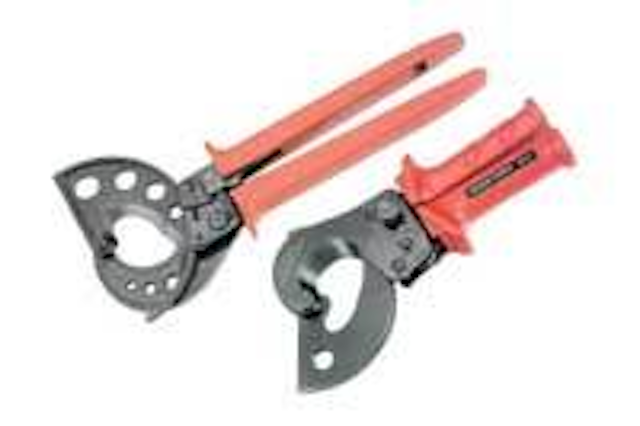 Click here to enlarge image
Designed for confined work spaces, these large capacity ratcheting cable cutters are suitable for a variety of electrical and telecommunications installations, including outside plant. Maximum capacities include: No. 63600 copper and aluminum, 600 MCM; 63600 communication cable, 1 ¾ inches; No. 63750 copper and aluminum, 1,000 MCM; communication cable, 2 1⁄16 inches. A quick release opens the cutter's blades in every cutting position, allowing for cable removal before the cut is completed. According to the company, the precision ratcheting mechanism is designed to hold the cable tight, and permits rapid, straight cuts with minimum effort. A locking lever keeps the handles closed when not in use.
KLEIN TOOLS
www.kleintools.com
Tiny wireless AP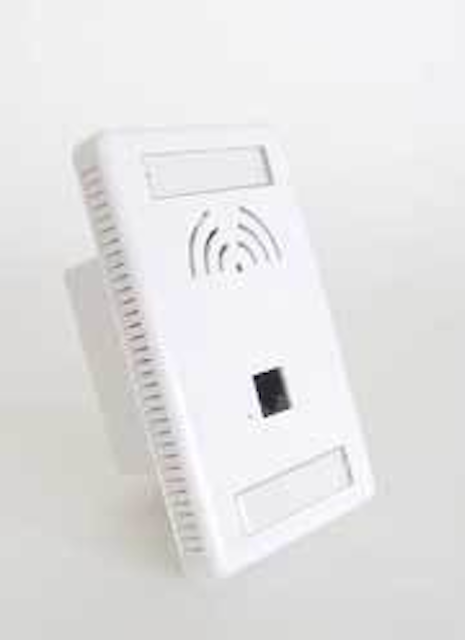 Click here to enlarge image
The Wi-Jack Duo is billed as the industry's smallest dual band/dual radio wireless access point (WAP). The patent-pending technology fits into a standard wall box in the footprint of a standard faceplate, and extends 12-mm from the wall. The WAP features thin AP technology designed for lower costs, higher performance, and enhanced security, and can integrate seamlessly into an existing structured cabling system. Wi-Jack Duo supports 802.11a/b/g operation, allowing simultaneous operation at 2.4 and 5 GHz at speeds up to 54 Mbits/sec. It can also be used simultaneously as a dedicated air monitor. Available with an optional copper workstation port for wired connectivity, the Wi-Jack Duo contains internal tri-band omni-directional antennas mounted behind the faceplate, designed to provide optimal performance while blending aesthetically into the environment. The device's wireless controllers are designed to enable secure and flexible management plus real-time monitoring of the wireless network through policy-based security, quality of service, and bandwidth management.
ORTRONICS/LEGRAND
www.ortronics.com
Labeling system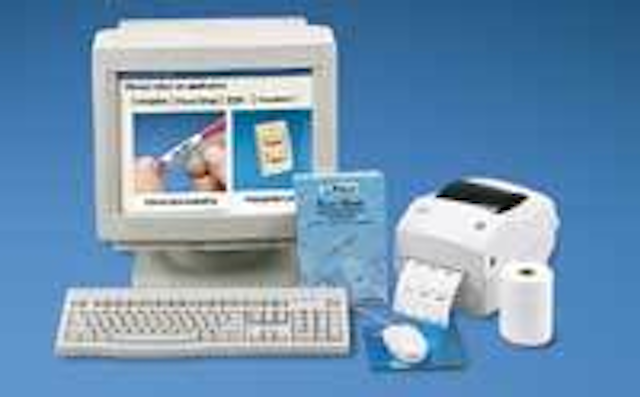 Click here to enlarge image
Easy-Mark labeling software features new market-specific labeling application tools that assist in making labels, signs and pipe markers for networking as well as premises and OSP installations. Features include an intuitive interface, data import, symbol import, and pre-loaded label formats.
PANDUIT
www.panduit.com
Multimedia compression assembly tools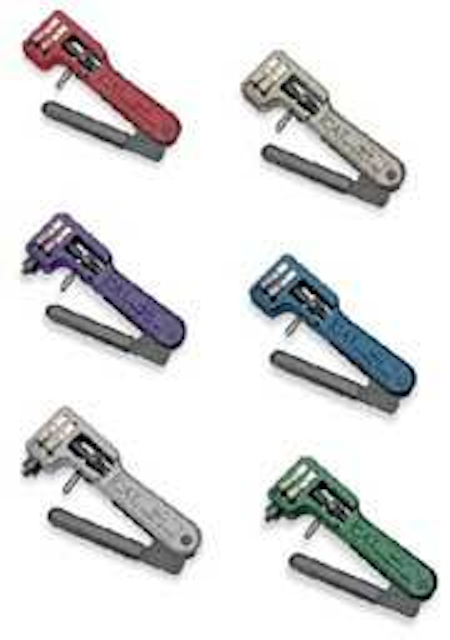 Click here to enlarge image
A line of CAT-Multimedia compression assembly tools is designed for use on 59/6 F and manufacturer-specific RCA and BNC connectors. Based on the company's field-proven Cablematic CAT Series, these multimedia tools feature high-strength aluminum bodies and spring-loaded split jaws designed to position the cable and connector for simplified insertion and removal. You can move among assembly of F-type, RCA and BNC connectors without the need for special adapters or adjustments when using Digicon/F-Conn, Corning Gilbert, and PPC model tools. (Others require an adapter.) The tools are color-coded for easy identification, and are factory-calibrated and set to provide years of reliable use.
RIPLEY COMPANY
www.ripley-tools.com
High-capacity cable tray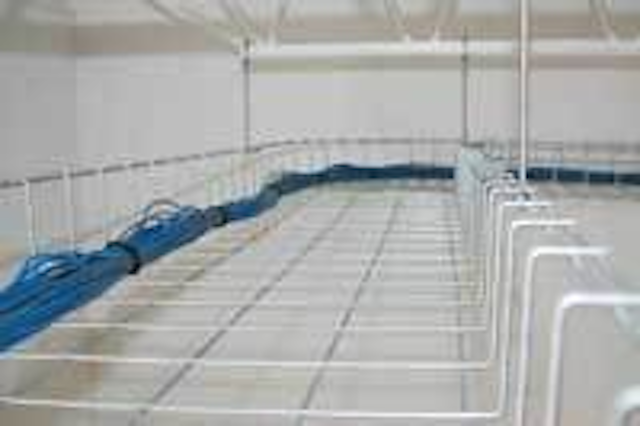 Click here to enlarge image
The Mega Snake for overhead installations is designed to convey thousands of cables used in large cable runs. Featuring the Snake Rail built-in suspension system, Mega Snake requires no brackets and allows for random placement of the hanging rod system. On-site fabrication of turns, tees, and cross sections, says the company, is no longer required due to Mega Snake's pre-manufactured components.
SNAKE TRAY
www.snaketray.com
Shielded fiber adapters
Click here to enlarge image
The SureConnect family of internally shielded fiber-optic union adapters are designed to enhance the reliability and reduce the maintenance cost of access networks. The patent-pending technology includes an internal length of optical fiber that prevents direct physical contact of the polished cable ends to one another. The company says functionality is achieved without compromising optical performance; the isolated union adapter shields difficult to access fiber-optic terminations from damage, such as those within a wall plenum or patch panels. SureConnector adapters provide polished surface damage (PSD) protection.
TELESCENT LLC
www.telescent.com
Easy pipe bender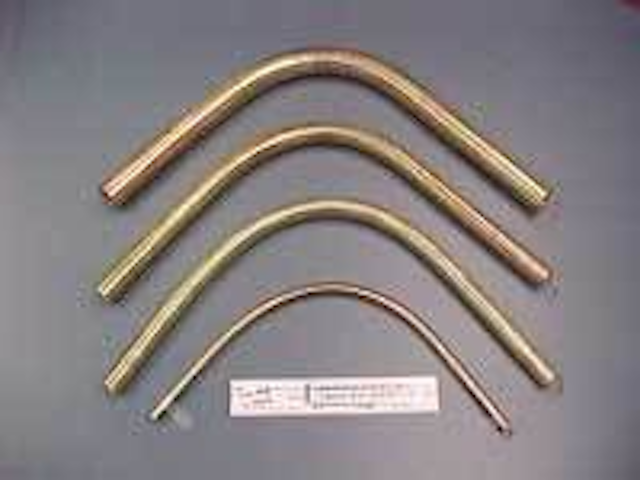 Click here to enlarge image
The Pipe Viper is a coiled spring used to bend rigid PVC pipe without the need for other tools or heat. Available in sizes ranging from ½ inch to 44 inches, Pipe Viper also eliminates the need for prefabricated elbows, special fittings, and heat boxes/blankets typically needed to reshape PVC pipe. An instructional video can be viewed by visiting the company's Web site.
B.N. YANOW & COMPANY
www.bnyanow.com
Electrical, cabling products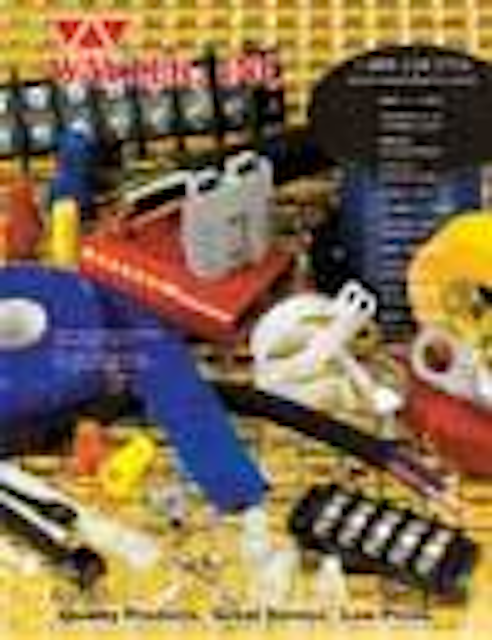 Click here to enlarge image
The newest product catalog from Waytek features more than 5,000 in-stock electrical and cabling products, including terminals, connectors, cable ties, loom, wire and cable, fuses, circuit breakers, and LED lights. The catalog also includes several new product introductions, including Duraflex protective sleeving.
WAYTEK INC.
www.waytekwire.com
Loading made easy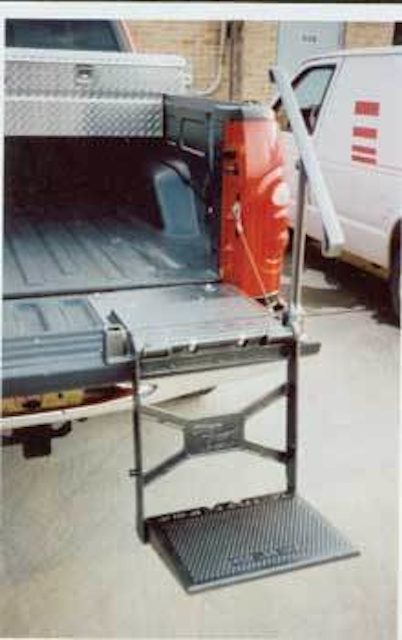 Click here to enlarge image
Safe-T-Step is designed to help avoid serious injury while loading and unloading cabling equipment and materials from trucks and cargo vans. It features a removable handrail, 400 lb. weight capacity, and an attachable construction fitting for all vehicles. Safe-T-Step is mounted in a flat position on the tailgate and won't interfere with cargo being hauled. You manually unfold Safe-T-Step, and when work is finished, it retracts on its own with the release of a pull-pin. The product is constructed with heat-treated cast aluminum, features a non-slip surface, and is designed to be easily removed and then re-installed on any vehicle.
WILLIAM FRICK & CO.
www.fricknet.com
Mini cable manager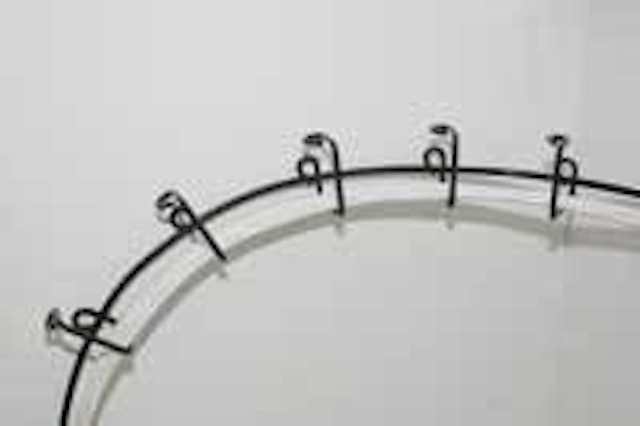 Click here to enlarge image
Snake Race is a bendable cable manager designed for tight spaces and small cable runs. It can mount horizontally, vertically, or angled, offers built-in mounting rings that are spaced to accommodate common stud spacing, and is designed to easily fit under desks or furniture. The company says the solution is especially suited for residential, audio/visual, sound/security, office, hospital, and school installations.
SNAKE TRAY
www.snaketray.com
Low-loss splicer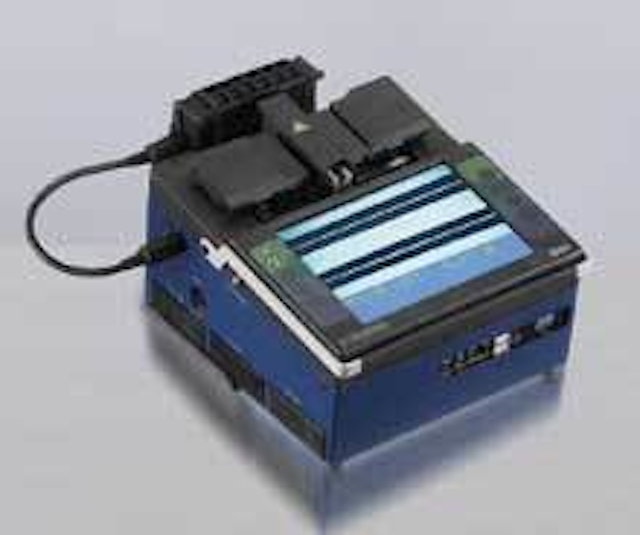 Click here to enlarge image
The OptiSplice Premier M90i fusion splicer, says its maker, provides the lowest field-splice loss on the market. The unit replaces the company's OptiSplice Premier iLID and M90 splicers, combining features of both into one unit. It features on-board training videos, Web-based remote service capabilities, buttonless splice process operation, an ultra-fast heat-shrink oven, and a graphical user interface with touchscreen. Core detection system (CDS) technology is designed to provide fast video core alignment, while the LID-SYSTEM unit-a local injection and detection system-monitors light injected into the core of the fibers, providing for precise core alignment, real-time splice optimization during fusion, and accurate splice loss evaluation. The M90i also contains maintenance-free precise and durable electrodes, which can reduce the average splice loss up to 50%.
CORNING CABLE SYSTEMS
www.corningcablesystems.com
Enhanced test set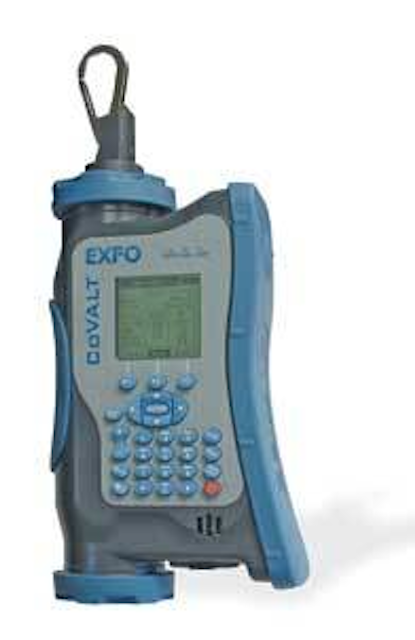 Click here to enlarge image
The enhanced CoVALT handheld, battery-powered test set is designed for installation and maintenance applications on copper-based, triple play, and broadband access networks. The unit is used to install and troubleshoot DSL circuits that carry data and VoIP services over high-speed access networks. It acts as a golden modem for confirming the rates and other measured parameters provided by ADSL, ADSL2, ADSL2+, and reach-extended (RE) ADSL. CoVALT also performs functional and quality-of-service testing for VoIP and Internet services. It tests upstream and downstream data rates and other key parameters of a DSL circuit, performs ATM layer testing, carries out PING, traceroute, and file-downloading testing, places and receives VoIP and POTS telephone calls, and makes an assessment of the IP layer stability and other factors affecting speech quality (such as packet jitter and delay).
EXFO
www.exfo.com
Triple-play NID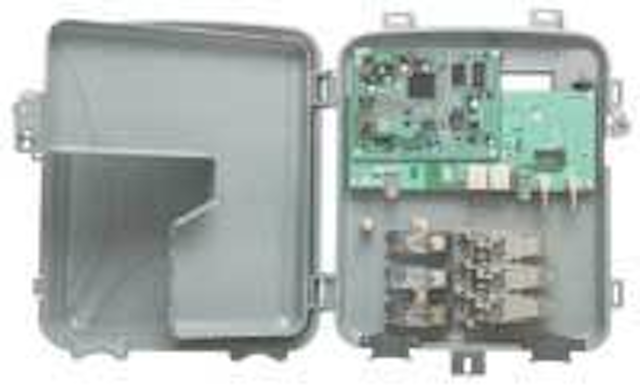 Click here to enlarge image
Developed to complement existing network interface devices (NIDs) or act as a standalone intelligent NID, the OutRigger media access portal supports triple-play bundled services-digital telephone, broadband data, and video over broadband-over a home's existing telephone or cable TV wiring. It supports both MoCA and HPNA 3.0 standards for networking over a home's existing coaxial or twisted-pair cabling. Designed to be mounted on a building's exterior, the company says OutRigger provides a non-intrusive setup that significantly reduces installation time. As a smart network device, OutRigger also enables remote Web-based monitoring and diagnostics. It also offers protection against Denial of Service (DNS) attacks, along with comprehensive LAN and WAN network management functions. (This product is in limited production, with volume quantities expected later this year.)
GLOBAL TECHNOLOGY GROUP
www.tiiglobaltechnology.com