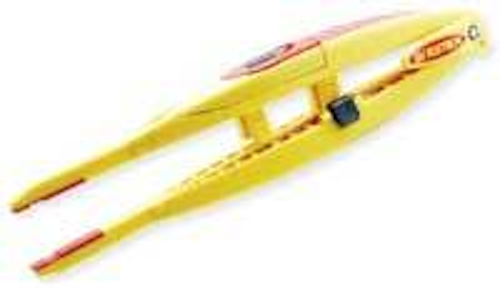 Insertion/removal tool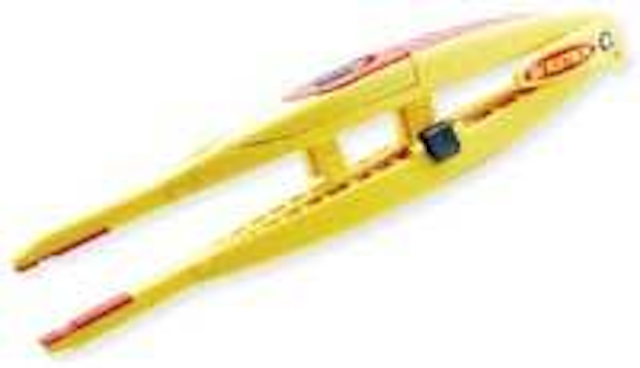 Click here to enlarge image
The Fiber Connector Insertion Removal tool is designed to eliminate the possibility of disrupting other pairs in a tight, high-density fiber block repair situation. The device installs and removes SC, FC, ST and LC connectors. Interchangeable molded and padded tips fit each type of connector. A patented locking ratchet design holds the plugs securely, and integrated flashlight assists work in low-lit areas.
WESTEK ELECTRONICS
www.westek.com
Cable in a bag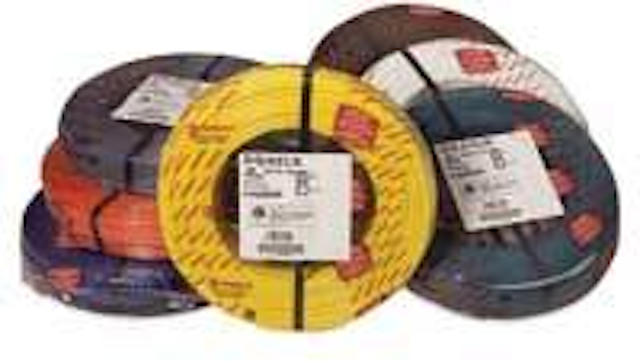 Click here to enlarge image
Windy City Wire and Coleman Cable are offering 22-gauge and two- and four-conductor stranded Coleman Cable coils in heat-shrink bags for easier installation. The bagged cable, used primarily for security and home automation installations, is available in four colors.
WINDY CITY WIRE
www.smartwire.com
Low-skew UTP cables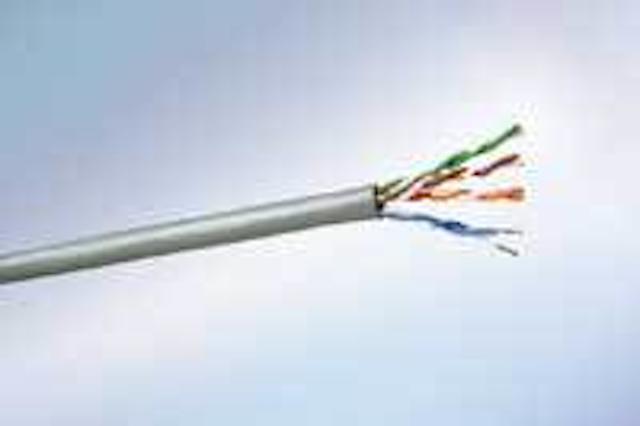 Click here to enlarge image
The LSK series of ultra-low skew UTP cables is designed for transmission of component analog video in a twisted-pair format, without hardware delay compensation. Unlike category-grade networking cables, the LSK series has a consistent pair lay with a minimum time delay differential of 2 nanoseconds per 100 meters between any two pairs. According to the company, this minimized pair skew allows for red, green, and blue video components to remain in sync, designed to ensure optimal picture quality and reliable video distribution. Each pair is constructed from 23-gauge solid copper and a precision 100-Ω data-grade PVC or plenum TPE dielectric. The UL-rated media is available in riser and plenum versions.
GEPCO INTERNATIONAL
www.gepco.com
Insertion loss test kit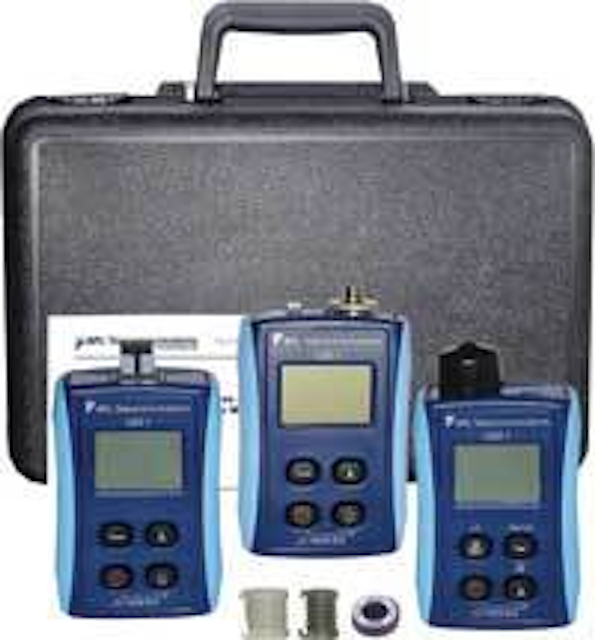 Click here to enlarge image
The CKSM 2 test kit combines the company's CSM1-2 optical power meter, CSS1-MM dual LED light source, and CSS1-SM dual LASER source for performing insertion loss measurements on multimode and singlemode fiber-optic links. The CSS1-MM and CSS1-SM feature dual output 850/1300-nm LED or 1310/1550-nm LASER, respectively, from a single output port. Both offer continuous wave and selectable modulated tone. LED and LASER output ports are stabilized to ensure accurate test results per current TIA/EIA requirements. The CSM1-2 optical power meter operates at 850/1300/1310/1550 nm, and features multiple test tone detection for fiber identification. The CSM1-2 stores optical references for each calibrated wavelength, and the optical input port accepts Noyes thread-on style adapter caps. All devices are fully NIST traceable.
AFL TELECOMMUNICATIONS
www.afltel.com
Swing-open patch panel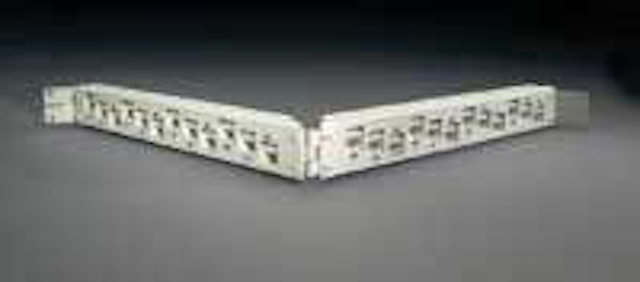 Click here to enlarge image
With a patent-pending swing-open-from-the-front design, these patch panels (6A24U) for 19- and 23-inch racks are built for easy cabling access, especially when space is at a premium. The patch panels are offered in 24- and 48-port configurations for Category 5e and 6 cabling. Rear termination to 110-type punch-down is standard; Category 6 models feature snap-in jacks arranged for easy cable tracing and routing. Other options include pre-terminated versions and shielded jacks.
ATLANTA DATA PRODUCTS
www.atlantadataproducts.com
Telecom power strips
The PowerOptions family of power strips is designed specifically for telecommunications applications, featuring A and B power feed options, IEC plug options, surge protection, and current monitoring. These strips are especially suited for rack-based data server applications. You can swivel the power strips 180° so that receptacles face the front, middle, or back of the enclosure. Rack-mount sizes fit 19-inch and 23-inch wide cabinets, while vertical power strips are available in several lengths up to 66 inches. A single bracket lets you mount several power strips either horizontally or vertically. Several receptacle styles and cord lengths are available.
APWMayville
www.mayvilleproducts.com
Video meter for CCTV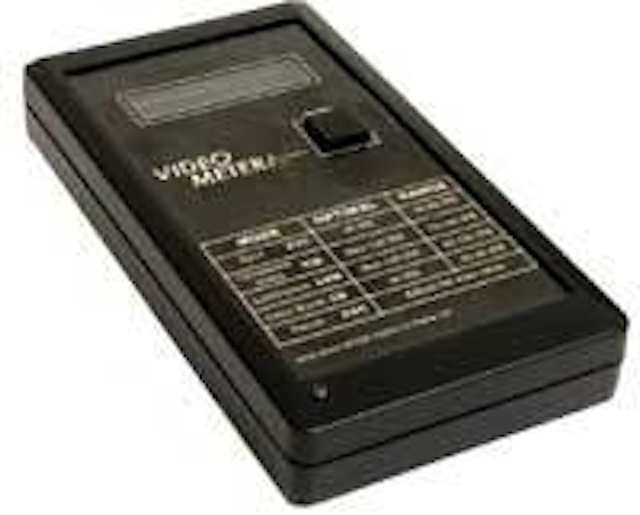 Click here to enlarge image
The VM-417 handheld diagnostic tool for closed-circuit television (CCTV) installation is designed to reduce camera installation time by letting you analyze and troubleshoot video systems without having to go to each camera location or use an oscilloscope. The meter processes composite video signals, then separates and measures the amplitude of various components in the video signal, which are displayed in IRE units on an LCD screen. The VM-417 lets you cycle through each of the components to determine whether all levels of the video signal are correct and whether the 140 IRE (1 Vp-p) signal has been maintained. Troubleshooting can be performed either inline or terminated. According to the company, the VR-417 works with NTSC, RS170, PAL and SECAM video signals.
DIFINITRON INC.
www.difinitron.com
Bi-directional tester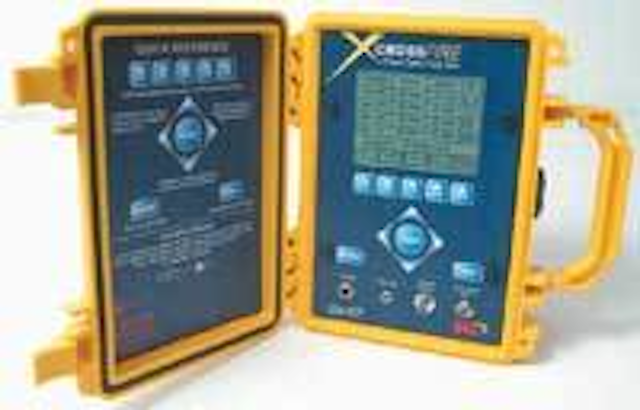 Click here to enlarge image
The CrossFire is an automated dual-wavelength, bi-directional tester. The unit is designed to measure insertion loss and optical return loss to -70 dB, and tests multiple wavelengths via a single port, eliminating the need to reconnect cables and zero-reference the equipment for each test. When two units are used, CrossFire can test fiber from both ends. Storage is available for 1,000 tests.
FIBER INSTRUMENT SALES
www.fiberinstrumentsales.com
Tool to stay on target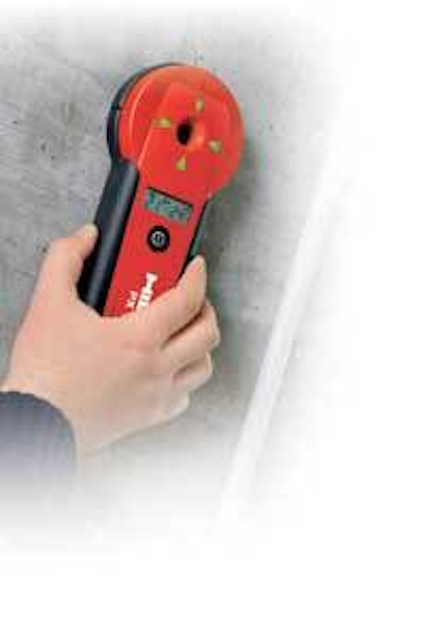 Click here to enlarge image
The PX10 transpointer uses magnetic field detection technology to determine the start and exit points for drilling and coring applications, rather than manually measuring or drilling pilot holes. A large LCD display chooses the proper drill bit or core bit by showing wall thickness (up to 4.5 feet thick). For angle drilling and coring, the PX10 can be used with the company's PXA 70 slope adaptor to determine exact drilling angle, or to project the exit point given a set angle. The PX10 kit comes with transmitter, receiver, hand straps, adhesive putty, batteries, and impact-resistant tool box.
HILTI INC.
www.us.hilti.com
A/V contractor packs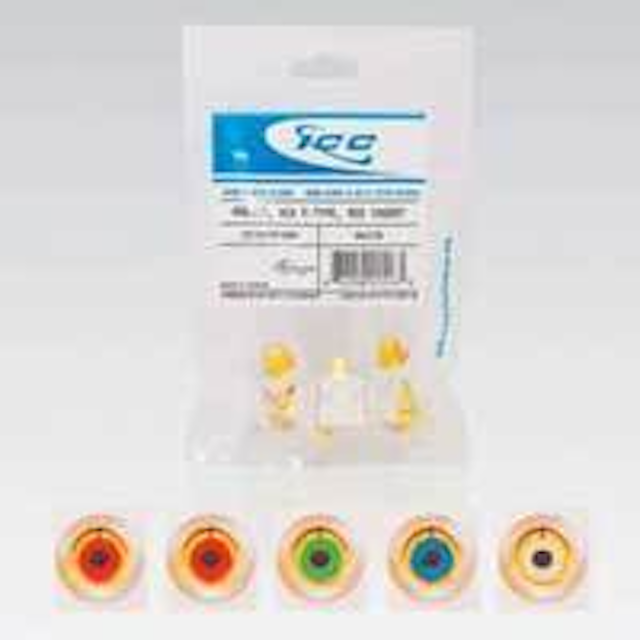 Click here to enlarge image
Three connector contractor packs are designed for more efficient high-definition audio/visual installations: RCA to RCA, RCA to IDC, or RCA to F-type. Instead of buying five individual connectors, you get them in one bag. Each pack consists of three component video connectors and two audio connectors-two red, and one green, blue, and white.
ICC
www.icc.com
Pressurized security camera
Click here to enlarge image
The V1750 Series pressured PTZ dome cameras are designed to offer maximum protection against airborne contaminants and moisture. Features include a stainless steel housing and special valves designed to minimize decrease in pressure over time. Solid-state sensors in the housing relay key system information, such as internal temperature and pressure readings, back to the control center. Non-volatile memory enables automatic downloads of presets and other data should the camera and drive module need to be replaced. V1750 cameras are available in 18x or 22x optical-zoom color, and 23x or 26x optical-zoom day/night plus 12x digital zoom models.
INFINOVA
www.infinova.com
CCTV system tester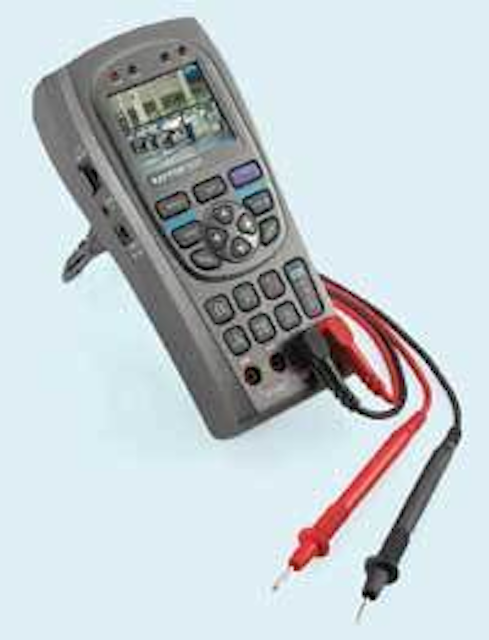 Click here to enlarge image
Featuring a UTP cable test that identifies opens and shorts for both straight-through and crossover UTP/SPT cables, the Rapport337 multi-function CCTV hand-held tester combines six primary functions for installation and maintenance of security CCTV systems. The tester also features a 2.5-inch LCD monitor to adjust camera focus and angle, PTZ protocol analyzer, and full-function digital multimeter (DMM) to test voltage, current, resistance and continuity for both AC and DC current.
MCM
www.mcminone.com
Cleanable fiber adapter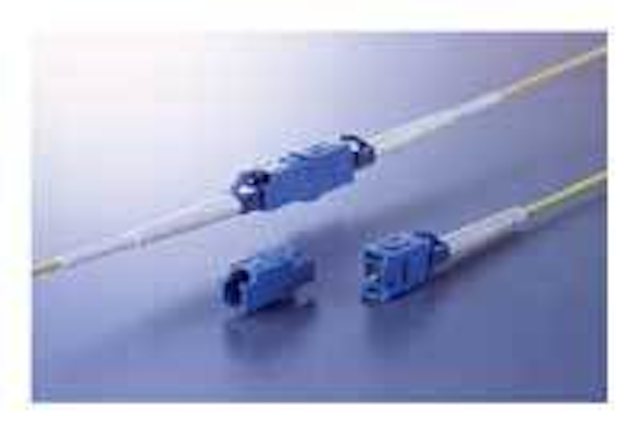 Click here to enlarge image
The FO-EX series of fiber-optic adapters are designed to separate for easy cleaning of the rear fiber. This adapter is available with a spring-loaded internal shutter that operates automatically when the connector is inserted or extracted, and fits standard panel dimensions. It is especially suited for use with any fiber-optic panel or module, including applications for FTTx, switching equipment, and optical networking. The FO-EX is currently available in an LC simplex configuration, meets or exceeds Telcordia GR-326 specifications, and has an operating temperature range of -40° to 85° C.
JAE ELECTRONICS
www.jae.com
4U fiber enclosure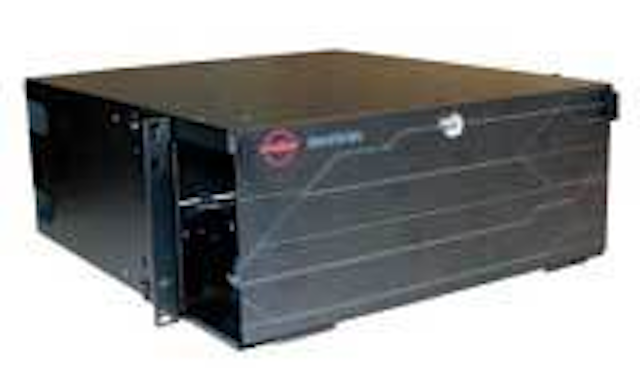 Click here to enlarge image
This 4U specification grade fiber-optic enclosure (RFR-00204) is a configurable rack-mount unit designed to protect cables and patch cords from damage, and to maintain stable optical integrity through out the life of the enclosure. It can accommodate up to 24 of the company's Modlink cassettes that incorporate 12 fiber connections per cassette with LC, SC and MRTJ interface; 24 Fiber Pak adapter plates, which allow multiple fiber connector options and configurations; and up to 12 Universal Splice Trays, each with a 12- or 24-splice capacity. Its open single cavity is designed for easy access during installation and for maintenance. An externally mounted cable strain relief bracket can accommodate cable routing from above or below the enclosure. Lightweight, lockable and removable aluminum hinged front and rear doors are designed to provide security and easy access for only authorized personnel.
MOLEX
www.molex.com
WAP mounting system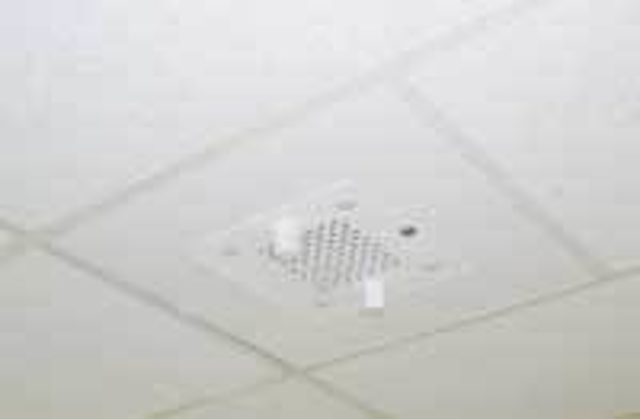 Click here to enlarge image
Designed to secure wireless network electronics, the Model 1050 universal access point mounting system features simple installation, an aesthetic enclosure, and attachment points for antennas and data cables. The enclosure is UL-listed and designed to National Electrical Code 300-22 and 300-23 for plenum installation. Fitting as a 2x2-foot ceiling tile replacement, the enclosure includes a universal mounting plate that accommodates most manufacturers' access points. Attachment points accommodate most commonly used Wi-Fi antennas.
OBERON
www.oberonwireless.com
Coax tool kit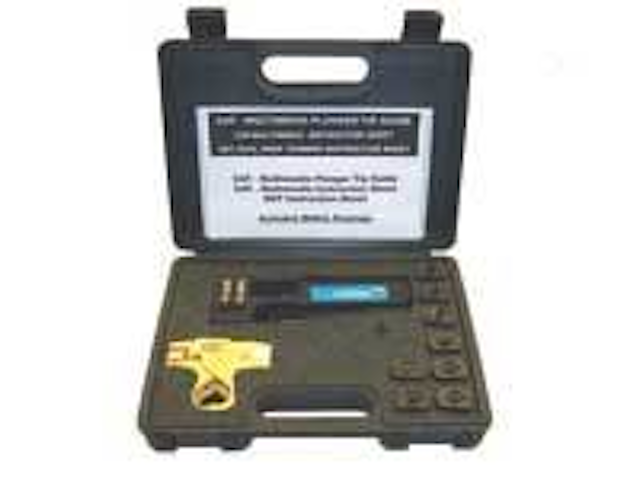 Click here to enlarge image
The CAT-MULTIMEDIA tool kit is designed especially for the stripping of different types of coax cable and compressing connectors from various manufacturers. The kit contains a CAT-MULTIMEDIA compression assembly tool, coaxial cable stripper, interchangeable plunger tips, and a gauge block for calibrating the compression assembly tool. The CAT tool features a sturdy aluminum body and spring-loaded split jaws that position the cable and connector for easy insertion and removal. The interchangeable plunger tips let you assemble 59/6 F, RCA, and BNC connectors from a variety of manufacturers. The coax stripper, meanwhile, provides one-step cable preparation designed to precisely expose the center conductor by 5/16-inch, and removes the proper length of jacket at ¼-inch for 59, 6, and mini-coax cable without blade or cassette adjustment.
RIPLEY/CABLEMATIC
www.ripley-tools.com
Network solutions catalog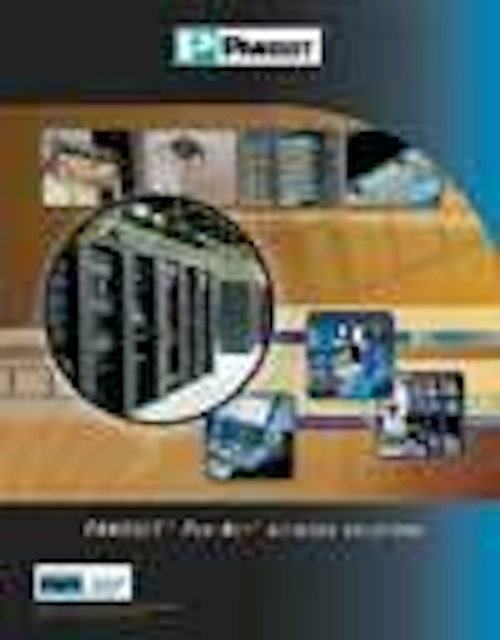 Click here to enlarge image
The Pan-Net Network Solutions catalog features comprehensive solutions for the workstation, telecommunications room, data centers, rack grounding, and other installation requirements. New products include the company's 10Gig copper cabling system, OptiCam pre-polished fiber-optic connectors (dual cam termination), QuickNet fiber-optic cabling system for quick plug-in, high-density network deployment, DPoE Power over Ethernet system, and IndustrialNet industrial networking.
PANDUIT
www.panduit.com
Tool-less bracket box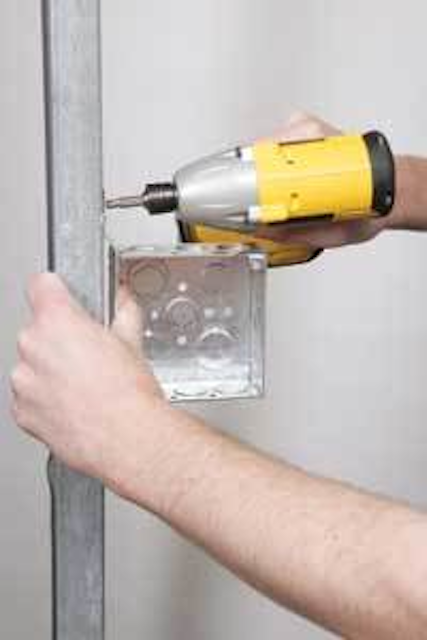 Click here to enlarge image
The Steel City MS bracket box series, designed to install on metal studs 67% faster than comparable methods, features patented gripping teeth that eliminate the need to use fasteners and tools to install the outlet box. You simply align the bracket box to the stud and apply force until the box pops into place. The MS (metal stud) bracket boxes are available in 4-inch and 4 11/16-inch square sizes, in 1-inch and 2 ⅛-inch depths, and include eccentric knockouts and armored cable clamps. The 4-inch boxes also include non-metallic cable clamps. A center mark locator window helps you properly align the box onto the metal stud, and a side support for stud cavity depths up to four inches supports the side of the box opposite the bracket. According to the company, the bracket boxes are compatible with all standard device covers and tile rings, and are available pre-assembled.
THOMAS & BETTS
www.tnb.com
High-speed loopback tester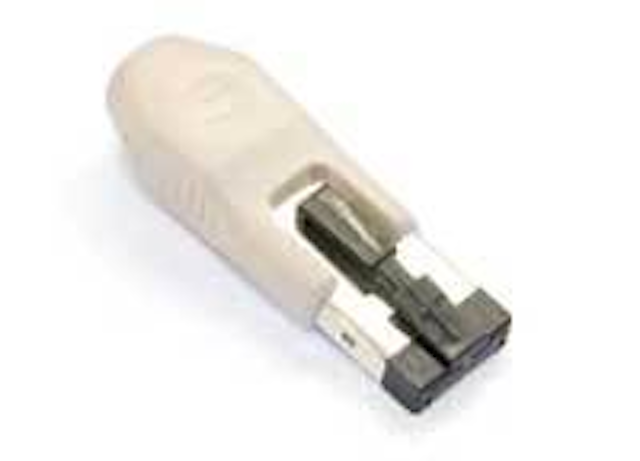 Click here to enlarge image
The High Speed Serial Data Connection (HSSDC) loopback uses Fibre Channel technology to provide high-speed data transfer (2.25 Gbits/sec) for testing electrical signals in high-speed networks. The device loops a signal from the transmit side of a port to the receive side, simulating a complete connection. It is designed to support copper implementation of Fibre Channel and other serial applications requiring high-speed data transfer rates over long distances.
TIMBERCON
www.timbercon.com
Wide-arch manager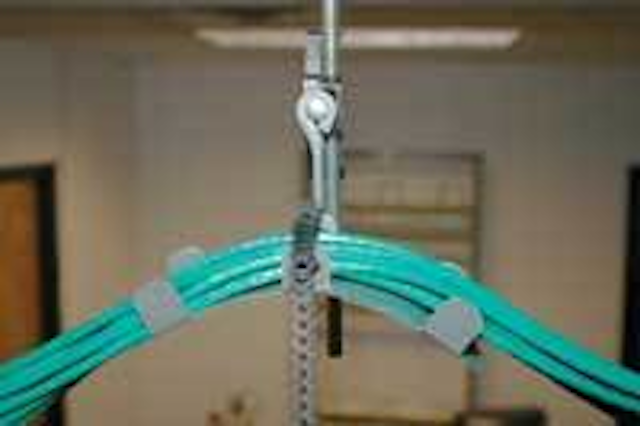 Click here to enlarge image
Snake Hook's wide-arch design is built to relieve stress on cables mounted to walls, overhead, or under floors. A built-in mounting system allows for what the company claims is a quick installation. The smooth wide arch also helps ease cable pulling. Especially suited as a cable manager for lighter cable counts or as a loop service hanger, Snake Hook is qualified for plenum environments.
SNAKE TRAY
website www.snaketray.com
Kevlar-protected cable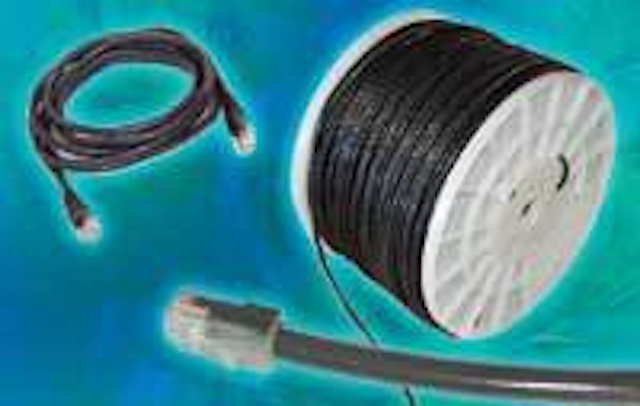 Click here to enlarge image
Designed for industrial or military applications, this Kevlar-protected Category 5e cable and cordsets are designed to resist UV, water, and microbial penetration. Double-shielded RJ-45 plugs with gold-plated contacts are designed to prevent electro-magnetic interference while providing superior electrical contact and corrosion resistance. The cabling has a low-smoke, halogen-free, flame-retardant (HFFR) polyurethane jacket material, and an operating temperature range of -40° to 85° C. Available as bulk reels or pre-assembled in cordsets, the cable is especially suited for use with 5-port IP67 waterproof switches and plugs.
SIXNET
www.sixnetio.com
Fiber-optic cleaning kit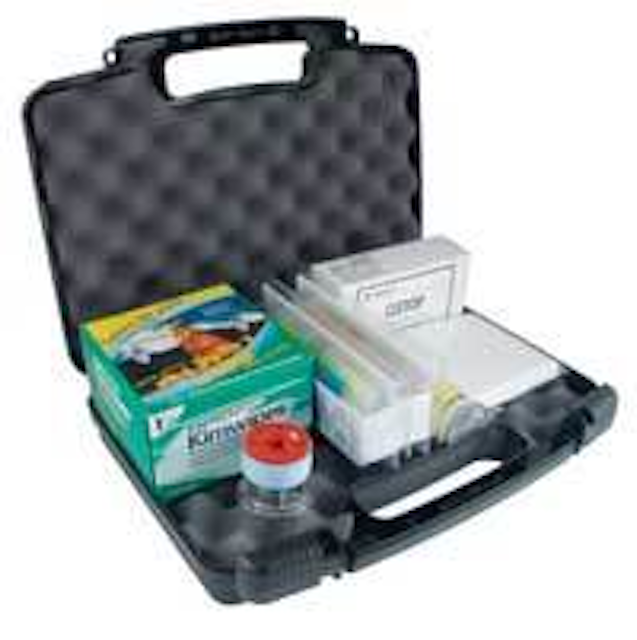 Click here to enlarge image
These multi-use fiber-optic cleaning kits contain the materials needed to correctly clean and maintain fiber and connectors in preparation for mating, splicing, and termination. An economy kit is designed for occasional connector cleaning and maintenance, and includes Hydrosorb wipes and solvent in a durable case. The complete kit for frequent cleaning of multiple connector and fiber types (pictured) includes Cletop type A and B cleaning cassettes, replacement tape, solvent, 1.25 and 2.0-mm swabs, Kim wipes, and Hydrosorb wipes-all in a carrying case.
TIMBERCON
www.timbercon.com
Intercom cables
Sound Intercom Cables, ranging from 20 to 22 AWG, are designed for use in schools and other multi-room facilities. To help identify the intercom cables amongst cabling for fire alarm, temperature, and security, the Sound Intercom Cables feature identification marks for determining the room, floor, and device/application location. They come standard with an alpha-numeric coding system, system-specific print legend, and multiple strip colors for easy identification of rooms, devices, and applications. The media also features a ripcord to help you strip the jacket, and ascending/descending sequential foot markers so you can know how much wire is left.
WINDY CITY WIRE
www.smartwire.com
Outside plant grommets
The Peel and Seal grommet system for outside plant installations comes equipped with the company's LG-150, 250 and 350 sealed closures. Each grommet in the system is designed to accommodate several cable diameters. A number of separated thin layers of material work toward the core of the grommet. You determine how many layers of material to "peel" away from the core to give the cable diameter its best fit for a "seal." Measurement is determined by wrapping a diameter tape measuring tool around the cable; markings will direct you to peel away the proper number of layers from the grommet. Place the grommet around the cable and install in its seat. Once the bolts are tightened via pillow blocks, the cable is pressure-proof sealed. The system, available for single-entry cables, supports loose tube, core tube, dielectric and armored cable designs.
AFL TELECOMMUNICATIONS
www.aflfiber.com
Full isolation UPS system
Three OmniSmart full isolation UPS systems include built-in isolation transformers designed to provide Faraday shield for a pure ground reference and complete immunity from line noise, without requiring installation of a dedicated AC input circuit. The units, available in capacities of 500, 750, and 1,000 VA, can eliminate disruptions and damage to sensitive equipment in sites with a history of poor performance, often attributable to poor wiring. The UPS systems feature line-interactive operation with automatic voltage regulation, network-grade surge suppression, and compact tower enclosures.
TRIPP LITE
www.tripplite.com
Aerial terminal closure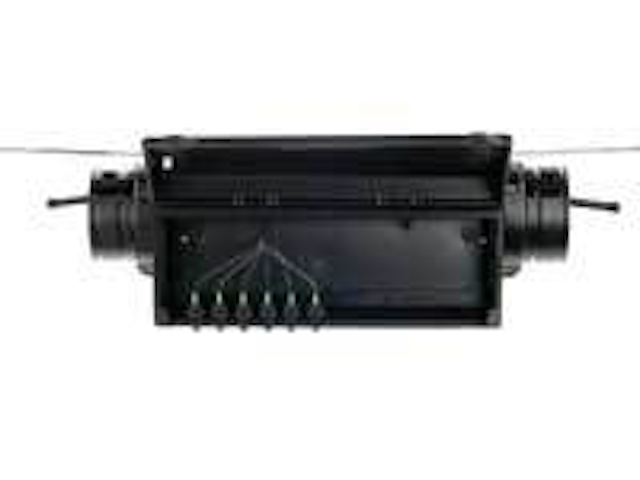 Click here to enlarge image
The one-piece construction of the SLiC fiber aerial terminal closure 530 external drop is designed to provide easy installation and access to the cable splice without removing the closure. A drop termination chamber allows for cleaning, testing and maintenance without having to enter the splice chamber, while a distribution splice chamber houses the fiber splices and stores the buffer tube or ribbon fiber slack. Designed for FTTP applications, the closure can be used for inline, branch, butt, and taut-sheathing splicing configurations, and can handle 4, 6, 8, and 12 external hardened fiber-optic connector drop terminations. The closures come with factory-installed GR-326-certified fiber pigtails and GR-2866-certified ribbon fanouts, eliminating the need for routing in the field.
3M TELECOMMUNICATIONS
www.3M.com/telecom
Automated tape dispenser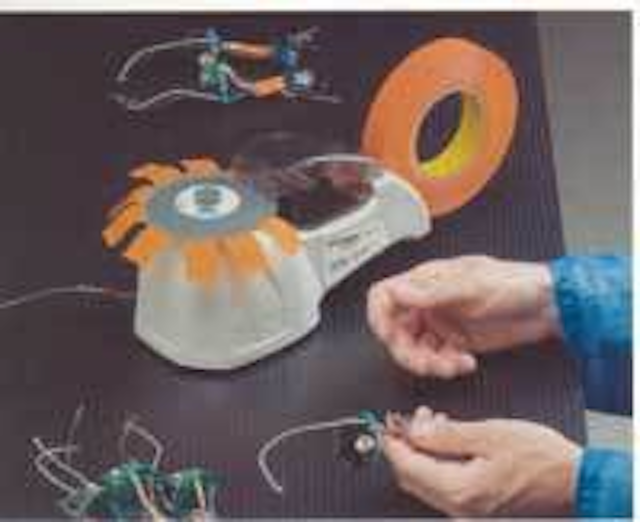 Click here to enlarge image
For simplified labeling tasks, the carousel-style EZ-8000 automatic tape dispenser cuts tape at the touch of a button, placing cut pieces on its turntable for easy removal by either single or multiple users. According to the company, nearly any 3 to 25-mm tape or film with adhesive backing can be used with the dispenser. It will cut tape into lengths ranging from 9 to 61 mm.
ASG/JERGENS
www.asg-jergens.com