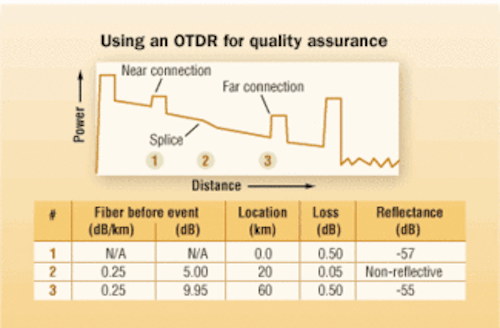 10-Gigabit Ethernet applications are making optical time-domain reflectometers more than just an outside plant tool.
Optical time-domain reflectometers (OTDRs) are increasingly nudging their way into the premises environment.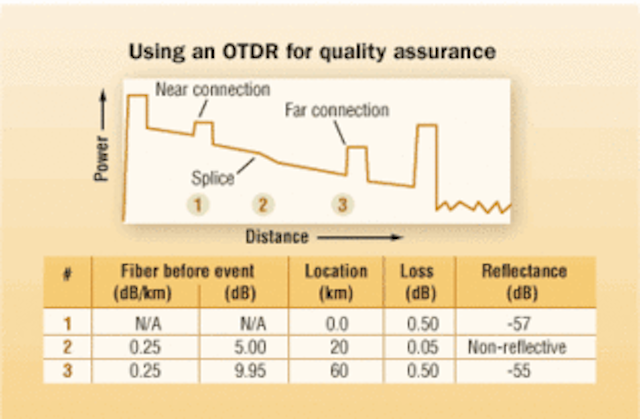 An OTDR is used for quality assurance. It can verify the installation of connections, splices and optical fiber cables.
Click here to enlarge image
The point-to-point links of a premises cabling network are, at least until recently, rarely tested with an OTDR. Most OTDRs have been typically considered a testing tool for the outside plant environment, where they are needed for distance. But some manufacturers today are developing OTDRs, which are designed to test optical fiber in the premises environment, as well as fiber in outside plant settings.
Optimism tempered by debate
OTDRs can map fiber and characterize events in a fiber channel, and some have OLTS capability. This is causing a ripple of optimism among manufacturers while fueling the debate about whether the devices are truly needed in the premises.
"Can you justify the use of an OTDR? My answer is that if your network is complicated, if you've got a link to the desktop and an extra connection there, and you're interested in quality assurance, it is justified," says Chris Blair, product development manager, AFL Telecommunications (www.afltele.com). "You need an OTDR trace."
In fact, some industry representatives say OTDR testing in the premises environment will be more necessary than ever as enterprise end users gravitate toward 10-Gbit Ethernet applications.
"You need to characterize all the events in the channel to make sure everything is good," says Harley Lang III, product marketing manager for Fluke Networks (www.flukenetworks.com). "In the past, you could get away with a lot more."
Besides certifying new fiber installations, an OTDR is a powerful troubleshooting tool. It can be used to conduct quality assurance on a network, and if a fiber is not working properly, an OTDR can help locate the fault.
OTDRs measure fiber length, determine fiber attenuation in dB/km, locate breaks, verify splice loss, and check for bending. They measure return loss, which is a measure in decibels (dB) of the total amount of energy reflected back by a link. They also measure reflectance, a measure in dB of energy reflected at individual events, such as connectors or mechanical splices.
Sweetening the deal
And now, manufacturers are striving to make OTDRs more affordable and easier to use than ever. OTDR resolution is improving as optical fiber's use inside the premises environment increases. And every extra decibel in dynamic range provided cuts measurement time in half.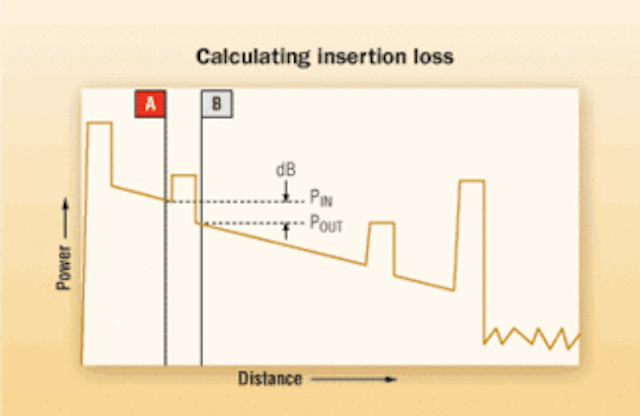 An OTDR can calculate the insertion loss of connections and splices, also known as event loss.
Click here to enlarge image
Today's OTDRs include big, bright screens, visible in sunlight, that display the trace as well as the event table simultaneously-and with enough detail to make it beneficial. OTDR prices, meanwhile, are typically dropping about 5 to 10% per year, thanks to competition, component price drops, and manufacturing efficiencies, says Peter Schweiger, Americas business development engineer for Agilent Technologies (www.otdr.com).
Real world assessments
Manufacturers are also striving to make OTDRs intuitive, with easy user interface and "help" screens. Today's devices vary in terms of their dynamic ranges, transmitter capabilities and laser output power. One trend followed by the IDEAL Industries OTDR (www.idealindustries.com) is to take the analysis of a trace and automate it, usually through desktop software. A contractor or IT worker can look at the squiggly lines and peaks on-screen and convert them into an accessible, translated report.
"This would turn it into a real-world explanation of what the cable is doing," says Dan Payerle, datacom certification product manager at IDEAL. "A new operator may not know if that (screen readout) is good or bad. Earlier, the installer would look at the measurement values for a link, and make their determination if it is good or bad. This [technology] takes the burden off the installer."
But OTDRs are not a primary instrument for measuring loss. TIA/EIA-TSB-140, the current industry standard, does not require OTDR testing. It is optional for contractors, consultants or IT workers. The standard, in fact, does not accept OTDR data for system loss; actual loss should be calculated with an Optical Loss Test Set (OLTS), which includes a light source and power meter that provides Tier 1 or optical loss testing, according to TIA/EIA-TSB-140. OTDRs, by comparison, provide Tier 2 testing, which characterizes all events in the channel.
Until recently, many have argued that an OTDR is not needed in the premises or building environment. An OLTS, they argue, can work just fine for loss testing. But as lower-cost OTDRs become more common and fiber comes closer to the consumer, new technologies are making their way into the market for different applications.
"More and more, they (OTDRs) are being used in the premises situation, with the increase in bandwidth," says Glenn Geary, CEO of Glenway Communications Inc., who uses the AFL Telecommunications M100 OTDR for installing optical fiber in a premises environment.
To some extent, OTDRs have already been used in the premises environment for fiber network documentation, especially if the network's fiber runs are short and feature multi-segment lengths like those found in fiber-to-the-desktop installations. The OTDR, in this case, can provide the end user with quality assurance.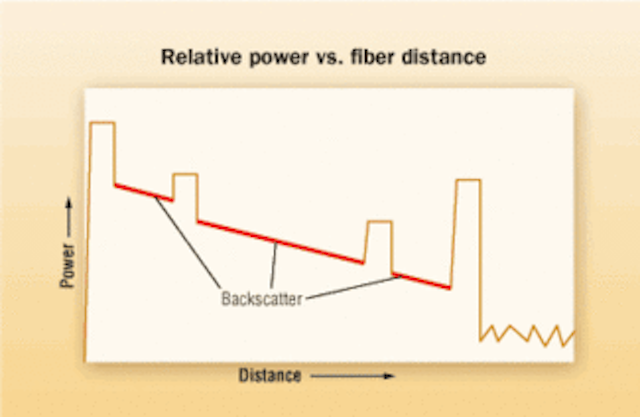 Backscatter portions of an OTDR trace show relative power versus fiber distance.
Click here to enlarge image
"And (the OTDR) measures attenuation of the fiber, so we have other features that the loss test set won't measure," says Jerome Laferriere, global head of OTDR for JDSU (www.jdsu.com). The company makes OTDR models that target short optical-fiber distances, like those found in the premises.
Shortchanged?
But not all OTDRs are appropriate for testing short fiber cables in structured cabling systems. Until recently, the typical OTDR would not help the contractor pinpoint and resolve issues in the normal lengths of cable one uses in premises cabling.
"The only downfall is if you have events within 15 feet of each other, it (the OTDR) will not pick it up; it has to be outside of 15 feet," says Geary.
But even this may be changing, as optical fiber, with its promise of high-bandwidth, becomes more widely used in premises cabling networks.
Premises and fiber-to-the-home (FTTH) environments have much in common, including short fiber distances and high fiber counts. But FTTH needs can also require longer runs and the occasional measurement through high-loss splitters and low-loss splices, which require higher dynamic range OTDRs. Premises environments, conversely, often require multimode measurements, which may not be needed in FTTH applications.
Contractors who are performing installations in premises environments are more concerned with certification, record keeping and reporting. By comparison, many network owners use OTDRs in the same manner as FTTX measurements-which tend to be pass/fail-and move on; or, for emergency restoration applications where the fault needs to be found quickly.
OTDRs require enhanced capabilities to be of more value to contractors who are working in a premises environment. One is higher dynamic range capability, which can reduce the two forms of dead zones-event and attenuation-and improve measurement resolution.
An event dead zone is the distance after a reflective event starts, until another of greater value can be detected. An attenuation dead zone is the distance after a reflective event when the OTDR can again detect small attenuation changes (0.5dB). It's a much greater distance than that of the event dead zone.
Reflectance of an event determines dead zone. The lower the reflectance, the smaller the dead zone. Most of the fiber in a premises environment is multimode. A minimum of 35 dB reflectance is required at connections, though some suppliers say contractors should seek 45 dB reflectance.
The relationship between the dead zone and the pulse width is directly proportional. If you are testing a longer fiber, a wider pulse test is usually required, since it contains more energy and increases the dynamic range of the measurement. The longer the pulse width, the longer the total dead zone. So, for shorter fiber lengths, you want to use a smaller pulse width to provide good resolution.
Some instruments struggle with this capability because they do not have a high dynamic range, but Agilent Technologies says its OTDR E6020B series addresses this issue. "Our high dynamic range permits faster measurements at lower pulse width, which allow you to see smaller events closer together quicker," says Schweiger.
Fluke Networks' OptiFiber OTDR, meanwhile, is designed to meet the needs of premise and campus applications. The OptiFiber is capable of both Tier 1 and Tier 2 testing. It has a built-in power meter and loss length capability, fiber inspector and video probe, as well as an event dead zone that can identify one-meter patch cords.
"We built in a power meter and source because it is a troubleshooting and certification product," says Lang.
Counting the cost
Still, some argue that most OTDRs are not appropriate for premises applications, as they lack the resolution for seeing all the short cables used in premises applications. Many are also quick to point out the high cost of an OTDR. The typical price is $12,000 to more than $30,000, depending on the instrument's capabilities. Buying an OTDR can impact the cost of fiber installation.
"It's like using a Cat 6 certification tester on Cat 3 phone lines-it gives little useful data but greatly increases the cost of the installation," claims Jim Hayes, president of the Fiber Optic Association (www.thefoa.org). "Using an OTDR to test a cable plant with 2 dB of loss, 100 meters long is like trying to measure the length of the Queen Mary with a ruler."
For new fiber installations, especially for enterprise end users who are migrating to laser-optimized fiber, Hayes says contractors need only perform an insertion loss test. He argues that a power meter and light source are all that is needed for optical fiber installation testing in the premises.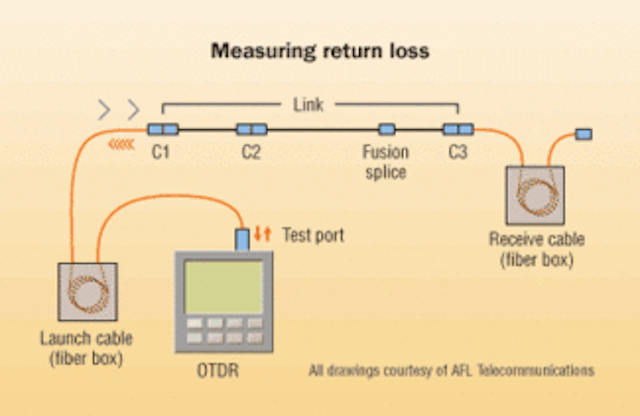 An OTDR measures return loss, which is a measure in decibels (dB) of the total amount of energy reflected back by a link. It also measures reflectance, a measure in dB of energy reflected at individual events, such as connectors or mechanical splices.
Click here to enlarge image
"The nice thing is that for the typical cable installation of premises fiber, you don't need an OTDR," agrees Payerle. "You can do the certification with a power meter and light source module, put them in the tester, shoot them through the fiber, and see where the breaks are."
Payerle argues that contractors should be less concerned about measuring attenuation in the fiber-in-the-premises, and more concerned about where a break in the fiber can be found. "An OTDR will give a measurement reading, but it is not a direct measurement-it is a calculated value," says Payerle. "If you are looking from a pure accuracy standpoint, like link attenuation, a power meter and light source are more accurate."
Payerle adds, "Typically, someone can buy fiber, then take a power meter and light source module, run a test, and verify if it will pass or fail. This will test that fiber, see if there is a break in the fiber, or a bad connection."
The 10-Gbit debate deepens
But the debate over whether OTDRs are needed in the premises becomes more complex with the push for 10-Gbit Ethernet applications. Some say growing interest in 10-Gbit Ethernet probably won't significantly impact the need for OTDR testing in the premises, but others argue that an OTDR can add quality assurance.
For 10-Gbit Ethernet in the premises, the main parameters are the same as for any rate: loss, length and return loss. By comparison, for long-distance metro and longhaul applications, new parameters, such as chromatic dispersion (CD) and polarization mode dispersion, must be tested to ensure that limits are not exceeded.
AFL's Blair does not see a relationship between OTDR testing and 10-Gbit Ethernet links. He says a light source and power meter will do when it comes to such testing: "The links are short, you have to measure accurately-and you can't get more accurate than a light source and power meter."
But Payerle says there can be times when it makes sense to test a 10-Gbit Ethernet network with an OTDR. For example, if a contractor wants a high-quality cable installation, or if a fiber must have a good quality connection with no macro bends, then it makes sense to perform testing with an OTDR.
"The problem could potentially come up if you are looking at high-speed 10-Gbit links," acknowledges Payerle.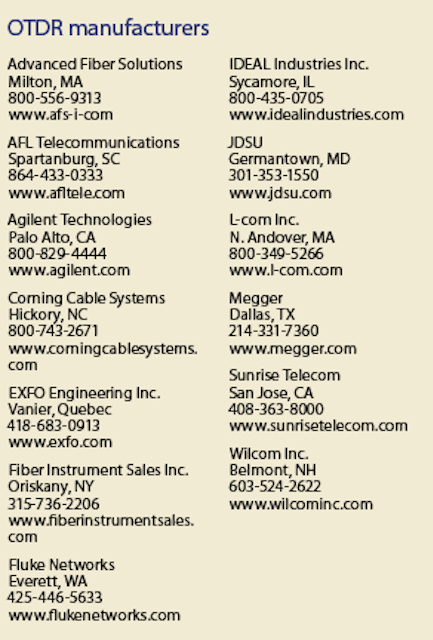 Click here to enlarge image
"Using an OTDR would give you a good feeling on what the return loss would look like if you put a high-power laser on that fiber," Payerle continues. "If you make the transition from premises wiring to VCSELs (vertical-cavity surface-emitting lasers), and go from gigabit to 10-Gbit applications, I'd be a lot more concerned with the return loss in the link, and not just the attenuation."
Watch your budget
Lang also asserts that contractors who only conduct an OLTS test can pass a link that has latent problems. Bad connectors and too-tight bends can be masked by other good connections when conducting Tier 1 certification. When using an OTDR on 10-Gbit Ethernet applications, contractors must realize that the loss budget is much lower than it is with Fast Ethernet. The loss budget for 10-Gbit Ethernet is in the 2 dB range, compared to the 10 dB range for Gigabit Ethernet.
"With 10-Gbit Ethernet, your loss budget is considerably smaller than with legacy applications," says Lang. "Now with 10-Gigabit, you have only 2.6 dB to play with. So, the stakes are a lot higher."
Lang adds that an OTDR trace will characterize every event in the channel, so the contractor can be confident in the installation and certification.
"I recommend it if you are doing 10-Gbit over fiber; you can use the OTDR if you are concerned about the return loss of the link," agrees Payerle.
BRIAN MILLIGAN is senior editor for Cabling Installation & Maintenance.