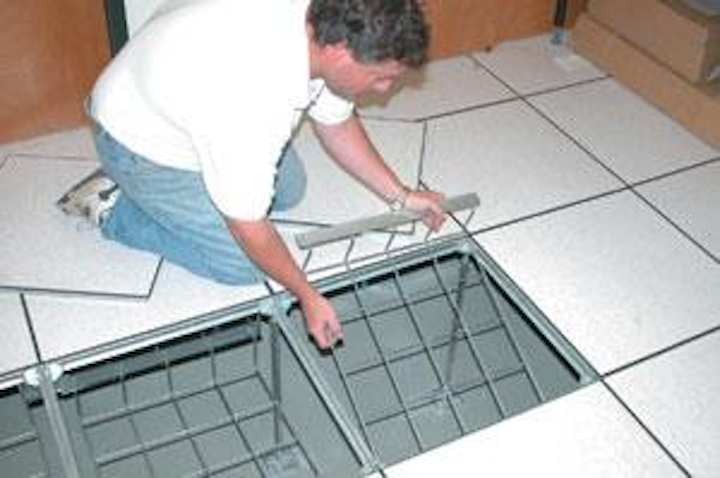 Today's seamless systems offer the appeal of easier upgrading, as well as more efficient adding and removing of cabling in other parts of the building.
Raised-floor systems have become a mainstay in today's data centers, but as they are extended to other parts of the building, their installations are becoming more challenging.
Today, building designers are seeking out seamless raised-floor systems for expanded areas. The ease of upgrading, as well as adding and removing cabling and applications through raised-floor systems, has helped spread the popularity of these systems to other parts of the building.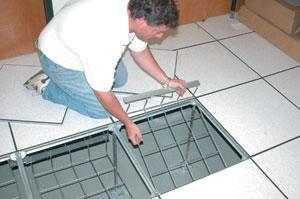 Snake Tray's drop-in Snake Canyon System uses a raised floor's existing substructure to achieve a finished cable management system.
Click here to enlarge image
"They (building designers) are thinking upfront about the applications," says Bob McCrossan, executive vice president of installer Hi Tech Data Floors (www.htdf-inc.com), a distributor of Tate Access Floors and American Cable Systems modular wiring products. "[Raised floors] are driven by a much broader market."
For several years, few upgrades were made to data centers, let alone other portions of a building. But now, as the economy continues to strengthen, says Dave Walens, president of Exploringdotcom Inc. (www.brumark.com), raised-floor solutions are being sought on a much grander scale. "The raised floor has kind of gone full circle," says Walens. "They slowed down a little, but are getting more active again." And as these solutions become more popular, there are accompanying installation and design issues, including cable diameters, alien crosstalk, and other challenges.
A really cool system
Raised floors are an option for installations that include a large number of cables. They are more efficient and less costly than overhead systems, where hot air rises.
Instead of running cables through the ceiling, contractors can easily pull them under the raised flooring. The solutions offer cooling, reduction in the number and volume of discreet cables, efficient consolidation of physical hardware ports and reduced jumper cable lengths for above-floor management.
In a nutshell, a raised-floor system is a series of structured plates placed on an elevated support system that creates a cavity between the slab and underside of the access floor. Cables can be laid here to distribute services.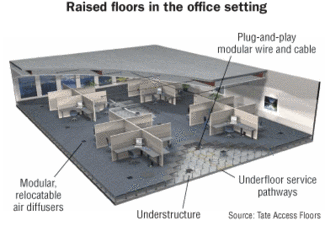 Tate Access Floors Inc.'s raised-floor solution for the office environment includes relocatable air diffusers, strong understructures that allow for lateral retention of floor panels, and underfloor service pathways that allow access to multiple locations with finished floor heights.
Click here to enlarge image
Raised floors are like having a vent system under the floor, with cool air directed where needed. They are helpful in data centers, which are constantly changing as more equipment is added or transferred to a different part of the room. Raised floors also allow for easy cable management as cables are pulled through the floor and laid out in a grid; they can be easily reached, upgraded or reconfigured.
Bill Reynolds, technical director for Tate Access Floors Inc. (www.tateaccessfloors.com), says raised-floor systems should be installed if a customer is bringing in or plans to bring in new technology, if they need to reconfigure their existing technology, or are uncertain of their future needs. "One primary feature access floors provide is quick and easy accessibility to servers, wiring, and data cabling that is under the access floor," says Reynolds. "You can quickly lift it up so you can get into the surface cavity."
How to raise the floor
The two types of raised-floor systems are pedestal and movable.
• A pedestal design uses fixed-height pedestals to support uniformly-sized removable floor tiles. The floor tiles are usually made of steel, aluminum, or wood that has been treated with a fire-retardant material. The floor must be built at least 6 to 12 inches above the subfloor.
• A movable design is built 18 inches above the subfloor. Vertical seismic shock is absorbed by dampers and a spring encased in a cylinder. In these solutions, horizontal movements can be neutralized by a Teflon-coated steel shoe around the cylinder base that can slide on a stainless steel plate attached to the subfloor.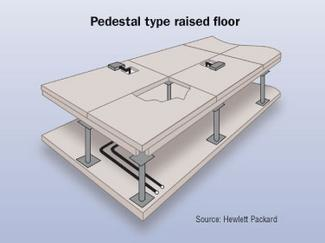 Click here to enlarge image
null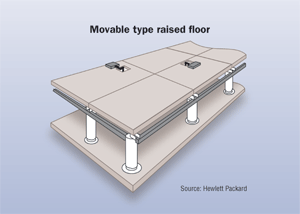 A pedestal type of raised flooring (above) uses fixed-height pedestals to support uniformly-sized removable floor tiles, while movable raised flooring is built 18 inches above the subfloor, through which vertical seismic shock is absorbed by dampers and a spring encased in a cylinder.
Click here to enlarge image
Raised floor systems have floor tiles that are generally no larger than 4 square feet. Perforated floor tiles can be placed in front of enclosures, disk drives, or other pieces of equipment to distribute air conditioning to hot areas. The floors are also completely modular. Utility panels can be moved out of the floor and moved to another location. Air diffusion devices can be placed next to heat-generating equipment so that air can be directed into the floor's perforated panels. When upgrades or changes are needed, the panels can be brought out of the floor and placed in another location.
"Everyone has a desire to put services at a special location when they first do the installations, but they don't know where services will be needed in the future, or what changes will have to be made to those configurations," says Reynolds. "You want a solution that will allow you to quickly move things about, add new technology, or swap things out at a low cost. If change is not an issue for you, or if you won't have new technology coming, then this [raised flooring] is not the answer for you."
Raised-floor systems have been typically relegated to data centers because, with all the equipment, it is easier to move air under the floor than overhead. The biggest challenge here remains cooling and access. Hot spots in data centers remain a significant problem due to the concentration of equipment. Increased use of heat-producing blade servers has only added to this challenge. Data centers that were built in 2000 or earlier could typically accommodate 40 watts of power per square foot. Today's data centers can produce 60 to 80 watts per square foot.
"They [data centers] have a greater concentration of blade servers, are smaller, have more heat, and hot spots," observes Tony Lookabill, southeast regional manager for Flex Tray (www.flextray.com).
Design challenges
Standard challenges for installing raised-floor systems have included tile installation, proper grounding techniques and providing protection from power interference. Perforated floor tiles should be installed in front of enclosures, and metal cannot be exposed so as to directly contact equipment that has been placed on top of floor tiles. Metal-sheathed floor tiles and the supporting raised-floor structure must be properly grounded, and the openings for electrical cabling should be smooth to prevent damage to any installed cable. In addition, the installation area must be protected from high-frequency interference coming from power-line transients.
In planning a raised-floor layout, make sure that adequate air conditioning is available for peripheral equipment, be aware of weight restrictions for the subfloor and raised floor, and make sure there are space accommodations for the equipment installation, as well as room for possible expansion. When the layout is complete, you can place floor templates on the floor to mark locations for equipment. The tiles can then be cut and the openings for cables assigned.
But new challenges are arising as cable technology changes, and the spaces where raised-floors are installed are expanding. Twenty years ago, the data center may have been the largest area in a building where access flooring was used. Today, McCrossan contends that it is the smallest space; raised-floor solutions are being installed in clean rooms, casinos, libraries, and offices. Raised-floor environments, McCrossan adds, let you avoid costly overhead ceiling installations or poke-thru technologies, making the solutions attractive for areas outside of the data center. In fact, a technology developed primarily for data center applications is now being driven by general office applications.
"Today, office environments experience a lot of turnover, and they need to quickly change their workstations," says McCrossan. "They need to upgrade their technology, and adapt to market trends, and they can quickly accomplish this when using raised-floor services that can be moved around relatively quickly if the owner-occupied space is desirable."
In the 1990s, for example, access flooring was driven by the need to manage the horizontal distribution for voice, data and power distribution in data centers. Today, a much broader clientele of users is seeking similar cable management for areas outside of the data center. "They are taking the time to understand up front the benefits of indoor air quality, and make changes that reduce lifecycle costs," says McCrossan.
The raised floor trend is logical for the enterprise, McCrossan believes. If technology upgrades or reconfiguration of workstations are required in the office environment, and the facility has not taken the raised-floor approach initially, the approach is distributive, time-consuming, and expensive. Work must be done in the ceiling for the redistribution of the cabling. This could include core drilling for poke-thrus, and possibly removing the ceiling system to enable change of heating and cooling ducts throughout the office setting.
"The overhead scenario requires costly, time-consuming work, and can be categorized as major renovation," says McCrossan. "But if you had a raised floor in place, you lift up the panels, reconfigure your power, voice, and data wiring, roll in new or rearrange existing furniture, plug it in-and you're ready to go."
Rasied-floor solutions in office settings let you install cable in areas where it is easier to manage and change, providing IT workers with quicker access to the cable. McCrossan's company has installed several million feet of raised floor in office buildings in New York, Jew Jersey, Connecticut and Pennsylvania. The New York Mercantile Exchange (www.nymex.com), for example, has underfloor technology in place, with thousands of miles of cabling running through its floors. In fact, since 2001, Hi Tech Data Floors has provided more than three million square feet of modular wiring in Jersey City alone at Goldman Sachs (www.gs.com), Mellon Bank (www.mellon.com), Garban Intercapital, TD Waterhouse (www.tdwaterhouse.com) and Chase Manhattan Bank (www.chase.com).
"If an architect or end user is considering building a new building, they would be remiss if they didn't look at not just the raised floor, but several systems that would create a symphony to give the best sustainable economical result to operating the building," says McCrossan.
Choose flexibility
A variety of systems are available, and McCrossan emphasizes that it's important to "pick the right product for the application to control the costs. Today's building designs need to incorporate products that won't end up in the dumpster...that are flexible, and can be reused or reconfigured down the road to provide a sustainable building."
BRIAN MILLIGAN is senior editor for Cabling Installation & Maintenance.

• • •
Complex design considerations
Design and installation considerations are becoming more complex as raised-floor systems make their way out of data center rooms and in to other parts of a building.
"When there is a change, or a renovation occurs, the products we distribute have to be reconfigurable," says McCrossan. "When one tenant moves out, another comes in, and you have to reconfigure the products to suit their needs and provide the same benefits that the previous tenant had."
And now, there are additional challenges of expanding solutions designed to distribute cold air to specific places and avoid bypass airflow problems. Adding to the complexity are changes in technology and cable preference.
Roger Jette, president of Snake Tray (www.snaketray.com), a company that makes the Snake Canyon series of cable tray products designed to integrate with the raised floor to provide a cable path, points out that it is easy to design a raised-floor system into a building while the building itself is being designed.
In an existing building, however, installations become much more complex. "In a data center, you can add a raised-floor," says Jette. "But when you design a floor for the whole building, doors are offset, elevators are offset. Buildings have been retrofitted to get that raised-floor involved; sometimes it can be done, and sometimes it can't."
As raised-floor systems expand to other parts of the building, installers are faced with determining how easy it will be to access the cable for maintenance or reconfiguration in an expanded office setting down the road. One solution is plug-and-play cabling, which can reduce upfront construction time in an office setting, and allow for easy reconfiguration.
"They need to ask how easy or hard it is to move things about, put in new technology, or make changes and terminations to accommodate equipment reconfigurations," says Reynolds.
Today's raised-flooring installations should include systems that provide relocatable air diffusers that can be moved during moves, adds and changes. These systems should provide strong understructures that will allow for lateral retention of floor panels, and should provide underfloor service pathways that will allow access to multiple locations.
When planning cable routes for systems in office settings, it's important to consider the different outside diameter and physical characteristics of the cable to be installed. "You have to look at how you manage those cables," says Flextray's Lookabill. "You can't just throw the cables on the floor."
Lookabill points out that the outside diameter (OD) of a typical Category 6 cable is a lot more than that of a Category 5 cable. A shielded Category 6 version's OD could be 0.251 inches, while the UTP Augmented Category 6 version could have an OD of 0.315 inches. "You don't have the same bend radius to work with," says Lookabill.
Another installation challenge is alien crosstalk when Category 6 cables are placed beneath the floor and spread out. Static electricity, too, can be created in underfloor environments. These problems can arise from the proliferation of microscopic zinc whiskers, a byproduct of molecular stress.
Zinc whiskers occur when material is pushed off of a metal surface, such as the sheet metal frames in the raised-floor systems. The whiskers break off, conduct electricity, and can raise havoc with electronics, getting into electrical components and causing a short.
While typical filtration systems are not adequate enough to catch these electrical problems, trouble can be avoided by taking proper grounding steps.-BM