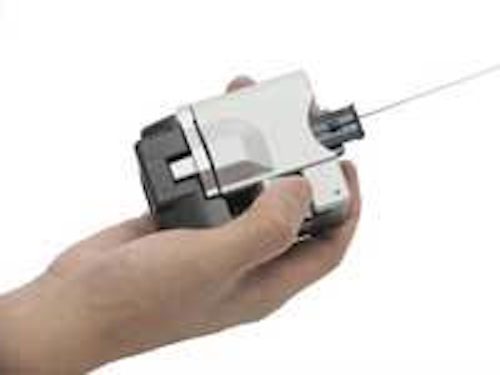 The all-important cleave is getting a little easier, and not much more expensive.
Consistency. Reliability. Accuracy.
These traits are what technicians are seeking in today's optical-fiber cleavers. Technicians are looking for a fiber cleaver that will produce a good cleave, one that is affordable, and can do the job quickly and consistently produce the same result. They want fiber cleavers that will dispose of the fiber "trash" as quickly as it is cleaved off.
Today's manufacturers are striving to make accurate cleavers that are affordable. But affordability can still be tricky to come by.
"They want it to be low cost, but it's one of those things," says Herb Congdon, global fiber product manager for AMP Netconnect (www.ampnetconnect.com). "You get what you pay for," says Congdon. "The more you pay, the better the cleave." AMP Netconnect offers a desk-grade, high-precision cleaver, which can be used for fusion splicing. The company also makes a handheld pinch-style cleaver.
Reliable products
Cleaving is a crucial part of the splicing process. With a proper cleave, an optimal fiber connection can be made during splicing.
Today's cleaving products are designed to be more reliable than those of the past. Technicians have pushed manufacturers to develop one-step cleavers for fusion splicing operations, and more accurate devices for mechanical splicing. New tools can cleave a fiber quickly and accurately at the push of a button, or be extremely accurate during field operations.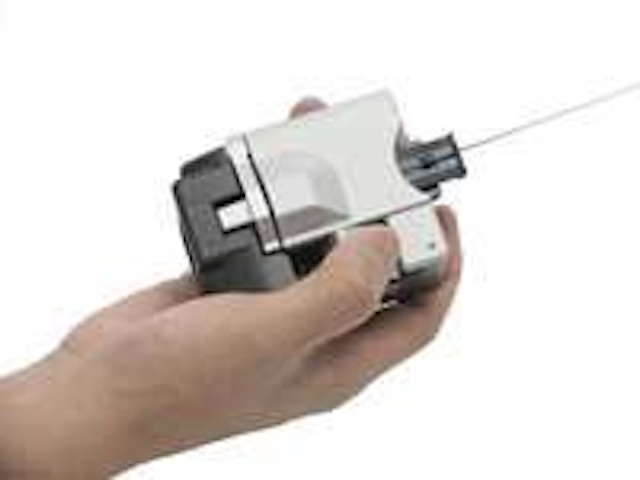 The S325 is the latest one-step precision handheld fiber cleaver from Fitel/Furukawa.
Click here to enlarge image
"You want to do it right and do it right the first time," says Jim Dallas, manager of training for KITCO Fiber Optics (www.kitcofo.com).
If there is a trend in the development of cleavers, it involves this simplicity. Manufacturers are trying to produce cleavers that are easy to use. Still, they must be capable of providing a precision cleave, which is critical for any splicing operation.
"What contractors primarily want is something that will be easy to use," says Congdon.
Some of the advances in cleaving are due in part to the fusion splicing necessary during fiber-to-the-home (FTTH) installations. In a Passive Optical Network (PON) architecture, a single fiber from a central office can feed 32 different homes. During the installation, a fiber is connected to several splitters. There is more potential for loss with each splitter, but the technician can make up for it by fusion splicing along the path so that he gets the least amount of attenuation in that run to the home. Cleavers for these tasks are designed to give, typically, a 0.5° angle so that when cleaved fiber is matched to cleaved fiber, the fusion splicing will work well.
Good cleaves lead to good splices
Whether the technician is conducting mechanical splicing or fusion splicing, cleaving is an important part of the process. If a technician makes a bad cleave, more than 2° off the cleave angle, it can create as high as 1 decibel (dB) loss after splicing-usually, unacceptable.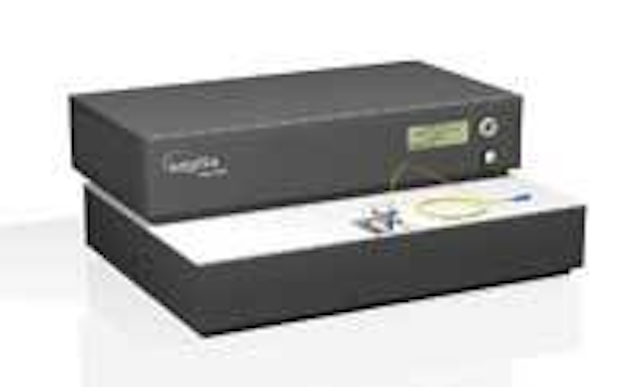 Developed jointly by Corning Cable Systems and Sagitta, Inc., COMET is a non-contact, laser-based cleaver designed for automatic cleaning of optical-fiber connections.
Click here to enlarge image
"If you cleave at an angle, you can lose your connectors," says Michel Rondeau, chief executive officer of Valdor Fiber Optics Inc. (www.valdor.com). "That is the problem with cleaving."
A good cleave is necessary "to prepare the fiber for the next step, which normally is splicing," says Tom Liang, engineer manager, Furukawa America Inc. (www.furukawaamerica.com). Furukawa makes the Fitel brand S121A, a handheld cleaver, and the S325, a one-step precision handheld fiber cleaver. "Splicing will make the final decision on whether the loss is high or low," he says, but a good splice is not possible without a good cleave.
Meet the cleavers
There are two families of cleavers:
Handheld cleavers, used in field splicing operations, can cost between $150 and $600 and are generally used in outside plant settings.
Tabletop cleavers, used in enterprise end user installations, produce a more accurate cleave, and are generally used when fusion splicing is necessary. During fusion splicing, the two tips of the fibers must be melted together.
A good cleave is important, as it is the first step to ensure a good splice and in preventing insertion loss. "Installers have a splice loss budget that they have to work with," says Joshua Seawell, product manager, fusion splicer products, Sumitomo Electric Lightwave, (www.sumitomoelectric.com). A technician who fails to make a good cleave can wind up with core defamation, an anomaly in which the fibers become misaligned and light escapes.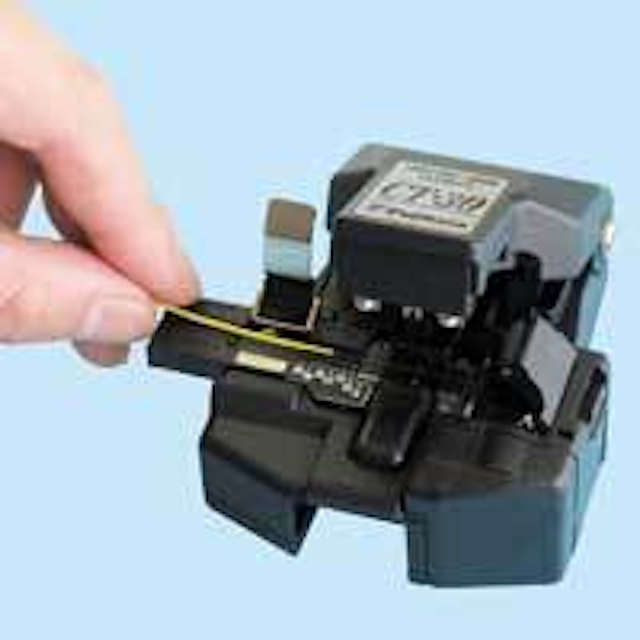 The CT30 series high-precision cleaver from Fujikura Europe Ltd. features preloaded spring action to provide more consistent and reliable repeatablity.
Click here to enlarge image
Cleavers that are used prior to fusion splicing cost about $1,000. Furukawa's S325 cleaver, for example, costs about $1,300, a price that has not changed much since an earlier model.
"They are expensive, but you get your money's worth," says Dallas. "And they will last a long time."
Cleavers that were made years ago would require the technician to put the fiber in the device, cover it, roll the scribe blade across it, and then push down. The technician would then take out the fiber and place it in a fiber trash can.
Cleavers that are made today, however, are designed to reduce the number of steps and cut down on mishandling. Now, these steps are taken care of with the push of a button.
"Our product came out because of the customers' requests," says Liang. "With our older type, the customer said there were too many steps. They wanted a more consistent, reliable unit."
Adds Dallas, "When you have a precision cleaver, it will automatically set it up and give you the right cleave at the right length, so there is no guessing when you put it in the fusion splicer."
Manufacturers are trying to make cleavers as foolproof as possible. The tools are intended to be simple to use and designed for those who may know only the basics of working with optical fiber. These cleavers are also designed to provide a consistently good cleave for fusion splicing.
"A lousy cleave will get you a lousy fusion splice," says Dallas. "You would have to break that cleave and resplice it.
"The way they look at it, time is money," Dallas continues. "You want to do everything right, and be precise when you get into splicing. This means trimming everything, and doing it right the first time."
That's better
One-step cleavers are designed to provide an all-in-one service and allow for increased reliability.
Furukawa's older cleaver models, for example, would require the technician to place the fiber in, close the small clamp/lid, slide in the blade and then pull the cleaved fiber out. But with the new S325, cleaving is a one-step process. The technician need only put the fiber into the cleaver, press the lever, and the device automatically slides the fiber blade and then gathers the fiber trash and places it into a fiber trash receptacle. When the technician opens the device, the blade automatically returns to its original position. The device is then ready for the next cleave.
"One-step is convenient, especially in the outside plant environment," says Liang.
"If the contractor is not well-trained, and people have to do the multi-step cleaving, they may need to repeat the process," Liang continues. "But with a one-step device, the technician does not have to remember all of those steps; he just places the fiber in the cleaver and pushes the lever."
Sumitomo Electric's FC6 series is a traditional, two-step tabletop cleaver. The technician lowers the lid on the device and then releases it. This tool is designed for traditional benchtop cleaving, using a tabletop or trailer for the splicing operation. The completely automated cleaver has a built-in scrap fiber catcher. Once the cleave is completed, the fiber scrap is dumped into the scrap fiber bin.
Cleaving in the field
Manufacturers of cleavers designed for field use are seeking to come up with accurate instruments that can be purchased at low cost. Furukawa makes the S315 for mechanical splicing and crimp-style prepolished connectors. The cleaved fiber can be inserted into the connector, providing a mechanical splice with low loss. The typical results are .35 dB per mated pair. These connectors have index matching gel to reduce back reflection at the point of fiber insertion in the connector.
Valdor Fiber Optics has a new technology that lets you install a ferrule in the field with a hand tool, put the ferrule together, and cleave and polish it in 10 seconds. This hand cleaver, or hand scriber, is designed to work quickly in the field, and is used mostly in the FTTH market. "We mechanically wrap the little ferrules to the end of the fiber, bend it, scribe it, break the surface of the ferrule, and polish for five seconds," says Rondeau. "Once you've got it terminated, the scribing is very basic."
Sumitomo Electric makes the FC7, a one-step handheld cleaver designed to minimize the need for workspace. The device, designed for field use, such as FTTH applications, comes with a wrist strap and pouch, and can be worn around the neck or belt.
Amechanical cleaver from Ripley Tools (www.ripley-tools.com), designed for emergency repair, will hold less than a half degree for 50% of cleaves, and less than one degree for 85% of cleaves.
"We work with our machinists to make sure there is a tight tolerance on the components so that they get a good, accurate, basic mechanical splice for their mechanical cleave," says Jim McCandless, applications engineer for fiber optics products at Ripley.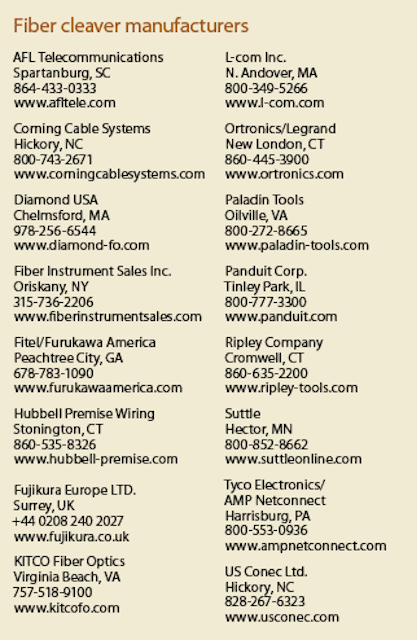 Click here to enlarge image
BRIAN MILLIGAN has served as a senior editor for Cabling Installation & Maintenance.