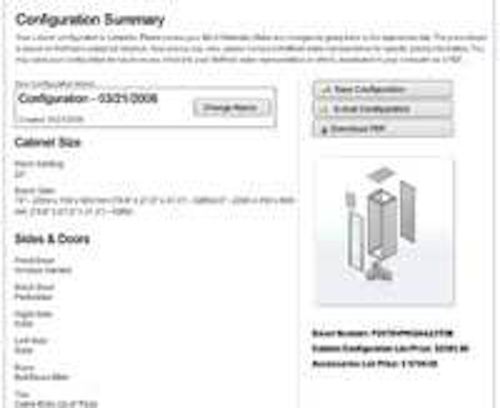 Following a more than one-year online maiden voyage, Hoffman's (www.hoffman.com) datacom cabinet configuration tool has been relaunched with features that the company says will better serve its buyers.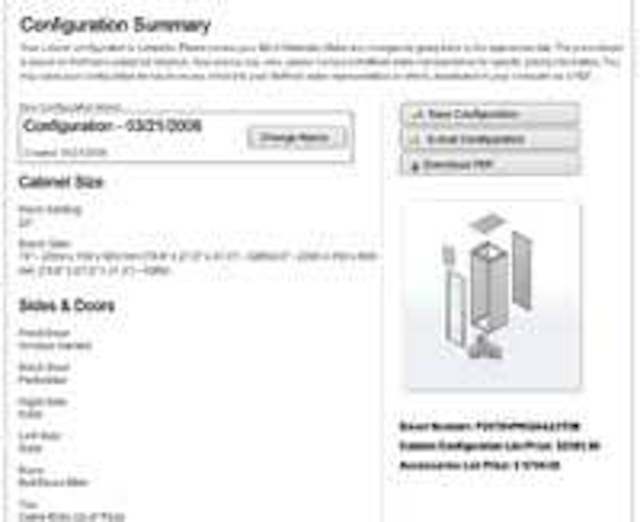 Hoffman's online cabinet selection tool, Configurator, uses a library of stencils and CAD files to display all elements of your cabinet as you build it. For budget planning, the tool also provides a cumulative list price of each item.
Click here to enlarge image
The Configurator is a design and management tool for selecting data cabinets for a specific installation, and lets you create, save, and share a variety of configurations for multiple projects.
"After introducing the Configurator over a year ago, we've found ways to strengthen this tool to better support data communication consultants, contractors, specifiers, and data center facilities managers to help them obtain needed solutions for their data network and communication centers," explains Brian Mordick, RCDD, Hoffman's senior product manager for datacom.
The upgraded tool features a series of pull-down menus for selecting rack size, cabinet doors, sides, bases and tops, as well as rack angles and type of finish. As you make choices in each category, the cabinet "builds" on the screen (see photo). Cabinet configurations and associated bill of materials can be saved, printed, or e-mailed as PDF files to colleagues.
New features include more frame size choices, additional options for doors and sides, and a broader selection of colors and finishes. You can also choose to have the company ship such options as cable management, thermal management, and power distribution accessories for do-it-yourself on-site installation.
For budget planning, the Configurator also provides Hoffman's published list price of each item as you build each aspect of the cabinet.
-Steve Smith