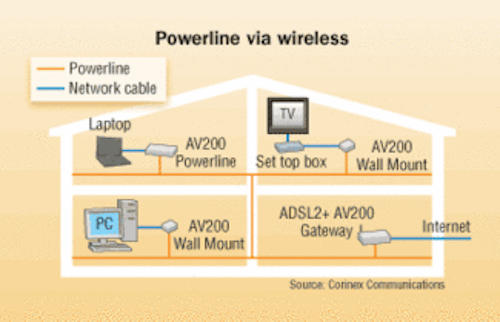 Mainstream UTP copper and fiber cable have received challenges recently to the home installation marketplace from alternative technologies that are banking on the merits of already-installed media.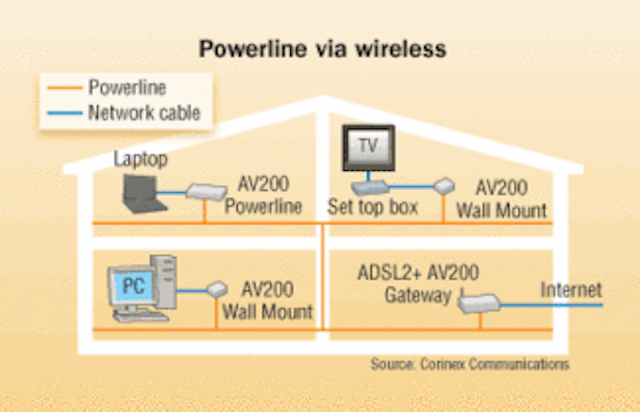 Powerline technology from Corinex combines wireless technology and a powerline gateway device to deliver high-speed triple-play (data, voice, video) service throughout a home's electrical outlets.
Click here to enlarge image
The Universal Powerline Association (UPA; www.upaplc.org), an international association of mostly electronics-based companies, says it has completed the first version of its "Digital Home Standard" (DHS), a worldwide high-speed powerline networking specification that utilizes a typical electrical outlet to transmit broadband-speed video, audio, and data-so-called triple-play-throughout the home.
The technology's main advantage, proponents say, is that homeowners anywhere in the world can have broadband-quality service, without having to install additional cabling.
The UPA is not connected with the HomePlug Powerline Alliance (www.homeplug.org), which is another industry-led initiative committed to creating specifications and standards-based applications for home networking products, home automation, and broadband access services to the home. HomePlug has already unveiled global standards that support in-home broadband backbone for distributing rich multimedia (HomePlug 1.0 and AV), and to-the-home broadband access through the utility power grid (HomePlug BPL).
The difference between the two groups, suggests UPA chairman Eric Morel, is "the UPA is pushing for both coexistence and interoperability between BPL (broadband powerline) technologies," while HomePlug, he says, has been focusing on interoperability-products using two different technologies that can work together for the same application.
"Coexistence means that two different technologies can use the same wire at the same time and share resources, without any significant decrease in performance," explains Morel. "These can be two in-home technologies [user-installed network] or an access [service provider operated] and an in-home technology. Coexistence is aiming at providing a free environment for fair competition."
But the two associations, Morel says, keep in contact with one another, and though the groups do not currently have common BPL initiatives, that day may come soon. "We need to converge towards one standard," Morel urges.
The UPA hopes that with its specification, announced at this year's CeBIT show in Hannover, Germany, OEMs will increasingly build compatible products for high-definition video streaming, online gaming, and audio distribution throughout the entire home without the need of installing new cabling. CeBIT reportedly featured several manufacturers who were showing products bearing the "UPA Plug Tested" label.
"These are not prototype products," assures Morel, "but are actually going onto the shelves now."
Among the newest products is Corinex Communications' (www.corinex.com) ADSL2+ AV200 Powerline Gateway, which integrates Texas Instruments digital-signal-processor technology with wireless and 200-Mbits/sec powerline technologies to distribute up to nine simultaneous streams of video throughout a home-including high-definition (HD)-over existing electrical wires. The triple-play gateway also transmits audio and data signals for a complete connected home.
Work on the DHS began in early 2005 with a market requirements document that was submitted for input to leading service providers, PC manufacturers, and potential powerline chipset providers. The UPA says requirements were validated with a set of worldwide laboratory and field trials involving more than 40 telecommunications and cable companies. The UPA has complimented the specification with a set of Plug Tests, which are said to ensure interoperability of equipment from different manufacturers and demonstrated coexistence between networks.
Powerline technology is also being touted for multi-dwelling units, such as apartment complexes and hotels.
Meanwhile, four telecommunications manufacturers have announced membership in another industry-driven inititiative, the Multimedia over Coax Alliance (MoCA; www.mocalliance.org), which is promoting distribution of digital video, audio, and data throughout a home via unused bandwidth on pre-installed coaxial cable.
The group has had a specific focus on the key requirements for networking of digital home entertainment. MoCA members include leading consumer electronics, networking, retail, technology, satellite and cable companies. Tellabs (tellabs.com), Fujitsu Network Communications (www.fujitsu.com/telecom), JDSU (www.jdsu.com), and Entrisphere (www.entrisphere.com) are among the newest members of the alliance.
Tellabs, for example, has optical network termination (ONT) technology that is integrated with MoCA, with a goal to help service providers boost FTTP deployments by eliminating the need to install new cabling once the service enters the premises.
"Integrating MoCA into ONTs eliminates the need for new in-home wiring, enabling our customers to reduce installation costs and connect more homes per day," says Asghar Mostafa, vice president of product development for Tellabs.
MoCA's primary activities include identifying and establishing technical requirements for digital communications via in-home coaxial cable, conducting field trials, developing technical specifications and interoperability guidelines for MoCA-enabled products, and conducting interoperability certification testing.
-Steve Smith