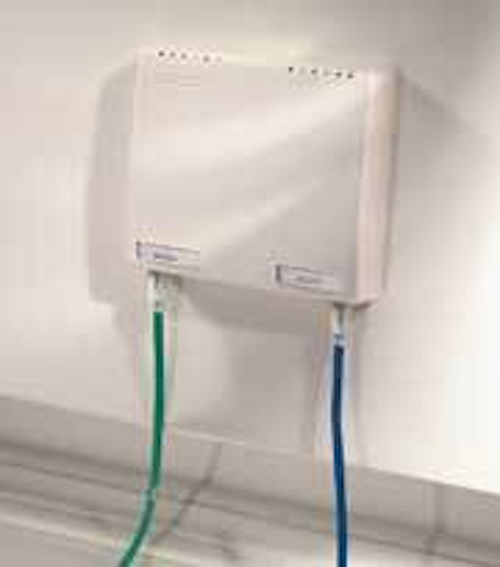 Providers of wiring infrastructure have expanded their offerings as widespread wireless LAN deployment appears inevitable.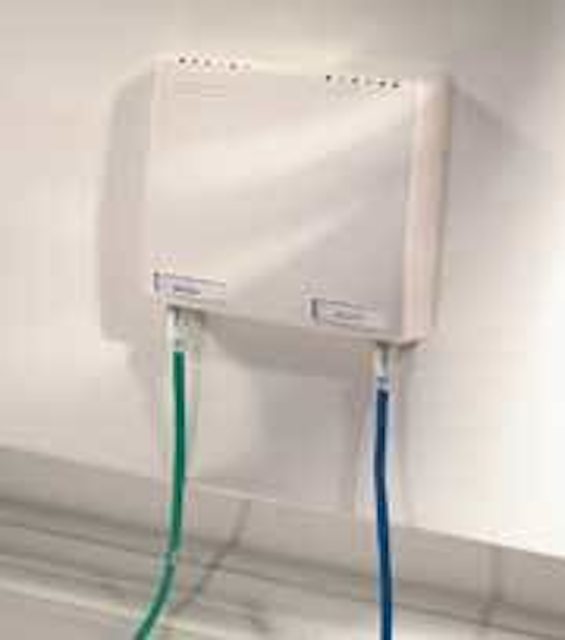 The wireless LAN product offering from Ortronics, introduced in September 2004, is a centralized system that includes the Wi-Jack wireless wall outlet (above) and a controller (below), as well as Power over Ethernet midspan injectors.
Click here to enlarge image
As wireless increasingly infiltrates the "wired" world, people everywhere are working where they want with access to the information they need. Through new standards and technologies, the growth of wireless LANs (WLANs) in the premises environment has risen to an all-time high, making the network more flexible than ever while increasing worker mobility and productivity.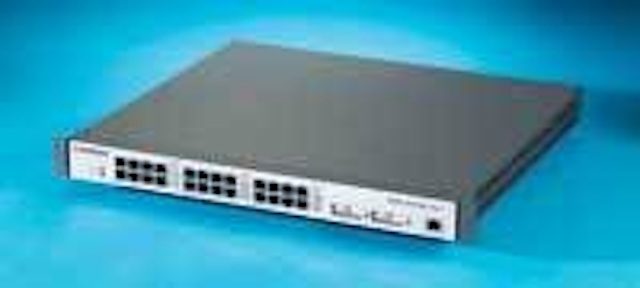 Click here to enlarge image
The emergence of wireless into the mainstream is having an obvious impact on the cabling industry. Structured cabling and connectivity vendors see wireless as a logical adjunct to the wired network, and many have expanded their product offerings with end-to-end wireless systems.
Wireless on the rise
Over the past decade, companies have seen a need for greater worker productivity and efficiency. Flexibility and mobility are fundamental in fulfilling that need, and wireless technology is making it all possible.
"We're no longer tied to our desks working 9 to 5. We're in conference rooms, traveling to different cities, or working in branch locations," says Mike Barnick, solutions marketing manager for Systimax (www.systimax.com). "The constant need to be connected to the network and to business partners and customers enables us to be more productive, and that's what has driven the need for wireless."
A key factor in the proliferation of WLANs is the introduction of standards and advanced techniques that have addressed security concerns and greatly improved customer perception. "A few years ago, wireless received negative publicity about the potential for security attacks and loss of information," says Bob Elliot, product development manager, Panduit (www.panduit.com). "In addition, significant legislation that introduced stringent rules regarding the protection of information caused concern about security and reluctance to adopt wireless technology. Now, IEEE standards and advanced security and authentication techniques are making sure that the right people are accessing the wireless network, and companies are becoming more willing to implement wireless."
With the new comfort level and increased implementation, wireless is no longer being deployed in isolated areas for limited applications. "Wireless is being implemented across entire campuses, and companies are now looking at unique ways to utilize the technology for overlay applications," says Elliot. "We're seeing wireless pager systems, VoIP over wireless, and RFID [radio frequency identification] to track critical merchandise. Improved perception and reduced prices drive interest in wireless, and then when you add interesting applications, people start to see all of the ways to use the technology. This further drives wireless adoption, and I believe this trend will continue."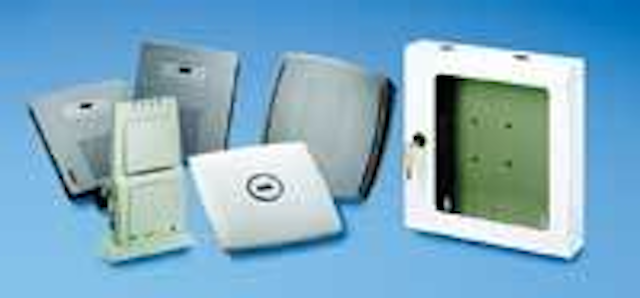 In conjunction with networking partner Cisco Systems, Panduit offers the PACT Wireless Connection Solution, including wireless access points, controllers, antennas, enclosures for access points, Power over Ethernet-enabled patch panels, and connectivity.
Click here to enlarge image
At one time, many believed that wireless was a potential threat to wired connectivity. Today, there is a new attitude towards wireless stretching across the structured cabling industry. "Wireless is encroaching into our industry and networking arena as the third medium," says Rick Taylor, senior product manager for alternative media technology, Leviton (www.leviton.com). "Now we have fiber, copper, and air. Wireless is an enhancement to the wired network that actually means more cabling."
Taylor says companies will continue to add more cabling to support wireless access points (APs) in their offices; and that's good news for cable and connectivity vendors.
From fat to thin
With wireless now being implemented for new applications and in more than just conference rooms and open areas, many companies are looking to provide seamless coverage across the entire enterprise. That broader adoption has caused a shift in wireless AP technology and deployment.
In a distributed WLAN, "fat" or intelligent APs perform all wired to wireless packet conversion, encryption, quality of service, and RF monitoring. This requires adjustments or upgrades to be performed locally at the AP, and in some instances, migrating to newer technologies can require full AP replacement.
On the other hand, a centralized system uses "thin" APs and places the intelligence in a controller located in the telecommunications room or data center. In a large-scale wireless deployment, a centralized system is typically more cost effective because the wireless APs are less expensive to manufacture, upgrade, and migrate to future technologies.
"When the model was installing a few wireless APs in common areas, it wasn't onerous to locally make adjustments or upload firmware at each AP," says Elliot. "But when you start having 50 or 100 APs, you begin to realize that making changes is more troublesome." According to Elliot, another major benefit of the centralized system is the ability to use the controller to differentiate between APs and set up virtual WLANs with various security levels and access.
A centralized system also facilitates set up of wireless APs and managing quality of service. "With our centralized system, the controller automatically recognizes a wireless AP and downloads the programmed configuration," says Tony Walker, wireless marketing manager for Ortronics (www.ortronics.com). "The controller can also show you RF density in real time and recognize when an AP goes out of service. It can then increase the RF power of other APs to cover the area. When a wireless AP goes down in a distributed system, you might not know it until somebody complains, and then you need to walk around with special test equipment to determine coverage areas."
According to Walker, a centralized system is especially ideal for VoIP over wireless where consistent coverage, quality of service, and fast roaming are required.
Despite the benefits of centralized WLANs, Elliot says that does not mean there isn't a place for the distributed WLAN system. "If you only need 3 or 4 APs, you really have to examine the economics, and it could be more cost effective to go with a distributed system," says Elliot. "But as soon as you start adding a lot of APs, you have to consider the total cost of ownership, and the centralized system wins out."
With more wireless APs being installed and centralized systems becoming the norm for large-scale wireless deployments, the use of Power over Ethernet (PoE) to power the APs is becoming more prevalent. "Power over Ethernet has been swept up in the technology shift; it is truly intertwined with centralized wireless systems," says Elliot. "When the goal is to provide seamless coverage, power is not always available where you need to locate APs, and then Power over Ethernet becomes a very attractive option."
Distributed system offerings
With the emergence of wireless into the mainstream, and the belief that wireless is an adjunct to the wired network, several cabling and connectivity vendors are introducing wireless systems. Many are starting out with distributed wireless systems that will likely evolve as technology continues to evolve.
"Wireless standards and the demand for solutions are what drove us to introduce our wireless system in August of 2004, and our solution is just another part of our overall portfolio," says Systimax's Barnick. "There's a need for customers to integrate their wired and wireless systems because the cabling infrastructure is what supports wireless APs. There's also something to be said for having a one-stop shop for data center products, cabling, connectivity, patching, and now wireless."
The Systimax AirSPEED solution includes the AP541 and AP542 APs, antennas, and rack-mounted midspan PoE devices. The AirSPEED AP542 is a dual-band, tri-mode intelligent wireless AP used in a distributed system that simultaneously supports 802.11a, 802.11b, and 802.11g clients. The AirSPEED AP541 wireless AP must be set to the desired standard. "As an enterprise-class system, our APs comply with the 802.11i security standard and support WPA2 security protocols," says Barnick. While the system is distributed, Barnick says that Systimax will continue to look at such technologies as centralized systems to constantly improve their product offering.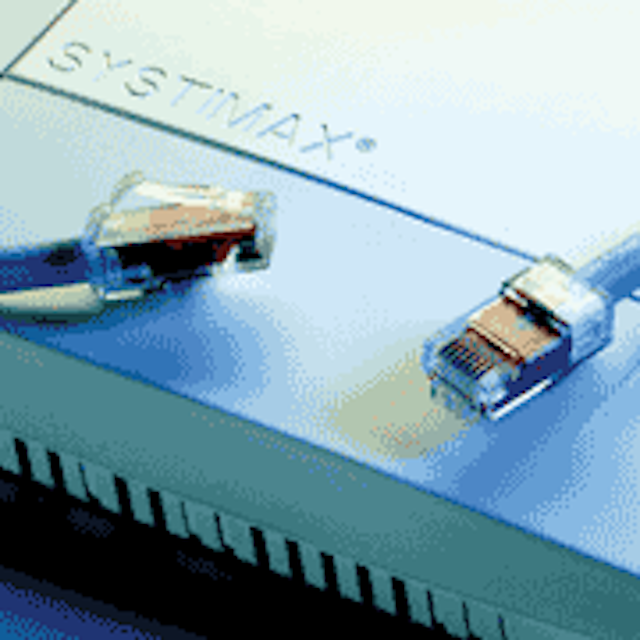 Systimax's AirSPEED wireless system includes the AP542 dual-band, tri-mode intelligent access point that simultaneously supports 802.11a, b, and g clients.
Click here to enlarge image
Introduced in the third quarter of last year, Leviton's enterprise wireless solution also includes an intelligent wireless AP. The AP200 is a PoE-compliant AP with full radio spectrum 802.11a/b/g compatibility. To complement the AP200, Leviton provides active telecommunications enclosures, wireless enclosures, and PoE midspans. "Our wireless offering meets the needs of our specific customer set, but it is by no means the only wireless technology we'll ever offer," says Taylor. "I believe that, in time, companies like Leviton will gravitate toward a broader offering that includes both distributed and centralized systems."
Taylor points out that the choice between a distributed or centralized system really depends on the customer. "Many customers start small and grow a distributed system, while others may choose to plan a large-scale deployment upfront with a centralized system," he says. "It varies from customer to customer and depends on size, security issues, and deployment strategies."
Other system approaches
Some cable and connectivity vendors have taken a different approach with their wireless systems. Last November, Panduit teamed up with wireless networking provider Cisco Systems to deliver the PACT Wireless Connection Solution. "The components of the PACT Wireless Connection Solution [such as the Cisco wireless AP and the Panduit enclosure] are optimized to work well together," says Elliot. "By offering both distributed and centralized wireless APs, customers don't have to shop around."
The PACT Wireless Connection solution includes Cisco distributed and centralized wireless APs, WLAN controllers, and antennas, and Panduit wireless AP enclosures, PoE patch panels, and connectivity. "Customers are now talking wired and wireless in the same sentence," says Elliot. "You can't separate the two, and Panduit now provides both wireless and wired solutions to meet all of our customers needs."
Ortronics was the first structured cabling company to offer a centralized wireless system. In September 2004, Ortronics introduced wireless controllers, PoE midspan injectors, and dual-band/single-radio Wi-Jack wireless wall outlets based on technology from wireless partner Aruba Networks. "Most wireless APs require a patch cord, but with Wi-Jack, the horizontal cable is actually punched down directly to the access point," says Walker. "We believe this approach more tightly integrates wireless with structured cabling."
While the first generation of the Wi-Jack wireless AP was unobtrusive with no external antenna and resembling more of an HVAC control unit than a wireless AP, Ortronics recently released the smallest available wireless AP. Introduced this month at Interop, this latest generation of the Wi-Jack is a dual-band/dual-radio PoE wireless AP that supports 802.11a, b, and g simultaneously.
"The new Wi-Jack Duo is smaller than a faceplate, fits into a single-gang box, and protrudes no more than 12 mm," says Walker. "Like the first generation, it is also available with an RJ-45 jack for plugging in a patch cord, which is ideal for connecting devices that are not wireless-enabled." According to Walker, the antenna in the new Wi-Jack enables it to be mounted anywhere on the wall even behind objects, and it can act as an air monitor to identify rogue APs or other unauthorized wireless connections.
ADC (www.adc.com) entered the wireless market in 1992 with a portfolio of digital radio-over-fiber transport products aimed to provide wireless service providers with higher capacity and better coverage in public urban and rural areas. Building on that technology, ADC introduced their Digivance WFX Wi-Fi WLAN Array Solutions in January.
Each Digivance WLAN array includes an embedded controller (WLAN switch) and 4, 8, or 16 integrated access points, providing simultaneous non-overlapping channels. The result is increased capacity and range, which ADC says greatly reduces the number of devices to install, manage, and service.
For example, the WFX-3900 with 16 integrated APs provides up to 16 times more capacity than a typical single antenna AP, delivering 864 Mbits/sec over a large area and supporting 1,024 users. In some respects, the Digivance WFX solution is a combination of multiple wireless APs and a controller in one device. The system is also available with a management platform to centrally manage up to 500 WLAN arrays in large-scale campus Wi-Fi deployments.
Transition Networks (www.transition.com) is also a new name in the wireless LAN equipment space, but the products it offers are not new to the market. Last November, Transition Networks and MiLAN Technology merged. Both organizations were wholly owned subsidiaries of Communications Systems Inc. MiLAN had wireless LAN equipment-access points, bridges, adapters, and antennas-in its stable of products before the corporate merger. Today, MiLAN is the brand name of wireless products offered by Transition Networks. The company also offers a line of network switches that carry the MiLAN brand name; media-conversion products formerly offered by MiLAN now carry the Transition Networks brand name.
Central to the MiLAN wireless LAN product family is the ShAir AccessG access point, which is available in two models. Both are 802.11b/g-compliant; one is locally powered and the other accommodates Power over Ethernet.
"Many of our enterprise customers use them to connect multiple buildings in a small campus," notes Bill Schultz, Transition's director of marketing. "A few of our customers are hot-spot providers and have used them for that purpose," he notes, adding that the products' self-discovery capability makes them easy to use.
Challenges and optimism
Structured cabling and connectivity vendors are keyed up about enhancing their product offering with wireless systems, but entering into the wireless arena is not without challenges. When most end users think of wireless, they think of big-name wireless equipment providers like Cisco, 3Com, Nortel, or Aruba. Turning to structured cabling and connectivity vendors for wireless systems has been virtually unheard of until now.
"Traditionally, structured cabling companies have relationships with the infrastructure people while known wireless providers like Cisco and 3Com have relationships with the networking people," says Ortronics' Walker. "Our infrastructure contacts are helping us get in front of the networking people. When they ask, 'Why should I buy my wireless equipment from a structured cabling company?,' the answer is because wireless is a natural extension of structured cabling, and we believe our solution brings more value to customers."
Distribution is another challenge for structured cabling vendors entering the wireless arena. "We are dominant in a segment of distribution described by the Graybars and Anixters of the world where installers purchase structured cabling components," explains Bill Slater, marketing manager for Leviton's voice and data division. "On the other hand, IT managers purchase active networking equipment primarily through electronic resellers. This is one issue we have to deal with, but I think as wireless becomes more a part of the cabling infrastructure and continues to moves down to the physical layer, we'll see a shift from the very high-dollar-per-hour IT manager buying and installing wireless to cabling contractors."
Integrating distribution channels was a key element of MiLAN's merger with Transition Networks, but it did not pose significant challenges. Schultz explains, "The two companies shared some distributors, including Anixter, Graybar, and Ingram Micro. The distribution efforts of both companies had similar structures and, overall, there was a lot of similarity in distribution channels."
Despite the challenges, optimism is high among structured cabling and connectivity vendors. "Customers want to have a smart building approach with a sophisticated network that includes wireless, and we can provide both," says SYSTIMAX's Barnick. "Whenever the industry comes together to create a foundation and a sanctioned standard, that helps proliferate better products and more competition. From our perspective, wireless is a very good thing."
Adds Panduit's Elliot, "For the foreseeable future, we see wireless as an overlay strategy in the enterprise and a natural extension of the structured cabling system. We do not foresee wireless ever replacing wired structured cabling to the desktop."
PATRICK McLAUGHLIN is chief editor of Cabling Installation & Maintenance. Freelance writer BETSY ZIOBRON also contributed to this article.