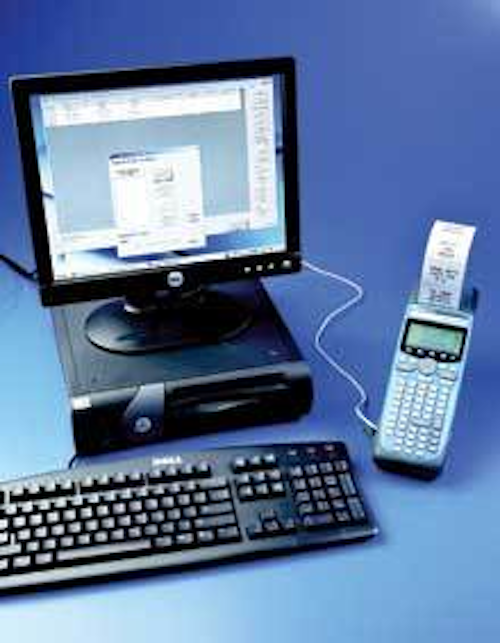 Advances in the equipment used to label cabling circuits represent the trend toward higher speeds in all spheres.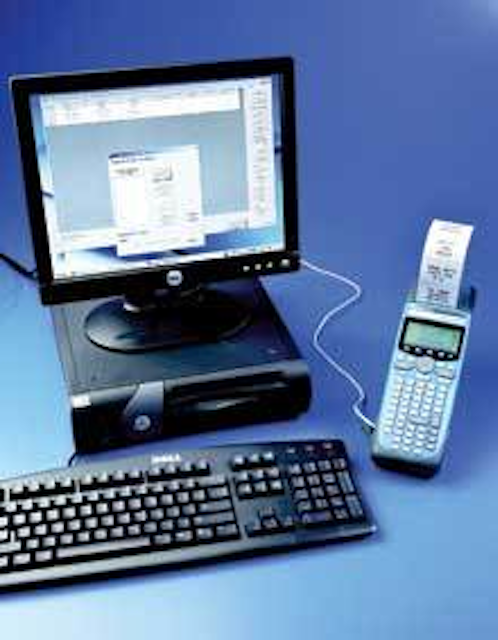 HellermannTyton's Spirit label printer now can download information from a PC, letting you avoid multiple keying of data.
Click here to enlarge image
The structured cabling industry has always, in some way, shape, or form, centered on the concept of speed. Most often, the focus is on the speed with which data travels from transmitter to receiver, and the technology at work has taken the industry on a climb from 10 Mbits/sec to today's 10-Gbit/sec transmission capabilities.
But just as much as the cabling business is about feats of electroengineering marvel, it is a construction and maintenance trade, in many cases complete with hard hats, safety glasses, and tool belts. Within that realm, the concept of speed remains an issue, with very different but very real implications.
Logically, the speed with which installers and technicians complete their tasks has a significant impact on the cabling contractor's business success. By association, the cabling system end user benefits from speedy and efficient work from a contractor's crew, especially when called in to troubleshoot.
Introduce the concept of standard-compliant cabling-plant administration (i.e., marking and labeling cables and connectivity ports) to this scenario, and it takes on an additional dimension. In short, and perhaps oversimplified, the mantra about labeling can be described as: Spend a little time now to save a lot of time later.
Yes, but...
"People we talk to know they should be labeling," says Mike Clemens, senior manager of marketing and sales for Dymo Industrial (www.dymo.com/industrial), maker of the Rhino series of handheld label makers. "The question for them becomes, 'Do I invest the time now to make it easier when I return?' Or, the question for them is, 'Should I make it easier for whoever follows me?' Many times, their answer is no. But with continuing education and market awareness, many more are now saying yes."
Greg Bramham, vice president of sales and marketing with Beast Cabling Systems (www.thebeast.us), lends more of the contractor's perspective: "Current standards address how a project is to be labeled at completion. Yet there are few guidelines about the rough-in process. Therefore, many install technicians have learned that there are two major considerations to the rough-in process-accuracy and speed." Bramham adds, "The benefits of accuracy are obvious. Accurate rough-in labeling results in less wasted time required to tone-out mislabeled cables. It also means less wasted material, because hundreds of feet of cable sometimes must be repulled to replace mislabeled cables. And of course, accurate rough-in labeling greatly reduces the chances of an undetected error becoming the end customer's problem."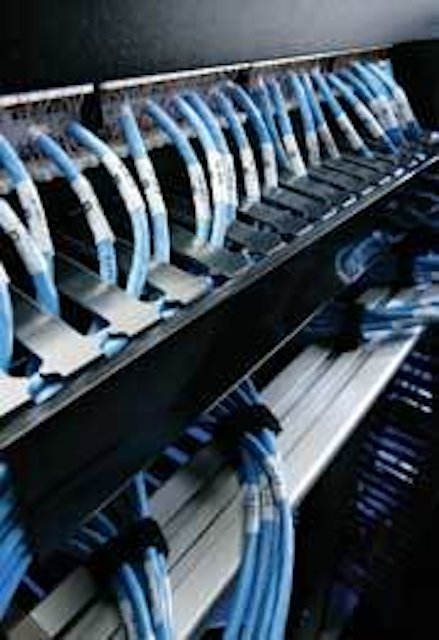 When a troubleshooting technician is greeted by a well-documented system such as this one, there's a good chance cable identification will not hinder the problem-solving process.
Click here to enlarge image
Further, Bramham says, the manual process of applying labels at rough-in consumes time: "This process, repeated hundreds of times, consumes substantial hours in an ideal world. But in the reality of a typical job site, it is less than ideal."
The entire rough-in process, it should be noted, is incumbent upon an installation crew regardless of whether they perform final labeling, so they can correctly identify both ends of a circuit. With that much effort required anyway, the additional, final label creation and application represents some fraction of additional time as opposed to an order of magnitude more time. By all indications, the predominant factor determining whether an installation is labeled according to the TIA/EIA-606-A Administration Standard for Telecommunications Infrastructure is whether or not that standard is cited in the project specifications.
To that end, several labeling equipment suppliers express optimism about attempts to push labeling into the mainstream of cabling projects, while committing to continuing awareness campaigns. "I believe a majority of the market understands the benefits of a properly labeled and documented physical network," says James Pettit, business development manager with Brady Corp. (www.bradyid.com). "I believe the number of contractors complying with the 606-A standard will continue to increase as more and more projects require compliance. End users will continue to help drive acceptance and compliance to the standard."
"There absolutely is a need to win over more people," states Shawn Whittaker, product line manager of identification products with Panduit (www.panduit.com). "It has come a long way over the past five years, with three primary drivers," he adds. "End users are seeing the value of labeling. Some contractors and installers see that they can add value to their services by including labeling. And companies like Panduit and others are pushing the education into the market."
Several providers of labeling equipment say that when TIA/EIA-606-A is not included in a project's specifications, a cabling contractor can exhibit a level of professionalism by labeling according to the standard. Some companies market to contractors with that very message. "We appeal on a professional level," says Dymo's Mike Clemens. "Labeling a project is a more professional way to do the job." Many of Dymo's promotional materials sum up that approach with the question, "How do you sign your work?"
At the BICSI Winter Conference held in January, Nick Michaelson, chairman of Silver Fox (www.silfox.com), carried the message of professionalism and value-add when he presented the technical and business aspects of a proper labeling job. His presentation, "Labeling: The final frontier," was an apropos title given the fact that this type of cabling-plant administration is striving to gain across-the-board acceptance.
Several times in his presentation, Michaelson offered the tongue-in-cheek comment, "It's only labeling," while in actuality, his presentation made the case for the importance of the task and the elements that go into it. Overall, Michaelson's focus was on delivering a comprehensive labeling solution, including the appropriate times and places for handheld label makers and desktop label printers.
Integration and efficiency
Perhaps more than ever, the integration between the two is possible and practical. "We continue to emphasize that our Spirit printer is more than a portable system," says HellermannTyton's Todd Fries, marketing manager for identification systems. "Users have the ability to download lists to the printer."
HellermannTyton (www.htamericas.com) produces PC-based and portable printing systems.
Fries says the impetus for this capability was contractors who have a list of outlets, ports, cables, etc., and do not want to re-key that list into a handheld. Another of HellermannTyton's printers, the TagPrint 606, already includes data that contractors need. Rather than having to key in all that information, contractors highlight and select it from a menu.
"The [labeling] machines are getting easier to use all the time," agrees Clemens. "The Rhino Pro has 'hot keys' for commonly used functions. Instead of many keystrokes, users have to make just a few. For example, if the user wants to make a wrap, a few button-pushes produces a perfectly sized label."
Similarly, the printer can produce a single label perfectly centered above the ports of a patch panel, despite the common belief that making patch-panel labels with a handheld is difficult.
A soft touch
Panduit's Whittaker says software developments are "among the most dramatic improvements in labeling technology. Panduit has developed market-application wizards. The user is prompted for information, and with that information the software creates legends. For example, one is for 606-A compliance. Users do not have to understand the standard's technical details thanks to the wizard."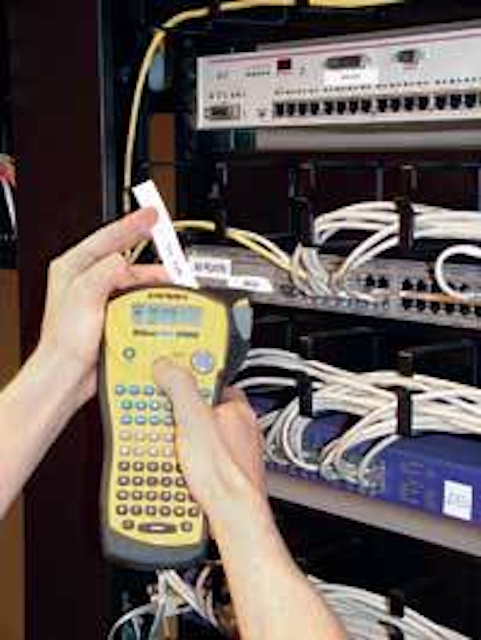 The RhinoPro series from Dymo is capable of printing a strip that will label an entire row of ports in a patch panel.
Click here to enlarge image
Along the same lines is a program that works with CAD or Visio to automatically extract information and send it to the printer, saving as much as 75 percent of label-creation time.
Also from Panduit is the LS8 Panther handheld labeler. Like HellermannTyton's Spirit, it has a PC interface and lets you print labels from existing data.
Whittaker says the variety of tools available amounts to an "integrated system approach. Different tools are available, and all work together so users do not have to input the same data multiple times."
Last fall, labeling-system maker Brother International (www.brother-usa.com) announced its association with D-Tools (www.d-tools.com), a system-design software manufacturer. The two companies developed a system for printing cabling labels with P-touch PC-connectable label printers.
You can print labels directly from D-Tools System Integrator 4.5 software. Brother says this ability "helps eliminate costly problems caused by illegible, handwritten, or incomplete labels at a price that's more cost-effective than other methods."
Brother's P-touch Flexible ID tape is designed to wrap around cylindrical surfaces, including wrapping and flagging cables and wires. Its adhesive allows tight wrapping without uncurling, the company says, and allows the tape to stick to itself for secure flagging and tagging.
"Cable label management is a critical part of every system integrator's productivity," says Duane Yamashita, marketing manager for Brother International. "Brother is pleased to be working with D-Tools, an industry leader that has been recognized and awarded for its innovations in important technologies for systems integrators. Marking cables with P-touch laminated labels satisfies labeling concerns over reliability, accuracy, and dependability."
Meanwhile, Brady recently upgraded its IDXpert portable printer to print 110 and 66 blocks, as well as patch panels and desi strips, without having to manually set or input any spacing. "These datacom-application formats are now preprogrammed with specific label cartridges," says Pettit. "For example, IDXpert users can now create 110 block markers in the field, on demand, without having to worry about entering the horizontal and vertical spacing found on 110 strips. The user simply enters the number of pairs for the specific block they are identifying, whether they are using horizontal or backbone serialization, and the start digit for the strip. The rest of the information, including the horizontal and vertical lines, spacing, and the remaining numbering sequence, is generated automatically. Contractors can now print these types of labels on-demand without having to run back to the office. There is also much less waste due to the ability to print one strip at a time versus an entire sheet of laser labels."
All in all, the technological advancements within the realm of cabling-plant marking and labeling bring us back to the industry's continuing quest of being faster, faster, faster.
While it is difficult or impossible to quantify the amount of time saved when a technician troubleshoots a properly administered cabling system versus an unlabeled system, there is little debate that every minute of downtime is costly for an end-user organization. Whether the cost is primarily inconvenience, or adds up to tens of thousands of dollars per minute in the most extreme cases, it can be minimized through proper administration.
PATRICK McLAUGHLIN is chief editor of Cabling Installation & Maintenance.