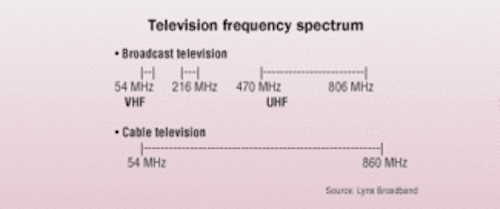 An emerging technology opens up new installation possibilities-and plenty of questions.
The debate is on for distributing television over unshielded twisted-pair cable (UTP). But as its merits and possibilities are weighed, some remain skeptical about the cost savings it represents, and just how quickly end users will seek it out.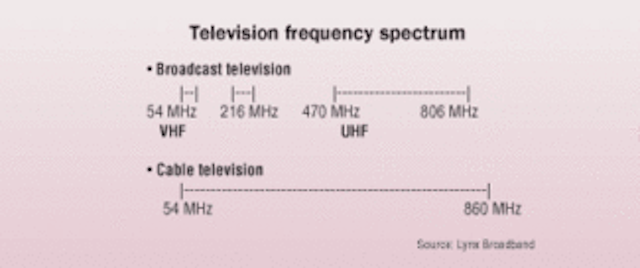 Broadcast television has VHF and UHF frequencies. The cable TV spectrum, however, runs continuously from 54 MHz to 860 MHz, without any gaps. Television over UTP technology can handle frequencies from 5 MHz to 860 MHz, meaning 134 analog TV channels or 402 standard digital channels.
Click here to enlarge image
Some believe there may be a seismic change coming, with enterprise end users moving from coaxial to twisted pair for broadcasting television.
"The cable has gotten better, and so has the amount of bandwidth you can put through it," says Dick Snyder, executive vice president of Z-Band, Inc. (www.z-band.com), which manufactures an active video distribution system.
But others say the switch to television over UTP won't happen anytime soon, arguing that coaxial cable-which has six times as much bandwidth as Category 6 cable and can provide a full spectrum of channels-is the more efficient cable for the medium. They also say the limitations of television over UTP must first be overcome before end users make the switch.
Not so fast
Some contractors also remain skeptical, saying that they are not ready to tell their end users who now have television distributed over coaxial cable that they will have to switch to UTP cable.
"What I want to know is, is it time for me to go to my bigger clients who have coaxial and tell them it's time for them to get UTP?" asks David Brabham of SPG Communications, Inc. (www.spgcom.com). "I have clients with literally thousands of TVs, and it would be very expensive for them to retrofit."
For this and other reasons, some today say that UTP cable can be one avenue for distributing television, but probably not the only one. Still, John Pryma, director of structured cable for Honeywell Cable Products (www.genesiscable.com) and chairman of the Telecommunications Industry Association's (TIA; www.tiaonline.org) Coaxial Cabling Study Group, says that the group sees a lot of interchangeability coming. Telephone companies, Pryma says, are attempting to bring triple-play [voice, video, data] to end users via UTP cable, while cable companies are offering these services over coaxial cable.
Ready for everything
"So, in the future, you're going to need both coax and UTP, depending on what the service provider connects to the residence," says Pryma. The TIA-570-B Residential Telecommunications Infrastructure Standard requires that both UTP and coaxial cabling be installed in a residence to accommodate current and future applications. "You don't know what the service provider will come up with," Pryma continues. "The telephone company will want voice, video and data over the phone line, until they get fiber in. The cable company will want voice, video and data over existing coaxial cable."
On the other hand, Earl Hennenhoefer, president of Z-Band, says it doesn't matter how the service provider is bringing in the service-as long as it is RF. Even if it comes from the cable company via coax or fiber, any of the UTP products (both active and passive) can distribute the content over UTP, he says.
Still, Gregg Kelley, senior product manager for Lynx Broadband (www.lynxbroadband.com), says it is only natural that the possibilities of delivering television over UTP be explored. Lynx Broadband manufactures equipment that converts broadband signals from coax to UTP and back again.
"This is because structured cable is so widespread and important for other types of communication," says Kelley. "People are installing twisted pair for all of their telephone needs, all of their LAN needs, all their Internet needs-so they might as well use the same infrastructure for television."
According to Kelley, to date, about 500 companies in the United States are delivering television over UTP cable in schools, universities, hospitals, corporations, government buildings, multi-tenant dwellings, and single-family homes.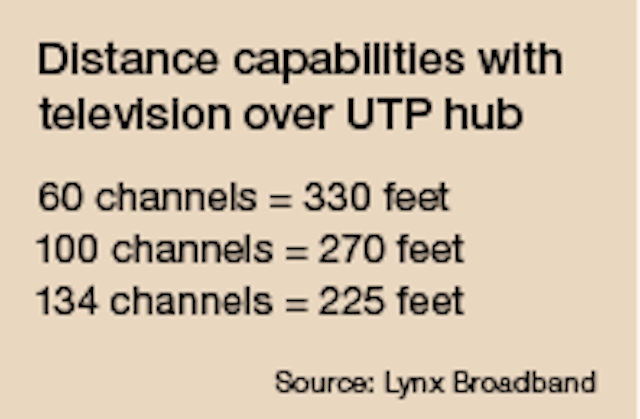 Click here to enlarge image
Kelley made a presentation called "Television on UTP Cable" at this year's BICSI Winter Conference in Orlando, where he pointed out that this technology gives the structured cabling industry an opportunity to participate in the growing market for television products.
"This technology gives our industry a way to add value," says Kelley. "We are doing data, voice and video. Why not do TV as well?"
UTP cable instead of coaxial
Those who are pushing for television over UTP say it represents a reasonable step, since the typical commercial building is not wired for coaxial to every location. UTP cable, by comparison, is predominantly already in place.
"If you've got cabling in the building, you should use it, especially if it is Category 6," says Paul Kish, director of systems and standards for Belden/CDT (www.beldenibdn.com). "It's disruptive to put in new cable."
Hennenhoefer says it is comparatively less expensive to pull twisted-pair cable, and there are thousands of feet of under-utilized UTP cable installed in the typical building. "Since they've pulled that UTP wire anyhow, you're essentially getting wire for free," says Hennenhoefer. "You have a number of UTP or computer jacks throughout the facility, giving you more flexibility."
Kelley says the benefits of delivering television over UTP include simplicity, since it requires only one type of horizontal cabling. The technology is also flexible because many enterprise end users already have a preexisting structured wiring plan with cable drops throughout their building.
And with Category 6 and 6a cable, moves, adds and changes (MACs) are more easily accommodated. "Now you can do moves, adds, and changes with televisions as easily as with phone or computers," explains Kelley.
The solution is more reliable, Kelley believes, because it does not require taps or splitters. It is also standard compliant because the TIA/EIA 862 Building Automation Systems Cabling Standard for Commercial Buildings endorses fiber and twisted-pair cable.
Kelley says TV over UTP solutions make sense because they represent a technology bridge to IPTV, a system where streaming video is delivered to subscribing consumers using Internet Protocol technology. IPTV is expected to grow rapidly in the coming years as broadband is increasingly available to consumers and enterprise end users.
"IPTV will come to fruition," predicts Kelley.
How it works
Television over UTP technology has the ability to handle frequencies from 5 MHz up to 860 MHz, which means it can handle 134 analog TV channels, or 402 standard digital channels. It is also fully capable of handling HDTV. The 134 analog channels can be successfully delivered over 225 feet of UTP cable. Hennenhoefer says the technology is available to distribute the full bandwidth to any desktop or conference room (860 MHz) using an active system.
Most UTP systems are designed for 100 meters. Consequently, television signals (RF) are delivered from the head end to the wiring closet on coax cables. At the wiring closet, they are converted to run on twisted-pair cable, which delivers the signals from the wiring closet to the point-of-use.
Three processes are needed to make it possible to deliver television on UTP:
1. A balanced signal must be created, where the voltages on each of the two wires are 180° out of phase.
2. The solution must have an impedance matching capability, enabling 75-Ω impedance on the coax side of the unit, and 100-Ω impedance on the twisted-pair side.
3. The solution must provide common mode filtration, which removes any unwanted signals or noise that may enter the cable.
These three processes provide a design like that of a coaxial system, based on distances, cables, and amplifier output.
Products that use TV over UTP technologies build baluns and common mode filters into hubs (active and passive) and converters. The hubs are mounted in the wiring closet, and converters are installed next to the TV.
Active and passive hubs
An active hub uses internal automatic gain control (AGC), which eliminates the need for separate and additional amplifiers, splitters and taps at each hub. It also balances and slopes the signal at each hub so that no matter how many hubs are used in the system, each hub has the same signal level at each output. This eliminates the problems and cost of balancing the system to each location.
In this example, a flat signal of 20 dB over 20 dB comes into the wiring closet, and can distribute 60 channels to eight TVs at various distances.
Click here to enlarge image
The passive hub system requires amplifiers at each hub location as well as a design that balances the system for both long and short runs. A single coaxial input on the back of the unit is converted into eight twisted-pair outputs on the front of the hub. Then, at the point-of-use, the balun converts the signal from twisted-pair back to coax.
Weighing the costs
Kelley says the costs of deploying the technology would be less than coax in many retrofit environments, where the cost of pulling coax behind existing walls and ceilings can be expensive. Television over UTP is about the same as the cost of homerun plenum coax in new construction applications.
Rob Betzel, president of Infinity Network Solutions Inc. (www.infinitynetworks.net), installed UTP for television in a school system in Covington, GA. The system has 25 schools, and is having its cable upgraded from Category 5 to Category 6 cable over time.
Betzel says Covington is adopting the solution because it will save money in the long run. He says most of the locations in the schools that will need television have data cable drops already in place. "In 10 minutes, that data outlet can become a video location," says Betzel. "We just plug a standard data cable from the video hub to the patch panel, insert a balun right behind the TV, and they're good to go."
Over time, Betzel believes the school district will save between $15,000 and $20,000 in material and labor costs.
Yes, but will it work?
But some, like William Georger, regional technical manager, Northeast Region, for Systimax Solutions (www.systimax.com), argue that much still must be learned about distributing television over UTP before the trend truly catches on. Georger says there are still many questions about its capabilities; for example, twist rates vary on UTP cables, which could prove to be a limiting factor when it comes to distributing television.
"You can't massage the end points and guarantee it will come together," says Georger. "The bottom line is it's not that simple. You can't just broadcast over UTP."
Others argue that the trend to UTP won't expand exponentially overnight. Realistically, there are both capabilities and limitations to broadcasting television over UTP cable. "There is reluctance only to the extent that it is something new," says Kelley. "It wasn't done before because the technology wasn't available."
But he concludes, "Many installers are looking for an alternative to coax. Once they become aware of this technology and try it out, they will use it again and again."
BRIAN MILLIGAN is senior editor for Cabling Installation & Maintenance.