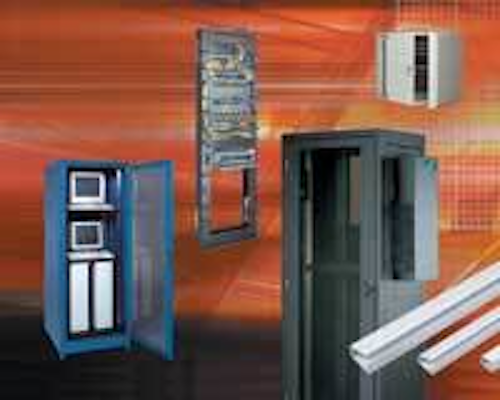 Belden CDT is coming out with new products that reflect the offerings Belden and Cable Design Technology had prior to their merger.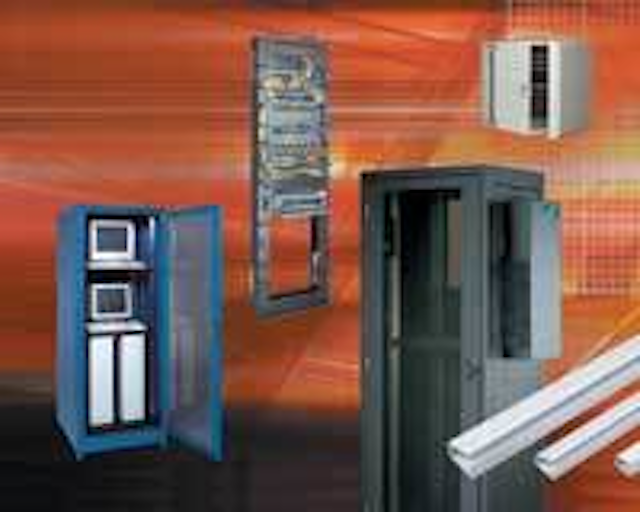 Belden CDT Networking recently introduced Belden IBDN Cable Management Solutions, which brings racks and enclosures to the forefront of a new product line offering.
Click here to enlarge image
Belden CDT Networking (www.belden.com) recently introduced Belden IBDN Cable Management Solutions, which brings racks and enclosures to the forefront of a new product line offering.
The solution is designed to offer end-to-end, integrated cable management and maintenance. Its cable management components are available for data centers, riser systems, telecommunications rooms, horizontal wiring and workstations in single buildings or campus networks.
The cable management products are designed to encompass the housing, storage and protection of data hardware and equipment, as well as discrete components designed to simplify cable handling and routing, and facilitate orderly installation and ongoing maintenance.
"We offer one source for the housing and storage of cable management, which will protect the integrity of your data," says Benoit Chevarie, product line manager for Belden CDT.
The product line includes cable ties in a wide range of sizes for varying load capacities, are available in standard or weather-resistant nylon and Velcro. The line also includes surface raceways, which are designed to provide a functional, affordable solution for wire enclosure applications. These include extruded raceways with pre-applied adhesive backings.
Notably, the product line includes enclosures and racks. The floor and wall-mount enclosures and racks are available in various standard and custom designs. The line also includes numerous mounting, cable and patch cord management options and accessories.
The new product line provides insight to how Belden CDT Networking is leveraging its new resources. At the time of the announcement, industry analysts theorized that the merger between Belden and Cable Design Technologies Corp. and other companies in the cable market might pump much-needed new blood into the industry. It is an industry, they said, that should be building new, more value-added products.
Cable manufacturer Belden and CDT announced in 2004 that the boards of directors of the two companies approved and entered into a definitive agreement providing for a merger of equals. The combined company would be called Belden CDT Inc. and be headquartered in St. Louis, MO. With estimated annual sales of approximately $1.3 billion, Belden CDT would be among the largest U.S.-based manufacturers of high-speed electronic copper cable, the two companies said. They said the company would focus on products for the specialty electronics and data-networking markets, including connectivity. CDT designed and manufactured network communication and specialty electronic products, including network cable, optical fiber, and passive and active components. It manufactured electronic cable products that are used in automation and process control applications as well as specialized wire and cable products for niche markets.
Chevarie says the new cable management solution is important to help contractors address "the convergence of networks." But the cable management solution announcement also suggests how the synergies are now working between the two different sides of the company. NORDX/CDT, based in Pointe Claire, Quebec, for example, was known for its range of modular, custom enclosures. These are much like the enclosures now offered in the Belden IBDN Cable Management Solutions product line.
Contractors, many of whom would once regularly purchase the Belden and CDT products from distributors, are undoubtedly curious about the impact the merger would have on product lines.
"We are adapting to a changing customer's needs, and helping them face new challenges," says Chevarie.