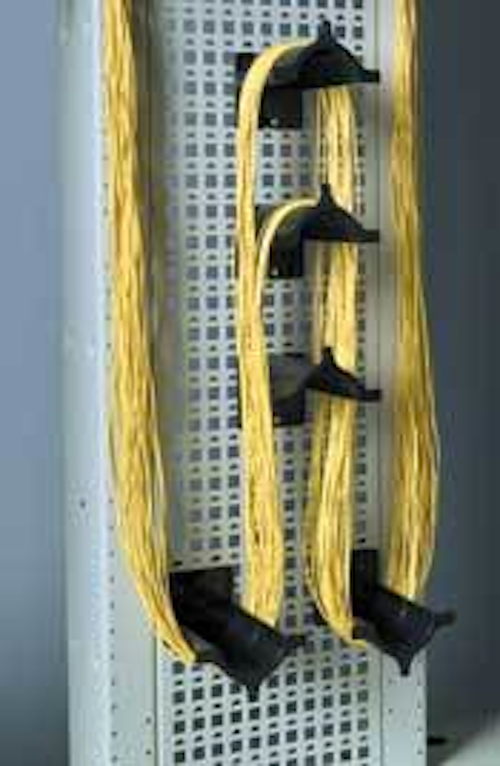 Horizontal, vertical cable management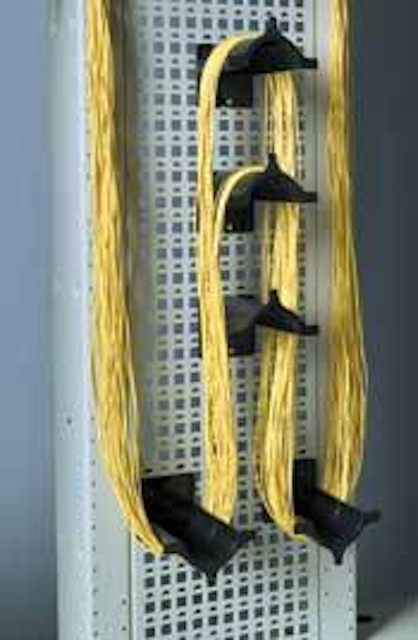 Click here to enlarge image
Built upon the company's proprietary Snap-Fit platform, the RiserGuide system is designed to provide flexible, optimized fiber cable management and tool-free installation for horizontal and vertical racks in riser applications. The system can be installed between active equipment racks as well as directly in the rack. RiserGuide is modular, and built to be easily installed and removed, allowing cable management as it is needed.
ADC
www.adc.com
10-GbE handheld tester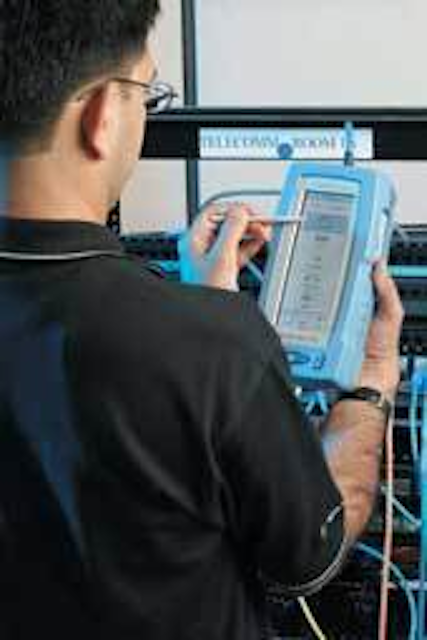 Click here to enlarge image
The WireScope Pro handheld cable and fiber tester, claims the manufacturer, is the first to provide alien crosstalk measurements considered crucial for testing cable for 10-GbE reliability. The proprietary technology employs what the company says is a fast and cost-effective methodology based on real-life crosstalk stimulation. With an expandable platform, WireScope Pro offers Category 3 to Category 6 test capability, and can be upgraded for Category 6a/7. The company claims that the device's measurement speed boosts test throughput by a factor of three, compared with previous models. Automated point-to-point tests keep user interactions at a minimum, helping to prevent operator failure or unnecessary repetitions. With a 1-GHz measurement frequenzy range, the WireScope Pro meets current Ethernet standards and is designed to exceed TIA Level IV accuracy specifications (compliance independently certified by ETL SEMKO).
AGILENT TECHNOLOGIES INC.
www.agilent.com
6-port PoE midspan

Click here to enlarge image
The 6-port Power over Ethernet (PoE) Midspan can be deployed with the company's new Wi-Fi-certified AP200 Enterprise Wireless Access Point. The midspan device automatically detects PoE-ready devices, supplies 48 volts of DC power over existing Ethernet cabling, and is designed to eliminate the need for an external power source at end devices. The manufacturer claims that deploying the PoE Midspan in conjunction with a central UPS can provide a cost-effective way to distribute backup power to ensure operation of mission-critical devices during power failure. Also available in a 24-port version, the midspan units support 10/100Base-T Ethernet networks, and mount on standard 19-inch racks.
LEVITON VOICE & DATA
www.levitonvoicedata.com
Powerline, wireless combo
Designed especially for home networking, the EZ Connect 85-Mbits/sec Turbo Powerline-to-Ethernet adapter connects to any available Ethernet port on the manufacturer's digital media device or other Ethernet router, and plugs into a power outlet to make each outlet network-enabled. Users can plug into power outlets to share devices, connect to other computers in the house or to the Internet, or to play network games and communicate with network-enabled entertainment devices. The company's Turbo Powerline desktop adapter and 802.11g access points are compatible with Windows, Mac, and Linux-based PCs, and are designed as solutions for connecting game console systems, such as Xbox or PS2, to the Internet for online game playing.
SMC NETWORKS
www.smc.com
Modular patch panels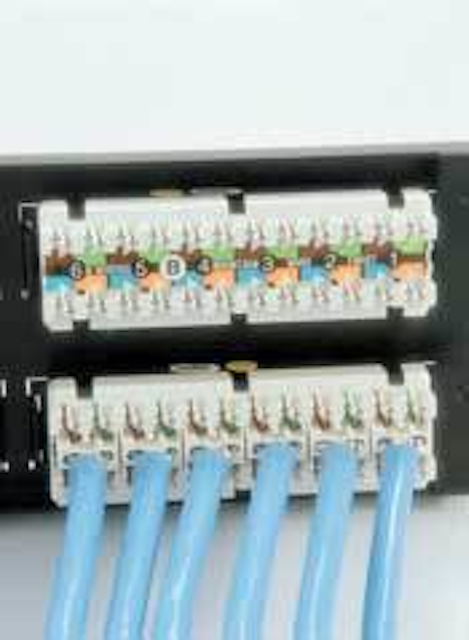 Click here to enlarge image
Expanding upon the features of the SYSTIMAX 1100 patch panel, the GigaSPEED X10D 1100GS5 panel is designed to deliver 10-Gigabit performance when installed as part of the company's X10D 10-Gbit Ethernet over copper solution. The panel features a new termination manager and a redesigned rear housing designed for easier termination and reduced variability in placement and termination of cables to the panel. The company's M2000 patch panel, meanwhile, is designed to accept the manufacturer's M-series outlets and can be configured for copper and/or fiber connections. According to the company, this patch panel can be used in any SYSTIMAX end-to-end channel solution. Both patch panels are available in 24- and 48-port versions.
SYSTIMAX SOLUTIONS
www.systimax.com
Tray with preinstalled splice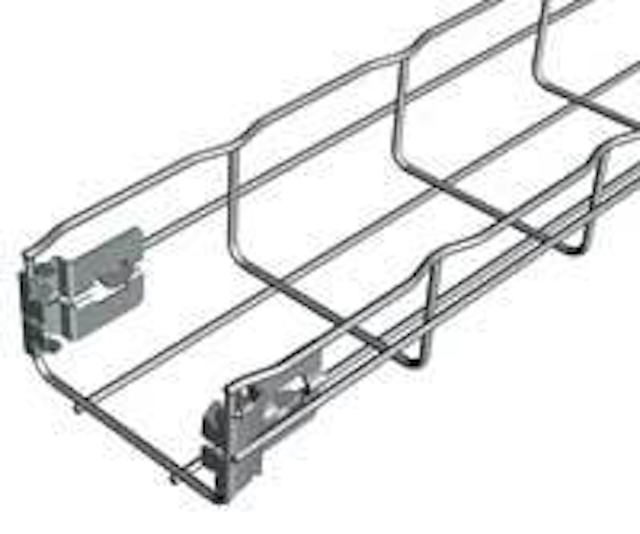 Click here to enlarge image
The FCF 54 FASCLIC tray is designed for lightweight cable runs, with its splices already in place. To install, fold out the preinstalled splices, align two tray sections, and snap the splices in place. The FASCLIC tray measures 2 inches deep by 10 feet long, and is available in 2-inch and 4-inch widths. Fabrication can be done on-site. Finishes include electrozinc and stainless steel.
CABLOFIL
www.cablofil.com
Handheld OTDR for FTTx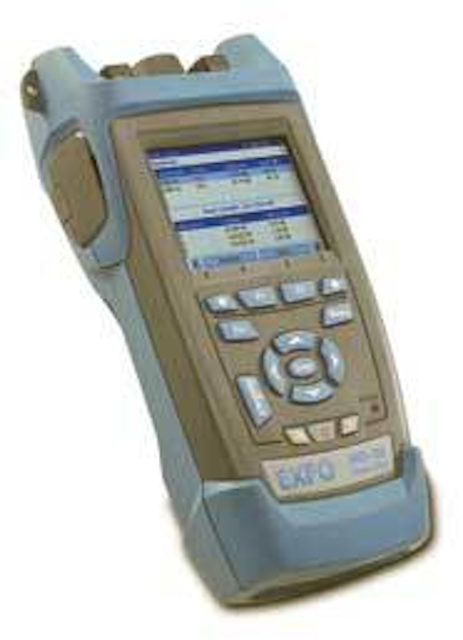 Click here to enlarge image
Designed especially for field technicians, the AXS-100 Access OTDR for fiber-to-the-x (FTTx) test applications can be used at the optical network terminal, drop terminal, fiber distribution hub, or central office. The handheld unit features the company's proprietary fault location technology. Optimized for testing short links, the AXS-100 is offered in various wavelength configurations, including 1550 nanometers (nm) and 1310/1500 nm. Special-filtered 1625-nm and 1650-nm models are also available for live-fiber FTTx troubleshooting. One-button, automated testing generates acquisitions within five seconds, while as many as 500 acquisitions can be stored. The unit is powered by Windows CE/Mobile and equipped with an advanced transflective screen for clear visibility in extreme lighting conditions. It can also be equipped with a power meter, visual fiber locator, fiber inspection probe, and portable printer.
EXFO
www.exfo.com
OSP Category 6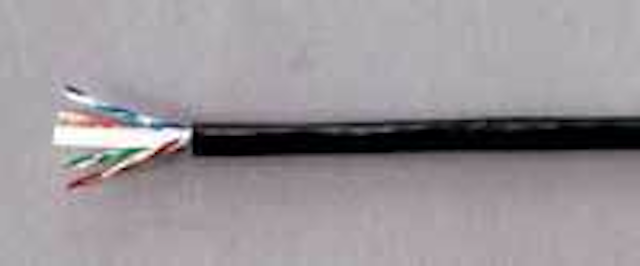 Click here to enlarge image
The GenSPEED 6000 Category 6 outdoor cable is flooded with a UV- and abrasion-resistant polyethylene jacket, is designed to withstand temperature extremes from -70° C to +75° C, and supports data transmission rates up to 1000 Mbits/sec. Constructed for high-speed connections from building-to-building or for in-conduit applications running under concrete slabs, the cable can be direct buried, installed in ducts, or aerially lashed to a support messenger.
GENERAL CABLE
www.generalcable.com
Balun pushes RF limit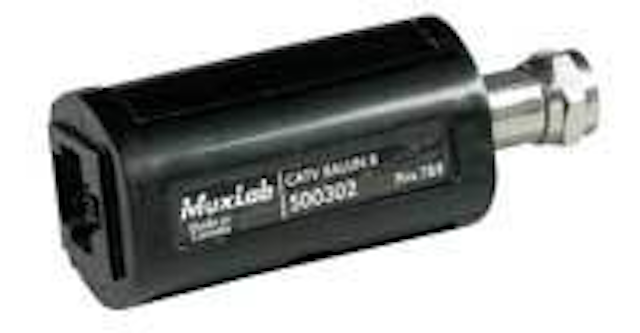 Click here to enlarge image
The VideoEase CATV Balun II, when used in pairs, features a bandwidth of 900 MHz-pushing the limits of RF video transmission via Category 5 UTP by supporting channel frequencies, digital cable, and broadband Internet requiring higher bandwidth performance. It is designed for reduced insertion loss and wider bandwidth, and compared with other CATV baluns, is built to support greater cable lengths over all terrestrial RF video and Internet frequencies. The balun works in conjunction with other RF video distribution equipment, such as splitters, amplifiers, modulators, tuners, and cable modems. It can be installed where Category 5 cable is deemed more cost-efficient or where coax cable is not available within specified distance limits. (Actual performance over Category 5 depends on such factors as signal input power, highest channel frequency, and receiver sensitivity.)
MUXLAB INC.
www.muxlab.com
Open-back cabinets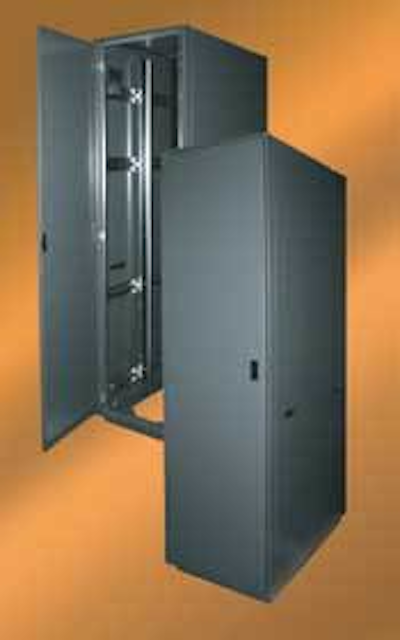 Click here to enlarge image
An open-back RC cabinet line can accommodate a variety of surface-mount or flush/recessed-mount installation. Its open base designs and top panels are built to provide a large area for cable entry, while an inset base offers an adjustable footing. A variety of exhaust fans and ventilation methods are possible with the top panel options, while the sides of the cabinet feature dual handles with a quick-release. The vertical cabinets' bezel design, for both 19-inch and 24-inch systems, lets you combine EMI/RFI shielding and independent, removable side/top/bottom panels and doors. The lightweight extruded aluminum frame is rated at a 6,600-pound static load. Optional features include dust and moisture protection, cooling systems, cable management systems, hard-mounting, and electrical plug strips.
OPTIMA EPS/ELMA
www.elma
Modular audio/video connectivity system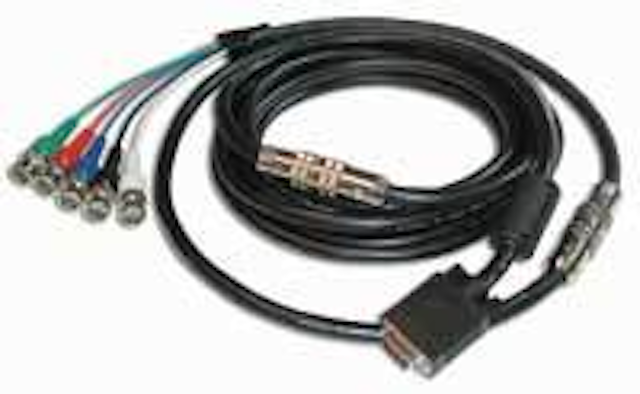 Click here to enlarge image
RapidRun is a modular cable system for audio and video that consists of two cable runners available in a variety of lengths, plus eight BreakAway termination jumpers designed for easy pull-through and quick termination. The system, in runs of 15 to 150 feet, is designed to handle UXGA, RGBHV, component, composite, and S-video along with left and right audio or S/PDIF digital audio signals. Available in either PVC or plenum versions, Rapid Run supports mix-and-match terminations for custom combination or break-out connections. Runners are available in PC/video for presentation applications, or in HT (5-coax) for such applications as home theater or multi-room audio/video.
IMPACT ACOUSTICS
www.impactacoustics.com
Mobile crimping tool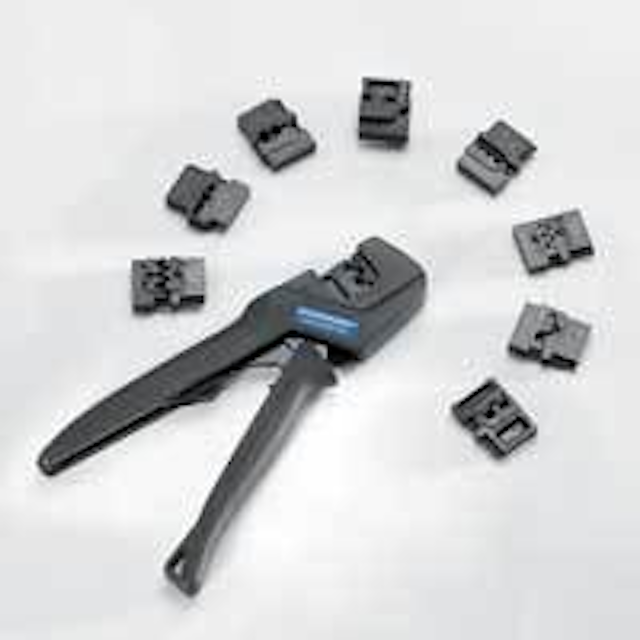 Click here to enlarge image
The Pressmaster mobile crimp tool weighs one pound, and features removable dies that can be customized and an easy-access release function designed for easy exchange of crimp dies. Handles are shaped for low-effort, consistent, and accurate crimping. The tool also allows for full visibility of the crimping process.
WAYTEK INC.
www.waytek.com
Handheld VoIP test kit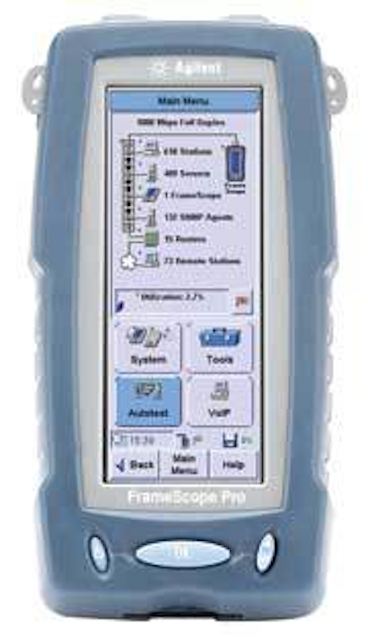 Click here to enlarge image
The FrameScope Pro handheld Ethernet performance analyzer is designed to accelerate VoIP service turn-up and troubleshooting. Capable of generating traffic up to a full gigabit line rate, and equipped with optical and electrical ports, the analyzer provides end-to-end Ethernet testing across the entire network infrastructure. The tester lets you set up a full-duplex VoIP call between two points and to perform voice-quality tests using either live audio or pre-recorded speech. To facilitate VoIP service turn-up, the analyzer emulates a SIP (session initiation protocol) phone at any network access point. VoIP calls between two FrameScope Pro devices are possible, even without a VoIP infrastructure in place (such as an SIP server). The unit includes an autotest feature for troubleshooting and network pre-qualification, delivering detailed test results with minimum configuration. In addition, remote control capability via Web browser allows for centralized troubleshooting, monitoring, and reporting.
AGILENT TECHNOLOGIES
www.framescope.com
Fiber for the enterprise
TrueNet Enterprise Fiber Portfolio is designed to provide a complete enterprise network infrastructure from a single manufacturer. The system includes the company's high-density frames, optical raceways, racks and cabinet panels, wall boxes, optical-fiber cable, and field termination kits. The Portfolio is backed by a zero-bit-error warranty guaranteeing signal integrity and throughput, plus a 20-year product performance warranty. Featured products include the Next Generation Fiber Frame, which is designed to provide unlimited expansion while optimizing fiber cable management via ample trough space for cable and jumpers, easy access to connectors, and storage for jumpers. In addition, the RMG Series Rack Mount Fiber Enclosures feature a slide-out design and removable front and rear panels for easy access.
ADC
www.adc.com
Shipboard cabling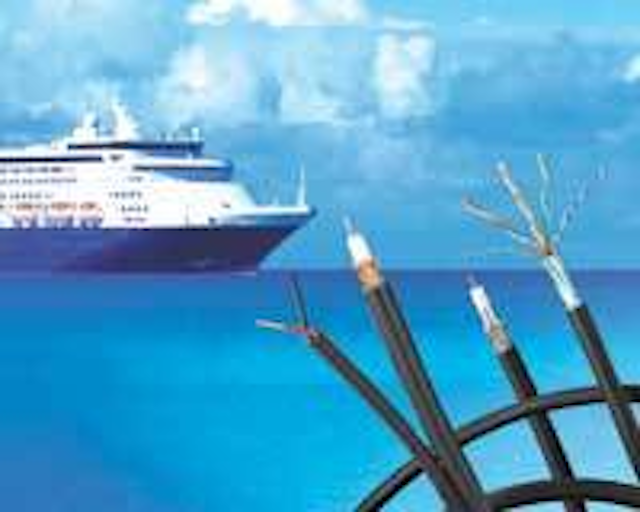 Click here to enlarge image
Brilliance Shipboard cables for audio, video, security, networking and control applications are designed to provide easy installation using standard connectors and established connecting techniques, are approved by the American Bureau of Shipping (ABS) for use in marine applications, and include the company's 10-year warranty. The Brilliance products include DataTwist and Classic Design cables with low-smoke zero-halogen jackets, and a selection of all-dielectric optical-fiber cables.
BELDEN CDT
www.belden.com
Cross-connect cable for central office
The Series 734 and 735A coax product lines are designed for use in DS-3 transmission facilities as cross-connect cabling between digital network components. Both products are available in a range of conductor counts as well as with a 22-AWG tracer wire, and include a silver-plated copper conductor, aluminum foil, and tinned copper braid. The cables are jacketed in flame-retardant PVC and are available in UL-type CMR (riser) or CMP (plenum) versions.
GENERAL CABLE
www.generalcable.com
A really cool rack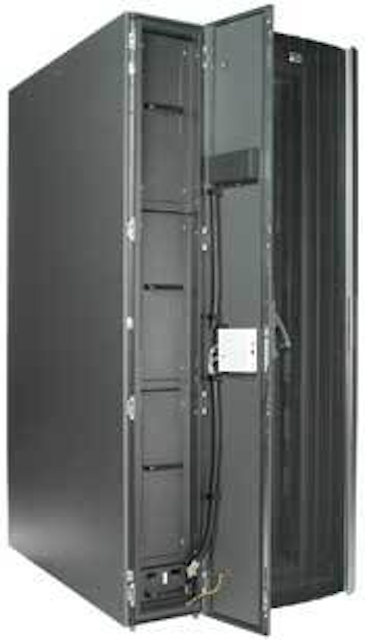 Click here to enlarge image
The HP Modular Cooling System (MCS) is a self-cooled rack designed to efficiently cool high-density deployments of servers and blades while improving data center floor space use. Features include: a modular cooling system that uses chilled water to triple the standard cooling capacity of a single server rack; a universal rack designed to standardize efficiencies across all of the company's server and storage platforms; a power distribution unit management module that monitors data center environments.
HEWLETT-PACKARD
www.hp.com/go/rackandpower
Enterprise WAP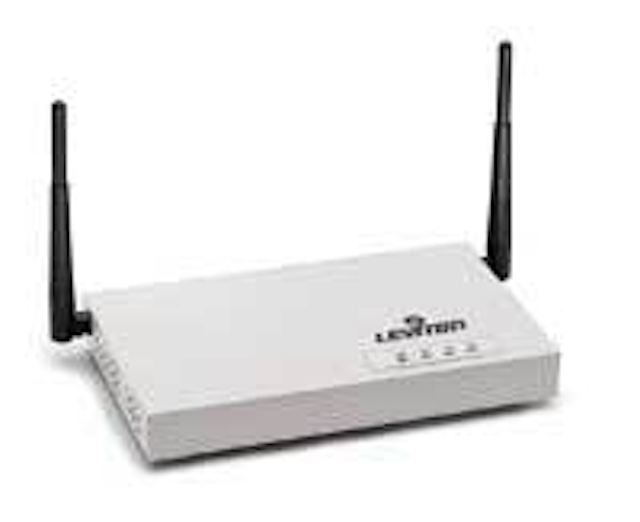 Click here to enlarge image
The AP200 enterprise wireless access point (WAP) is Wi-Fi certified, IEEE 802.3af PoE compliant, conforms to 802.11a/b/g standards, and offers a variety of security features that include WPA-PSK, 802.1x, EAP, AES, and TKIP. Command Line Interface (CLI), SNMP, and Web-based management support easy set-up and maintenance. The AP200 can be deployed with the company's PoE midspans for a complete communications system without the added cost of installing separate electrical circuits to each end device.
LEVITON VOICE & DATA
www.levitonvoicedata.com
Network camera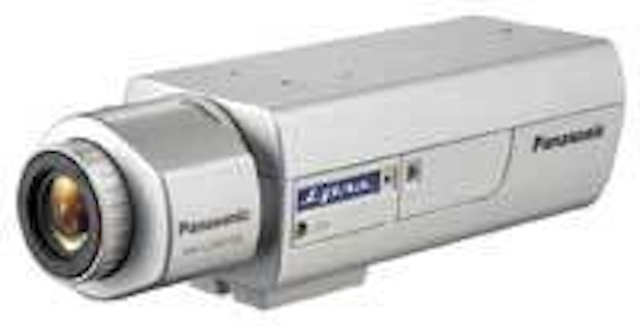 Click here to enlarge image
Designed for a variety of professional security applications, the i-Pro Series WV-NP244 network camera features selectable MPEG-4 or JPEG output at 30 fps with a ⅓-inch progressive scan RGB CCD designed to deliver smooth images with outstanding color reproduction. Additional features include one-way audio, Power over Ethernet, field-loadable multi-language capability, SD memory slot, and control via the company's WJ-D300 NDR.
PANASONIC SECURITY SYSTEMS
www.panasonic/com/ipro
UTP for security
Known for its design, development and manufacturer of video security systems, Pelco has introduced a line of UTP cabling for security installation. The company's UTP products can be used to connect cameras to DVRs, matrix switchers and multiplexers, as well as to transport video signals from point-to-point in any application where coaxial cable could be installed. Active receiver units are designed to automatically adjust the low, medium and high frequency components of the video signal, allowing for high-quality video transmission while eliminating the need for manual adjustment. A DIP switch lets you override the automatic compensation and manually select the cable distance (up to 4,000 feet). The active line consists of products ranging from single-channel active transmitter and receiver to multi-channel video receivers. Passive models include a single-channel balun to a series of multi-channel video transceivers, eliminating the need for external power and providing video signal for up to 750 feet.
PELCO
www.pelco.com
Fiber cable cassettes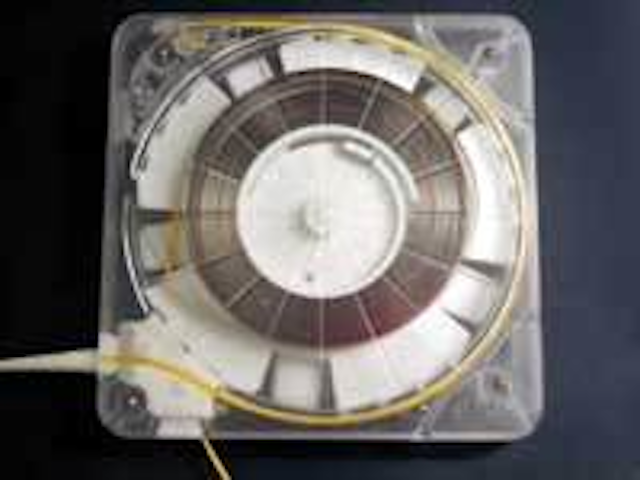 Click here to enlarge image
The SureLink family of optical-fiber cassettes dispenses duplex and simplex patch cords of variable length, up to 5 meters, and safely stores unused lengths on a spool within a protective housing. The cassette is designed to simplify deployment and management of optical-fiber cables at all points within the network, with superior optical performance. It is especially suited for Ethernet, fiber-to-the-desk, fiber-to-the-home and critical test applications. At the heart of the cassette is the a patent-pending LightHelix core, which consists of continuous lengths of optical fiber embedded within a composite spiral spring structure that's attached to a rotatable take-up spool. Continuity is maintained during the spool's rotation as the compliant LightHelix core winds or unwinds.
TELESCENT LLC
www.telescent.com