Municipalities must learn to maintain flexibility in wireless network layout.
Mesh technology?A wired vs. wireless backhaul? Wi-Fi vs. WiMAX?
These are important questions for municipalities that are looking to offer wireless broadband access to their cities and towns. But, they may not be the most important questions. How to maintain flexibility in the wireless network layout and use existing infrastructure are the first questions that need answering.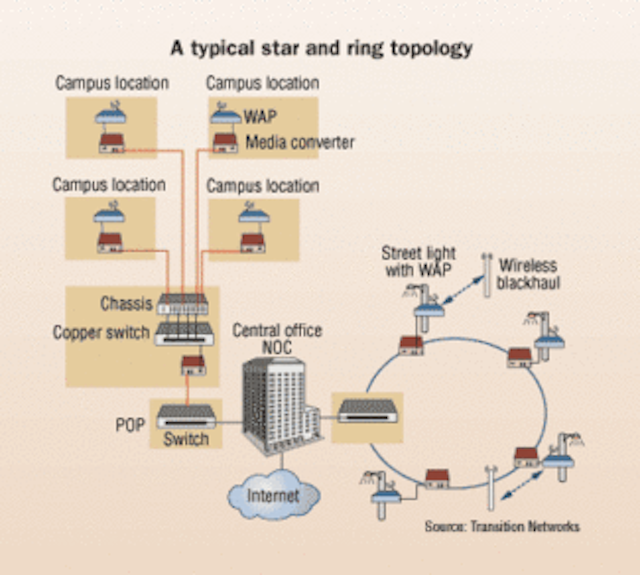 A combination of a wired and wireless backhaul is shown in the ring. The star portion of the diagram shows a dedicated pair being run to the demarcation point of a campus deployment.
Click here to enlarge image
The municipal broadband debate is picking up momentum across the country as many municipalities are discovering the benefits of offering high-speed wireless access through a wireless fidelity (Wi-Fi) or worldwide interoperability for microwave access (WiMAX) deployment.
A municipal wireless deployment can mean curbing rising telecommunications costs or providing inexpensive-or even free-broadband access to residents and businesses that are typically underserved by the large, incumbent communications carriers.
Some municipalities consider wireless networks a draw for business or tourism and a smart way to reduce operating costs for local government. Safety is also a motivator; mobile access to driver's license, gang and Amber-alert databases, as well as in-field report writing, submission and retrieval over a metro-scale Wi-Fi network also contribute to improved public safety.
Cities with successful rollouts include Fullerton, CA; Spokane, WA; Moorhead and Chaska, MN; and Austin, TX. Minneapolis and Philadelphia are also considering large city-wide rollouts.
Wi-Fi is the most common technology being deployed by municipalities. It enables broadband Internet access via unlicensed spectrum in the 2.4 GHz and 5 GHz bands. Wi-Fi uses a router or transmitter, mounted on structures such as street lights or water towers, that is connected to a wired network and transmits a signal in an approximately 300-foot radius. The Institute of Electrical and Electronics Engineers (IEEE; www.ieee.org) set the 802.11 standard in 1997.
Wi-Fi is often talked about in engineering terms, such as 802.11a, 802.11b, or 802.11g. The three terms are used to differentiate Wi-Fi by the spectrum where it operates and the speed capability of the technology. 802.11b was the developed first and is the slowest, while 802.11g is the quickest and most recently ratified standard. City subscribers access the municipal Wi-Fi network through home-based wireless bridges or wireless network cards installed in a computer.
Wi-Fi technology provides speeds of about 54 Mbits/sec shared among users on the network. Municipal wireless networks can turn homes, businesses, airports, parks, coffee shops, libraries and many other locations into "hotspots." In some locations, these wireless networks have been extended to local colleges and universities.
Keeping the infrastructure intact
As municipalities look to "unwire" their cities, they are analyzing such technologies as proprietary fixed-wireless networks, 3G mobile, 802.16 pre-WiMAX gear, Wi-Fi mesh, and mobile mesh. The most popular path is a hybrid of Wi-Fi mesh and fixed Wi-Fi deployments.
Another important factor is deciding on a wireless or wired backhaul of the network traffic. Although a wireless backhaul is preferable due to limited use of a city's infrastructure, a wired backhaul becomes necessary where air waves are congested, or when heavy, wet snows affect backhaul antenna performance. But no matter which topology or backhaul method is chosen, one technology-media conversion-is helping communities seamlessly connect copper and optical fiber infrastructures.
Media conversion products transparently connect one type of media, or cabling, to another. Many typically convert copper to fiber. By bridging the gap between optical fiber and copper infrastructures or wireless APs with a copper interface, media conversion products provide an economical path toward extending the distance of an existing network,the life of non-fiber based equipment, or the distance between two like devices. Municipalities are discovering that they can transition between fiber and copper at many points throughout their network.
In a ring topology using a wireless or wired backhaul design, media converters are being used to convert 100Base-FX to 10/100Base-TX at the wired wireless AP. Bridging media converters with two fiber ports and multiple 10/100 Ethernet ports can be used to support a ring structure. The network's fiber pair is brought into one fiber port and converted to copper to connect to the wireless AP. The second fiber port on the converter is used to connect the fiber ring with the next node downstream.
The distance between these nodes could be up to 2 km using multimode fiber and up to 120 km using singlemode fiber, producing a media converter daisy chain that carries the signal over fiber to the wireless APs and completes the fiber ring.
Within this same structure, a multi-Ethernet port converter will let multiple wireless APs connect at one point while staying within the fiber ring structure. In instances where directional wireless APs are being used or when two APs are placed close together to compensate for areas of increased signal noise, a multi-Ethernet port media converter can erase the need for additional fiber infrastructure. Another benefit of additional Ethernet ports is the ability to use a port for network maintenance or troubleshooting by plugging a laptop directly into the converter.
A wireless network built around a star topology uses media conversion in much the same way, with the exception of using the two fiber ports to support the fiber ring. In the star format, direct fiber lines are run from the point of presence (POP) to the wireless APs. Media conversion converts 100Base-FX to 10/100Base-TX at the AP.
Uninterrupted service
Multiple wireless AP connections and network maintenance features can be realized with one media converter with multiple Ethernet ports, in the same way they would in a ring application. If the media converter has fiber redundancy, the dual fiber inputs can be used to ensure service if the primary fiber line goes down. When failure on the primary fiber occurs, it is detected by the converter; fiber number two (secondary) is then activated and becomes the primary link. The original fiber link is put in the disabled state and becomes secondary until a failure on the primary fiber occurs. This important feature gives municipal wireless network managers the assurance that service will not be interrupted.
With the complexities of wireless networks, a more realistic approach to network planning would be to design a combination of ring and star topologies.
Often, large office buildings or apartments, with multiple floors and wireless APs coming back to a common demarcation point in the basement, will have a dedicated fiber line run to the building from the POP or network operating center (NOC). At the demarcation point, the signal will be brought into a switch and routed, via fiber cable, to multiple wireless APs on different floors throughout the building.
In this application, a media converter can serve two important purposes-convert fiber to copper at the wireless AP, and provide power. A Power over Ethernet (PoE) converter compliant with IEEE 802.3af as a Power Source Equipment (PSE) can provide power over Category 5 cable to a Powered Device (PD).
A key feature offered by some media converters is the ability to transmit power and data to an IEEE 802.3af-compliant or non-compliant PD. The signal is brought over fiber into the PoE converter, converted to copper, and sent to the wireless AP with power. This provides a simple solution when a power source is not easily accessible from the wireless AP's mounting location.
One city's story
One municipality that is using media conversion technology is Moorhead, MN. The city uses GoMoorhead! (www.gomoorhead.com), a wireless Internet service provider owned and operated by Moorhead Public Service (MPS-www.mpsutility.com).
In response to rising costs for cable and DSL service and low-speed dial-up services, MPS built its own metro-scale Wi-Fi network covering the entire 13 square miles of the community. The service, offering speeds of 1 Mbits/sec upstream and downstream, is available for residential, business and visitor use.
After overcoming heavy friction with local providers, GoMoorhead! began its rollout in September to its 2,400 pre-subscribed customers.
Using its existing infrastructure, MPS used the fiber ring it installed in 2000 that encircles the entire city as the backbone for the Wi-Fi network. MPS also had the ability to use its own utility poles and city streetlights to place nearly 300 radio transceivers, which, in conjunction with the optical-fiber ring, turned all of Moorhead into a "hotspot."
MPS uses bridging media converters with two fiber ports and multiple 10/100 Ethernet ports to support its ring structure. The application includes one POP located about six miles from the NOC. The singlemode fiber rings start at the POP and are carried along by daisy-chaining dual fiber media converters. At each media converter, 100Base-FX is converted to 10/100Base-TX, and the signal is carried up to the wireless AP.
Due to harsh winter temperatures in Moorhead, the media converters are housed in a cabinet at the base of the wireless AP mounting position, with locations chosen based on temperature requirements. The additional Ethernet ports also were a benefit to MPS for network maintenance purposes.
MPS set up its network using mostly wired backhaul, but it also used a wireless backhaul in locations where line-of-site was not an issue. In certain areas of the city, curved roads, trees, and houses with metal siding produced enough interference that small fiber offshoots from the ring were necessary.
One planned offshoot gave MPS the ability to incorporate Minnesota State University Moorhead into the wireless network. A dedicated fiber pair, outside the ring structure, was sent from the network operating center to the university library. The 100-Mbit network was extended by singlemode fiber out to the library where a media converter was used to convert from 100Base-FX to 100Base-TX, and then taken into a copper 10/100 switch. From the copper switch at the library's demarcation point, the signal was converted back to 100Base-FX and taken by singlemode fiber to eight buildings-including the university's dormitories, where media converters convert the fiber to copper at the wireless APs.
The debate today
Whether it is Moorhead, MN or elsewhere, the debate over whether a municipal wireless network is feasible will continue. But, one aspect of these potential rollouts that is not debated is the role media conversion can play in allowing a flexible layout and use of current infrastructure.
PATRICK SCHABER is the market manager for Transition Networks, Inc. (www.transition.com).