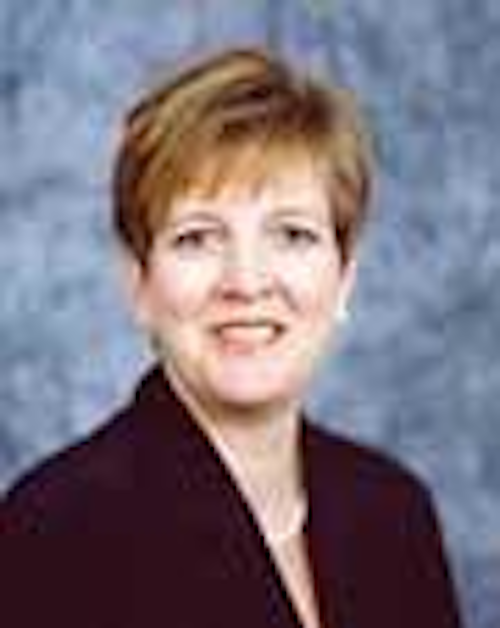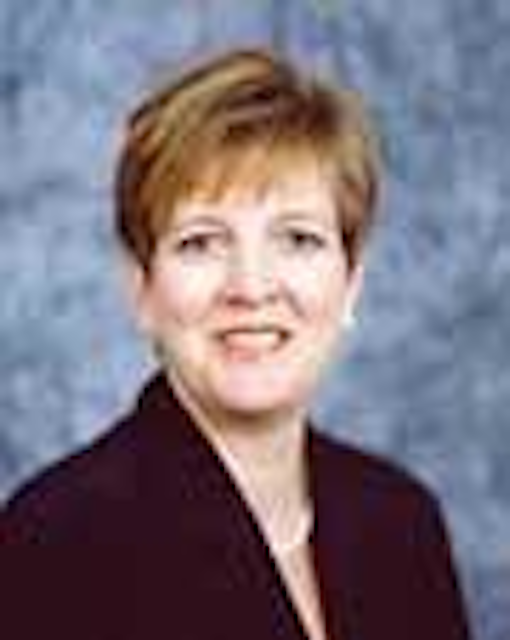 BICSI Executive Director Donna Dunn.
Click here to enlarge image
BICSI's test of a tracking system to document conference session attendance at this month's Winter Conference in Orlando is part of an overall effort to reexamine the association's process for awarding continuing education credits.
BICSI executive director Donna Dunn says the plans to test the attendance tracking system, using radio frequency identification (RFID) technology, are part of ongoing efforts to better validate continuing education as part of the Registered Communications Distribution Designer (RCDD), Outside Plant Specialist (OSP), Network Transport Systems Specialist (NTS), Wireless Design Specialist (WD) and Installation designation process.
"Obtaining a BICSI designation brings with it the obligation for continuing education," says Dunn. "BICSI is in the process of examining continuing education credits (CECs), how credits are administered and what constitutes an activity worthy of obtaining credits. The data we gather at Orlando will inform this much broader discussion of continuing education credits."
BICSI is currently accredited with the International Association for Continuing Education and Training (www.iacet.org). In the future, Dunn says BICSI would consider additional accreditation through the International Organization for Standardization (ISO, www.ISO.org), which is administered in the U.S. by the American National Standards Institute (www.ansi.org).
Organizations that achieve accreditation must be able to validate their CEC activities, including a demonstration that they represent time spent learning or sharing learning. "Valid CECs are essential to the accreditation process," says Dunn.
She says BICSI is very much on the learning curve of this information concerning validating CECs. "We are trying to learn about what we don't know," says Dunn. "Tracking participation in meeting sessions is just one piece of information to assist us with a much larger discussion. What's primary for us is assessing the validity of continuing educational credits."
Through RFID technology, Winter Conference attendees seeking CECs will be monitored via an RFID chip, which will be placed in their conference nametag badges. The chips will provide an electronic record of each time an attendee enters a conference hall to attend a session. The system is being described as an "assessment" for tracking at conferences.
"We want to document when people attend a session at the conference," says Dunn. "We're not saying we are going to do this (at every conference), but we need information for that decision."
Dunn says she understands that some BICSI members may be suspicious of this effort, but counters that the organization is simply interested in gathering the information that will help it evaluate the validity of CECs that may influence accreditation. "We are not saying, 'You were not here long enough to get credits,'" Dunn continues. "We want participation rates."
Dunn recognizes that some BICSI members may feel intimidated by the RFID tracking. The plan may have a "Big Brotherish" feel to it, and some members may worry that they will be tracked wherever they go at the conference center. But Dunn says the tracking will be extremely limited.
According to the process being used, the RFID technology would only work within 10 feet of the entrance doors to the conference session room.
Dunn adds, "Our members and other attendees can be assured that not only will we not be tracking them beyond the confines of the session room, but that they will get full CEC credit for attending the sessions, just as they have at past BICSI conferences."
Still, Dunn points out that BICSI leadership could not help but note the disappointing attendance levels at the fall BICSI conference held last August in Nashville, TN. BICSI representatives have maintained that a large number of people registered for the conference, but only a small number of attendees actually attended the conference sessions.
"In Nashville, we had anywhere from 25 to 50 percent of the people in the session after the opening session," says Dunn. "You can tell from the amount of people in the room that it dropped off. We do have members who are there for all the sessions, but others aren't."
Dunn points out that many professional organizations that credential individuals-including those that represent attorneys or people in the medical profession-are also undertaking similar RFID tracking steps.
"In areas where there is licensing, participants must document time spent in the room for education credits," says Dunn. "BICSI does not officially have licensing, but our members have state requirements for continuing education. Education and validating the continuing education credits will help our members with their own state requirements."