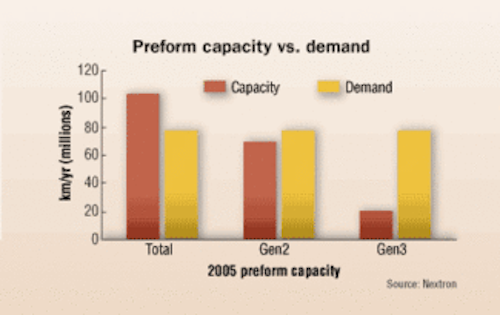 By 2015, the optical fiber and cable business will most likely be a part of the commodity wire and cable industry.
That was the message of Arnab Sarkar, vice president of Nextrom Inc. (www.nextrom.com), who spoke about the restructuring of the optical fiber and cable industry at a November KMI Research Conference on fiber optics markets, held in Providence, RI.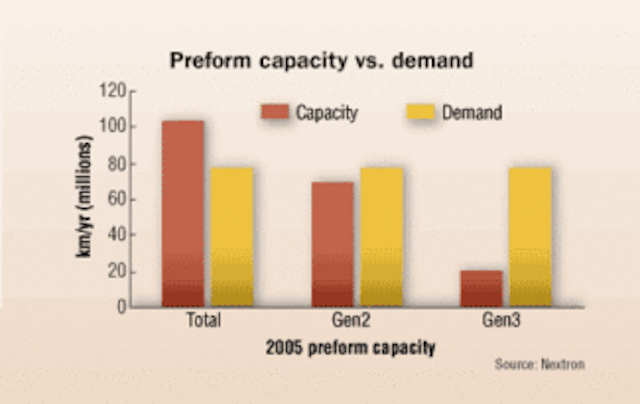 Since 2001, preform capacity has reduced from a peak of 140 million km to approximately 105 million km. Further reduction will result from obsolescence due to price erosion.
Click here to enlarge image
Sarkar's address looked at both the positive things happening in the industry, and the challenges. On the positive side, Sarkar said the restructuring since the market crash of 2001, while extremely painful, has been rational and effective.
"The industry did a good job of streamlining its operations and returning to profitability," said Sarkar, noting that excess optical-fiber inventory has been used up, obsolete fiber factories have been shut down, and excess capacity has been mothballed. Wherever possible, staffing levels at fiber manufacturers have been rationalized, and these companies have made judicious decisions on when to make versus when to buy.
Sarkar added there has not been much investment in new factories, at least until installed factories are fully depreciated. There have also been significant reductions in research and design expenditures in major companies.
Today, the short-term restructuring in the market is nearly complete. Many companies, Sarkar said, are reporting profitable operations. The demand for fiber is showing a slow increase, and prices have stabilized. Industry consolidation has happened in fiber preform manufacturing, he said, but fiber drawing and cabling remains dispersed.
A few companies are well-positioned for transitioning into a commodity business, but most are not. And that, Sarkar argues, is what the industry will become in 10 years.
He believes it will become an industry where companies can only compete on cost, quality and customer service, rather than patents, product and technology differentiation. The result, Sarkar said, will be lower margins and a shift of manufacturing to lower-labor-cost countries-something most manufacturers today are not ready or willing to undertake. "Few companies are prepared," said Sarkar.
Four optical-fiber products that dominate the market include:
• Non-zero dispersion fiber for DWDM trunk systems;
• Low water-peak fiber for metropolitan loops;
• Standard singlemode fiber for feeder loops and fiber to the business (FTTx) systems; and,
• Multimode fiber for LANs and intra-building systems.
In all of these, Sarkar said, price erosion is cyclical but markets remain steady. He said, for example, that the commodity price for singlemode fiber is estimated to be around $5 per kilometer.
The fiber market still includes a dynamic mix of products, and multiple manufacturing processes coexist, Sarkar said. Noting recent restructuring activities, Sarkar said that Lucent Technologies (www.lucent.com), Alcatel (www.alcatel.com) and Pirelli (www.pirelli.com) all sold their optical fiber business. Meanwhile, Corning Inc. (www.corning.com), Furukawa/OFS (www.furukawa.com), Sumitomo Electric (www.sumitomo.com) shut down obsolete facilities. He said many medium and small companies have stopped their preform production, and companies of all sizes have exited the business or stopped building new factories.
"There has been a lot of shut-downs of obsolete factories, or factories with old equipment," said Sarkar.
The result is that preform capacity has reduced from a peak of 140 million km to approximately 105 million km. Further reduction, Sarkar said, will result from obsolescence due to price erosion.
Sarkar said FTTx will have a decided impact on the market, with growth of fiber and cable sales resulting. The drive for more capacity will increase the demand for metropolitan loops, LANs, and intra-building fiber deployment.
The market is expected to continue to be cyclical, he said, with periods of excess demand and capacity. It will probably see short-term excess capacity of fully depreciated factories, with continued sales to maintain market share and positive cash flow.
Sarkar said that, following Lucent, Alcatel and Pirelli, more large high-technology conglomerates are expected to exit the business because of continued poor margins. He said the market can expect further shutdown of smaller factories in advanced countries and backward integration into preform production in developing countries like China and India.