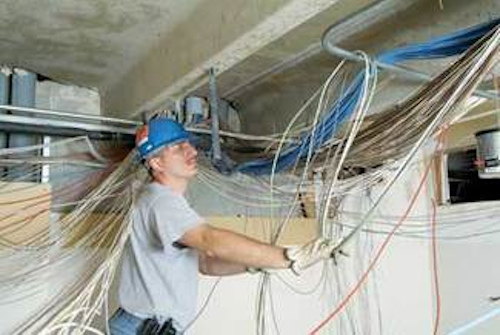 The cabling industry has a ways to go before it can be considered "green."
It has been more than four years since the National Electrical Code, in its 2002 edition, first required the removal of abandoned cable. That requirement, which is law wherever the 2002 NEC or the portions of it relating to abandoned cable have been adopted, kicks in whenever a cabling project of any type takes place. Chief among the concerns about abandoned cable is that it represents a fire hazard, and it is no coincidence that the document requiring its removal is published by the National Fire Protection Association (NFPA; www.nfpa.org).
The requirement has stimulated something of a cottage industry, with some contractors specializing in, or limiting their practice exclusively to, removing abandoned cable from buildings. Soon (or perhaps even today), it may be inappropriate to call it a cottage industry, as signs point to cable removal becoming a mainstream practice. The ground first shook on that concept in May 2005 when DuPont launched its Abandoned Cable Services program (www.dupont.com/cablingsolutions). Under the program, DuPont conducts engineering analysis of a building's abandoned cable and provides building owners with a written report. Building owners then have the option to have the cable removed, a process carried out by a stable of DuPont-sanctioned contractors.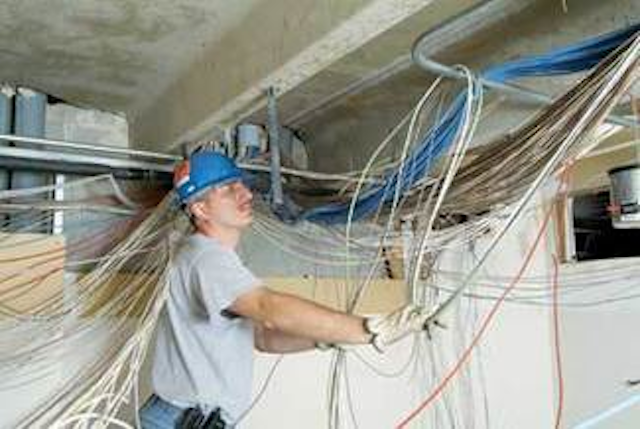 After a cluster of cables like this one is removed from a building, it must be separated by type before recycling.
Click here to enlarge image
Last summer, Communications Planning Corp. (CPC; www.communicationsplanning.com) also launched cable-removal services. Headed by noted industry figure, Frank Bisbee, CPC is one of several cabling design and installation contractors that have turned at least some of their attention to abating abandoned cable.
Guidance for recycling
In June, DuPont introduced a specification guide for abandoned cable assessment and removal. The guide is meant to act as an aid to project specifiers and designers, and provides a template by which those professionals can dictate that abandoned cable be identified and removed. The specifications are written in accordance with the 2004 edition of the MasterFormat, which is a series of construction specifications endorsed by the Construction Specifications Institute and the American Institute of Architects.
In addition to the guide covering abandoned cable assessment and removal, DuPont simultaneously introduced similar specification guides for installing limited-combustible cable and for recycling removed abandoned cable. DuPont and some cable manufacturers have advocated installation of limited-combustible cable for several years. But the notion of recycling communications cable that has been removed from buildings is a newer concept-one that DuPont incorporated into its Abandoned Cable Services program last year.
After this bundle of cables lives out its useful life and is removed from the building in which it was installed, where it or its component parts end up is largely up to the entity that removed it.
Click here to enlarge image
If abandoned cable removal services can be called a "cottage industry," then the recycling of such cable might be described as "fledgling," because by and large, it is a new enterprise that has not yet taken firm hold. Among several contributing factors, CPC's Bisbee emphasizes that labor is a significant hurdle. "The process of separating the removed abandoned cables to get them into the recycle stream can be more costly than the materials recovered," he notes.
What's in there?
Those contractors that have been recycling cable, and did so even before the 2002 NEC edict about abandoned cable removal, have not necessarily followed strict procedures preparing that cable for recycling. While nobody would go on record admitting the following practice, many in the industry have heard about or perhaps even witnessed a batch of old cable being thrown into a large barrel and burned down to its copper-the component most often recycled. Considering the chemicals that make up a twisted-pair copper cable, such a practice can hardly be considered environmentally friendly.
Additionally, the fluoropolymers that insulate the copper conductors in a plenum-rated twisted-pair cable do not burn easily (that's exactly the point of a plenum cable). Stripping those cables down to their bare copper is, as Bisbee referred to, a labor-intensive endeavor. But it can be done, by hand or other means.
This author also could not find a recycler willing to go on record describing in detail the process by which an unshielded twisted-pair cable is broken down and prepared for recycling. The closest thing to a description was, "The separation and recovery processes are proprietary; however, the processes used are mechanical in nature and do not require any chemicals."
In a big-picture view, cable that is removed from a building and intended for the recycling stream are separated into several groups, including communications cable containing copper, communications cable containing optical fiber, and electrical cables. Other pieces of hardware, including racks, trays, and blocks, also must be dealt with separately from the copper communications cable.
Once separated, the cables get put into some type of temporary storage. Depending on how much cable is involved and the time frame in which it will be removed, it may be stored in a dumpster placed on site exclusively for cable; or, for smaller projects, it may be stored in bags or boxes. On smaller projects, the contractor is responsible for transporting the cable to the recycling facility. DuPont notes that it can provide dumpsters to larger job sites for cable that will be recycled through its program.
Once the cable reaches the recycling facility, the sites employ their proprietary processes to break down the cable. Says one recycler that is part of DuPont's program, "After abandoned cable is removed from a building, fiber-optic, electrical cables, and related hardware are separated from the low-voltage communication cable, which is then recycled. First, the metal is separated from the non-metal components. Then the non-metal components-primarily fluoropolymers, polyvinylchloride, and polyethylene-are separated and recovered."
As far as what happens to each part of a cable, the recycler states, "Usually all the parts of an unshielded twisted-pair cable can be recycled except polyester wraps or draw strings. Each of the components is separated by material type. The copper is sent to a copper refining company, the PVC and polyethylene are sold to secondary converters for a variety of applications, and the fluoropolymer is cleaned and extruded into pellets for secondary applications and sold by DuPont in the wire and cable industry."
Some cable types can present significant challenges to a recycler. Specifically, coaxial and shielded twisted-pair cable may contain tin-plated copper as a shielding element. That material is not worth as much as pure copper and is hard to segregate from pure copper. Additionally, wrapped shields can vary greatly from heavy foils to metalized polyester. They also pose segregation challenges, which diminish their value.
Taking an interest
With DuPont cleaning and reusing recovered fluoropolymers, it has a financial interest in reclaiming these materials; it stands to reason the company will make accommodations to facilitate large-scale recycling activities. When the company introduced its new specification guides, Robert Kenny, global business manager of DuPont Cabling Solutions, stated, "DuPont is committed to making it easier for building owners to comply with codes in a way that is environmentally responsible through recycling, and to follow best practice recommendations for fire safety on an ongoing basis."
But will recycling take hold across the board on cable-removal projects? The current price of copper suggests there is some chance contractors will find it worthwhile to recycle cable for that element alone. Copper is the cable component most in demand today.
Another significant aspect of cable removal and recycling is the fact that many cables in buildings today contain hazardous substances, particularly lead. The recently enacted European Union environmental initiative RoHS (Restriction on Hazardous Substances) has spurred any cable manufacturer wanting to do business in Europe to remove lead from its products. California legislation set to go into effect on January 1 contains restrictions similar to that of RoHS. So, by and large, lead and other dangerous materials have been eliminated from products now reaching the marketplace. But the entire issue of abandoned cable focuses on products that were manufactured years and in some cases decades ago, and almost certainly contain hazardous materials.
Bisbee, outspoken about the use of heavy metals and other hazardous materials in cabling products, comments that while over-the-counter swipe kits can be helpful in determining the presence of high quantities of lead, a lower and still-dangerous lead level may not show up on such a test. The Environmental Protection Agency also has cautioned that tests of these types are not accurate enough to distinguish between high and low levels. Impossible to verify or quantify without third-party testing, the presence of lead dust in abandoned cabling systems looms as a possible threat and, at this point, an unknown.
A less-heard-about but perhaps no less significant European Union environmental law is WEEE-the Waste Electrical and Electronic Equipment directive. Although it is aimed at household electronics users and not commercial users, it provides a blueprint that puts the onus for waste-electronics collection and recycling on the manufacturers of the equipment.
Meanwhile, in the United States, building owners face the task of having unused cable removed. And where it goes once it leaves the building varies greatly from project to project.
PATRICK McLAUGHLIN is chief editor of Cabling Installation & Maintenance.