The ever-faithful balun is becoming a key element in preserving structured cabling systems for driving audio-video.
Over the past 10 years, balun (BALanced-UNbalanced) technology has started to make inroads into the traditional audio-video arena. And today, baluns are having a major impact on the way audio-video (AV) equipment is installed.
Balun technology has enabled schools to deploy classroom projector systems more efficiently over space-saving Category 5 instead of VGA cable.
Click here to enlarge image
With recent improvements in copper twisted-pair cabling as well as balun technology, the performance of audio-video over copper twisted-pair has improved considerably. Today, many balun models support a wide range of audio-video formats over pre-installed Category 5 (or greater). These environments include composite video, S-Video, RGB, component video, digital audio, analog audio, RF/CATV, DVI, and HDMI. As basic building blocks, baluns support point-to-point connections over Category 5 and may be used in a wide range of applications, including security video, digital signage, classroom training, boardroom systems and video kiosks.
The balun has become a key element in preserving the investment in a structured cabling system, and as balun prices decrease, pre-installed Category 5 is becoming a more attractive alternative to coaxial cable, even at short cable lengths under 200 feet. This benefit has spurred development of new balun technology that optimizes analog and digital AV signal transmission over copper cabling.
A balun is a basic cabling device that interfaces with a structured cabling system, providing the essential link between traditional coax-based equipment and copper twisted-pair cable. Its importance lies in its relative simplicity and its ability to passively or actively connect a wide range of data/video equipment to a pre-existing copper twisted-pair cabling infrastructure, thereby overcoming the inherent limitations of UTP and preserving the investment in the cabling system.
Since the early datacom years (circa 1984), baluns have played a key role in the migration from coax-based cabling systems to structured cabling systems. In fact, the largest adopter of unshielded twisted-pair (UTP) technology today is the Ethernet LAN industry. Before 10/100Base-T became a standard, companies such as MuxLab were developing baluns to adapt earlier Ethernet cabling standards (10Base-5 and 10Base-2) to unshielded twisted-pair.
A solution-centric future
As balun technology becomes more accepted in the audio-video environment, the market is moving from a product-centric to a solution-centric industry. Increasingly, products are expected to be introduced that streamline audio-video cabling by using copper twisted-pair.
Audio-video equipment that is twisted-pair-ready will likely be introduced by more vendors on a proprietary basis to capitalize on the advantage of using pre-installed Category 5 for AV connections. This will precipitate a need for second tier products that support AV transmission over twisted-pair. Products such as distance extenders, switchers, and distribution amplifiers will likely surface over the next few years to support the many vertical market applications where balun technology has been applied.
Categorically speaking
Category 5e or 6 cabling has higher bandwidth perfomance and, therefore, provides marginally better distance performance when used with AV baluns. The improvement is more noticeable in the higher bandwidth video environments, such as terrestrial RF video, where channel frequencies go as high as 860 MHz.
It should be noted that Category 5e/6 has one glich versus regular Category 5 when used with component video signals, such as VGA/RGBHV. With Category 5e/6, each of the twisted pairs has a different twisted rate and, therefore, the actual wire length will vary between the different color signals. This yields a phenomena called "skew," whereby the individual color signals arrive at the receiver at slightly different times. The effect is more pronounced as the cable length increases and is manifested by thin bright edges along the right side of darker objects.
Some active video baluns provide additional "skew" adjustments to compensate for the delays on each color signal. One way to avoid skew is to install or use pre-installed Category 5, or "skew-free," cable whereby the twist rates of each pair are the same.
As the industry progresses, the key will be whether vendors can successfully build on the basic building block technology and migrate to the next generation products that provide a more complete structured cabling solution. Some of the key areas of activity are: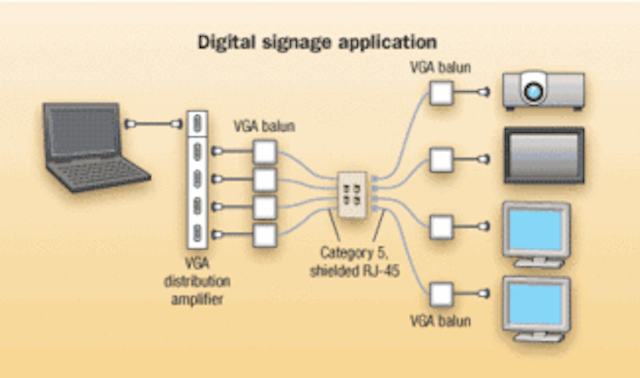 Balun technology lets you connect multiple displays to the video server via Category 5 copper instead of coaxial AV cable, yielding considerable cost savings.
Click here to enlarge image
Classroom training. Classroom multimedia systems have been dramatically streamlined. Capitalizing on standard Category 5 cabling, balun technology has enabled schools to deploy classroom projector systems more efficiently. By using balun technology, valuable conduit space is saved and bulky VGA cable is not needed.
Digital signage. The proliferation of dazzling new display technologies has led to the development of new applications, such as digital signage. Typically, a server receives digital video content over a network and then outputs the information through a VGA port on the server. A distribution amplifier (DA) may distribute the video content to multiple screens within the premises. Retail stores, airports, hotels and restaurant chains are some of the key users. Balun technology enables these multiple displays to be connected to the video server via twisted-pair copper instead of coaxial AV cable, yielding considerable cost savings and preserving the investment in pre-existing cable.
Active or powered video baluns that amplify and equalize the video signal are capable of supporting extended cable lengths over Category 5 at image resolutions up to 1920 x 1440 pixels, thus placing new applications within distance reach. For example, multi-screen video kiosks can be deployed in large stores or public areas more easily where pre-installed Category 5 cable is available.
Custom AV installation. Commercial and residential markets have recently turned toward balun technology to resolve many cabling issues associated with custom AV. Multi-room systems, production and sound systems, and rental and staging are a few markets that are starting to reap the benefits of pre-existing Category 5. Until recently, component video could only be transmitted at low resolution over Category 5. Today, however, there are Category 5-based balun solutions that support HDTV (780p, 1080i) resolution, which is opening new doors in the custom AV market. HDTV is now as easy to connect over structured cabling as Ethernet.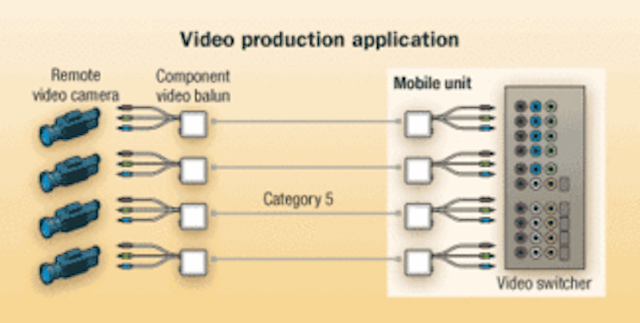 In this illustration, component video baluns connect a number of high-resolution cameras back to a mobile video production facility.
Click here to enlarge image
Security video. This application has rapidly adopted Category 5 as a preferred method for cabling. A longstanding coaxial cable user, the CCTV industry has slowly shifted a significant portion of its cabling over to copper twisted-pair. One of the key drawing cards is the higher capacity of Category 5 versus coax. A single Category 5 cable can support four cameras versus one with coax.
Recent innovations in balun technology have resulted in improved cabling techniques leading to major improvements in cabling efficiency, one of which is the introduction of auto-gain compensation into extended distance CCTV connections. Before auto-gain, manual adjustments needed to be made on every camera port to ensure the correct signal levels. Auto-gain technology, however, has solved this problem and helped save installation time and eliminate unnecessary on-site maintenance calls.
Another recent balun technology innovation is the combination of video, power and PTZ camera control over one Category 5 cable. Before the advent of these specialized baluns, power, video and control required three separate cables. Due to the excellent crosstalk immunity of video baluns and Cat 5, you can combine these three key camera signals over one cable, thereby eliminating extra cables and installation time.
CATV. The limits of balun technology become more apparent as RF video is transmitted over Category 5. Even baluns and UTP have their limits. The signal attenuation above 600 MHz is quite high, and above 900 MHz, it is virtually impossible to push an RF video signal through, even with amplification. This precludes any application for satellite RF over Category 5; however, apartments, hotels, and condominiums often use RF video baluns to solve sticky problems where coaxial cable is not available.
Among the latest developments in CATV balun technology is the support for terrestrial channel frequencies up to 900 MHz, enabling applications such as broadband Internet and HDTV channels. At higher channel frequencies, superior quality twisted-pair cable is needed, and sometimes RF amplifiers must be used to compensate for the high signal losses over UTP. Category 6/7 cable has been found to provide some improvement over Category 5 cable at frequencies above 550 MHz. Siemon, for example, specifies its Category 7 cable for use with RF baluns to support RF video transmission over copper twisted-pair.
With balun technology, video, power and PTZ control can co-exist under the same Category 5 cable and, therefore, up to three cables can be replaced by one Cat 5 cable in many installations.
Click here to enlarge image
Although RF is an efficient distribution method for video and the Internet, relatively few UTP cabling solutions are on the market. This may also be due, in part, to the significant technical challenges and limitations in transmitting RF video/data over Category 5. But some vendors have taken up the challenge. For example, BH Electronics, Z-Band, CommScope (Systimax) and MuxLab are among those that offer proprietary solutions for RF-over-Category 5 that include RF video baluns and distribution hubs.
Technical issues
A number of technical issues must be considered when applying audio-video balun technology to copper twisted-pair. A dedicated balun design is required depending on the type of audio-video signal being transmitted and the cabling environment in which it will operate. For example, the transmission of S-Video over Category 5 requires a different balun and wiring configuration than PC VGA video over Cat 5. Furthermore, when balun technology is installed in a structured cabling installation, several performance factors need to be considered, including correct wiring configuration, signal polarity, bandwidth, signal loss (insertion loss), impedance matching (return loss), ground loop isolation, propagation delay and skew. An in-depth article on this subject has been written by Stephen Lampen from Belden CDT, and may be viewed at: http://bwcecom.belden.com/college/Techpprs/VideoandUTP.pdf
Today, a growing number of manufacturers support audio-video connectivity over Category 5, and a number of leading companies have integrated both passive and active Cat 5 twisted-pair interfaces into their product lines. Some vendors specialize in custom AV and digital signage, while other vendors focus on security video.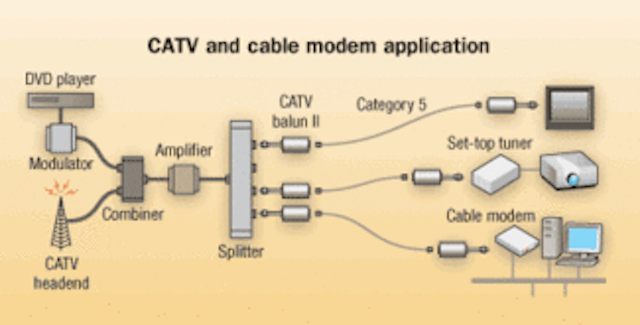 Although baluns combined with Category 5 cabling have limitations in CATV installations, apartments, hotels, and condominiums often use RF video baluns when coaxial cable is not available.
Click here to enlarge image
Examples of products for Category 5 AV connectivity include distance extenders, distribution amplifiers, and matrix switchers. Key players include: Extron, Crestron, Kramer Electronics, Magenta Research, Black Box, Altinex, MuxLab, Channel Plus, Hall Research, NVT, Nitek, Intelix, Vigitron, ETSLAN, BH Electronics, and Z-Band. Because of the technical issues of connecting AV over Cat 5, look for a supplier who is familiar with the specific audio-video application and can provide technical support throughout the installation.
Combo at work
Today, Category 5/balun technology is being integrated into virtually every industry, from mass transportation and consumer video displays to submersible video systems. In the commercial and residential markets, the proliferation of Cat 5/balun audio-video cabling solutions is continuing to help to preserve the investment in structured cabling systems and facilitate cabling in more advanced AV systems.
JEFFREY HERMAN is a product manager with MuxLab and has been involved in the data and audio-video connectivity market for almost 20 years. He may be reached at: j.herman@muxlab.com
---

Balun manufacturers
The following companies, as listed in the 2006 Cabling Installation & Maintenance Buyer's Guide, manufacture baluns. (Companies wishing to be included in the 2007 Buyer's Guide listing should e-mail: sandyt@pennwell.com)
Gruber Industries
Phoenix, AZ
602-863-2655
www.gruber.com
L-com Inc.
North Andover, MA
800-349-5266
www.l-com.com
Lynx Broadband
Burnsville, MN
952-894-9590
www.lynxbroadband.com
MuxLab Inc.
St. Laurent, Quebec
514-905-0588
www.muxlab.com
Network Video Technologies
Menlo Park, CA
800-959-9870
www.nvt.com
Ortronics/Legrand
New London, CT
860-445-3900
www.ortronics.com
RiT Technologies
Mahwah, NJ
201-512-1970
>www.rittech.com
Summit Source Inc.
Fort Wayne, IN
260-489-7525
www.summitsource.com
SYSTIMAX Solutions
Richardson, TX
800-344-0223
www.systimax.com
Tri-Net Technology Inc.
Walnut, CA
909-598-8818
www.trinetusa.com
Tyco Electronics/AMP Netconnect
Harrisburg, PA
800-553-0936
www.ampnetconnect.com
Unicom
City of Industry, CA
626-964-7873
www.unicomlink.com