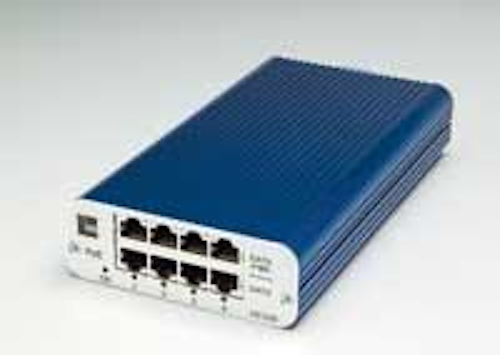 Compact PoE controller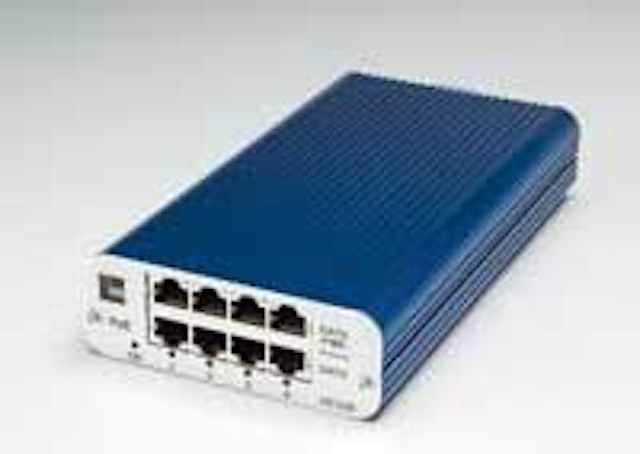 Click here to enlarge image
The compact, four-port TrueNet Midspan Power-over-Ethernet controller is designed to provide a flexible way to power IP devices over a LAN. The unit delivers compliant power to up to four devices, eliminating the need to upgrade existing Ethernet switches or provide local AC power to each device separately. It detects device presence and transmits appropriate power according to IEEE 802.af or legacy in-line powering standards. The compact controller includes 15.4-watt power capabilities in all ports, and redundant connections for two power supplies.
ADC
www.adc.com
Grounded artificial neutral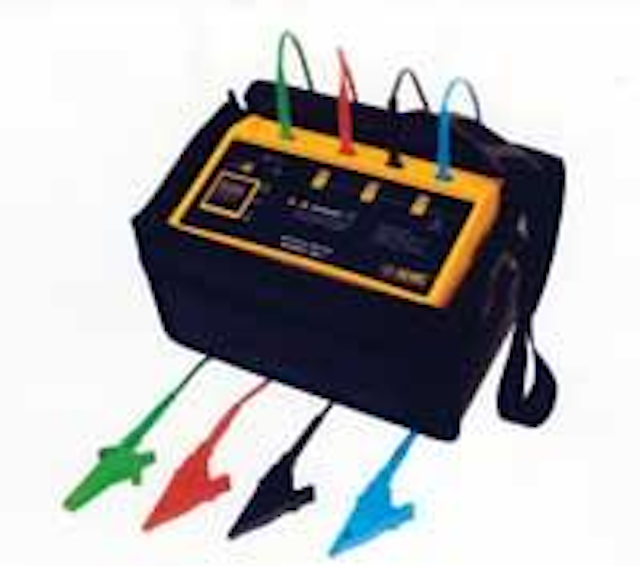 Click here to enlarge image
AN-1 generates a momentary grounded artificial neutral to permit measurement of fault currents on ungrounded three-phase systems. The unit is grounded intermittently through a relay driven by an internal electronic timer. The periodic grounding technique is designed to limit the possibility of insulation faults within the instrument, allows for better discrimination of actual fault current, and limits instrument overheating. Red LEDs indicate the presence of phase voltage and phase faults. Relay closure is switch-selectable-Fast (500 ms) or Slow (2.3 seconds)-so that the ground fault clamp can be used on a meter with either an analog or digital display.
AEMC INSTRUMENTS
www.aemc.com
Application design service
Bogen's free application design service will help you build a paging system to fit your installation. The service includes speaker placement design, a complete bill of material (including product description, model number, and quantity-faxed to a distributor of your choice), connectivity drawings, scope of work, detailed assumptions, and red-lined blueprints (you supply the blueprints). You provide information about your project, and a field sales manager can visit the site for exact specifications.
BOGEN COMMUNICATIONS
www.bogen.com
Handheld labeler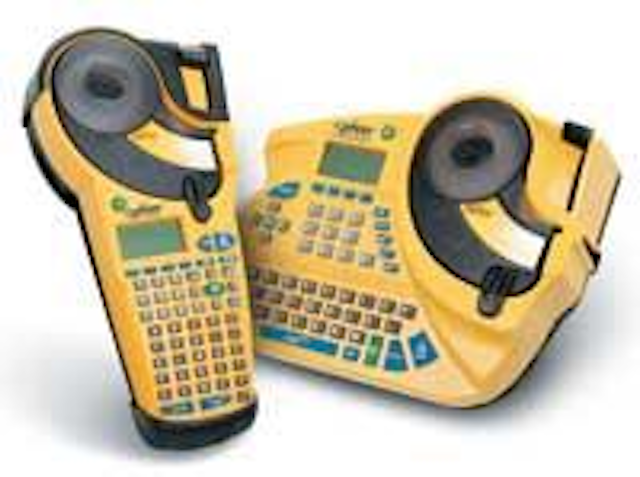 Click here to enlarge image
IDXPERT handheld labeler is portable and durable, built for labeling anywhere on the jobsite. The unit is designed to print clean and fast with edge-to-edge, non-smearing thermal transfer quality printing and expanded text-editing capabilities. Available in ABC and QWERTY keyboard layouts, IDXPERT offers more than 100 labeling options, including 80-plus industrial commercial symbols and bar-coding capabilities. Quickly switch labeling jobs with the Drop, Lock & Print cartridge, and print characters up to 1.25 inches on label stock up to 1.5-inches wide, and in as small as 7-point text for any labeling job.
BRADY CORP.
www.bradyid.com/idxpert
Speed bending, sweeping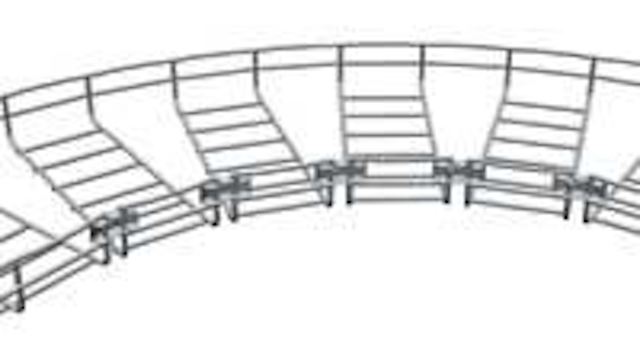 Click here to enlarge image
Faslock splice is designed to speed the fabrication of bends and sweeps within a wire cable tray installation. Only pliers are needed to secure the tray via specially designed locking tabs, eliminating the need for bolt and nut connections. Faslock works with all depths of the company's cable tray, and is available in a variety of finishes that meet the demand of any application. The splice is featured in the company catalog that includes 58 new labor-saving products.
CABLOFIL
www.cablofil.com
Dual-voltage box/bracket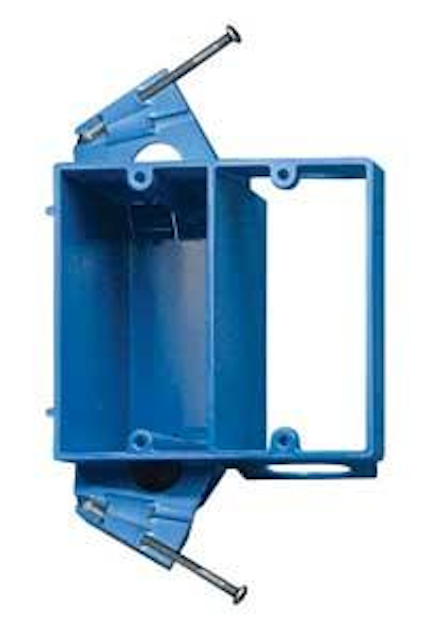 Click here to enlarge image
This dual-voltage box/bracket is designed to eliminate the need to use separate high- and low-voltage boxes, combining a high-voltage electrical box with a backless low-voltage bracket into a single unit that fits a standard two-gang faceplate. The one-piece design and nail-on mounting are designed to make installation faster and easier, while molded-in rings on the low-voltage bracket help make it easy to connect the company's non-metallic flexible raceway products.
CARLON
www.carlon.com
Fiber plug-and-play system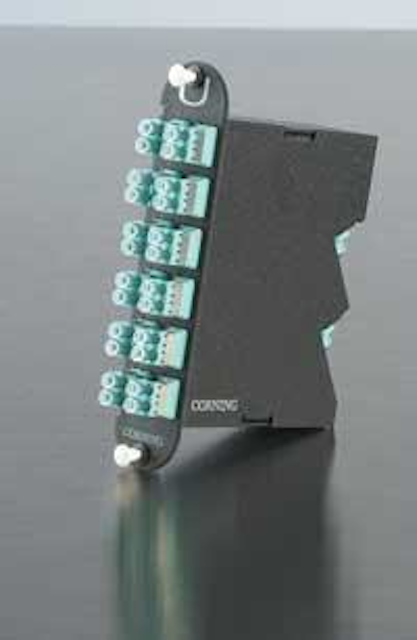 Click here to enlarge image
The Plug & Play Universal System is a preterminated optical-fiber cabling technology designed to streamline deployment of a fiber network infrastructure in premises installations. Plug & Play Universal's modules and harnesses are wired alike to simplify assembly. High fiber-count trunks can be routed to an intermediate distribution area where smaller fiber-count trunks are interconnected and distributed to zone, station, or cabinet areas. The system includes trunks, extender trunks, harnesses, modules, and patch cords.
CORNING CABLE SYSTEMS
www.corningcablesystems.com
Slap-in-place struts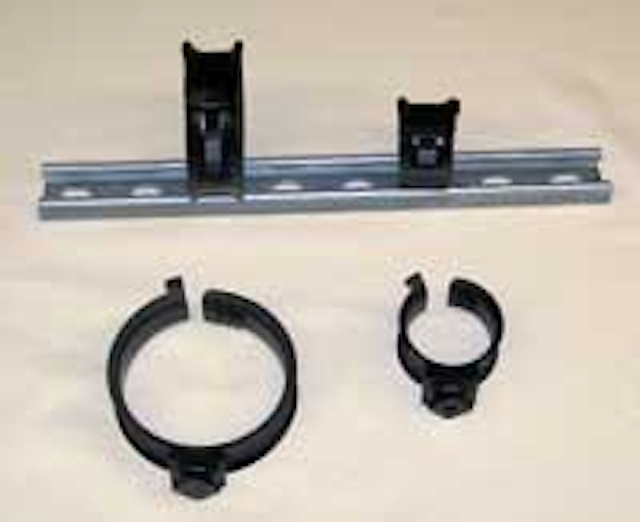 Click here to enlarge image
Strut Ready Slap Snap is designed to reduce the cost of overhead and vertical cabling work by reducing installation time. Simply insert and twist into the channel strut to quickly hang cable or conduit. (Removal, says the company, is just as easy.) No screws or special tools are required. Made of lightweight nylon, Strut Ready Slap Snap has passed UL tests for fire, heat and smoke release properties (UL 2043) for use in plenum areas. It is available in 2- and 4-inch sizes, and is built to hold up to 75 pounds.
DT SEARCH & DESIGNS, LLC
www.dts-d.com
Universal support system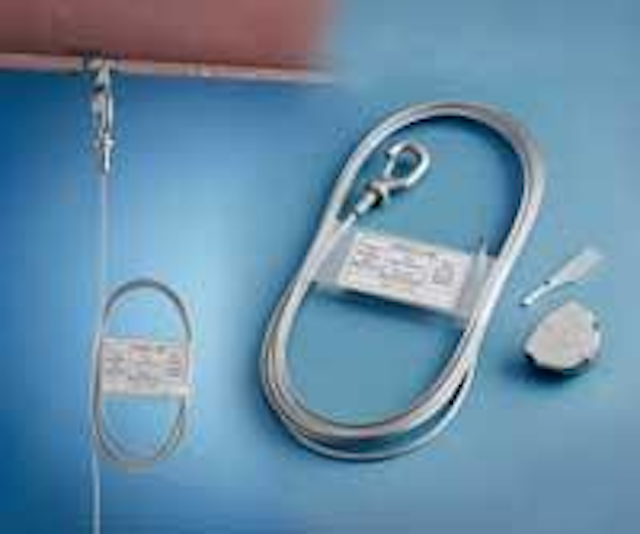 Click here to enlarge image
Caddy Speed Link is a UL-rated universal support system that features all-steel construction built for superior fire resistance, and designed as a cost-effective alternative to threaded rod and associated hardware. Caddy Speed Link can be used in a variety of suspension applications, either as a standalone system or with an assortment of the manufacturer's fasteners. The 2-mm steel wire rope supports static loads up to 100 pounds, while a 3-mm version handles up to 200 pounds; both have a 5:1 safety factor. A steel locking device ensures stability and allows for adjustment of the supported object, both during and after installation. The system installs without drilling and lets you hang objects at a variety of angles, including sloped ceilings. Caddy Speed Link is available in single-use packs or in bags and boxes of multiple quantities.
ERICO
www.erico.com
Compact network tester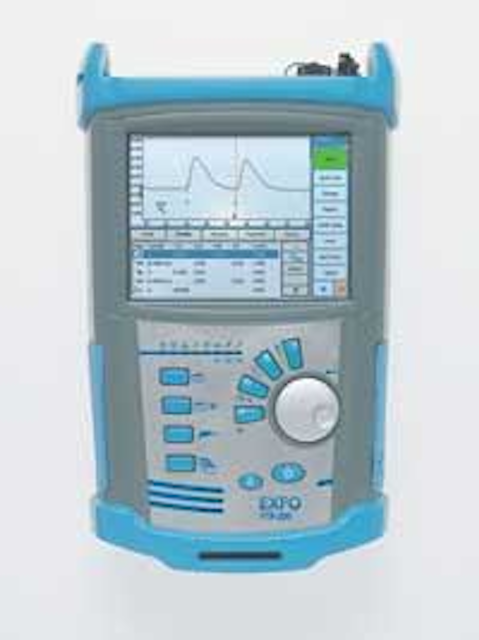 Click here to enlarge image
The FTB-200 compact platform offers open architecture, backward compatibility, and proprietary testing technologies. The tester can use any of the company's OTDR modules, which can test up to four wavelengths. According to the company, the modules offer industry-leading acquisition times for testing and troubleshooting long-haul, metro/access, and FTTx. The FTB-200 also offers transport and datacom analyzers that let you test the latest standards of Ethernet and next-generation SONET/SDH networks by using generic framing procedure, virtual concatenation, link capacity adjustment scheme, and Ethernet-over-SONET/SDH functionalities.
EXFO
www.exfo.com
Handheld mini-OTDR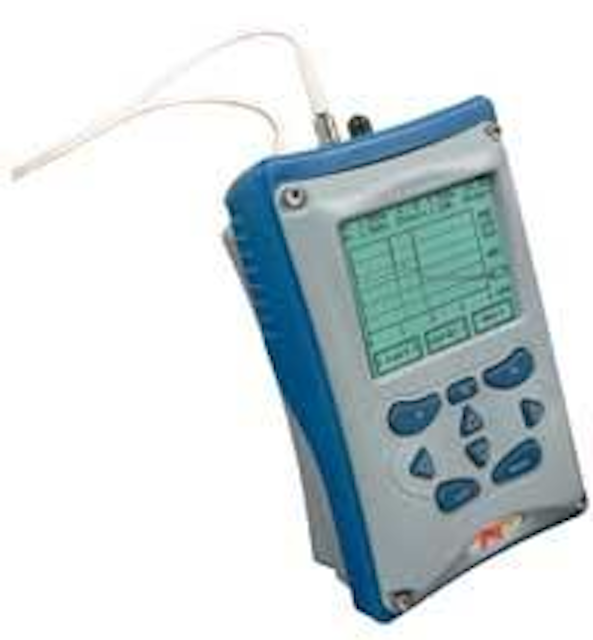 Click here to enlarge image
This handheld mini-OTDR is a full-function device that is small enough to fit in a toolbox. The unit produces a scan in less than one minute, weighs 2 pounds, and measures 7.25 x 4.5 x 2.75 inches. It is available in short LAN or standard models for singlemode or multimode operation. Included are graphic display, serial port, storage for 255 traces, quick reference card, and 120/240-V AC charger/adapter. The tester also offers dB/Km, 2-point, and splice loss modes, and is available in single, dual, tri, and quad wavelength models.
FIBER INSTRUMENT SALES
www.fiberinstrumentsales.com
Single-action cleaver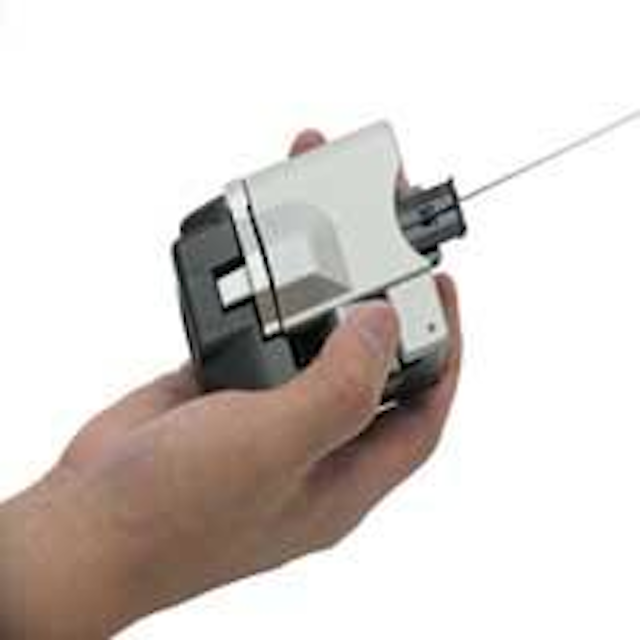 Click here to enlarge image
The Fitel S325A single-action, ultra-compact cleaver is designed to perform high-precision cleaves in the palm of your hand or at your workbench. The design combines all four steps of a proper fiber cleave into a one-step button press that applies tension to the fiber, scores it, precisely breaks it, and disposes of waste. It features a wide-lid top for easy fiber loading, and an integrated high-capacity waste fiber chamber. The unit can precisely cleave single fiber with its single-fiber adapter, and cleave up to 12-fiber ribbon via fiber holders. It weighs in at 11.5 ounces and measures 3.5 x 2.5 inches.
FURUKAWA AMERICA INC.
www.furukawaamerica.com
Current-monitoring PDUs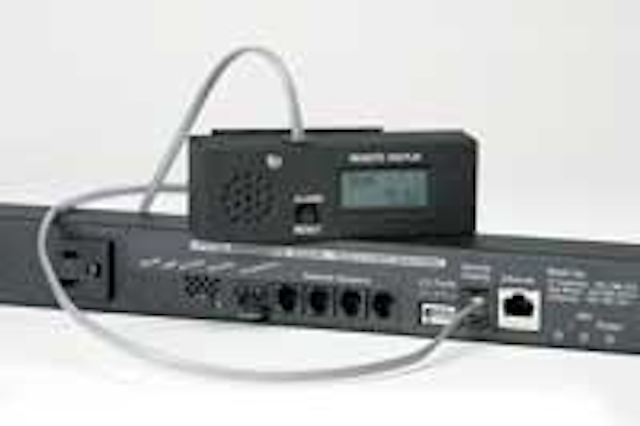 Click here to enlarge image
New RacSense current-monitoring power distribution units (PDUs) provide digital readout of amps, volts, power, and environmental monitoring. The company's line of horizontal and vertical PDUs are built for a variety of applications, available in 15, 20, 30 and 60-amp models.
GEIST MANUFACTURING
www.geistmfg.com
Nine new ones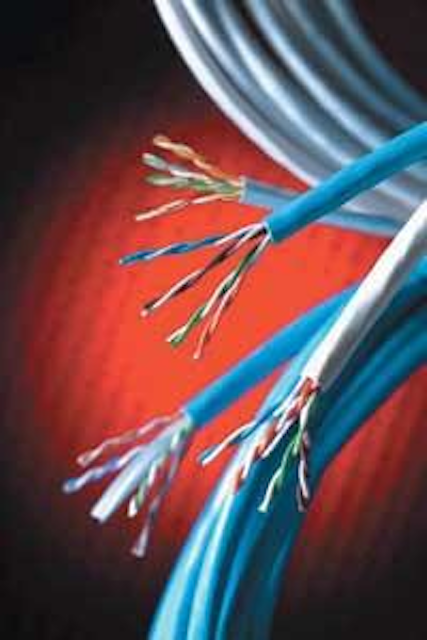 Click here to enlarge image
General Cable will feature nine new products at BICSI Orlando 2006, joining its extensive GenSPEED line of enhanced copper products that are in full compliance with ANSI TIA/EIA and ISO/IEC standards. All are backed with warranty assurance. The company offers a broad portfolio of products to support video and data networks, ranging from Category 3 backbone to NextGen optical-fiber cable.
GENERAL CABLE
www.generalcable.com
Wall-mount enclosure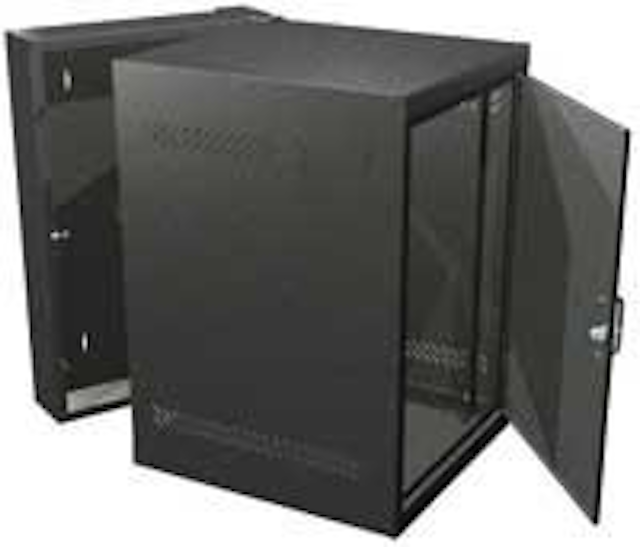 Click here to enlarge image
The 32-inch deep WD Wall-Mount enclosure series is available in 24-inch, 36-inch or 48-inch high by 24-inch wide by 32-inch deep models. The enclosure includes an optional dust-resistant kit that contains filters and panels to seal vents and openings. Two pair of 12-24 adjustable mounting rails are provided. A proprietary hinge system lets you easily remove the rear section for easier installation.
GREAT LAKES CASE & CABINET CO.
www.werackyourworld.com
Indoor/outdoor fiber

Click here to enlarge image
Singlemode and multimode indoor/outdoor plenum-rated optical-fiber cables let building owners directly connect telecommunications rooms of adjacent buildings, such as on corporate or college campuses. The cables are tight-buffered with a 900-µm buffer, and can accept connectors without a breakout kit typically required for loose-tube style outdoor fiber cables. Various fiber counts are available. Fiber options include 8.3-µm singlemode and 62.5 and 50-µm multimode.
HITACHI CABLE MANCHESTER
www.hcm.hitachi.com
10-GbE cabling system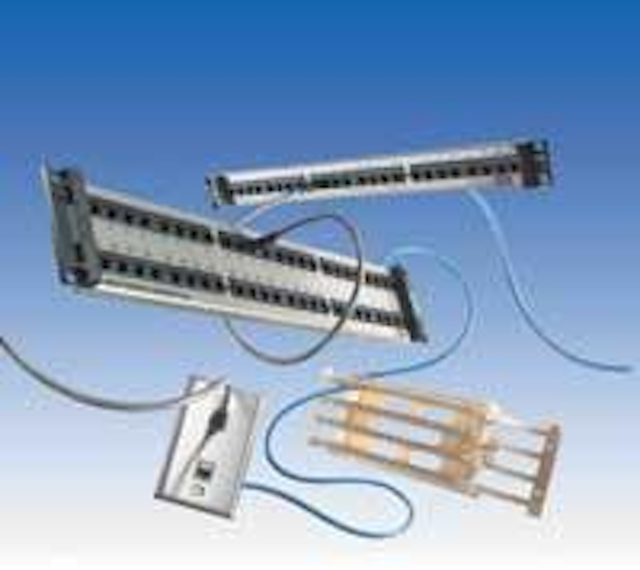 Click here to enlarge image
NextSpeed Ascent 10-GbE cabling infrastructure (pictured) is designed specifically for standards-compliant 10-Gigabit Ethernet applications. The full channel offering consists of modular jacks, patch cords, traditional 100-style patch panels, and horizontal cabling for applications requiring performance up to 625 MHz for the full 100 meters. The company says its system has been extensively tested to support bandwidth-intensive applications, IP-based appliances, existing PoE applications, as well as exceeding proposed PoE+ power level standards. The company will also feature its PowerTrac powered infrastructure panel system-a 24-port 802.3af midspan supporting maximum, sustained, simultaneous PoE power on all ports. PowerTrac integrates PoE and asset management in a 10-GbE Category 6 patch panel installed with standard tools.
HUBBELL PREMISE WIRING
www.hubbell-premise.com
Tester with PDA-like control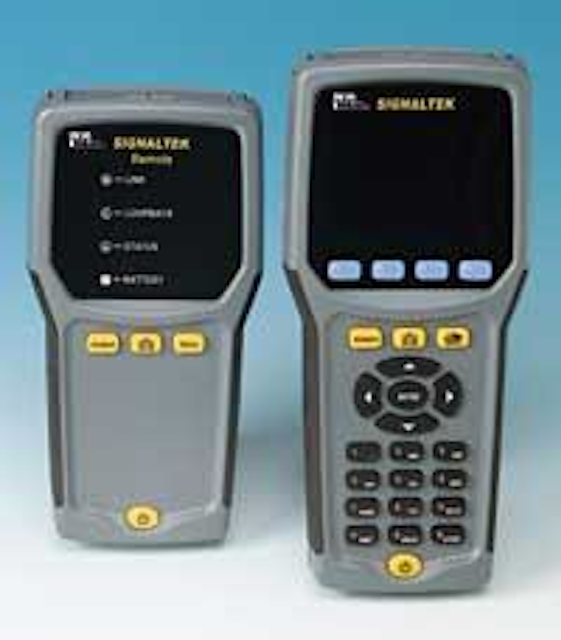 Click here to enlarge image
SIGNALTEK is a full-featured, handheld cable tester with PDA-like navigation control. It lets technicians speed-test virtually any type of network cable to support actual data transmission rates of up to 1 Gbit (per IEEE 802.3ab). The tester uses an integrated TDR to locate cable faults on Category 3, 5, 5e and 6, as well as coax, telephone, security-alarm and audio cable. To verify bandwidth, SIGNALTEK establishes a 10/100/1000 Mbits/sec link using twin gigabit transceivers, and transmits data packets across cable links to perform a full packet loss test. A quick performance test lets you verify cable performance following installation, and you can also specify long-duration tests to monitor link performance over several hours-isolating network problems that may not be directly related to the quality of the network cabling.
IDEAL INDUSTRIES
www.idealindustries.com
A new angle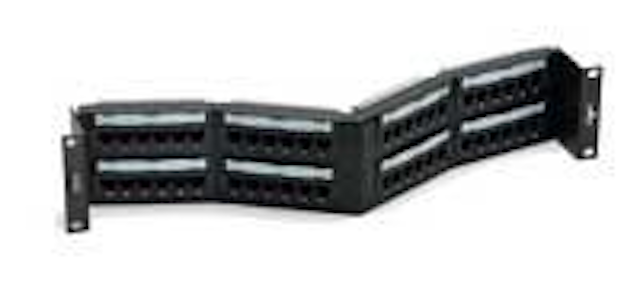 Click here to enlarge image
A completely redesigned line of the company's angled patch panels and accessories, developed in response to customer input, offers a dual-angle design that provides optimal rack density, improved punch-down accessibility, and simplified cable and patch cord management. The angled panel product line includes the company's eXtreme 10G, eXtreme 6+ and GigaMax 5e universal panels, QuickPort field-configurable panels, and a full array of angled cable management accessories.
LEVITON VOICE & DATA
www.levitonvoicedata.com
Television via Category 5
Click here to enlarge image
Lynx Video Network is designed to deliver up to 134 channels of television broadcast over Category 5 cable. It simultaneously distributes multiple channels from multiple video inputs, including CATV, satellite, off-air, DVD, VCR, and original programming. Using Category 5 for the horizontal distribution can simplify the cabling plant, reducing the amount of coax required. Moves, adds, and changes of TV locations can be handled without the need to pull new cable. A homerun wiring design helps improve system reliability by eliminating taps and splitters.
LYNX BROADBAND
www.lynxbroadband.com
Automated building software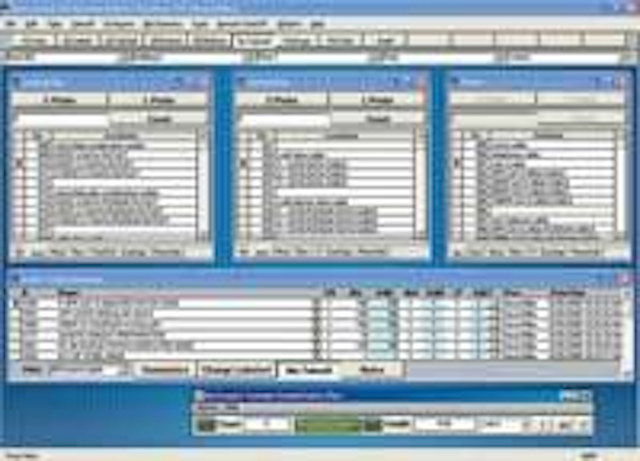 Click here to enlarge image
McCormick Systems is now offering a complete line of products for contractors involved in automated building systems (ABS) design. The new ABS products are for contractors who work in datacom, security system and HVAC control installations. The software database exceeds 20,000 items, and versions will include ABS Change Order, ABS Remote Take-Off, and the four main versions of the company's estimating software. Also included in the lineup is ABS Scale, billed as a low-cost, easy-to-use estimating software that works off a smaller database than the full estimating system.
McCORMICK SYSTEMS
www.mccormicksys.com
TDM over packet

Click here to enlarge image
The TDM over Packet family of products is designed for service providers looking to deploy Ethernet services without sacrificing revenues from existing TDM (time division multiplexing) services. The RS9A5, for example, is designed to provide standard T-1 or E-1 customer interfaces, and enables TDM connections across Ethernet networks-including IP/MPLS. It incorporates the company's AccessTDM technology, which is based on circuit emulation services-over-packet standards. TDM over Packet offers converged voice and data services across a single access infrastructure, and lets enterprise users contract with a single service provider for both their voice and data services.
METROBILITY OPTICAL SYSTEMS
www.metrobility.com
Configurable power strips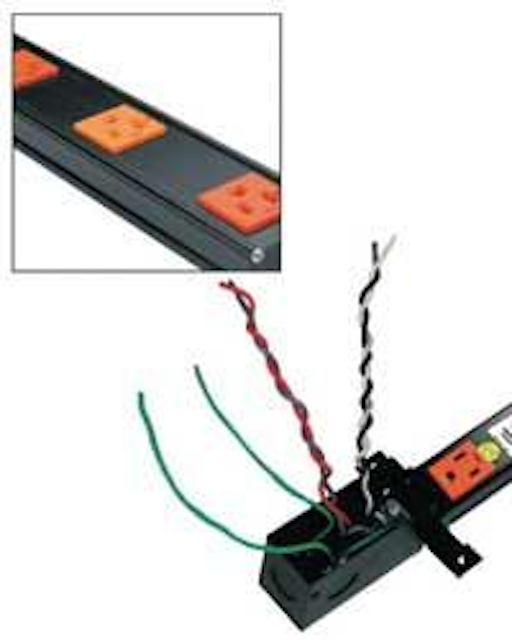 Click here to enlarge image
The PDT Series of low-profile power strips are field-configurable for single or dual circuits and isolated or non-isolated grounding, and are designed for enhanced versatility for power distribution inside crowded enclosure systems. Measuring less than an inch deep, the power strips feature a J-Box for easy hardwiring and alternating outlet colors to differentiate circuits, offering flexibility in configuring power as needed. Corded models are available in 15-amp and 20-amp versions.
MIDDLE ATLANTIC PRODUCTS
www.middleatlantic.com
Free-space optics wireless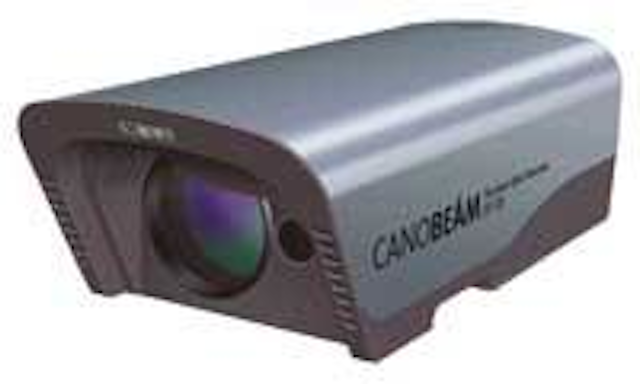 Click here to enlarge image
In partnership with Canon, Molex's Canobeam Free Space Optics (FSO) point-to-point wireless systems feature real-time beam autotracking. The FSO is designed to enable cost-effective, high bandwidth links where cabling is economically prohibitive or where backup links and disaster recovery systems are required. Designed for security camera links, education, industrial, government and enterprise campuses, the Canobeam can be installed outside or in a window for point-to-point applications.
MOLEX PREMISE NETWORKS
www.molexpn.com
Keyboard/mouse via Cat 5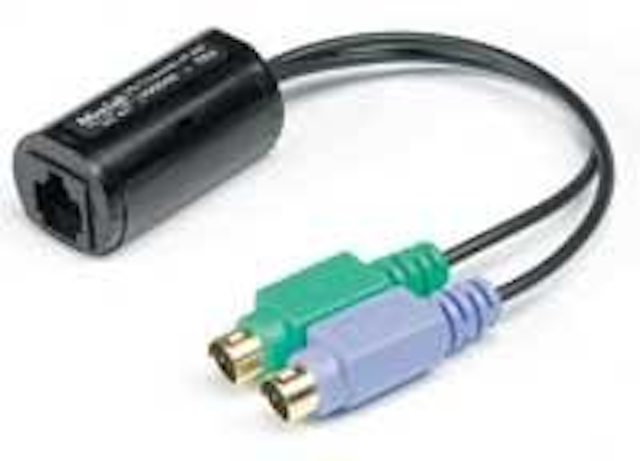 Click here to enlarge image
Developed for commercial audio-video integrators and custom home installers, the PS/2 Converter lets you connect a PS/2 keyboard and mouse via Category 5 cable-up to 350 feet from the computer-in a point-to-point configuration. The device is also suited for classroom projector, digital signage, boardroom, collaborative PC, and medical information applications.
MUXLAB
www.muxlab.com
Connection management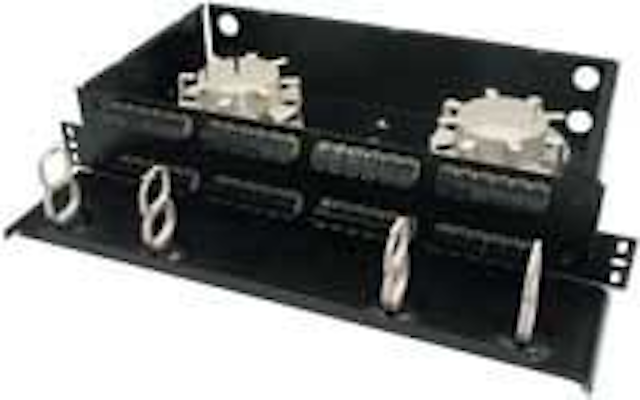 Click here to enlarge image
The 2U Shelf is designed as an efficient connection management unit for terminating and splicing fibers, enabling quicker network rearrangements and easier fiber resources tracking. It houses up to 48 ST/SC or 96 LC terminations, and can accommodate 40 mechanical splices, nine single-fusion splices, or 36 ribbon (mass-fusion) splices using optical splice organizers. The unit is built for 19-inch frame mounting, with optional extender brackets available for 23-inch frames.
OFS
www.ofsoptics.com
Self-managed network device
Click here to enlarge image
The company's new Fast Ethernet and Gigabit Ethernet network interface devices (NIDs) feature CDWM/DWDM small-form-pluggable fiber transceivers designed to support the 802.3ah Ethernet in the first mile standard, and for secure operations, administration and maintenance (OAM) management. Secure OAM is an encrypted, IP-less management channel that enhances the OAM capability of the company's iConverter system, and allows management of many individual NIDs, media converters and chassis through one IP address.
OMNITRON SYSTEMS TECHNOLOGY
www.omnitron-systems.com
Optical return loss meter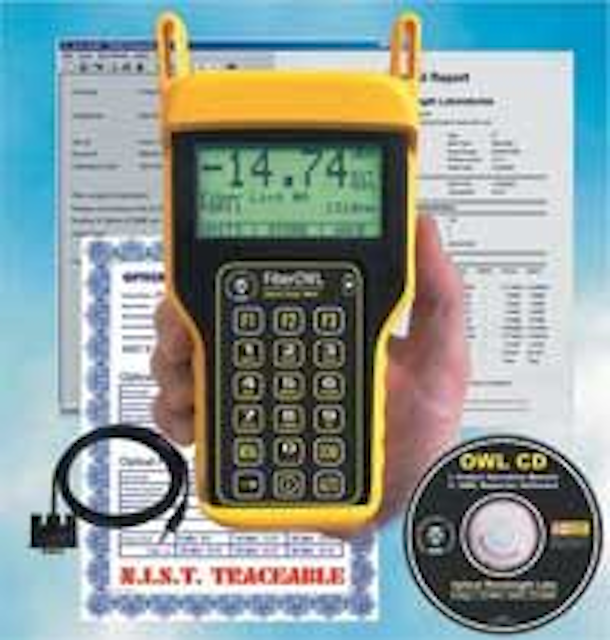 Click here to enlarge image
The Fiber OWL 5 ORL (optical return loss) meter is designed to accurately measure ORL at 1310 and 1550 nanometers in singlemode networks, such as FTTH. In addition, the device doubles as a singlemode-ready optical power meter, and when used with the company's OWL WaveSource FTTH light source, is designed to provide ultra-accurate optical loss testing of FTTH links at 1310, 1490, and 1550 nanometers.
OPTICAL WAVELENGTH LABORATORIES
www.owl-inc.com
Modular network solution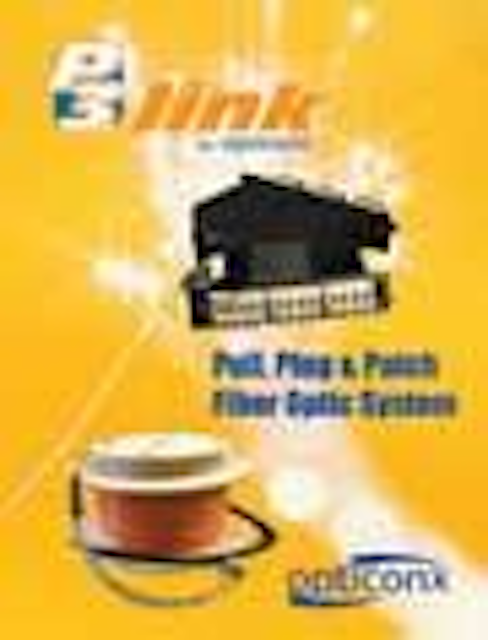 Click here to enlarge image
Employing MTP connectors and ribbon cables, the P3 Link is a preterminated, modular optical-fiber network solution designed to let you plug specific components together to form the network of your choice. With all components manufactured and tested in-house, the pull, plug, and play solution claims to need no special tools or training to install. On-site cable preparation, termination, testing and certification are eliminated. P3 Link is available with singlemode and multimode fiber in various counts, and can be installed indoors or outdoors.
OPTICONX INC.
www.opticonx.com
Workstation fiber manager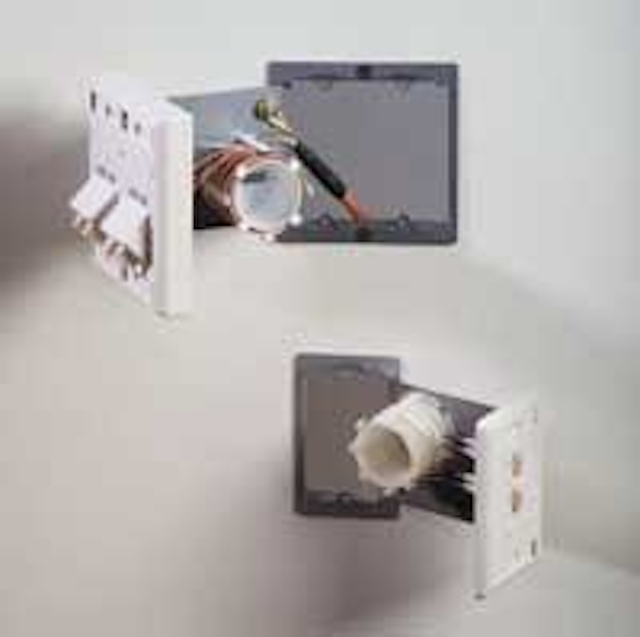 Click here to enlarge image
OptiMo Swing-Away Fiber Manager is designed to eliminate the need for large surface-mount enclosures and electrical boxes. The concept capitalizes on the common use of mud rings to install work area devices, and features a swing-and-slide work platform that acts as a "third hand" to assist with fiber installation. For easier access, the patent-pending Swing-Away slides out of the wall and swings open to the left or right. When termination and fiber storage are complete, simply swing the assembly back towards the wall and slide it into place for a secure, flush-mount installation. Swing-Away accommodates up to six meters of 900-µm buffered fiber on a fiber storage spool.
ORTRONICS/LEGRAND
www.ortronics.com
Wireless headset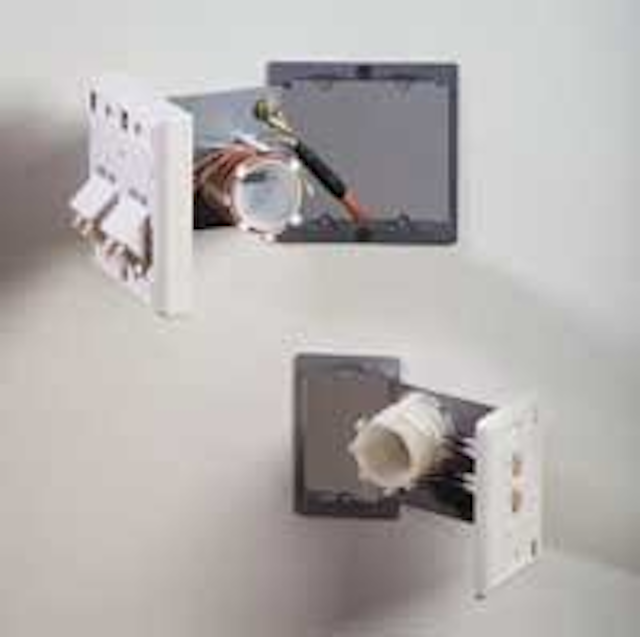 Click here to enlarge image
The Pulsar 590 Bluetooth stereo headset lets you listen wirelessly to music and movies, and switch seamlessly to mobile phone calls with a touch of a button. Available with a universal Bluetooth audio adapter, the Pulsar 590 provides immediate wireless compatibility for any device with a headphone jack, such as laptops, home stereos, MP3 players (including iPods), and multimedia devices. The lightweight headset features a foldable design for compact charging and travel storage.
PLANTRONICS INC.
www.plantronics.com
Wire stripper, cutter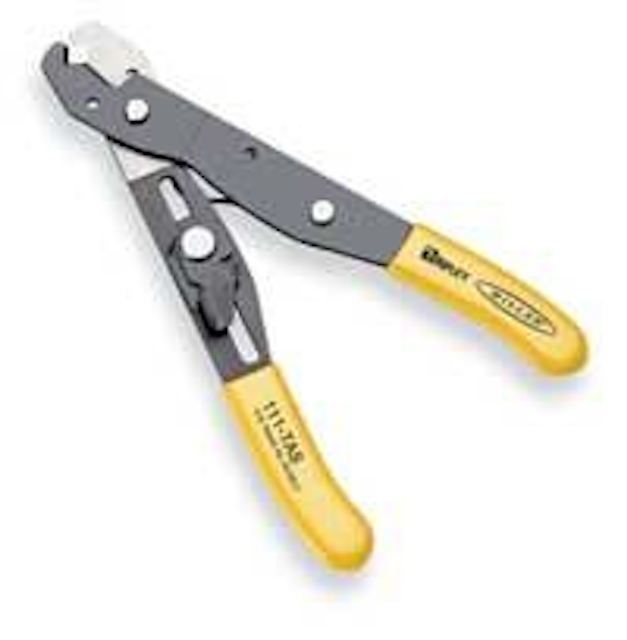 Click here to enlarge image
Ripley Company's Miller division introduces the 111-TAS thumb-adjustable wire stripper and cutter, designed for stripping and cutting insulate in wire sizes from #22 AWG to #10 AWG. With a patented mechanism that allows for full-range adjustment, the 111-TAS' jaws can be easily adjusted without needing additional tools. Once set, the operating pressure is encapsulated between the cam and pivoting tool arm, allowing for maximum operating leverage. A special spring mechanism holds the jaws and stripping surfaces in a normally open position, permitting comfortable operation during repetitive stripping applications.
RIPLEY COMPANY
www.ripley-tools.com
Metered power distribution
The Sentry CW-48VY cabinet power distribution unit (CDU) is designed to provide power distribution, as well as power and environmental monitoring with remote configuration and management. You can remotely power-cycle an individual or group of outlets, rebooting servers or other network devices, as well as having the ability to turn off unused power receptacles to ensure unwanted configuration changes. A 208-volt, 3-Phase 30-amp input power feed provides more than 8.5 kilowatts (derated) of available power per a single feed to the cabinet.
SERVER TECHNOLOGY INC.
www.servertech.com
Air flow manager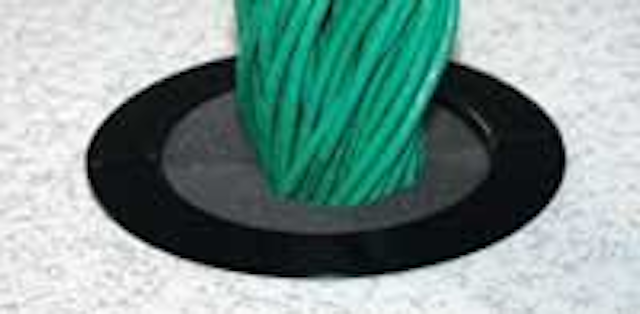 Click here to enlarge image
Snake Air air flow manager for data centers is designed to block stray air from escaping from under a raised floor, preventing overheating of sensitive equipment while lowering the cost of cooling the data center. It installs by hand and requires no extra tools or hardware.
SNAKE TRAY
www.snaketray.com
Cat 6 modular plugs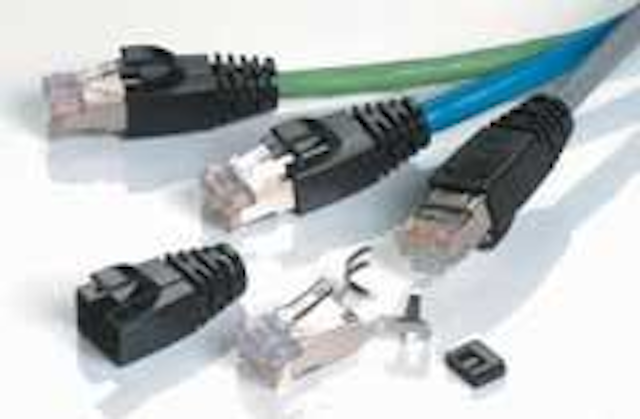 Click here to enlarge image
The 39200 Series of shielded Category 6 RJ-45 modular plugs are designed for high-speed networking and computing applications. The company claims the plugs feature a two-level load bar that separates the split pairs to ensure the plugs' ability to exceed Category 6 transfer performance requirements for near-end crosstalk and return loss. The load bar also aids in the connectors' assembly, accurately positioning the wires for termination. The plug features a dual-crimp shield for a reliable ground path connection and strain relief. A bend-limiting strain relief boot, featuring an anti-snag tab, is also available. The 39200 Series is especially suited for high-speed patch cords used to connect computers and peripherals to modular wall jacks.
STEWART CONNECTOR
www.bellfuse.com/StewartConnector
Cat 6, Cat 5e cables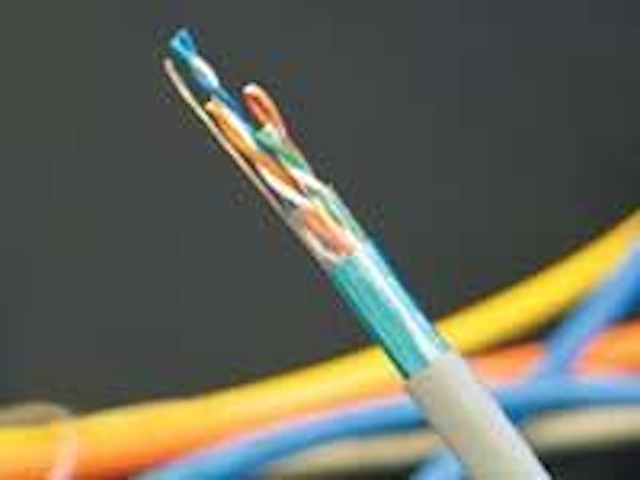 Click here to enlarge image
Shielded twisted pair Category 6 cables, available in both plenum and riser versions, consist of four balanced 24-AWG copper pairs. Each pair is individually wrapped with a Mylar-backed aluminum foil, and separated by a drain wire in the center of all four pairs. A flexible PVC jacket that surrounds the wrapped pairs makes the cable appropriate for either plenum or riser networking applications. The cables are designed to have guaranteed performance out to 600 MHz, and to meet all applicable TIA 568-B.2 requirements. The company has also introduced screened twisted pair Category 5e cables consisting of four balanced 24-AWG copper pairs. A flexible PVC jacket encases the tape-wrapped core, allowing for installations in plenum or riser applications. This cable, according to the company, has guaranteed performance out to 350 MHz.
SUPERIOR ESSEX
www.superioressex.com
RoHS-compliant bulk fiber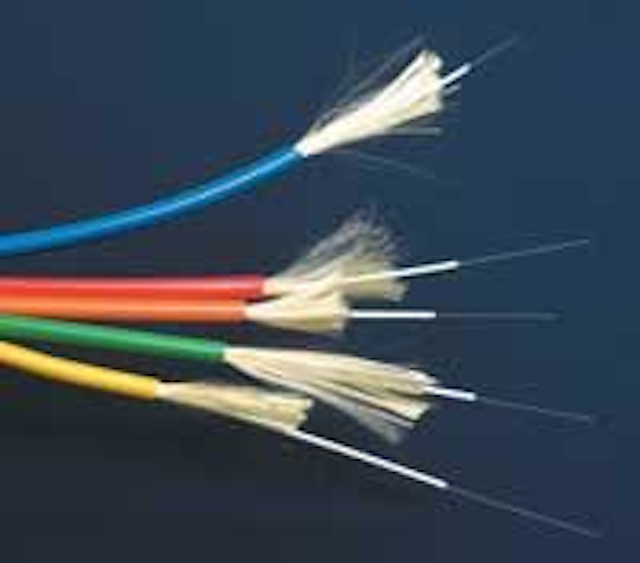 Click here to enlarge image
The Light Connection is re-introducing its entire line of bulk optical-fiber cables as fully compliant with restriction of hazardous substances (RoHS). The company manufactures standard and customized simplex, duplex, tight buffer, distribution, indoor/outdoor, fan-out tubing and ribbon cable. A variety of sizes, colors, and configurations are available. The company continues its exclusive use of Corning singlemode SMF28e and multimode InfiniCor laser-optimized optical fibers. For clarity of identification for the life of the cable, standard print on the cable jackets identifies the Corning Fiber being used.
THE LIGHT CONNECTION
www.thelightconnection
No-solder connector
Click here to enlarge image
The enhanced EZ-200-NHM-D no-solder EZ crimp connector for LMR-200 and LMR-200-LLPL cable features a combination hex/knurl coupling nut for tightening by hand or wrench, tri-metal plating that eliminates tarnishing, ridged landing area on the aft end for better grip and sealing of the heat-shrink boot, and VSWR performance to 8 GHz on both LMR-200 and LMR-200-LLPL. (LMR cables are low-loss, flexible, non-kinking RF transmission line cables for use on antenna feeds, system jumpers and interconnects.)
TIMES MICROWAVE SYSTEMS
www.timesmicrowave.com
Analog video over fiber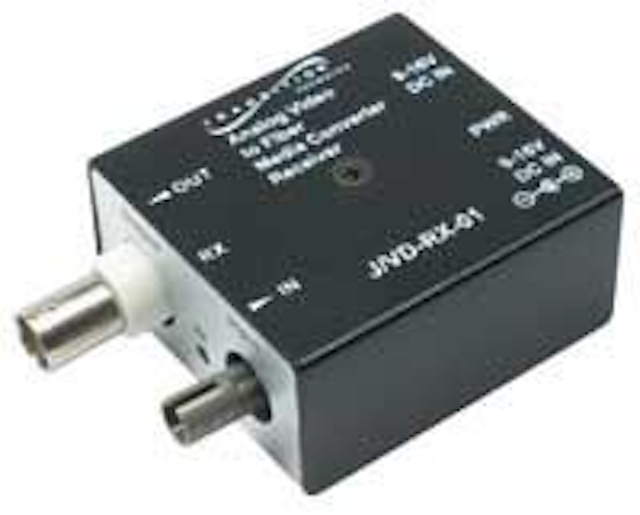 Click here to enlarge image
Analog video copper-to-fiber media converters are designed to transport analog NTSC, PAL or SECAM video signals over multimode or singlemode fiber, letting security providers and administrators use an optical-fiber infrastructure for video surveillance and monitoring. Video quality is maintained or improved with an Automatic Gain Control feature. The transmitter can be mounted directly to the camera, while the receiver comes in chassis card and standalone versions.
TRANSITION NETWORKS
www.transition.com
Security cabling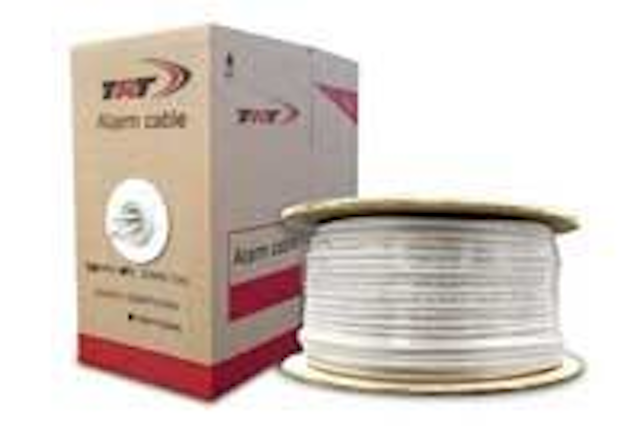 Click here to enlarge image
TRT Business Network Solutions has broadened its FPLR/FPLP fire alarm, security, and coaxial cable product line. Products are tested, UL-listed, and most meet CUL and CE standards. Products include: 18-3C STR shielded plenum; RG6 CU/CU coax plenum; 18-4C STR non-shielded plenum; 14-2C solid non-shielded FPLR; 18-2C solid non-shielded FPLR; 12-2C solid non-shielded FPLR, 22-2C STR non-shielded plenum; 22-4C STR shielded plenum; 18-2C STR non-shielded plenum.
TRT BUSINESS NETWORK SOLUTIONS
www.trtinfo.com
Secure system expands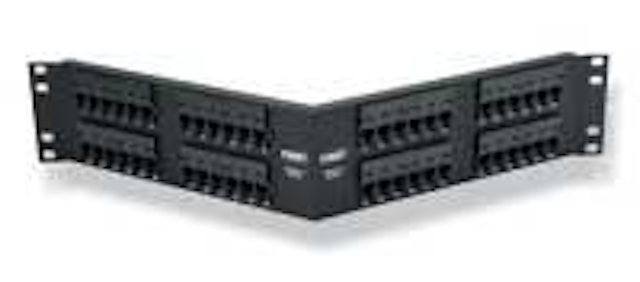 Click here to enlarge image
In response to customer requests, the MT-RJ Secure product line has been expanded with additional six color/key versions, for a total of 10 variations. Only plugs and jacks of the same color will mate, and none of the MT-RJ Secure products will mate with standard versions. Customers operating multiple networks in common areas can segregate systems by color, minimizing the chance of improper interconnection between any two networks.
TYCO ELECTRONICS/AMP NETCONNECT
www.tycoelectronics.com
Sealing end caps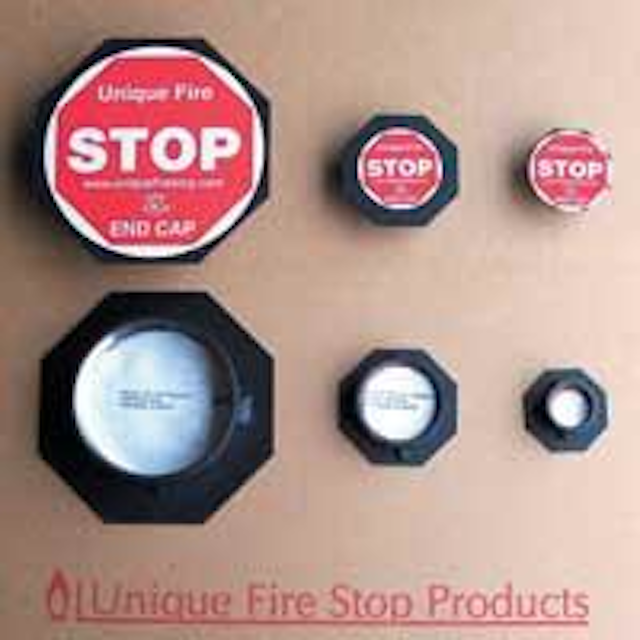 Click here to enlarge image
Unique Fire Stop Products has developed endcaps for sealing the ends of sleeves harvested when removing cables. The systems are for 1, 2, or 4-inch EMT or rigid. Intumescent putty inside the endcaps can be used to seal the sleeve when it is put back in service. The products are UL-listed for use in the U.S. and Canada.
UNIQUE FIRE STOP PRODUCTS
www.uniquefirestop.com
High-capacity raceway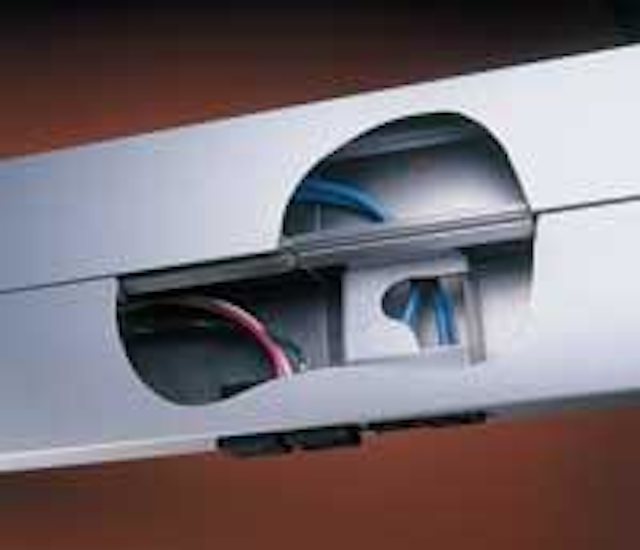 Click here to enlarge image
The 4000 Designer Series steel raceway is designed to provide high cable capacity and bend radius control. The system features an optional downward-facing configuration for receptacles and data jacks, designed to improve connection reliability and create more space inside the raceway to meet cable bend radius requirements. A "crossover" feature, which maintains the integrity of data channel separation when the cables cross the power channel, lets you position both power receptacles and data activations in the same channel, or together on the downward-facing surface. The raceway conforms to UL, NEC, and NEMA standards.
WIREMOLD/LEGRAND
www.wiremold.com
Four-post rack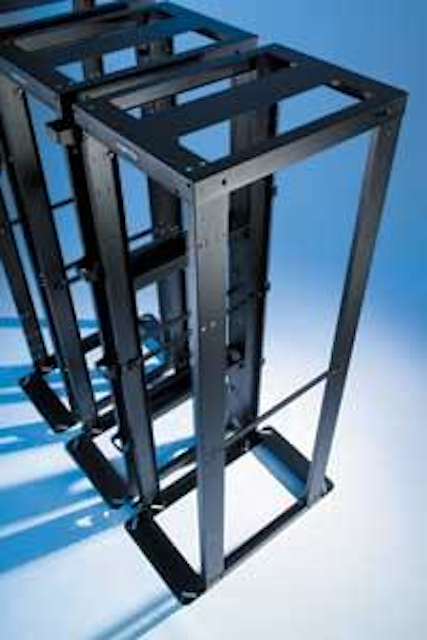 Click here to enlarge image
The company's Four-Post Rack offers an open, accessible and unrestricted architecture for cable-dense networks, servers, and telecommunications equipment. Also featured at BICSI Orlando will be the Paramount, powered by PDI-a free-standing, in-row structure designed to allow quick deployment and increased branch circuits on the data center floor. The Paramount offers cable management features designed for a demanding network infrastructure, and features unobstructed front, rear and top cable access.
WRIGHT LINE
www.wrightline.com
RF video over UTP

Click here to enlarge image
A new video distribution system broadcasts more than 80 analog or hundreds of digital RF broadband video channels bi-directionally over 100 meters of Category 5/6 cable. The system distributes video from cable TV, DSS, and modulated baseband outputs from cameras, VCRs, DVDs and computers to as many as 9,000 RG-45 outlets. It provides a video distribution platform for cable and satellite TV, security monitoring, emergency alert broadcasts, media retrieval transmissions, electronic bulletin boards, videoconferencing, and distance learning. The plug-and-play system is compatible with an IP telephony signal flowing through the network without adversely affecting communications performance.
Z-BAND INC.
www.z-band.com