DCIM: Where the physical and virtual can meet
Sep 1st, 2012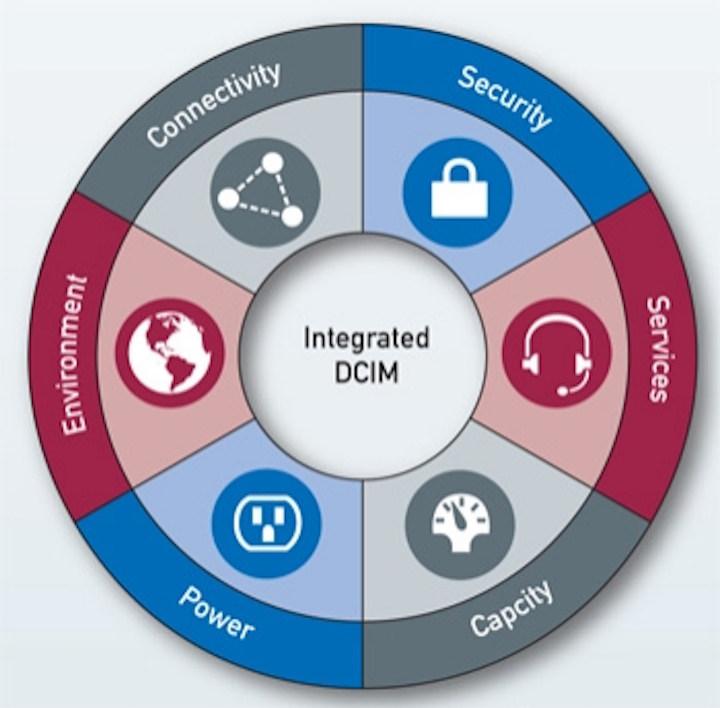 From the September, 2012 Issue of Cabling Installation & Maintenance Magazine
A single data center infrastructure management platform enables a holistic approach to managing physical and virtual assets.
By Julia Geva, RiT Technologies
The Internet is not going anywhere. It has greatly reduced the impact of physical distances between people, bringing them closer together. And it has made information more available than ever. Internet traffic continues to rise to such a degree that technology giants including Google, Apple, Microsoft, Amazon, Facebook and Yahoo have built their own data centers in order to allow for growth while reducing costs. And it is no wonder, because these costs are nothing short of astronomical. Gartner estimates that a "small," 8,000-square-foot data center costs $1.6 million a year in power alone, with that figure only expected to rise.
Building a large data center is not as simple as replicating an existing model. Many organizations are realizing that the change in technologies means they cannot just build carbon-copies of the same facility, somewhere else. Facebook's head of data center infrastructure Jay Parikh commented on its plans for a new facility in North Carolina: "We decided to change everything. We realized that we have to make sure our infrastructure is several steps ahead of what we need now."
RiT Technologies' CenterMind DCIM solution comprises four components that combine for a unique approach to data center infrastructure management: 1) CenterMind management software, 2) CenterMind G+ to optimize environmental conditions, 3) CenterMind P+ for improved power-consumption monitoring and control, and 4) PatchView intelligent infrastructure management to increase use of network assets.
Understanding the physical layer
Technological developments demand that data center managers plan for future growth. This includes the physical layer as much as everything else. As Forrester recommended in its "Market Overview: Data Center Infrastructure Management Solutions" (April 2012), "The ability to understand the impact of future workloads and infrastructure changes on potential capacity requirements is extremely valuable for many organizations."
Many information technology (IT) managers are only now realizing the importance of the physical layer for the data center. A 2011 Forrester study ("State Of Enterprise Disaster Recovery Preparedness, Q2 2011") found that 40 percent of IT and operations managers of data centers reported power failure as their most significant business disruption or business disaster. Additional concerns they stated included provisioning, fault management, service deployment, asset management, cabinets and other physical layer infrastructure supervision. All these need to be addressed while ensuring low labor costs, reducing power and improving efficiency.
Distinguishing infrastructure management
Increasingly over the last few years more IT managers have been turning to data center infrastructure management (DCIM) solutions in an effort to address these needs. DCIM provides a consolidated infrastructure repository (configuration management database, or CMDB) and consolidates information from various equipment and appliances in the data center, such as sensors, power consumption, cooling and others.
Forrester defines DCIM as "the convergence of previous generations of purely facilities-oriented power management, physical asset management, network management and financial management and planning solutions for data centers." Or simply, it is a "comprehensive approach to managing the physical aspects of the data center."
It offers managers a way to consolidate information, and make and act upon informed decisions based on the data—all from a coherent DCIM solution. DCIM offers a solution to the complex task of managing the data center's overall assets, resources, status and more. It provides IT managers with a way of monitoring the data center infrastructure and maintaining "equilibrium" across all its resources.
With all the strategic and technological changes occurring in the data center industry, using DCIM to cope with the challenges makes sense. On the other hand, as popular as DCIM is (the DCIM software market generated $245 million in revenue in 2010, according to 451 Research), there still remain areas of weakness.
Many of those weaknesses stem from the fact that the majority of current DCIM systems only offer management software while integrating third-party hardware to provide distributed hardware monitoring. This means that the "management" of devices in a cabinet is restricted and simply limited to information about those devices.
Furthermore, many DCIMs do not offer online monitoring of the physical layer such as cables and racks. The operations manager is forced to work offline and in most cases, do this part of the job manually. Apart from being time-consuming, this is tedious and an inaccurate method of monitoring infrastructure. Imagine monitoring the entire physical infrastructure in a moderate-sized, 25,000-square-foot data center? In most cases, if a DCIM does offer a cable-management component, it is limited and often results in a static view of the network. DCIM systems require knowledge of both hardware and software in order to collect real-time data of all the assets, environmental issues (such as cooling and power), network status, or physical-layer devices.
Many current DCIM systems cannot be customized according to each organization's needs. Keeping all a data center's assets controlled is not the same for every organization. Providers of DCIM software often lack the knowledge and experience of hardware, cabling and power; as such, they do not offer customized solutions.
Taking a holistic approach
As Forrester explains, "To effectively propose an optimal set of allocations, the software needs to understand the behavior of the system at a granular level, the potential workloads and the details of the power and cooling environment."
As DCIM systems have matured, some have begun to offer the capabilities that had been lacking. Finally, some DCIM providers have begun to realize that existing systems, in which many disjointed elements all operate with diverse goals, needed to be united into a single, holistic, end-to-end system that incorporates everything onto a single platform. One system now available offers a single solution that manages diverse aspects of the data center. A single interface monitors and manages everything in one manageable, coherent place. It unites critical resources—connectivity, network, assets, environment, power and more. The customizable platform optimizes data center performance and power consumption through a centralized, online, real-time view of the data center assets, regardless of where they are located.
With a promise to cut costs, reduce downtime and automate network planning, implementation and operational tasks, the new DCIM capability merges four core capabilities: 1) infrastructure management, 2) optimization of environmental conditions, 3) improving power-consumption monitoring and control, and 4) intelligent physical-layer infrastructure management.
These capabilities were built on years of experience providing intelligent infrastructure management, and the resulting system requires no integration with other products. It combines hardware and software components into a complete system.
This type of capability enables companies not only to gain efficiency but also to obtain a holistic, "green" view of a data center's infrastructure, while providing security as well as disaster recovery and provisioning. It visually delivers real-time information, showing the various environmental layers and the alert status of each. Additionally, it allows the IT manager to define a complex set of rules or patterns. This type of at-a-glance visibility, with a single intuitive interface, provides insight into urgent matters that can be used as part of the decision-making process while provisioning equipment in the data center.
IT managers are constantly challenged to build better and bigger data centers, all while reducing costs and improving efficiency. The path of DCIM has evolved, and now incorporates all needs—both physical and virtual—onto a single platform. This results in a united, harmonious system that provides enough flexibility, efficiency and return on investment for current and future data center needs. ::
Julia Geva is associate vice president, marketing with RiT Technologies (www.rittech.com). RiT offers CenterMind, a data center infrastructure management system called CenterMind, which provides the capabilities described in this article.