From the February, 2012 Issue of Cabling Installation & Maintenance Magazine
Compiled by Patrick McLaughlin
US Conec debuts compact Zi Series fiber-optic connector cleaning tools
US Conec announced the release of two new fiber-optic connector cleaning tools in its IBC product line. Dubbed the Zi Series, the tools are billed as having three distinct features that make them unique.

According to the company, the first notable feature is the tool's 117-mm (4.6-inch) housing, which is considerably shorter than other available cleaners. This makes it possible to clean connectors in areas with space limitations. Also, an included lanyard attaches to the operator's belt keeping the tool within reach at all times.
The third feature is the high number of cleanings the tool provides, at 525-plus.
The IBC Brand Cleaner Zi125 tool cleans LC and MU connectors. The IBC Brand Cleaner Zi25 is a small form factor cleaning tool for 2.5-mm based connectors including the SC, ST, FC, E2000, OptiTap, MIL 83526 (TFOCA series) and other military/aerospace connectors.
---
TIA president says green buildings aren't enough
Telecommunications Industry Association (TIA) president Grant Seiffert recently said the quest for green buildings is not a lofty enough goal for those involved in the development of technologies to serve current and future generations. "The goal shouldn't be green buildings, it should be a sustainable economy where services are delivered to rural poor as easily as they are to urban rich," Seiffert said. "Broadband and the communications services TIA members enable make the world more productive, efficient and connected."
That quote came as part of the TIA's announcement that it has joined the Sustainable Technology Environments Program (STEP). Seiffert has become a member of STEP's board of directors. STEP is a group recently created by the manufacturers, designers, integrators, programmers and users of technology to guide project and building owners to implement technologies and practices that will produce economic benefits to their organization while preserving the planet, the TIA explained in its announcement that it has joined the organization.
"As a standards developing organization, TIA engineering committees have worked for many years on improving technology to increase energy efficiency in structures such as data centers," the TIA added. Seiffert also said, "TIA can lend its expertise in standards development to help meet STEP's goal of establishing technology industry benchmarks for sustainability and materials practices."
STEP, the TIA explained, focuses on the technology systems that operate within sustainable buildings, employing a five-phase approach to planning, implementing and measuring the impact of a project. Conducted by the providers of technology and the building owner, STEP engages the best practices and standards for sustainability. Its rating scale is adaptable to any technology project within a built environment, the TIA added.
---
Fiber-optic cabling assemblies with mini-LC duplex and Uniboot LC connectors
Fiber Connections Inc. now offers fiber-optic cabling assemblies with the Corning Uniboot LC connector and with mini-LC connectors.
The Corning Uniboot LC features a changeable polarity option and reduction in size compared to standard duplex LC options. It has a single, 2-mm boot at the back of the connector. The round, 2-mm-diameter cable combined with the single boot provides a significant space savings, Fiber Connections says. The ability to change fiber polarity also makes the connector useful in the field, by eliminating the possibility of having to replace or reterminate cables in the field due to fibers not being properly oriented.
The mini-LC uses current industry-standard LC connectors but reduces the center spacing when the duplex clip is added. The result is a smaller duplex footprint, which Fiber Connections points out is ideal for high-density applications such as Brocade's high-density data center systems. The reduced overall dimensions of the mini SFP that these connectors plug into enables up to a one-third increase in switch port density, Fiber Connections adds, which is a significant space savings in data centers.
Geoff Laycock, vice president of sales and marketing with Fiber Connections Inc., said, "Adding two more small-form-factor connector options really rounds out our line of passive fiber-optic products. As a Corning Gold supplier, we are able to be one of the few companies to offer the Uniboot connector, giving our customers a full range of LC connectivity options."
---
Graybar names new president
Graybar announced that Kathleen M. Mazzarella has been appointed president, effective June 1, 2012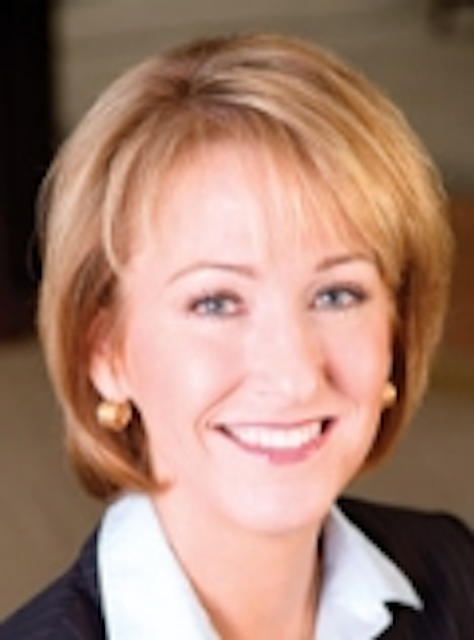 . Currently Mazzarella serves as executive vice president and chief operating officer, a position she has held for the past year. In her new role, she will continue to set the strategic direction for Graybar's sales and marketing function while overseeing the day-to-day operations of the overall business, Graybar said.
As of June 1, 2012, Graybar's chairman, president and chief executive officer Robert A. Reynolds Jr. will serve as executive chairman. The company stated Reynolds will remain actively involved in the company as the lead executive, overseeing the company's strategy and providing guidance to the executive team.
Mazzarella said, "As chairman, president and CEO, Bob has done a remarkable job of leading the company. I have enjoyed working with him over the years and look forward to learning from his experience during this transition."
Reynolds added, "In Kathy's 31 years with Graybar, she has consistently demonstrated a passion for the business, a commitment to Graybar's values and an exceptional ability to achieve results. Appointing her to this position reinforces Graybar's philosophy of managing the company for the long-term. Her leadership will enhance the way we work to our customers' advantage, both today and in the future."
---
Infinova Canada buys fellow IP-video manufacturer March Networks
Infinova Canada Ltd., which is a subsidiary of video-surveillance equipment provider Infinova, has agreed to acquire another IP-video system manufacturer, March Networks. The agreed-upon price of the acquisition is C$90.1 million. (That converts to about US$87 million according to exchange rates as of the date of the acquisition announcement.)
March Networks will be a wholly owned subsidiary of Infinova Canada Ltd. and will continue to operate independently under its own existing name and brands, the companies said. "The acquisition is intended to drive growth through both companies' complementary product and service offerings," they added.
Infinova's chairman Jeffrey Liu said, "The combination of Infinova's robust manufacturing, research and development capabilities and March Networks' innovative technological design provides our customers with industry-leading, complete video security solutions. This transaction increases our combined global presence and elevates us to a position among the top 10 in the global security and surveillance market in terms of revenue."
March Networks' president and chief executive officer Peter Strom added, "We have always been a technology leader with forward-thinking ideas and cutting-edge design. Now we will have Infinova's additional research and design resources as well as manufacturing expertise. These advantages will help us remain among the leaders in the industry by enabling us to bring more innovative products to the market at an accelerated pace."
---
Data center study shows fiber outpacing copper by 16 percent
A 105-page data center cabling study carried out by BSRIA and published in November is based on data gathered from 335 data center managers across six vertical markets in the following countries: India, China, the United States, the United Kingdom, Germany and France. "In terms of copper and fiber structured cabling in data centers, these six countries make up close to 70 percent of the data center worldwide structured cabling value in 2010," BSRIA said when announcing the study's availability.
The study was conducted to look at the uptake of high speeds and to discover the media over which these speeds are being run, or plan to be run by the end of 2013.
"Overall in data centers surveyed in 2011 across the six countries, the copper-to-fiber ratio is 42 to 58," BSRIA said, adding that the use of MPO-style connectivity and preterminated cabling is increasing.
"There is some ambivalence toward the decision between using structured cabling or point-to-point links for future 10G copper links," BSRIA noted.
The report is accompanied by an addendum that includes more detail on each country's market. The study is available for 7,500 pounds.
---
AFCOM acquired by iNET Interactive
AFCOM, the 4,500-member association of data center professionals that puts on the Data Center World conference and exhibition twice per year, has been acquired by iNET Interactive. "Combined, iNET Interactive will provide AFCOM access to the resources of a larger organization and the added online expertise to continue fulfilling its mission serving the data center industry," the organizations jointly said in a release announcing the move.
They added that as an iNET Interactive community, AFCOM will continue its operations and mission with its current team, including AFCOM president and Data Center World chair Jill Yaoz. Yaoz said, "Becoming a member of the iNET Interactive family is a milestone for AFCOM as it expands the breadth and depth of our services. Both my team and I will remain deeply involved in our current services and conferences, but we also look forward to rolling out enhanced offerings through iNET Interactive's leadership. I am confident that iNET Interactive will continue to grow and develop AFCOM with the same passion and commitment that has driven this organization for thirty-plus years."
Troy Augustine, iNET Interactive's president and chief executive officer, said, "AFCOM is a perfect fit to the iNET Interactive family. Our goal is to further enrich AFCOM's services for its valued members, while strengthening iNET Interactive's presence in the data center, web hosting and technology markets."
iNET Interactive's portfolio includes the sites Web Hosting Talk and Web Host Industry Review, as well as the HostingCon conference and exhibition.
---
Molex enhances cable-assembly capabilities with Temp-Flex acquisition
Molex has completed the acquisition of Temp-Flex Cable Inc., which designs and manufactures specialty wire and cable products for the medical, aerospace, military, computer, electronics, test-and-measurement and industrial markets.
Molex executive Mike Miskin said the strategic acquisition will give Molex access to development and manufacturing expertise for specialty wire and cable products that will expand its high-performance cable business.
"Temp-Flex ... expands our design and manufacturing capabilities in the specialty wire and cable products that are such an important part of our high-performance cable assemblies," said Miskin, who is vice president and general manager of the cable products business unit of Molex Inc.'s global integrated products division. "Temp-Flex is a respected industry leader with innovative designs and quality manufacturing processes. They will help us quickly deliver the innovative solutions and specialty cable our global customers demand."
Temp-Flex will operate as a subsidiary of Molex Inc. and will be part of the company's global integrated products division.
---
Corner-mount nonmetallic box
The 8161CB corner box from Arlington Industries is a nonmetallic mounting structure for security cameras and electrical accessories. The company says the box is "perfect for mounting a security camera, detector or fixture face down on an outside corner," and that it holds up to 50 pounds.
The box is particularly appropriate for power or low-voltage cameras with mounting holes that are wider than 4.5 inches apart, Arlington says. Additionally, the product exhibits the following characteristics: integral corner-mount bracket, non-metallic construction, UV-rated for long outdoor life, and appropriate for interior or exterior use in dry, damp or wet locations.
The 8161CB is also available with a ground clip.th
---
Report: 40G connectivity set to boom
Lisa Huff, an analyst who examines the high-speed networking, cabling and interconnect industries, recently reported on the market potential for data communications connectors and cable assemblies for 40G systems.
Huff, a telecom director with the research firm Bishop & Associates, recently wrote about the state of the market - from both technical and business perspectives - for 40/100G connectors, QSFP+ connectors and cables, and CSP and CFP connectors and cables for 100G Ethernet. In her reporting she noted, "As each new data rate has been released, the servers' adoption of it lags by at least three years. And for 10G it has been more than eight years before the servers have been able to take advantage of the I/O speed. Server manufacturers were concerned that if the IEEE adopted 100G without a 'speed bump' in between, it may drastically slow its adoption. ... 40G was added, and we see early adoption of it, at least for high-end data center applications, only a year after the standard was released."
Some optimism may come from the dynamic that Huff observes in the 40G market. She says, "Traditionally Ethernet switches lag in the development of server technology when it comes to speed migration. This is because it is much easier to develop a chipset and optical module to fit on a traditional network interface card than it is to fit into a high-density switch port. We saw this with Gigabit and 10 Gigabit Ethernet, but it seems to be reversed for 40G. Several switch manufacturers have already released products with multiple 40G ports."
---
AFL receives ISO recertifications
The Quality Management System (QSM) of AFL's Noyes Test and Inspection Division has been recertified to the ISO 9000:2008 standard, and the Environmental Management System (EMS) was successfully audited and recertified to ISO 14001:2004, the company announced. "To maintain ISO certification, companies must pass a registered third-party recertification audit every three years and a yearly surveillance audit," the company said in a statement announcing the recertifications.
AFL's quality and regulatory compliance manager Mary Ruel said, "With this recertification to ISO 9000:2008, we have achieved more than 15 years of uninterrupted certification to this standard. We are also pleased to have achieved five years of uninterrupted certification to ISO 14001, which demonstrates our goal to minimize the impact of our business and practices to the environment."
---
Intelligent tray supports 384 fibers in 4U
RiT Technologies recently introduced an intelligent, 4U fiber-optic cabling tray that features high-density connectivity. RiT's 4U fiber tray supports 16 LC or LC-MPO cassettes, each with 12 LC duplex adapters (24 fibers) - for a total capacity of 384 fibers. Additionally, the chassis features back-panel MPO connections, which RiT points out facilitate efficiency and reduce installation time.
The company explains, "The intelligence of RiT's advanced fiber-optic tray works simultaneously on three levels: cassette, port and end-device. The system identifies each cassette separately and keeps track of its physical location in one of the tray's 16 slots. In addition, the system's auto discovery determines which fibers are connected with which IP-based end devices, and maintains the information in an accurate database."
RiT says the addition of this new product has already contributed to it winning data center projects. "Recently," the company notes, "a data center customer was impressed by the tray's ability to manage such a high number of ports in just 4U of rack space, and by the design of the front tray, whose fiber-management clips maintain order among multiple jumpers. Through the use of the intelligent trays in combination with the RiT PatchView solution, the customer eliminated the need for manual documentation of the fiber-optic channels, saving many hours" of work on administrative tracking tasks.
More CIM Articles
Past CIM Articles