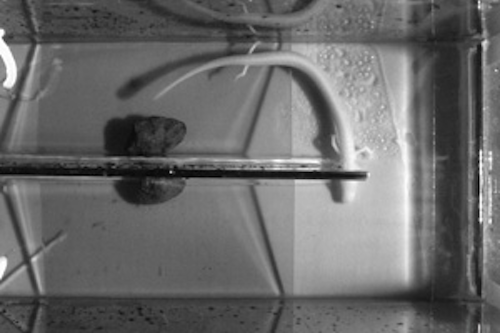 From the March,2012 Issue of Cabling Installation & Maintenance Magazine
Compiled by Patrick McLaughlin
Network video plays role in endangered-species research
Network cameras with megapixel capability are playing a role in the research of an endangered species that requires an environment that typically provides significant difficulties for cameras. Arecont Vision recently announced that the Tular Cave Laboratory in Slovenia will permanently install a system of its cameras to monitor and study the European cave salamander (Proteus anguinus). "Up to eight Arecont Vision 5 megapixel AV5105DN cameras will be included in the permanent installation, which is expected to be completed by year end," Arecont said.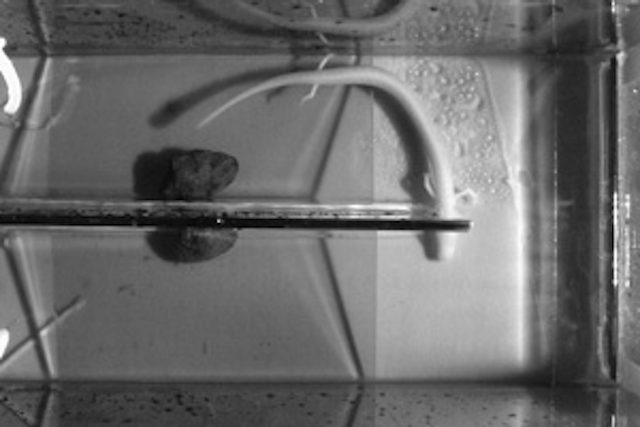 The company further explained that the installation will be made after successful trials of the camera technology in the salamander's habitat. Each trial, Arecont says, ran around the clock for 30 days, in which the camera was subjected to complete darkness and near 100-percent humidity. "The proteus salamander is a blind amphibian which dwells in subterranean waters, and Tular is one of the few places where the animal has been successfully studied," the company explained, adding that one of its cameras captured a Proteus laying eggs.
During the trials, the Arecont Vision AV5105DN day/night camera, equipped with a 4.5-13mm varifocal infrared lens, was mounted directly above the monitored pool, which was 3 to 6 feet away, or an experimental aquarium, which was 1 to 35 feet away. For observation of macroscopic details such as hatching, the camera was mounted on the video port of a stereo microscope. Because of high humidity and dripping water, the camera was enclosed in a plastic waterproof housing. Illumination was provided by three or four IR LED illuminations of various intensities to expose the entire area equally.
Images were transmitted via network to a computer that ran Arecont's AV100 software as the video management system. The software allowed technicians to precisely adjust the exposure settings and provided video recording based on motion detection triggered by the animal's behavior, Arecont said. The camera's H.264 compression technology minimized system bandwidth and storage needs, the company added.
According to Arecont, the AV5105DN camera provides full-motion progressive-scan 1280x1024 video at 30 frames per second and has a light sensitivity of 0.3 lux at F1.4. Features include forensic zooming to zero-in and view the details of a recorded image, motion detection and image cropping. The version used at the Tular Cave Laboratory includes a motorized IR cut filter, which Arecont says provides superior low-light performance.
Raul Calderon, senior vice president of sales and marketing for Arecont Vision, said, "With this scientific study and in any application where extremely fine detail is needed, there is no better solution than megapixel technology. The Tular Cave Laboratory is a unique surveillance need that demonstrates how megapixel provides more information and clearer details than other camera technologies, as well as more functionality."
---
Flat, festoon cables stand up to temperature extremes
Cicoil's Festoon Cables are flat in construction and designed for continuous flexing as well as extreme temperature applications of -65 to +260 degrees Celsius. "Ideal in overhead crane, gantry and material-handling systems, these UV-resistant cables are an excellent alternative to PVC and Neoprene-jacketed flat cables," the company says. Cicoil further explains that its crystal-clear silicone encapsulation is tear-resistant, needs no external armor or conduit for protection, and will not deform or wear during a 10-million-plus-cycle lifetime that includes tight bending and high-speed flexing.
The company says its "unique silicone extruded cables are unaffected when exposed to flames (UL 94 V-0), extreme heat, ice, snow, salt water, acid rain, coarse sand, shock, vibration, sunlight and most chemicals." Anti-friction coating options are also available.
The cables are available off-the-shelf from 4 to 28 AWG, and custom designs can incorporate shielded wires or signal pairs, tubing for air or fluid transfer, and the company's patented Strip Mount fastening strip.
---
IT and communications R&D to grow in 2012
An annual report authored by research-and-development firm Battelle and published by R&D magazine says that R&D spending in the information and communications technology (ICT) industry will increase by 9.9 percent in the United States in 2012, and increase by 4.1 percent globally. When announcing the publication of the 2012 Global R&D Funding Forecast, Battelle stated, "During the past two years, ICT-related manufacturing has been particularly volatile, with leading companies experiencing commercial dynamics following the introduction of new products arising from R&D decisions. Despite these fluctuations the United States' R&D spending in the ICT industry is forecast to increase by 9.9 percent, reaching $138.8 billion in 2012. This U.S. growth helps drive an overall global ICT industry growth of 4.1 percent to $238.5 billion.
"Information from The Economist's Intelligence Unit affirms that the U.S. remains the world's most competitive country in ICT," Battelle continued, "but notes that developing nations are beginning to close the gap. The U.S. and Japan make up nearly 70 percent of all global ICT investments."
The section of the forecast that specifically addresses ICT mentions wireless infrastructure as well as cloud computing as factors in R&D investments. It makes reference to the Telecommunications Industry Association's most recent R&D Policy Report, in which it urged United States policymakers to fund the Wireless Innovation Fund. The Battelle report also noted, "With the U.S. government alone currently estimated to spend more than $20 billion on cloud computing [an $8 billion investment to improve cloud computing technologies] by Microsoft may not be as risky as some analysts initially noted."
Among the "macro" issues addressed in the overall report, Battelle says, "One of the most remarkable findings is that R&D funding growth will largely be driven by Asian economies—a number projected to increase by nearly 9 percent in 2012,"—though that is not the case in ICT, where Battelle notes, "While China is excelling in many other industries, Huawei Technologies is the only Chinese company in the top 30 firms ranked by ICT R&D spending."
Also on the grander scale, Battelle says, "Another notable trend the Funding Forecast reveals is the increased expectation that R&D investments will provide financial returns and positive commercial outcomes. Several years ago, only 10 percent of U.S. industries calculated return on investment from R&D efforts, while data from a survey that is part of the Funding Forecast now indicates that 40 percent measure that figure."
Coincidentally, in a recent blog post, CommScope's senior vice president of technology Luc Adriaenssens discussed the concept of R&D ROI. In the post, Adriaenssens says, "It's not often acknowledged, but failures are a built-in part of R&D projects ... Failures are the building blocks of the big successes that occur in engineering, science, innovation and exploration. But it is how failures are treated, and how early they are determined, that can make or break the success of any significant development program." He elaborates further on metrics that can be used to enhance ROI in R&D.
---
TDR measures length, finds faults on live cables
The Snap Shot time domain reflectometer (TDR) from T3 Innovation finds faults and determines cable lengths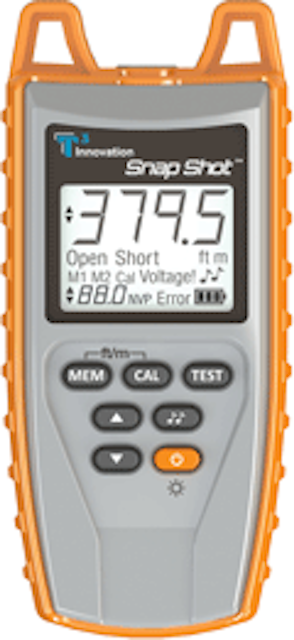 over energized data lines, electrical cable runs and live coaxial systems. When announcing the product's introduction, T3's chief executive officer Ron Vogel explained, "With the complexity of today's electrical, data, voice and video signal-carrying systems, you need a tool that is fast, accurate and easy-to-use to see down the wire and show the exact conditions that exist. Our new, compact Snap Shot TDR accurately detects, locates and identifies fault conditions such as opens, shorts, and arc faults on energized cables of all types up to 3,000 feet in length.
"In addition to precise location of faults, Snap Shot uses an advanced form of spread-spectrum time-domain reflectometry that allows its use over energized cables," Vogel continued. "Now, attached working data lines, electrical cable runs and live coax systems can be measured for run lengths, and to see if there are any existing electrical faults while the cable is in use and under power. No other TDR has this capability."
According to T3 Innovation, the Snap Shot has a large backlit LCD display that clearly shows length in feet and/or meters with an accuracy of better than 1 percent for pinpointing any fault or condition. Dual internal memory allows users to store cable parameters for easy reference, the company adds, while a built-in tone generator with multiple tone capability traces found faults. Other features of the Snap Shot tester include an auto power-off, the ability to generate four different tones, and the ability to calibrate any cable NVP (nominal velocity of propagation) value. Its dimensions are 6.8 x 3.15 x 1.3 inches; it weighs 12 ounces with battery. The Snap Shot's MSRP is $259.95.
---
Two General Cable facilities receive 'Best Plants' award
Two of General Cable's manufacturing facilities have been named winners in the 2011 Best Plants Competition conducted by IndustryWeek magazine. The winning plants are General's Lawrenceburg, KY manufacturing facility, which produces communications wire and cable, and its Lincoln, RI plant, which manufactures portable cord, ignition wire and renewable products. IndustryWeek recognized 10 North American manufacturing plants in its "Best Plants" award program.
Greg Lampert, General Cable North America's president and chief executive officer, commented, "General Cable is once again pleased to receive this award from IndustryWeek in recognition of our manufacturing excellence. We use the competition as a benchmark for comparing our manufacturing performance against the best in North America in all industries. I would like to commend Mark Thackeray, General Cable's senior vice president of North American operations; Heather Stolper and Mike Monti, vice presidents of manufacturing and team leaders; Paul Furtado, Lawrenceburg plant manager; Mike Brown, Lincoln plant manager; and their respective teams for setting challenging goals and providing the work environment for our associates to achieve them."
Thackeray noted, "Lean manufacturing, combined with six-sigma quality improvement goals, continues to drive major improvements in all our manufacturing operations. Our strategy to achieve manufacturing excellence has made General Cable a much stronger company today, despite a tough economy. Lean thinking is part of our culture of continuous improvement, along with the engagement and contribution of our associates—something we call 'OLPC' or operation-led process control. The Lawrenceburg and Lincoln plants are both operating very close to our ideal vision of OLPC." He also pointed out that since 2001, 10 General Cable plants have been selected as finalists in the Best Plants competition, and nine of them have achieved the award.
Mike Monti, vice president and team leader for the Carol brand and the industrial wire and cable product plants, added, "Our associates come to work committed to make things better every day. This award recognizes the hard work and dedication of all the associates at Lawrenceburg and Lincoln. We are very proud of our accomplishments and to be recognized with this prestigious award."
"Our team has embraced lean manufacturing for many years, which has allowed us to continually adapt, and quickly and successfully respond to challenges, be it with new customers or new products," said Heather Stolper, vice president and team leader for communications and assemblies plants. "With technology and innovation advancements as well as a commitment to continuous improvement, our plants are successful in the global marketplace where they compete."
---
APC's Data Center University includes cabling topics
Data Center University, an online curriculum of courses for IT professionals and others involved in the administration of data centers, is offered free of charge by APC by Schneider Electric. Some courses in the program deal directly or indirectly with structured cabling systems in data center environments.
The courses are categorized as "Introductory," "Intermediate" or "Advanced." One of the introductory-level courses is entitled "Fundamental Cabling Strategies in the Data Center." A description of the course states that it addresses "the basics of cabling infrastructure and will discuss cabling installation practices, cable management strategies and cable maintenance practices." It looks at both data cabling and power cabling. Other course titles at the "Introductory" level include "An Overview of Network-Critical Physical Infrastructure" and "Rack Fundamentals."
Other course titles that may be of relevance to structured cabling professionals include, "Power over Ethernet's Effect on Wiring Closets," "Re-examining Raised Floor Applications," "Standardization in the Data Center," "Physical Infrastructure Management Basics," and "High Density Blade Server Integration in Existing Data Centers." Courses are available at www.datacenteruniversity.com.
---
Ceiling box fits 4 RU of space
The CB-224 ceiling box from FSR has a pull-down 4-RU cage with gas-spring assisted ball-bearing slide. Two-RU of angle-adjustable rack-mounting surfaces on either end of the cage facilitate mounting and visibility of 1-RU/2-RU patch panels. One and three-eighths inches of clear space on both sides accommodate wire bundles, and each side of the box has an edge-protected bundle-cable inlet cavity, filled with flame-retardant foam seal. The CB-224's interior includes five internal outlets, one external outlet and a fan.
"Its capacity to support 50 pounds for a projector and 12 pounds on each shelf makes it ideal for any venue requiring a robust ceiling mount," said Jan Sandri, FSR's president. The company says the box is ideal for conference centers, schools, meeting and training facilities, airports and museums.
The CB-224 is available in four versions: with or without a pole-mount for a projector, and both with or without "smart" electronics. "The Smart Module brings green energy savings to the ceiling box by turning power on and off to non-critical equipment based on the current being drawn by the projector," the company points out. "In effect, when the projector is shut down, the non-critical devices in the ceiling box are powered off as well, and when the projector is powered on, so are the other devices."
The box is ETL-listed and has the UL 60950-1 approval for safety, as well as the UL 2043 approval for visible smoke.
---
3M selling FiberZone's Automated Fiber Management system
3M and FiberZone Networks have reached an agreement under which 3M will offer FiberZone's Automated Fiber Management with Latched Optical Coupling to the data center market as an authorized sales representative.
The Latched Optical Coupling (LOC) technology is at the heart of FiberZone's AFM system. "This technology creates a secure, physical optical fiber connection within the system which can be changed to a different port configuration on-demand through a software interface or programmed automatically," the company explains. "The fibers can be rearranged in a NxN, non-blocking manner."
According to 3M Communication Markets Division business development manager Gordon Wiegand, "The FiberZone Networks AFM system uniquely addresses an emerging issue in data center management and is a perfect complement to our own growing portfolio of solutions for data centers. 3M's global reach, combined with FiberZone Networks' industry-first fiber management system will help data center operators worldwide facilitate the transition to cloud data management while delivering operational efficiencies."
FiberZone further explains that its AFM system "enables remote provisioning of a data center's fiber network, avoiding the operational costs and downtime associated with manual operation of traditional patch panels. This allows data center operators to dynamically manage fiber connectivity based on load requirements and customer needs, enabling on-demand services and new service offerings—such as managed cage and expedited crossconnect services—along with the reliability, flexibility, fault tolerance and management for the fiber infrastructure that manual patching cannot offer."
---
Touch panels connect using Cat 5, PoE
The new TLP 710 series seven-inch touch panels from Extron Electronics incorporate Power over Ethernet capability and feature twisted-pair receivers that accept either S-video or composite video signals over Category 5 cabling. Extron points out that these features provide integration flexibility and aid in cable management by minimizing the number of connections.
One model, the TLP 710MV, mounts on a wall, lectern or other flat surface. The TLP 710TV is designed to sit on a tabletop or install on a VESA mount. And the TLP 710CV is a flip-up 7-inch touch panel that can be mounted to a tabletop, lectern or other flat surface.
Each panel in the TLP 710 series works in conjunction with any of Extron's IP Link control processors. The company says they are designed for use in AV system applications that require complete, interactive control of conferencing systems, displays, switchers and source devices. The touch panels and IP Link control processors communicate using a standard Ethernet network.
---
Residential WiFi becoming peer-to-peer
New reporting from NPD In-Stat says that the number of in-home wireless LAN-enabled video devices will approach 600 million in 2015, and the research firm says the model for residential wireless communication is shifting from network-to-device, to device-to-device (peer-to-peer).
"Increasingly, home video entertainment devices such as digital TVs, Blu-ray players, game consoles and all versions of set-top boxes are coming to the market WiFi-connected," NPD In-Stat says, "so the devices can connect to the web and to each other."
NPD In-Stat's vice president of research Frank Dickson observed, "WiFi has moved from a nice-to-have feature to a must-have feature as it provides the connectivity necessary to support IP-based video content. It is important to note though that WiFi is growing from being simply about getting content from a network to devices, to sharing content between devices, as WiFi evolves from being a network-centric connectivity standard to one that enables peer-to-peer connectivity. New innovations such as WiFi Display and WiFi Direct will fundamentally change the way content is moved and shared in the home."
NPD In-Stat produces quarterly wireless LAN device forecasts and other reports based on research into the wireless LAN space.
More CIM Articles
Past CIM Articles