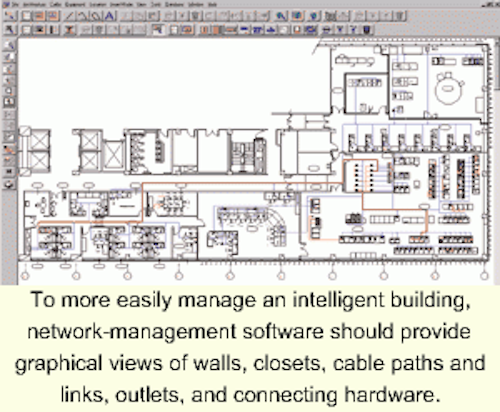 Monitoring mission-critical installations must include everything from equipment to methods for managing the system.
William Spencer / Planet Associates Inc.
As networks have evolved from departmental to enterprise-wide, the management of information-technology (IT) and telecommunications resources has become more difficult and costly. Mission-critical applications installed on distributed systems have further heightened the need for careful management of networked resources. At the same time, growing dependence upon the Internet as both a networking tool and business model has blurred the boundaries of the corporate network and prompted an acceleration of network expansion. Then there's the introduction of new technologies at an un-precedented rate.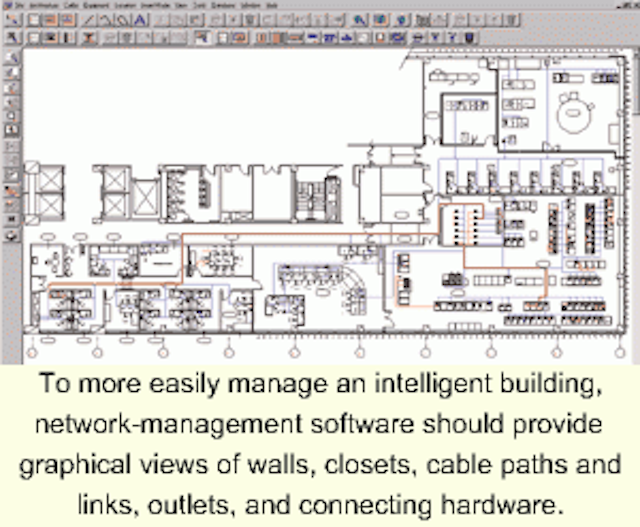 To more easily manage an intelligent building, network-management software should provide graphical views of walls, closets, cable paths and links, outlets, and connecting hardware.
Click here to enlarge image
Dramatic changes to the physical-layer infrastructure have occurred as organizations upgrade and move higher-bandwidth applications onto structured cabling systems based on Telecommunications Industry Association/Electronic Industries Alliance (TIA/EIA-Arlington, VA) standards. As a result, it has become cost-prohibitive, if not impossible, to manually document cabling and physical asset connectivity over time with any degree of accuracy.
Physical-infrastructure management is now a multidimensional problem, given the scarcity and cost of technical labor as well as the scope and variety of installed network devices. Paradoxically, most organizations still rely on a patchwork of index cards, color-coded labels, ad-hoc databases, and homegrown software to track connectivity and valuable assets. This is primarily because, to date, vendors have not provided adequate tools capable of building and maintaining accurate physical asset databases with minimal labor.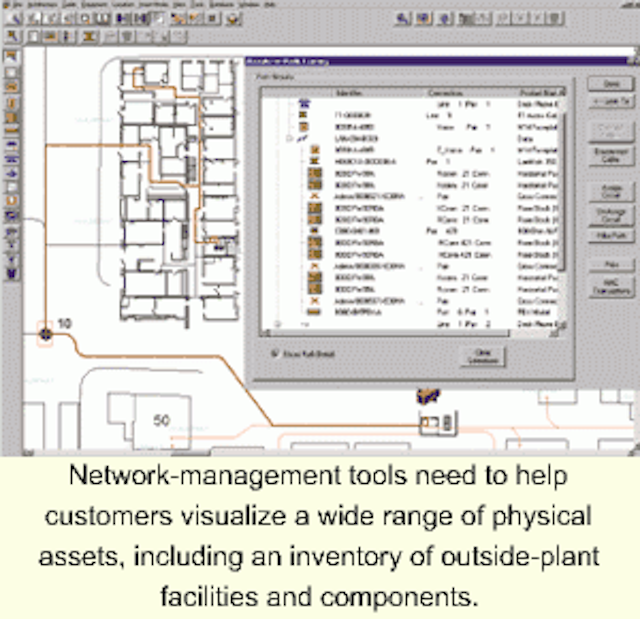 Network-management tools need to help customers visualize a wide range of physical assets, including an inventory of outside-plant facilities and components.
Click here to enlarge image
To meet next-generation physical network-management challenges, solutions should help customers more efficiently plan, visualize, and manage a wide range of physical assets-including premises cabling, outside plant, and wide-area-network resources such as circuits, channels, switches, servers, and private branch exchanges-throughout the entire network life cycle.
There are five general functional areas for categorizing management functions:
Configuration management-Repository of management data. Exercises control, identifies, and collects management data, including all physical network-management information.
Fault management-Detects, isolates, and corrects network faults.
Performance management-Evaluates performance of network and telecommunications equipment.
Accounting management-Determines use of network services, and handles costs and billing functionality.
Security management-Detection and prevention of violations to the network.
Network-management vendors will need to provide their products and services either as an e-sourcing solution on a recurring fee basis, or as a direct software sale with a traditional software license and maintenance agreement. This nascent market both embraces and transcends older technologies such as premises cabling, telemanagement, facilities management, and physical-asset management. Products need to leverage new technology that will let customers achieve a rapid build of the asset database as well as dramatic work-flow improvements that minimize the cost and effort of managing the physical infrastructure's ongoing moves, adds, and changes (MACs).
Why has the market for physical infrastructure management been vastly underserved to date? Primarily, it is due to a lack of understanding of the following critical areas:
The length of time required to populate both the visual graphical information and backend physical infrastructure data into the asset database;
The ease-of-use and length of time required to maintain day-to-day changes to the infrastructure information; and
The availability and accessibility of the infrastructure data to various departments and users within an organization (kiosks available for management and technical staff).
Total solutions approach
Physical network-management projects need to take into account overall network-management issues, including everything from installation of network and station equipment and the physical cable plant, to life-cycle solutions for managing the entire solution.
Accordingly, software tools need to provide a complete infrastructure management solution. Older-generation products specialize in only one or two areas. Next-generation products need to encompass the entire range of physical infrastructure management, including:
Premises/outside-plant cable, equipment and connectivity design, and documentation;
Wide-area-network (WAN) circuit and channel;
End user;
Vendor;
Location (space); and
MAC transaction change.
Network-management products also need to support management of intelligent building cabling and equipment so that voice, data, video, fire safety, building space, environmental and security cabling and connectivity are easily managed. In addition, they should provide graphical views of fixed and modular walls, telecommunications closets, and riser, pathway, cable, and equipment locations. These help customers visualize their network more quickly by automatically connecting cables to the network equipment ports and connection positions at the time they're created. Software should automatically document paths or links, and support bulk-production of laser-generated labels for faceplates, telecommunications outlets, connecting hardware, and patch panels for the entire infrastructure.
The most important thing to consider when installing any new network-management system is the initial design specification and, especially, a properly conceived identification scheme. This is analogous to establishing a solid "chart of accounts" in the accounting world. Any physical network-management product should let you establish a "chart of accounts identification scheme" for physical management that is based on TIA/EIA standards.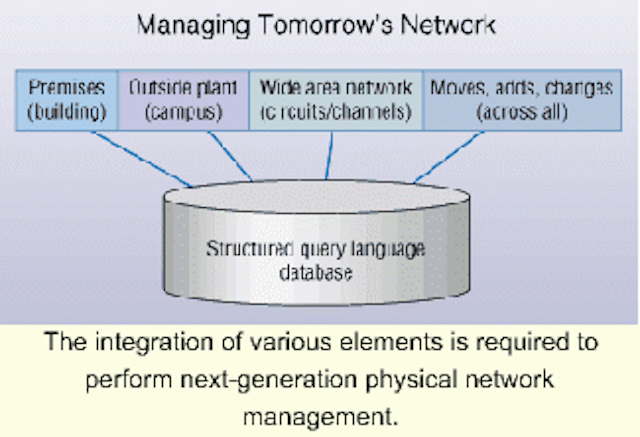 The integration of various elements is required to perform next-generation physical network management.
Click here to enlarge image
Since there is an "education gap" regarding this critical phase of establishing a properly conceived identification scheme, next-generation network-management software must have the flexibility to incorporate a wide range of schemes. The technology must take into account the economic benefits of streamlining the physical network-management life cycle using established accounting techniques, including the "chart of accounts" concept.
Scalable and modular
To meet tomorrow's networking demands, products also must target the high-end enterprise network market (typically represented by networks with more than 1,000 nodes) as well as smaller remote locations. In these environments, automation of network modeling, WAN support, enforcement of rules-based policies and procedures, change management, and business process management are most critical and provide the greatest economic return.
Software needs to be modular so that it can serve as a point product to solve a specific functional need, such as cable management, asset management, and end-user support; or, as a comprehensive, next-generation physical infrastructure support tool integrated into the enterprise network support framework. The technology underlying the identification scheme should include:
Unique methodologies for generating automatic databases;
Migration methodology for converting legacy systems; and
Audit trail documentation for MACs.
Database generation functions should support rapid implementation, which should let customers implement a full-scale physical infrastructure management solution within six months or less-versus legacy solutions that measure implementation in years.
Audit trail documentation
A key component of MAC transaction functionality is the need to maintain audit trail documentation, which provides organizations with a structured processes and knowledge to ease the transition to a fully integrated physical network-management solution. A properly designed MAC facility needs to support critical troubleshooting activities. Studies indicate that 70% of network failures can be attributed to connectivity issues. Automated physical network management helps minimize downtime by providing accurate documentation of equipment and connectivity. Furthermore, more than one-third of network failures are directly related to MACs-not equipment failures. Proper MAC management and tracking is essential to reduce unnecessary and costly network failures.
Automation is best achieved by delivering management applications that leverage network information to streamline administrative processes, such as forging real-time links to widely used network- and system-management platforms. Next-generation product integration with work-flow applications will streamline IT and telecom processes by automatically uniting help-desk tasks with network-management activities, coordinating MAC management between various departments.
Another key component to a successful integration strategy is relational database consolidation to enable application integration. This supports the exchange and correlation of network and system information, including real-time status alerts as well as configuration and inventory data.
Finally, look for network-management software that's designed with an open architecture, and takes into account three categories of industry standards that impact next-generation physical network management: TIA/EIA, Web-based enterprise management (WBEM), and the Telecommunications Management Network (TMN).
The Administration Standard for the Telecommunications Infrastructure of Commercial Buildings (TIA/EIA-606) provides a uniform administration scheme, which is independent of the physical network communications systems. Included within the standard are mandatory and advisory requirements for managing telecommunications spaces, cable pathways, grounding, cable and wire, and termination hardware. In addition to specifying the required information, the standard also specifies required linkages.
The Web is an important component of next-generation physical network-management software. This includes WBEM as well as business models for e-commerce, e-business, and e-management. The Desktop Management Task Force (DMTF) created the set of standards for WBEM. The central feature of these standards is the Common Information Model (CIM), which is a common, object-oriented language for specifying management data models.
This object-oriented approach lets different vendors and users take previously defined objects and extend them with additional methods or properties, or add completely new objects. This, in fact, ends up providing a common set of definitions for all managed elements and their properties. (Microsoft uses CIM to provide a common way to describe management data from different sources in the Windows environment.)
TMN standards are supported by the International Telecommunication Union-Telecommunication Div. (ITU-T) as well as other standards organizations. TMN is a collection of systems that supports the management needs for provisioning, designing, installing, maintaining, and administering telecommunications networks and services.
In essence, next-generation physical network-management software will have to comply with the TIA/EIA standards, be built around the CIM and WBEM standards, and finally plug into the framework established within the TMN standards.
William Spencer is president and CEO of Planet Associates Inc. (Iselin, NJ), a provider of visual physical network infrastructure management software and services. He can be reached at (732) 404-1100 or e-mail: wspencer@planetassoc.com.