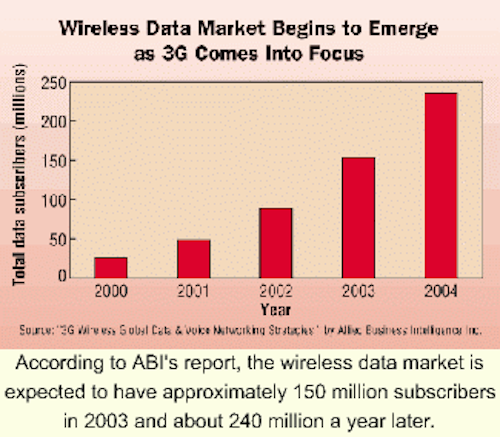 Arlyn S. Powell, Jr.
Recent reports predict massive growth in product-shipment totals.
If you pay attention to high-tech news, you must have noticed that everyone—and I mean everyone—is predicting that the wireless local-area-network (WLAN) market is about to go through the roof.
Here are two recent snippets from the wire services:
The Phillips Group (Parsippany, NJ) has released a study projecting that the average annual growth for the WLAN industry over the next five years will top 41%, rising from $300 million in 1999 to $1.7 billion in 2004.
The Cahners In-Stat Group (CISG—Scottsdale, AZ) has come up with different projected figures, but the researcher is equally bullish on the market. The enterprise WLAN market worldwide, according to a recent CISG report, will expand at a compound annual growth rate of 25% from 2000 to 2004, reaching $2.2 billion in sales in the last year of the study.
Shelly Tyler, an analyst at the Phillips Group, observed that several technological and business trends are driving the expected growth. "Laptop manufacturers are incorporating WLAN cards, we've seen agreement on the IEEE 802.11 standard, higher-speed products are being introduced, and prices are being reduced, all of which will open the market," she said. Apple Computer recently began to offer the wireless LAN products of Lucent Technologies in its laptops, signaling a shift from the specialized vertical markets such as manufacturing, warehousing, and distribution where wireless data technology has long been used to broader-based horizontal consumer and enterprise markets.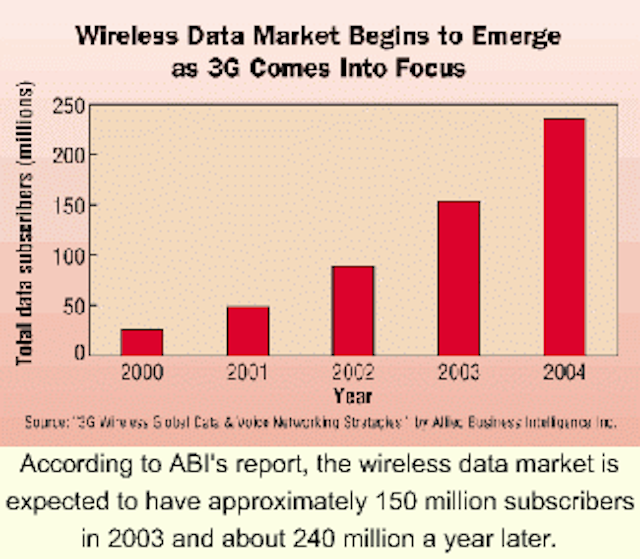 According to ABI's report, the wireless data market is expected to have approximately 150 million subscribers in 2003 and about 240 million a year later.
Click here to enlarge image
For the enterprise market, according to Tyler, voice over Internet protocol (VoIP) will drive WLAN purchases. "In our survey of enterprise decision-makers," she said, "nearly half of those without WLANs indicated they would reconsider if offered a WLAN with VoIP capabilities." The Phillips report went on to state that, while 80% of enterprise information-technology (IT) executives were aware of wireless LANs, many still question the reliability of the technology. "The industry, however," countered Tyler, "considers WLAN reliability to be a non-issue—the technology has solved any reliability concerns."
Michael Wolf, senior analyst with CISG's Voice and Data Group, had his own rationale for the projected growth of WLANs in the enterprise. "Wireless LANs will become a non-negotiable element in the enterprise network," he said. "Enterprise MIS managers are finally getting the speeds they want and the interoperability they demand, which will ultimately translate into strong sales."
The well-publicized entry of major computer and networking manufacturers into the formerly specialized wireless data market, symbolized by Cisco's acquisition of Aironet last fall, has signaled new confidence in this market, and advances in integrating more features and capabilities on silicon are driving down the cost of WLAN hardware. According to CISG's Gemma Paulo, "From yesterday's market paralyzed by $1,000 network interface cards, silicon innovation and standards development are driving down the cost of wireless LANs, enabling phenomenal growth in the new millennium."
Broadband wireless on the way
Allied Business Intelligence (ABI—Oyster Bay, NY) attributes the coming growth in wireless data to the emergence of third-generation (3G) wireless services. ABI predicts there will be more than 240 million data users on the Internet by 2005, up from 26 million in 2000. "As 3G radio-channel element upgrades take place and data strategies are placed into mobile wireless networks," said Larry Swasey, ABI vice president of communications research, "the handset will become a much more valuable tool to both the operator and user."
In fact, ABI believes the future of Internet access is very much wireless, despite the head start cable-modem and digital-subscriber-line (DSL) service providers have had in rolling out their services. Although wireless is barely in the broadband picture at the moment, ABI believes it will total 21% of the market by 2004.
One roadblock to wider use of wireless broadband services is the expected high price of the high-frequency devices required, but this is expected to be less a stumbling block for business customers. Another driver of the wireless broadband market, according to ABI, has been the difficulty service providers have had in implementing their wireline strategies.
"Wireless systems will be used to provide fiber and high-speed copper equivalents to otherwise underserved customers," stated ABI senior analyst Andy Fuertes. He also pointed out that slow deployment of cable modems and DSL has led service providers to turn to such wireless technologies as local multipoint distribution systems (LMDS), multichannel multipoint distribution systems (MMDS), and personal communication services (PCSs) operating in the ISM bands of 900 MHz, 2.4 GHz, 5.1 GHz, and 5.8 GHz.
The ABI report projects that these technologies will gain more than 9 million broadband subscribers by 2005, leading to total shipments of customer premise equipment of 3.6 million units that year. ABI expects MMDS to lead the market with a 70% share in 2005, mostly in the residential and small office/home office sectors, while LMDS will capture the high-end market, accounting for 60% of subscriber revenues in that year.
User preferences studied
The traditional picture of the enterprise wireless LAN includes laptop computers with wireless cards that link them to the data network through access points. However, that picture is rapidly broadening to include other portable communications devices such as personal digital assistants (PDAs) and data-enabled wireless telephones.
For instance, in a two-month-long survey of corporate IT buyers conducted recently by MobileVillage LLC (San Francisco), almost half the respondents (49.4%) said their company planned to buy mobile and wireless technology in the next two years, while only 13.4% said their companies were not planning such purchases. Of the companies planning such purchases, almost three-quarters (72%) indicated a preference for PDAs using the Palm operating system (OS), while 59% said they would purchase devices using Microsoft's Windows CE OS, which mimics many Microsoft Windows applications. Almost one-third (29.5%) said they planned to acquire smart phones, PCS, or cellular phones featuring access to the Internet as well as corporate data.
"Part of the reason for the Palm's popularity," according to MobileVillage CEO Jon Covington, "is that it serves corporate professionals in a wide range of industries for their personal use at a low cost." He added, however, that "smart phones and their related enterprise solutions are the hot ticket" in some vertical markets.
And finally, in a survey of wireless phone users updated each winter, Peter D. Hart Associates (Washington, DC) concluded that "notable levels of interest in wireless data services among key consumer segments illustrate the opportunities for growth as the wireless Web continues to mature."
The Hart survey found that more than half of all wireless phone users (55%) had at least some interest in units that provide data services, such as Internet access, e-mail, and text messaging. The applications most favored by these users tend to enhance business communication and productivity. For example, 31% favor a phone allowing the user to send and receive e-mail, while 27% want text messaging and about the same percentage prefer handsets that let them access office computers and perform business tasks away from the office.


---
Market research on wireless data industry
The Wireless LAN Industry, the Phillips Group, www.thephillipsgroup.net.
Wireless LAN Market Analysis, Cahners In-Stat Group, www.cahnersinstat.com.
3G Wireless: Global Data & Voice Networking Strategies —WAP, GPRS, IXRTT, EDGE, and Internet Access, Allied Business Intelligence, www.alliedworld.com.
Wireless Broadband 99: Fixed Access Delivery Methods and Marketplaces, Allied Business Intelligence, www.alliedworld.com.<.
LMDS, MMDS, and ISM 2000: Global Markets and Trends for Fixed Wireless Broadband, Allied Business Intelligence, www.alliedworld.com.<.
Wireless User Survey, MobileVillage.com, www.MobileVillage.com.
The Wireless Marketplace in 2000, Peter D. Hart Research Associates.