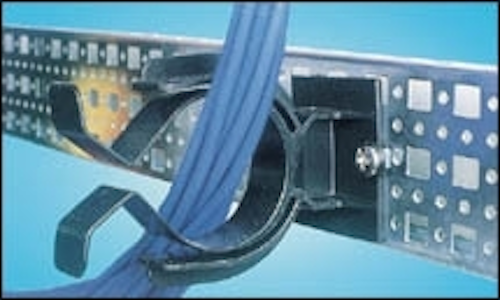 Compiled by Marcy Koff
Cable-support system
The RapidTrak cable-support system manages high-performance cabling, including Category 5 and higher-speed copper and fiber-optic cable in above-ceiling, wall, or under raised-floor environments. The system has four components - the J-hook, Tri-Hook, system support bar, and fastener assembly - all of which snap together and interlock without bolting or the use of tools. The interlocking design forms a secure support assembly and is a more cost-effective alternative to cable-tray systems. The J-hooks and Tri-Hooks have a 2-inch-wide full-radius cross section to support cables, without sagging or crimping. The Tri-Hook supports up to 290 Category 5 or higher cables for high-density pathway applications. The J-hook supports up to 90 Category 5 or higher cables. The J-hook and Tri-Hook can also be attached to a fastener and used as a single-tier support or they can be attached to a system support bar to provide multitier support. The J-hook is available with a preattached One-Wrap brand Velcro strap that is UL-listed and can be used where plenum rating is required.
CHATSWORTH PRODUCTS INC.
WESTLAKE VILLAGE, CA
Bundle retainers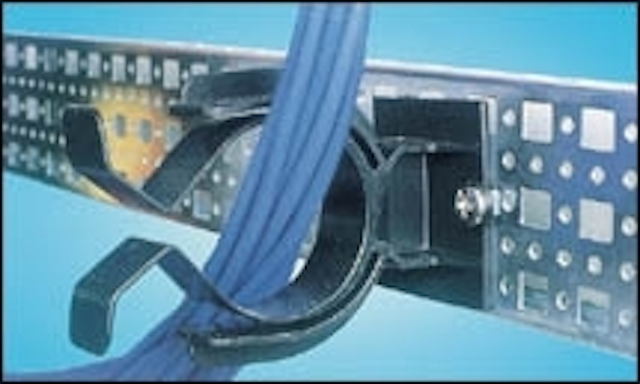 Click here to enlarge image
Bundle retainers accept groups of electrical or data-communications cables up to 2 inches in diameter to facilitate routing through enclosures and closets. The retainers are made of acetal and feature a funnel entry that opens fully to allow insertion of bundled cables. An outer support collar keeps bundles retained whether the device is used vertically or horizontally. The devices measure 3¼x 4 5/8x2¼ inches and come with heavy-duty rubber-based adhesive foam tape for mounting. Built-in slots accommodate ¼-inch screws and are spaced according to TIA/EIA standards.
PANDUIT CORP.
TINLEY PARK, IL
Duct couplers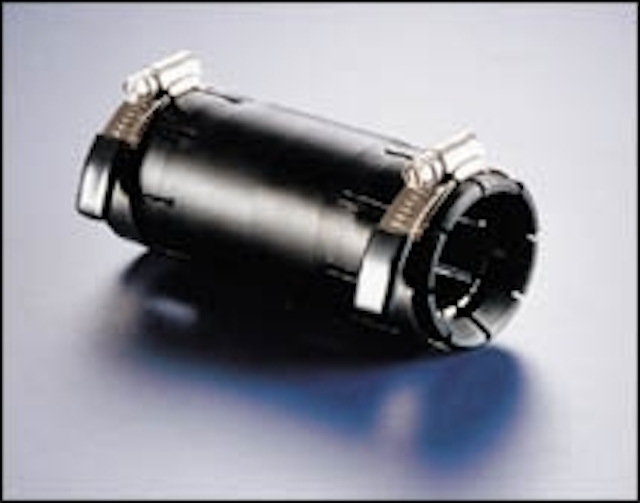 Click here to enlarge image
The Shur-Lock II duct couplers are designed for coupling high-density polyethylene (HDPE) or PVC duct to HDPE duct. The coupler adapts to variations in ducts such as ovality. Available for ducts with inside diameters of 1 to 2 inches, the couplers provide water- and air-tight seals for maximum efficiency in cable-blowing applications. The devices can be assembled without any special tools. To ensure corrosion resistance and protect fiber-optic cable, the coupler's body is made of high-density polyethylene, and its external band clamps and internal locking rings are made of stainless steel. Prelubricated O-ring joints are air-pressure tested to hold more than 125 psi. Water-sealing capabilities withstand head pressures of greater than 20 ft.
ARNCO CORP.
ELYRIA, OH
Magnetic-shielding catalog
The magnetic-shielding catalog contains information on shielded cable, conduit, sleeving, and wire manufactured using CO-NETIC AA alloy, especially designed to control low-frequency interference caused by magnetic fields. The brochure includes size and specifications for interference control products. It features CO-NETIC AA alloy braided sleeving, Spira-Shield flexible conduit, and Inter-8 weave cables.
MAGNETIC SHIELD CORP.
BENSENVILLE, IL
Upgrade for thermal transfer printer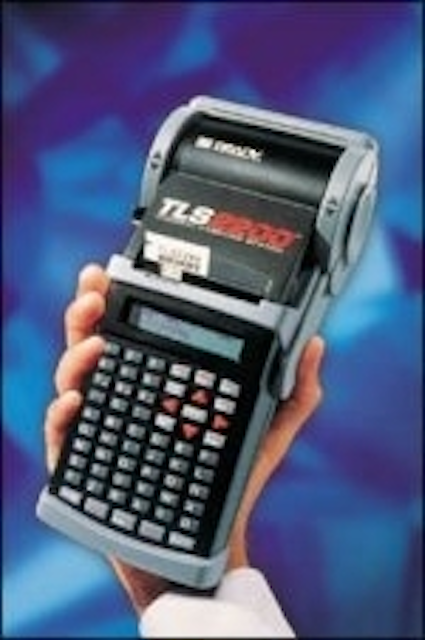 Click here to enlarge image
The TLS2200 handheld thermal transfer printer has been upgraded with internal memory functionality, which lets users create, save, edit, and print frequently used lists directly onto the unit itself. Previous upgrades include PC connectivity for direct printing from Labelmark/Win software and continuous banner printing. The unit features high-resolution (203-dpi) thermal transfer printing, bar-code capability, and a variety of material configurations. Users in the telecommunications, electrical, and general industrial market segments use this device to meet a broad range of labeling applications from patch panels to wire and cable marking to asset identification. The Version 3 upgrade kit (3¼-inch diskette) with or without a communications cable costs $19 and $10, respectively.
BRADY WORLDWIDE INC.
MILWAUKEE, WI
Simplex adapters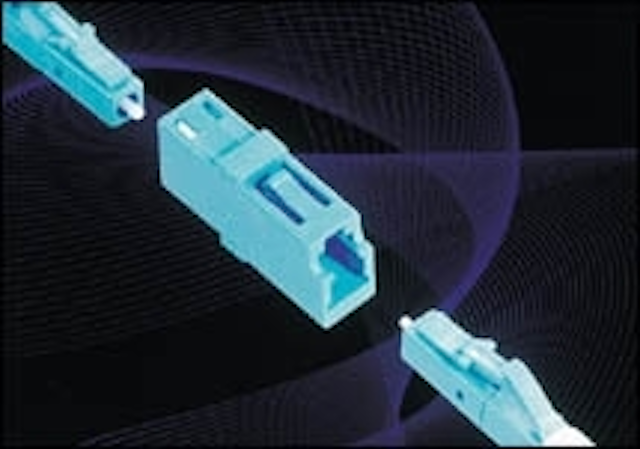 Click here to enlarge image
Simplex adapters for fiber-optic cable assemblies terminated with LC connectors allow two simplex cable assemblies to be plugged into each other. Versions for singlemode and multimode applications are available.
METHODE ELECTRONICS INC.
CHICAGO
Management software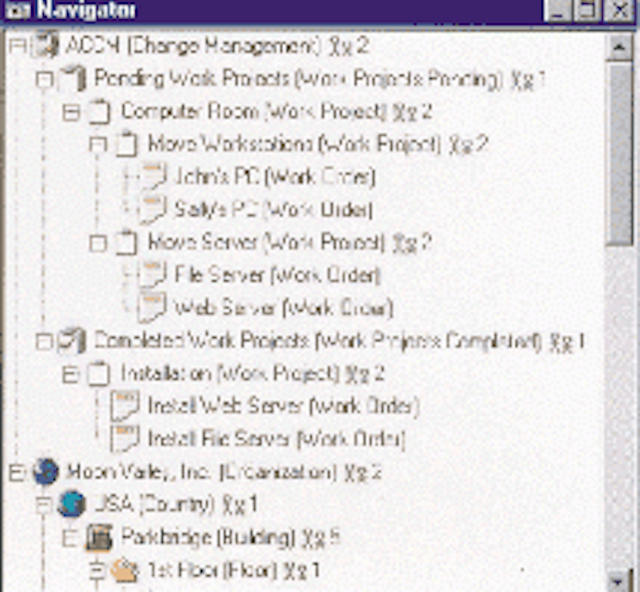 Click here to enlarge image
The Advanced Change Control Management (ACCM), optional Crimp 5.0 module, automates how companies track and manage work orders. The software lets multiple administrators on different machines create work actions simultaneously against the same database. Customers can define any work project to gain information such as date of completion, by when, and by whom. ACCM also allows modeling of scheduled tasks to ensure workflow results in the appropriate connections, disconnections, moves, changes, and dictionary updates. Circuit traces can be run in "future" modes to preview proposed changes and validate the accuracy of the workflow until the desired effect is achieved. New users can purchase the module for $4,995. For those with valid maintenance contracts, the module is available at no charge.
CABLESOFT INC.
TEMPE, AZ
Wire-marking printer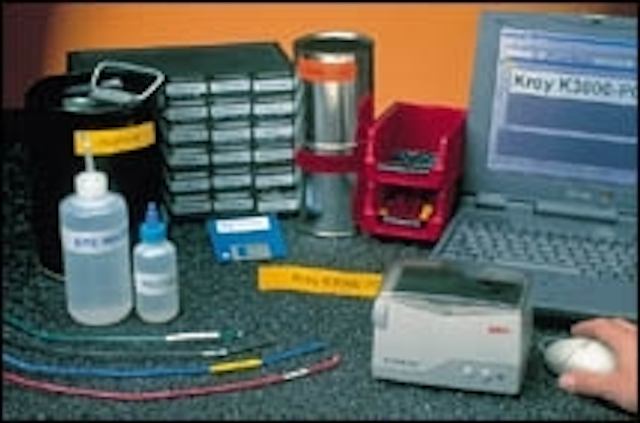 Click here to enlarge image
The Model K3000-PC label- and wire-marking printer connects to a PC, enabling the user to produce a variety of labels, shrink tubing, and wire marks. By switching supply cartridges, you can print on different types of labels to mark or identify parts, shelves, wire, and cable. Label supplies include direct-thermal paper labels, heavy-duty industrial labels that are UV- and chemical-resistant, a tamper-evident supply, cast vinyl labels for exterior and irregular surfaces, shrink tubing or wire marks, and die-cut labels. The printer costs $149 and comes with Label Design Software. Requirements to run the unit are a PC with Windows 95, 98, or 2000, or NT 4.0 and one free communications port.
KROY LLC
CLEVELAND, OH
Marking system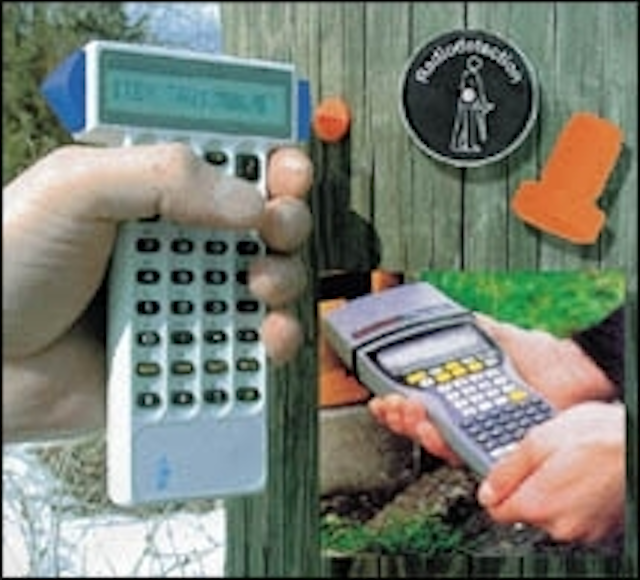 Click here to enlarge image
The Intelligent Marking System (IMS) lets you identify what is mounted on a pole. The IMS Interrogator relies on RFID signals emitted by a data marker, which contains a trans-ponder. Capable of bidirectional communications or read/write, these plug or disk data markers provide line inventory information and store the most up-to-date information. The system is suitable for electricity, gas, water, and telecommunications applications. The data captured can be downloaded onto a PC, resulting in improved management and maintenance control.
RADIODETECTION CORP.
MAHWAH, NJ
Fiber-optic training videos in Spanish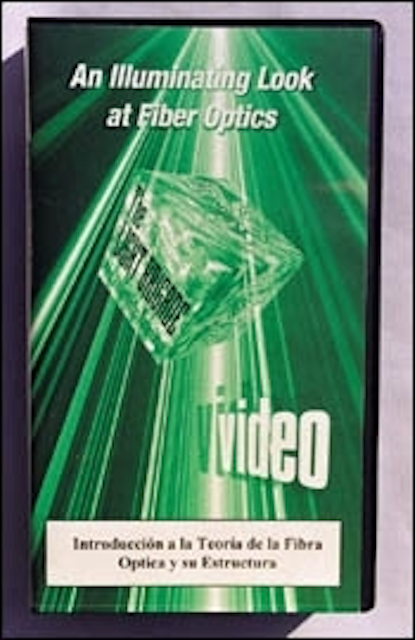 Click here to enlarge image
Six fiber-optic training videos are now released in Spanish. They feature on-site location shots that demonstrate how fiber is used in the real world, and close-up filming lets you see things that are difficult to demonstrate in a classroom setting. The Spanish video titles are: Introducción a la teoría y estructura de fibra óptica; Pruebas de fibra óptica, detección y corrección de fallos y documentación; Como para preparar cables de fibra óptica; Como separar, pulir e inspeccionar un cable de fibra óptica connectore; Como establecer un presupuesto de pérdidas ópticas; and Como separar y empalmar fibras ópticas. List price for the videos is $125 each, with quantity discounts available.
LIGHT BRIGADE
KENT, WA
Industrial cable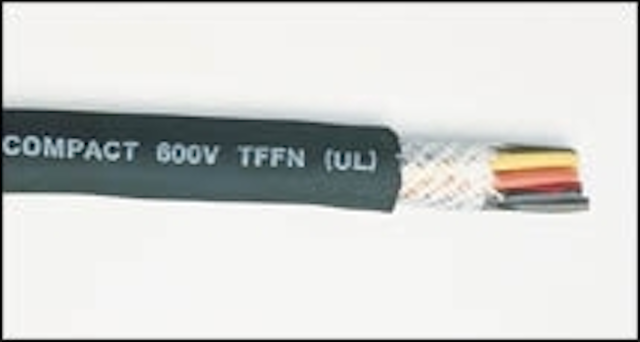 Click here to enlarge image
Compact 600 industrial cable is suitable for applications requiring a small-diameter cable with flexibility, strength, and high-amperage capacity. The cable features TFFN or THHN stranded conductors and is planetary cabled for maximum flexibility and roundness. The reinforced polyester separator provides increased mechanical strength and facilitates jacket removal. Nylon-armored insulation ensures reduced friction, stress, and fatigue during continuous flexing. Besides having a Seoprene TPE outer jacket, the cable is flame-retardant and offers ozone, gas, abrasion, chemical, and oil resistance. It is available in 18 to 12 AWG with a selection of two to 37 conductors. Outside diameter ranges from 0.31 to 1.045 inches.
COLEMAN CABLE SYSTEMS INC.
WAUKEGAN, IL
Graphical analyzer software
The LT Series graphical analyzer (LTGA) software and time-domain reflectometer (TDR) capability for the LT 8155 and LT 8600 are new troubleshooting tools for installers. The LTGA complements the high-end capabilities of the LT 8000 Series of local-area-network testers and enables direct access and control over the tester's autotest functions from within a Windows-based graphical user interface that runs on a PC or laptop. The software enhances problem diagnosis and troubleshooting by enabling the operator to instantly visualize the amount of margin available instead of having to interpret less-intuitive data. The TDR monitors link conditions, finds and resolves post-certification problems, determines length of the cable runs, and identifies embedded connectors in the horizontal cable.
WAVETEK WANDEL GOLTERMANN
RESEARCH TRIANGLE PARK, NC
IP services demarcation unit
Click here to enlarge image
The intelligent Fiber Service Unit (iFSU) provides managed fiber-optic connectivity for mission-critical IP network applications. The NEBS-compliant iFSU is an intelligent Internet protocol services demarcation unit in which electrical and optical networks converge to deliver solutions at the network edge for distance, copper-to-fiber and fiber-to-fiber connectivity, as well as speeds to Gigabit Ethernet and Synchronous Optical Network. The unit is available as a 19- or 23-inch rack-mount chassis with redundant load-sharing, hot-swap DC or AC power, hot-swap common logic for management, and 16 additional slots for access and connectivity modules. It supports redundant management modules and has the ability to stack units to manage more than 256 ports at a single site. The iFSU is priced from $2,500 for the basic managed chassis, to $85,000 for a fully configured Gigabit-based unit capable of extending distances to 100 km.
LANCAST INC.
NASHUA, NH
LAN adapters
Models AT-2450FTX, AT-2700FXTX, and all-fiber AT-2745FX dual-capability local-area-network (LAN) adapters provide a migration path from legacy copper to Ethernet and Fast Ethernet fiber networks. All of these 32-bit PCI 2.2 adapters are PC99-compliant and support Wake-on-LAN and ACPI. They come with a software package that includes diagnostics, setup application, and drivers for all popular operating systems, as well as AMD's Managed Performance Portfolio, a software package that provides utilities and applications to help network managers. Model AT-2450FTX/ST has one 10Base-FL (ST) port and one 10/100TX port, AT-2450FTX/SC has one 10Base-FL (SC) port and one 10/100TX port, AT2700FXTX/ST has one 100BaseFX (ST) port and one 10/100TX port, and AT-2700FXTX/MT has one 100BaseFX (MT-RJ) port and one 10/100TX port. Model AT-2700
FXTX/SC has one 100Base-FX (SC) port and one 10/100TX port, AT-2754FX/ST has one 10Base-FL (ST) port and one 100Base-FX (ST) port, and AT-2745FX/SC has one 10Base-FL (SC) port and one 100Base-FX (SC) port. Prices range from $155 to $325.
ALLIED TELESYN INTERNATIONAL
BOTHELL, WA
Multilingual dictionary
An electronic version of the Multilingual Dictionary contains about 6,700 pages with more than 17,000 electricity, electronic, and telecommunication terms. Officially approved terms are available in English and French. The dictionary also contains equivalent terms in Arabic, Dutch, German, Italian, Japanese, Polish, Portuguese, Russian, Spanish, and Swedish, whenever such terms have been made available as part of the International Electrotechnical Vocabulary standard. The CD-ROM contains hyperlinks and consolidated English and French language indexes.
INTERNATIONAL ELECTROTECHNICAL COMMISSION
GENEVA, SWITZERLAND
Riser-rated loose-tube cable
The Adventum fiber-optic cable line now includes riser-rated loose-tube cable, which has a completely dry waterblocking system in the cable core and buffer tubes. The cable is available in fiber counts of six to 72 with 62.5-micron standard multimode fiber and 50-micron multimode and singlemode fiber. It is also available with enhanced 62.5- and 50-micron GIGAlite fiber and can be used as part of a NetClear GTO solution.
BERK-TEK, AN ALCATEL COMPANY
NEW HOLLAND, PA
Fuse panels
The GMT/KLM 4x4 dual 100-A fuse panel and GMT/KLM 8x8 dual 200-A panel are suitable for networks, remote locations, and central offices that require higher-current distribution yet have low-current needs as well. Each panel handles ۱24 or ­48 V to fit a variety of environments. The panels provide flexibility to power smaller loads through the GMT fuses while handling higher-current demands with the KLM fuses. The dual 100-A 4x4 panel distributes up to 200 A through 16 circuits and features four KLM and four GMT fuses on each side. KLM outputs are rated at up to 30 A per circuit for high-current loads, while GMT outputs are rated at up to 15 A each for fusing lower loads. A key feature of the panel is a replaceable alarm card. The 8x8 panel features two 200-A connections per side delivering 400 A total, in a chassis that takes up two rack spaces. The panel's features are similar to those of the 4x4 model, except a load-sharing version is not available.
TELECT INC.
LIBERTY LAKE, WA
Firestop solution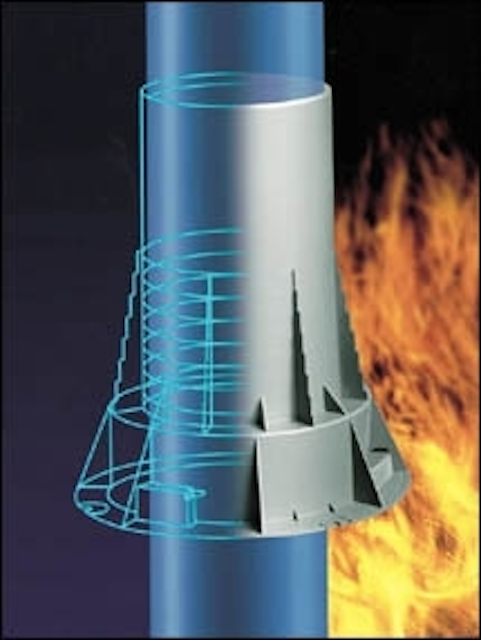 Click here to enlarge image
The CP 680 firestop solution provides a one-step process that doesn't require additional caulking or mineral wool. To use, set the device like a sleeve, pour the concrete, and pass the penetration through the device. The unit allows for pipe movement and vibration during and after installation. Subsequent pipe removal is possible, allowing a change from metal to plastic pipes without any further firestopping. Features include an intumescent ring designed to expand and close the hole in the event of contact with fire and an active ring that ensures the device is water- and smoke-resistant. Its plastic sleeve enables use of the product in concrete thickness from 2½ inches, while reinforcing the water tightness of the unit and cover caps at the top and bottom.
HILTI INC.
TULSA, OK
Bundle ties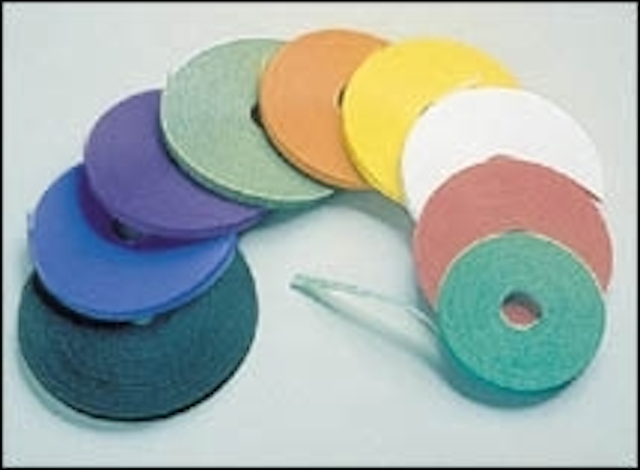 Click here to enlarge image
One-Wrap bundle ties are a back-to-back fastening system designed as an alternative to traditional cable, wire, and fiber-optic bundling products. Featuring a molded polyethylene hook fastener laminated onto a nonwoven polyester loop, the ties are self-gripping, double-sided straps. To use, wrap the tie around the cable or wire and overlap one side of the strap onto the other, allowing for a 2-inch overlap. Then tear at the perforation. The ties come in eight colors with white-loop backing and have an average shear length of 3 psi. They will last for 20 to 25 openings and closings.
VELCRO USA INC.
MANCHESTER, NH
Cable-tie installer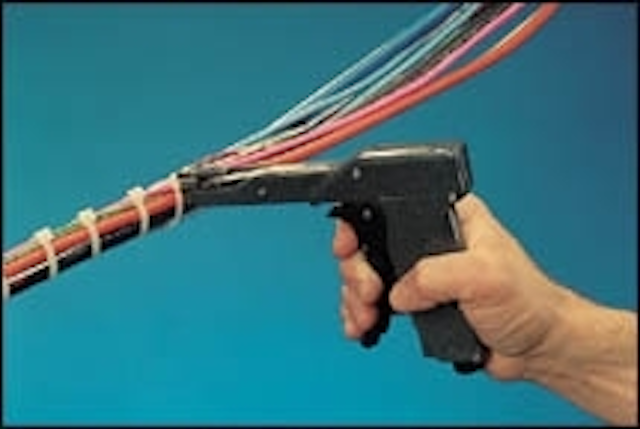 Click here to enlarge image
The Cable-tie Installer grips a cable tie that has been put around a bundle and tightened by hand and then pulls it to a preset tension and cuts it flush in one step. Eliminating hand pulling, cutting, and inconsistent tensioning, this gun-style tool has a slim nose that fits into hard-to-reach locations. Featuring a rugged aluminum housing with areas to affix an identification label, the device has a compression spring and provides smooth action with no recoil or shock. The handheld device is suitable for 0.1-, 0.14-, and 0.187-inch-size cable ties. Tension can be preset by the operator. The unit is listed at $76.50.
NELCO PRODUCTS INC.
PEMBROKE, MA
Mode-conditioning cables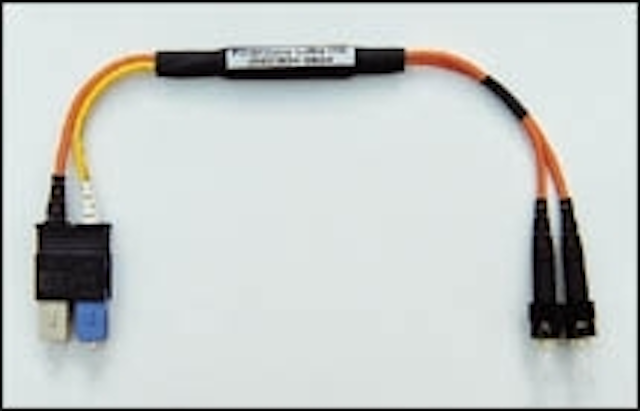 Click here to enlarge image
Mode-conditioning cables are used in Gigabit Ethernet 1000Base-LX (1300-nm-long wavelength) applications. Also known as Gigabit launch cables, the cables are suitable in applications where Gigabit Ethernet 1000Base-LX routers and switches are being deployed into existing multimode plants. Compliant with IEEE 802.3z standards, the cables allow for singlemode gigabit signals to be sent over existing multimode fiber.
FIBERDYNE LABS INC.
FRANKFORT, NY
Punch tool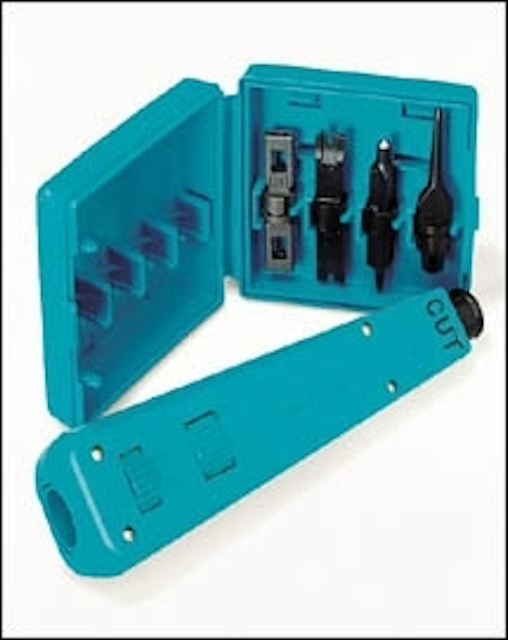 Click here to enlarge image
The Impact Punchtool features a quick-release head, impact adjustment, and blade storage. The tool is available with specialty blades, including 66 or 110. Optional items include 630A modular jacks, 3M D System, GTE modular system, Krone, Bix, a metal center punch, wood center punch, and a plastic carrying case that will hold eight blades. A separate case containing the 66 blade, 110 blade, wood punch, and metal punch is also available.
JENSEN TOOLS INC.
PHOENIX
Optical test system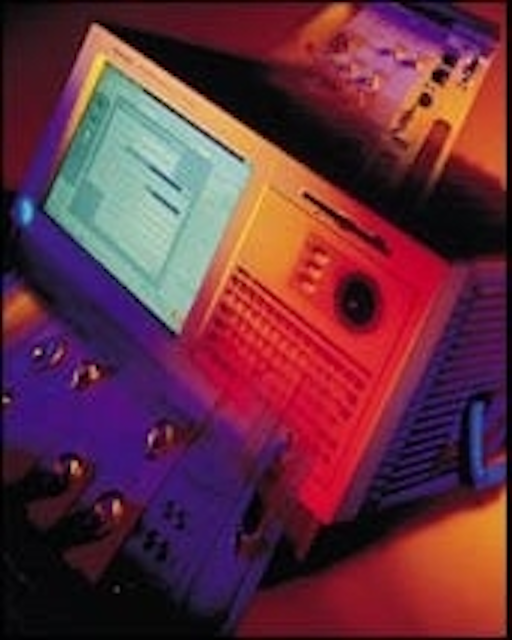 Click here to enlarge image
The OTS9010 optical test system, a portable version of the OTS9000 system, enables field maintenance and testing of high-speed 10-Gbit/sec optical networks. Suitable for manufacturer installers, network operator installers, and maintenance contractors of OC-192c/STM-64c networking equipment, the unit is used for equipment manufacturers who require pattern generation and analysis verification of multiple signals thought bit-error-rate analysis. The system holds multiple test modules to support 10-Gbit/sec SONET/SDH analysis and is designed for multichannel testing. The platform's flexible, modular architecture supports continually changing test requirements.
TEKTRONIX INC.
PORTLAND, OR
Seismic enclosures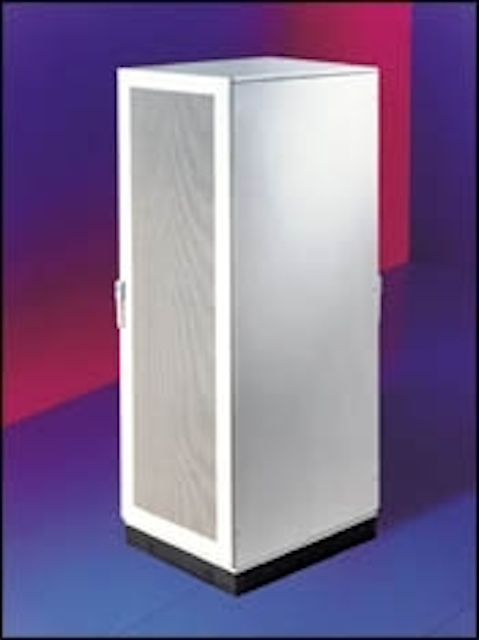 Click here to enlarge image
Seismic enclosures are certified for Zone 4-magnitude seismic events, in accordance with Telcordia NEBS requirements. The PS 4000 modular enclosure, the flexRack 19-inch cabinet, or the Vario-Rack 19-inch electronic cabinet can be seismically upgraded to fulfill Zone 4 requirements. Corner brackets, diagonal bars, base stiffeners, and extra stiffeners for locking systems help fortify the enclosures to withstand the forces of an earthquake. The units are also suitable for nonseismic hostile environments such as applications with heavy shock loads to the base of the enclosure, mobile communications, and over-the-road transit.
RITTAL CORP.
SPRINGFIELD, OH
Patch panel
The Model ACI-2046 electronic fiber-optic patch panel manages direct termination and switching of fiber-optic cables while supporting Gigabit Ethernet networking speeds. The patch panel features a menu-driven LCD panel, redundant power supplies and fans, local-area-network port, and dual RS-232 serial port. Available in 8- or 16-port versions, the device costs $4,995 to $6,995.
APCON INC.
PORTLAND, OR
Uninterruptible power supply
The Series 21C UltraUPS is an online double-conversion uninterruptible power supply in 3-and 5-kVA sizes. The unit offers an advanced battery management system that automatically determines the precise charge and discharge rate, maximizing run times and battery life. The UPS includes a push-to-turn maintenance bypass system, which ensures in-synch transfer and techniques that eliminate hazardous EMI/RFI. It is available in modular or rack-mount configurations.
CONTROLLED POWER CO.
TROY, MI


---
By the Book Mastering disaster
Most companies today have a disaster-planning and management process in place. I suspect, however, that the smaller the company, the less likely it is that such a process and plan exist. In today's business environment, where telecommuting and SOHO (small office/home office) are everyday terms, this fact in itself could be a disaster. Here are two resources to help address this issue.
From Prentice Hall (Upper Saddle River, NJ) comes the Complete Disaster Home Preparation Guide by Robert A. Roskind. This $19.99 illustrated paperback spends some time on telecommunications, but it is mostly aimed at such basic problems as food storage, water treatment, heating, and lighting. Almost half the book is devoted to "References and Resources," which lists different types of disasters and explains how to prepare for them. The guide contains information on preparedness books, relief organizations, developing a disaster plan, fire safety, and preparedness for people with disabilities. Although tsunamis and volcanic eruptions are covered, more likely events such as building fires, floods, winter storms, and lightning damage will be of more practical interest. For more information, contact Prentice Hall at www.phptr.com.
A well-established disaster-management resource has also been reissued in its ninth edition by Systems Audit Group (Newton, MA). The 350-page Disaster Recovery Yellow Pages lists more than 3,000 vendors of disaster-management and recovery products and services located throughout the United States and Canada.
Divided into five sections - restoration services, mobile buildings, computer and emergency equipment, planning and data-recovery software, and training publications and videos - the book contains more than 270 categories of products and services, among them drying and dehumidification of paper and microfilm records, smoke-odor counteracting services, trauma counselors, salvage, and emergency rental. The resource is presented in a three-ring binder and includes a tutorial on preparing a disaster plan. The volume costs $98, plus $3 for shipping and handling. To order, or for a free brochure, contact Systems Audit Group at tel: (617) 332-3496; fax: (617) 332-4358; www.DISASTER-HELP.com.