A video system for millions to see
The NFL needed products quickly to build the infrastructure for its instant-replay program.
Nov 1st, 2000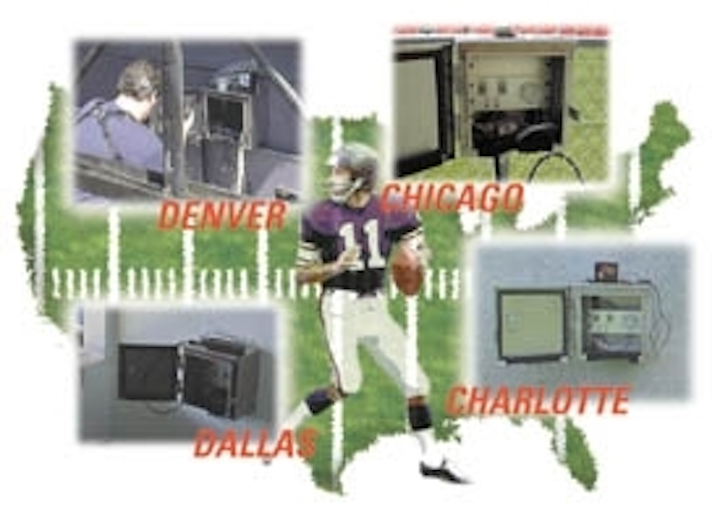 The NFL needed products quickly to build the infrastructure for its instant-replay program.
Scott Fehl / GEPCO International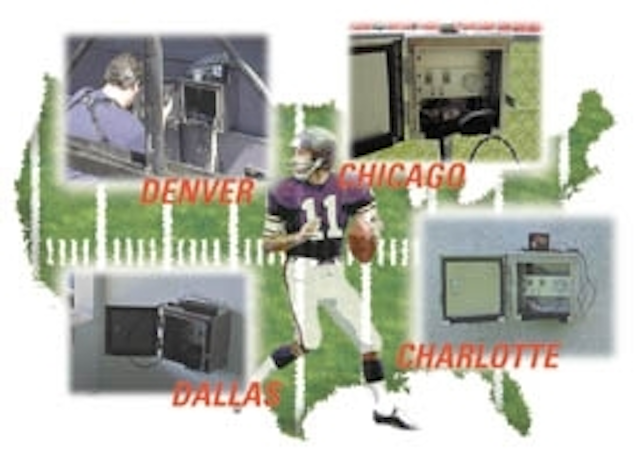 Click here to enlarge image
When Brett Favre, quarterback of the National Football League's (NFL) Green Bay Packers, faded back to pass the ball during a game in the 1999 season, an oncoming linebacker knocked the ball out of his hands and pounced on it. The game officials huddled together to determine whether the play should be ruled a fumble or an incomplete pass. But there was only one way to tell for sure: Check the replay.
Reinstituted by the NFL for the 1999 season after a hiatus of several years, the instant-replay rule allows the game referee to review calls via video monitors during the course of a game. As tens of thousands of fans in the stadium and millions watching on television await the review's outcome, the referee has a maximum of 90 seconds to make a decision based on video and audio signals that are sent through a system that was constructed over the course of a few months in 1999.
The NFL's board of governors voted to reinstitute the instant-replay rule for the 1999 season in April of that year, which left approximately four months before the first preseason game. In that time, the league had to research, design, fabricate, ship, and install complete replay systems for each of the 31 venues in which NFL football is played. To categorize instant replay as a "mission-critical" operation might be an understatement. In the NFL, high stakes and high drama take to the field every week, and a replay-system breakdown in the midst of a nationally televised close call could provoke rage and frustration from coast to coast.
To oversee and coordinate the installation of the cabling and affiliated interface boxes for the replay systems, the NFL contracted Sportvision Inc. (New York City), with whom the league works for technical matters that affect the broadcast coverage of its games. For example, Sportvision is the organization that developed the technology for the trademarked First and Ten system, which lets television viewers of NFL games see the digitally created yellow line that indicates the point on the field the offense must reach to achieve a first down.
For the instant-replay setup, Sportvision appointed GEPCO (Des Plaines, IL) as supplier of audio and video cable to each NFL facility throughout the country. "We had our first meeting with Sportvision at the end of May to specify the products to be used in the instant-replay system," recalls Ken Bernd, GEPCO's manager for the instant-replay project. "Everything had to be ready by the first week in August. That didn't leave any margin for error."
Consistent, yet customized
Every stadium had to be consistent in terms of equipment quality and type. Television-network technical teams expect to work with identical electronic components from week to week, regardless of where the games take place. And a single stadium may be visited by all four networks covering the NFL-ABC, CBS, ESPN, and Fox-in a given season. The need for a standard system was paramount.
Yet no two venues are exactly alike. As a result, the total amount of cable for different stadiums ranged from 6,000 to 25,000 ft. "Logistically, it was one of the most challenging jobs we have ever been involved with," Bernd continues.
In effect, each stadium required two different cabling systems: one that would be permanently installed, and one that would be used on game days to connect the on-field replay station and a box attached to the stadium.
"The job was demanding in a lot of ways," says John Leland, Sportvision's senior vice president of operations. He says dealing solely with GEPCO helped. "They were with us from the start and took care of whatever came along in a very timely fashion. We had worked with GEPCO several times in the past and knew that they were capable of meeting a wide variety of our needs in addition to the cable itself."
Cable and connectivity choices
Sportvision decided to use plenum-rated audio and video cable for the permanently installed cabling system at each stadium. "Although we knew that not all stadiums would require plenum-rated cable, it would have been a logistical nightmare, with such a short time frame, to find out which stadiums would need it and which would not," notes Greg Hansen, GEPCO's vice president of sales and marketing.
In addition to supplying the audio and video cable, GEPCO supplied custom boxes and the connectors required at each box. There are five custom-box types in each stadium, one type for each of the following locations: stadium truck bay, replay booth, a field mount at the 20-yard line, an inclement-weather position in a tunnel (in outdoor stadiums), and in coaches' rooms. Each box, regardless of its position in the stadium, has custom-engraved loaded panels that include audio, video, and electrical connectors, barrier strips, and a humbucking coil-a filter that eliminates ground loops in long video cables.
Benefits of a single source
Especially for this project, which had to be completed in 31 different sites over the course of just a few months, using a single-source supplier benefited Sportvision. "We're set up to accommodate these types of projects," says GEPCO's Hansen. "One company can provide wire and cable, plus connectors, plus custom metal fabrication." Going to two or three vendors for those products introduces the possibility for more logistical difficulties.
For the cabling that runs from the field boxes to the replay stations, GEPCO put together a custom assembly of three cables. A dual serial-digital coaxial cable for video (originally designed for the 1996 Summer Olympics) with BNC connectors on each end was combined with a 2-pair audio cable and a 12-gauge, three-conductor heavy-duty electrical cable terminated with a twist-lock, corrosion-resistant connector.
"Over the previous 10 years or so, we had worked on 37 different sports venues, including 15 football stadiums," Hansen says. "There is no doubt that this experience gave us an enormous head start on the instant-replay work. In many cases, we were already familiar with the kinds of problems we could expect to encounter."
GEPCO and Sportvision teamed up on several of the football-stadium projects, including the TransWorld Dome in St. Louis, MO; Jack Kent Cooke Stadium in Washington, DC; and Ericsson Stadium in Charlotte, NC. Even though the system design for the instant-replay project was different at each stadium, and the system-installation crews differed from site to site, the previous history between Sportvision and GEPCO left both encouraged that the relatively short-term project was achievable. And, in fact, it was completed on time.
When citing reasons for the project's success, Sportvision's Leland points to GEPCO's "quality and range of products, and most of all, the quality of service. For example, we had originally hoped to be able to place one comprehensive order for the total amount of cable needed to wire all the NFL venues for instant replay. Instead, we were forced by various circumstances to place multiple, smaller orders. GEPCO took it in stride and was able to supply everything with no increase in per-unit costs."
Scott Fehl is product manager with GEPCO International (Des Plaines, IL).
---
At Paul Brown Stadium, replay was part of the plan

Patrick McLaughlin
The 2000 NFL season is the Cincinnati Bengals' first year in Paul Brown Stadium. And because construction of the stadium took place over approximately two years, there was more time to plan the instant-replay infrastructure than there was for the other locations mentioned in this article. But even though the time-sensitivity was not so extreme, the necessity for a solid infrastructure was just as important.
And Sportvision once again called on GEPCO to supply the plenum-rated cable for the job. In all, Paul Brown Stadium's instant-replay infrastructure includes 199,500 ft of plenum-rated cable, which breaks down as follows:
41,000 ft of plenum triaxial;
82,000 ft of plenum serial-digital coaxial;
6,500 ft of plenum six-pair audio cable; and
70,000 ft of plenum single-pair coaxial cable.
The infrastructure also includes 200 bulkhead XLR connectors, 100 bulkhead triaxial connectors, 290 cable-mount BNC video connectors, 140 bulkhead BNC video connectors, 20 bulkhead multipin audio connectors, 24 audio patch bays, and eight video patch bays.
In 1998, the stadium's design was one of 15 selected for an American Architecture Award. While the stadium was under construction, as many as 1,000 workers were on-site daily. The Bengals' coaches and staff moved into the new building on June 26.
Today, with the stadium complete, the city of Cincinnati sees the new Bengals' home as the first visible sign of its plan to dramatically refashion its riverfront. And NFL officials see all the replays they need, thanks to the audio and video infrastructure that the system integrator worked into the plan.


---
Cabling Installation & Maintenance Editorial Mission
Installers of premises and campuswide communications systems face constantly evolving standards, products, and technology. Keeping pace with these changes requires access to current information from informed peers who are knowledgeable in fiber and copper technology relative to premises communications. Cabling Installation & Maintenance provides peer-to-peer perspective in its interpretation of standards and technology, its presentation of installation techniques, and in the selection and use of products in premises communications.