DataTel uses show floor to unveil tools, upgrades
DataTel (Riverdale, NJ), a division of Middle Atlantic Products Inc., used the BICSI Summer Conference in Nashville, TN, to show the first demonstrations of its RackTools software package
Nov 1st, 2000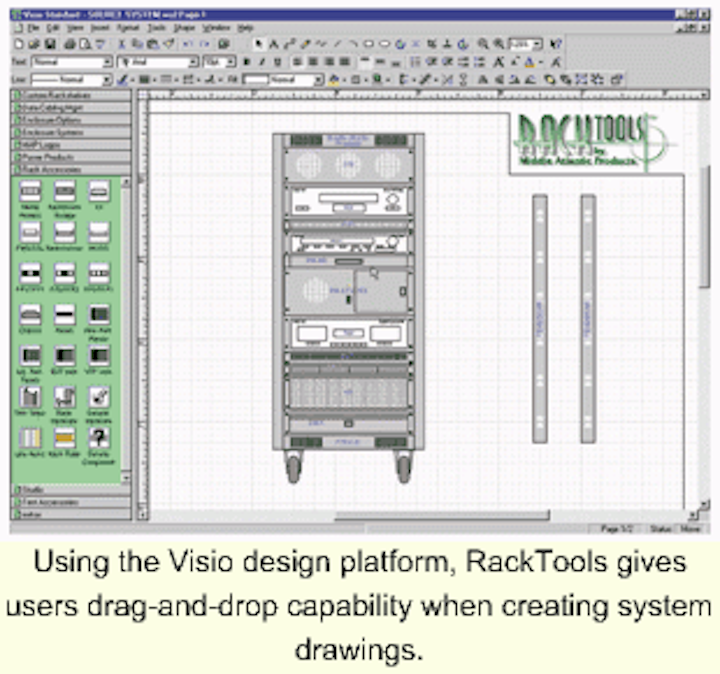 null
DataTel (Riverdale, NJ), a division of Middle Atlantic Products Inc., used the BICSI Summer Conference in Nashville, TN, to show the first demonstrations of its RackTools software package, the MK-19-45 rack, and security features on the existing Pivoting Panel Mount (PPM) series of products.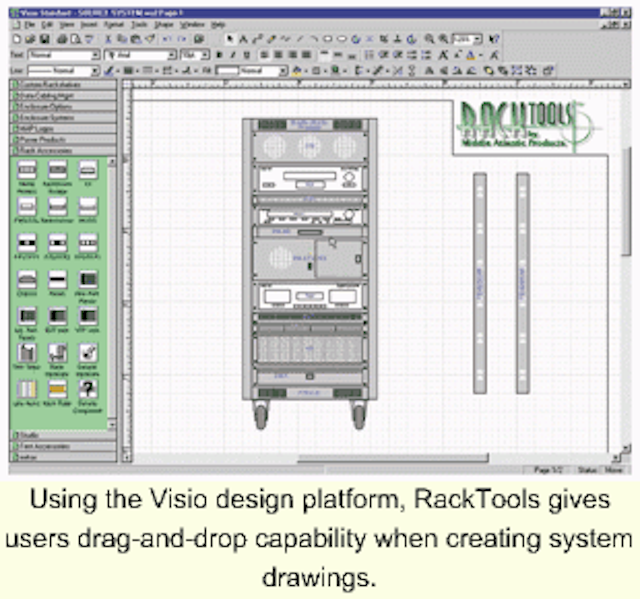 Using the Visio design platform, RackTools gives users drag-and-drop capability when creating system drawings.
Click here to enlarge image
Of DataTel's introductions, Rack-Tools grabbed the most attention. Using the Visio design platform, RackTools lets the user drag and drop Data-Tel components into system drawings to create proposal and layout drawings. Visio shapes for hubs, routers, computers, and other pieces of network equipment are optional, and make it possible for the user to create drawings of fully configured racks and enclosures.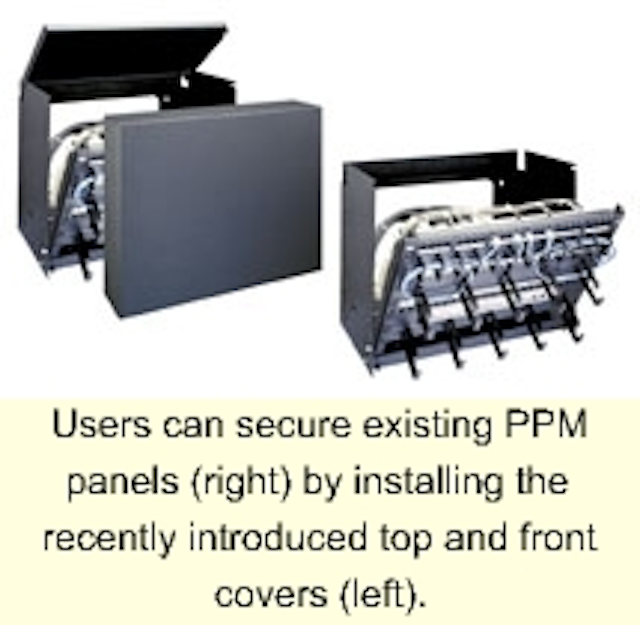 Users can secure existing PPM panels (right) by installing the recently introduced top and front covers (left).
Click here to enlarge image
John Osborn, Data-Tel's director of marketing, describes the software package as "a resource for data-communications professionals" that was created "to provide users with a way to efficiently specify our products." But, he adds, it also gives the company a chance to supply certified RackTools users with updated product information. All these services are free to the user.

Also debuting this summer was the MK-19-45 rack, the latest in the company's MK series. The entire series of 19-inch racks, including the one on the right, is designed for high-density patching applications. Although it accommodates 19-inch rack-mount equipment, the actual rack's base is 24 inches wide. Data-Tel claims the width makes it ideal for use in raised-floor environments.
Separately, the company offers a ladder adapter that includes mounting hardware and J-bolts. It can accommodate most cable ladders, DataTel says.
Securely wall-mounted
The PPM series is a set of wall-mount panels. Security options consist of a front and top cover, which let users install the PPM products in secure and unsecured environments because the panel essentially be-comes a wall enclosure. Covers are available for the 12- and 18-inch-deep models; they can be retrofit or purchased with the PPM products as a kit.

With a 24-inch base that is ideal for raised-floor tiles, the MK-19-45 is the latest rack intended for high-density patching situations.
Click here to enlarge image
The PPM series' pivoting design gives users front- and rear-panel access through swing-down rails. When they are in the open position, the panels offer a positive stop for punching down to the rear of patch panels. While security options are available only for the 12- and 18-inch products, the PPM series also includes 6-inch models. All models are available in 2-, 4-, and 8-rack space heights.
-Patrick McLaughlin
null
---
Third-party verification: latest trend for Cat 6 products
With rumblings from the international standards body that the proposed Telecommunications Industry Association (Arlington, VA) Category 6 standard seems too stringent, several companies have sprung into action by conducting third-party verification. The reason? While vying for the opportunity to proudly wear the Category 6 label, companies are also looking for a way to assure consumers that their products actually meet the pending stringent standard.
The trend of third-party verification first came to light in June when ADC Telecommunications (Minneapolis, MN) passed an independent Category 6-qualification test program for electrical performance. ADC contracted with 3P Third Party, a Denmark-based independent testing company, to test its Enteraprise Category 6 connecting hardware for backward-compatibility and interoperability-issues cited as of greatest concern to ADC's customers.
"Component-compliant connective hardware helps ensure interoperability and backward-compatibility," says Jane Livingston, director of enterprise connectivity systems for ADC. Independent assurance that ADC's components are compliant, she says, tells customers that products are going to perform according to Cat 6 specifications.
Molex Premise Networks (Lisle, IL) has also jumped on the independent verification bandwagon with the recent testing of its Category 6 network solution, PowerCat 6. Delta Laboratories, also of Denmark, verified that "PowerCat 6 meets the hardware link and channel specification for the Category 6 draft standard."
While ADC and Molex are among the first to receive third-party verification of their connecting-hardware components, Berk-Tek, an Alcatel company (New Holland, PA), is the first to carry the trend to the cable itself. In August, Berk-Tek received independent certification that its LANmark-1000 series riser and plenum-enhanced unshielded twisted-pair copper and patch cables meet the Category 6, Draft 6 standard. Intertek Testing Services (Cortland, NY), the world's largest product and commodities testing organization, carried out the verification process.
Dan Kennefick, copper-products business manager for Berk-Tek, says the reason is simple: Third-party verification is important to many of its key customers. And as more Category 6 products make their way into the marketplace, the trend of third-party verification is likely to grow and become a mark of distinction for companies seeking to offer customers added protection and assurances.
-Michelle Abrams


---
Molex Premise Networks acquires residential-system maker
Molex Premise Networks (Hudson, NH) has announced it will assume the business formerly operated as Residential Cabling Systems (RCS), which provides structured cabling products for residential and small-office environments.
Cabling-industry veterans and historians will view this acquisition as a "return home" of sorts. RCS was started as a residential-cabling effort within the former MOD-TAP. It was later spun off as a separate company under the RCS name. Then Molex acquired MOD-TAP, while RCS continued to operate separately. MOD-TAP was renamed Molex Premise Networks in 1999, and Molex Premise Networks' acquisition of RCS in many ways brings the residential-cabling systems maker back to its place of origin.
RCS's product portfolio will be further developed under the Molex Premise Networks name. Kevin Reynolds, a member of Molex Premise Networks' technical marketing staff, was hired to help focus the company's product portfolio. Regarding any gaps or overlaps between Molex Premise Networks' and RCS's offerings, Reynolds says there are "very few holes," adding that Molex's approach historically has been to offer a fairly expansive product portfolio. Any overlaps that exist will soon be eliminated, he adds.
Susan Riley, Molex Premise Networks' director of marketing, says the company plans to aggressively market its new residential-cabling line.
The residential-cabling and overall home-networking industry has gained significant attention lately, including attention from market research and analyst firms. Recent studies chart the home-networking market at $134 million in revenues last year, with $495 million projected for this year and $2.4 billion in 2005.
-Patrick McLaughlin


---
Network-management design eliminates separate modules
This month, media conversion developer IMC Networks (Foothill Ranch, CA) is introducing an integrated simple network management protocol (SNMP) design that it says will eliminate the need for separate management modules to be purchased and installed. The iMedia-Center platform features 2-, 8-, and 18-slot chassis versions that are embedded within an SNMP agent.
iMediaCenter is seen as providing a multiprotocol platform for managing mission-critical information of copper-to-fiber media conversion, fiber-optic connectivity, and bandwidth-management modules. It's designed to let campus-network managers remotely monitor and manage the link condition and port status, even when placing fiber-optic solutions in remote locations within the campus. President and CEO Michael Dailey claims that iMediaCenter "enables proactive management of premise and campus networks, and provides significant savings by completely eliminating the separate management modules required in the past to perform these tasks."
IMC says its 2-slot version will be a small-form-factor, tabletop chassis that houses two single-wide media connectivity modules, or one double-wide module. The 8-slot version is a medium-sized, tabletop chassis housing eight single-wide connectivity modules in any combination, four double-wide modules, or a combination of both. With the high-density, 18-slot version, IMC says managers can house 18 single-wide modules in any combination, nine double-wide modules, or any combination of both.
-Steve Smith


---
INDUSTRY SPOTLIGHT
This column covers various industry-related topics. To submit a news item, contact
Editor-in-Chief
Patrick McLaughlin
Tel: (603) 891-9222,
fax: (603) 891-0587,
or e-mail:
patrick@pennwell.com.