HiddenMind aims at wireless data messaging
Kristopher Tyra, founder and chief technical officer of wireless software developer HiddenMind Technology (Cary, NC), is not surprised that consumers have been slow to embrace wireless data applications
May 1st, 2000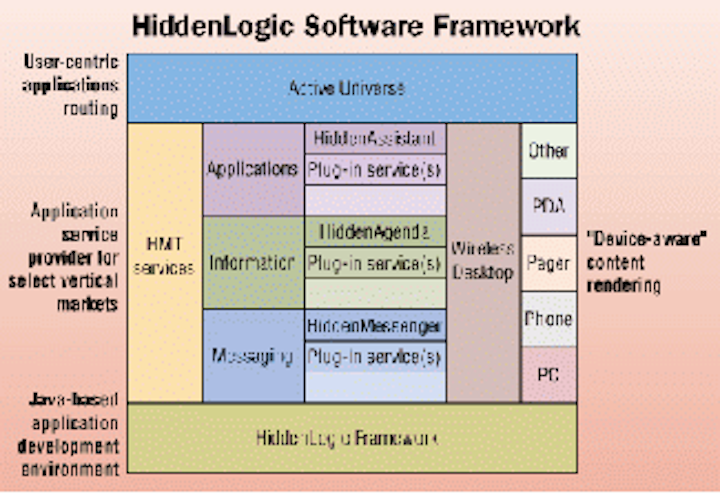 The developer works on its own and with partners to make the most of wireless bandwidth.
Arlyn S. Powell, Jr.
Kristopher Tyra, founder and chief technical officer of wireless software developer HiddenMind Technology (Cary, NC), is not surprised that consumers have been slow to embrace wireless data applications. Speaking at last fall's Kagan Wireless Telecom 2000 conference in New York, Tyra compared wireless data to the cellular phone industry in its infancy.
"There is every reason to expect that, just as business users and not consumers were first to be trained to use cellular phones when they were first available, [the same will happen] in the emerging wireless data market," he said. "Business users will be the first to get training on and use wireless messaging and data applications."
Tyra explained that early enterprise wireless data adopters are likely to work in mobile workgroups already familiar with remote devices: parts distribution, construction, healthcare, insurance claims, estimating, oil refining, sales, and dispersed manufacturing, for instance.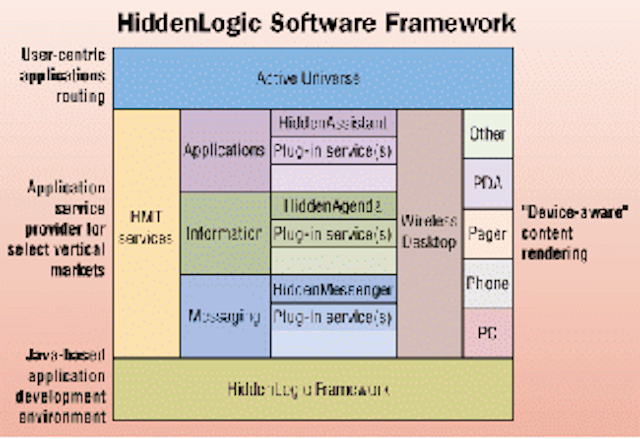 Click here to enlarge image
HiddenMind's HiddenLogic software framework layers HiddenAssistant for applications, HiddenAgenda for information, and HiddenMessenger for messaging. Wireless Desktop mediates between the other three software packages and the user devices. Active Universe sits on top as a routing protocol.

"Applications must be able to connect stationary, PC-based employees with key mobile employees using consistent interfaces and communications protocols," he added. "However, business managers will not provide training in wireless data applications unless they can be shown that there are significant cost savings or competitive advantages to be gained.
Winning applications
"Currently, U.S. wireless networks are limited in their data transmission and handling capabilities," Tyra concluded. "The winning applications will be those designed for low-bandwidth availability, transmission latency, and frequent disconnection. The idea that information appliances will be used to surf the Web for general e-mail or large Web-content downloads is not consistent with the reality of current U.S. wireless infrastructure and costs."
Not surprisingly, HiddenMind's business strategy reflects its founder's words. The company's two main products, HiddenMessenger for general communications and HiddenAssistant for wireless workflow communications, take advantage of currently available low-bandwidth opportunities in such process-oriented businesses as healthcare, construction, sales, and manufacturing. The software links pagers, PDAs, laptops, cell phones, and other information appliances using Mobitex, ReFLEX, CDPD, CDMA, TDMA, and GSM carriers. The company's latest product, HiddenLogic, is a wireless data-communications routing and management-software framework integrating wireline and wireless data messaging with business processes.
In addition to developing products solo, HiddenMind has entered into a number of business partnerships, most recently with Glenayre Technologies (Charlotte, NC) earlier this year. The agreement between the two Research Triangle Park-area companies calls for HiddenMind software applications to be used in Glenayre's two-way messaging devices, paging infrastructure, and messaging services, resulting in new interactive wireless messaging products for enterprise and consumer markets.
Glenayre has recently struck an agreement with Motorola (Schaumburg, IL) to use that company's ReFLEX protocol in its three U.S. networks, which Glenayre claims covers 90% of the country. "When users are able to trigger meaningful activity from their wireless devices through messages and real-time data, the true power of wireless data will be revealed," said Ken Tyra, HiddenMind president and CEO. The HiddenMind-Glenayre alliance will provide mobile users with instant, two-way access to such business information as pricing, availability, and scheduling.
Motorola partnership
At this winter's CTIA Wireless 2000 show, HiddenMind announced it had reached agreement with Motorola to provide messaging software for the manufacturer's PageWriter 2000X and Timeport P930 and P935 interactive communicators, all of which work using the ReFLEX protocol.
According to Motorola's Steve Kincade, vice president of advanced messaging and distribution for the company's PCS Americas paging operations, "The ability to extend XML-based technology and services from HiddenMind to our line of interactive pagers will significantly enhance the range of applications we can support with these devices." Third-party developers, e-commerce enterprises, Internet portals, and ReFLEX network operators will now be better able to develop and deploy vertically focused, transaction-based wireless workflow and other business applications, Kincade concluded.
The Motorola partnership hinges on the use of HiddenMind's HiddenMessenger, Wireless Desktop, and Active Universe software products. Wireless Desktop, for example, enables secure, device-independent, XML-rendered wireless data transactions using smart pagers, smart phones, and PDAs. Active Universe provides user- or process-driven, rules-based routing for such transactions.
"The integration of our advanced wireless software with Motorola's interactive communicators currently deployed across the three major ReFLEX networks," said Hidden-Mind's Ken Tyra, "allows HiddenMind and Motorola to significantly extend the growth of wireless data markets and applications."