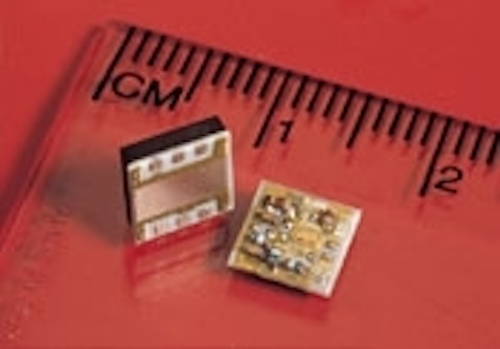 Compiled by Marcy Koff
Power amplifier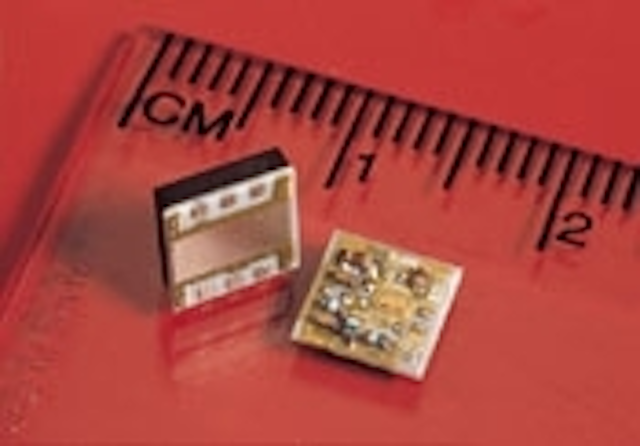 Click here to enlarge image
The code-division multiple access (CDMA) 50-ohm matched 6-mm- square power amplifier is suitable for personal communication services, wireless local loop, and other high-bandwidth wireless data markets. The InGaP HBT amplifier module is less than half the size of comparable solutions, integrates 14 supporting components, and meets continuing requirements for small, high-capacity wireless voice and data applications. The CHP1232-PM power module is a linear-efficient three-stage power amplifier developed for PCS CDMA handsets and infrastructure systems. Features include operation as low as 3.2 V from a single positive supply, 30-dB gain at operating output power, and +28-dBm output power. The unit measures 6 mm square by 1.7 mm high.
CELERITEK INC.
SANTA CLARA, CA
Network media box
The network media box is a homerun enclosure that mounts over a standard electrical outlet box to distribute all residential phone and data lines to various telecommunications ports throughout the home. The Model GB33645-L1 is equipped with a telecom circuit module that provides for up to six lines in and six lines out. The module also contains an integrated RJ31X alarm intercept used in home-security applications. The Model GB33645-L2 has one telephone-company circuit module and one 4-port Category 5 data circuit module. The Model GB33645-L3 comes with two telephone-company circuit modules, allowing for up to 12 lines in and 12 lines out.
ALLEN TEL PRODUCTS INC.
SANTA ANA, CA
Fiber termination box
The FTP-024 24-port fiber termination box comes in singlemode and multimode configurations. Optional preconnectorized multiple fiber cable or pigtails are available for fusion splicing. Custom configurations are available.
FIBERDYNE LABS INC.
FRANKFORT, NY
SCSI cables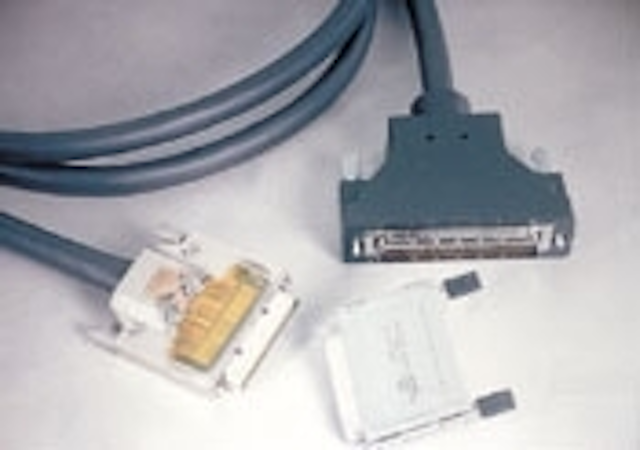 Click here to enlarge image
High-performance small computer systems interface (SCSI) cables are based on the 0.8-mm contact-pitch standard. These small-form-factor cables are designed for high-density computer systems and enable up to four wide 16-bit SCSI cables to plug into the back of a single PCI card. The cables use a direct- attach method, which enables the conductors of the cable to be directly attached to the PC board inside the connector.
METHODE ELECTRONICS INC.
CHICAGO
Wireless communications cable catalog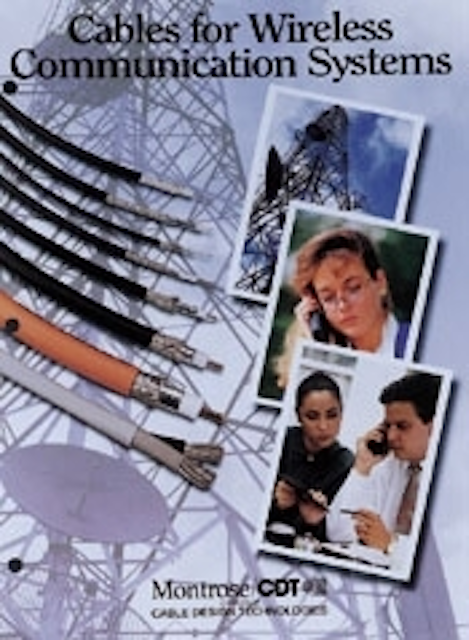 Click here to enlarge image
The 16-page catalog features low-loss wireless communications cables, including coaxial antenna feeders, jumper cables, and low-inductance power cables. The publication describes WCX series coaxial cables, which have gas-injected foam polyethylene dielectrics for ultralow-loss characteristics, and the RGX series with irradiated dielectrics electrically equivalent to Teflon. The catalog contains product descriptions, specifications, and ordering information for WCX and RGX coaxial cables.
MONTROSE/CDT
AUBURN, MA
Media converters
The eoLink wavelength media converters enable bidirectional conversion of optical signals from wide-area to local-area networks and LAN to WAN. The units allow companies to use existing campus network fiber infrastructure to deliver Fast Ethernet, Gigabit Ethernet, Asynchronous Transfer Mode 155-Mbit/sec OC-3 and 622-Mbit/sec OC-12, Fiber Distributed Data Interface, and Fibre Channel. The converters can deliver wavelength conversions at speeds up to 2 Gbits/sec and to distances in excess of 40 km without a repeater.
RED HAWK
SAN JOSE, CA
Telecommunications catalog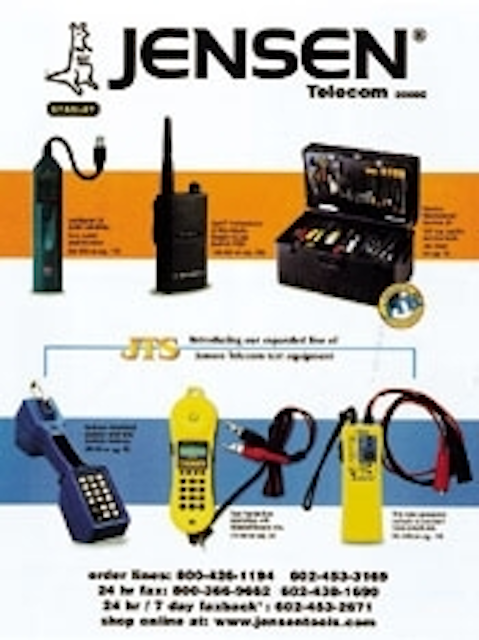 Click here to enlarge image
A 116-page full-color telecommunications catalog offers a wide range of tool-kits, hand and specialty tools, cable, telephone and electrical test equipment, and service aids. Many new products, including JTS Telecom Test Sets, are featured.
JENSEN TOOLS INC.
PHOENIX
Open-bay frame system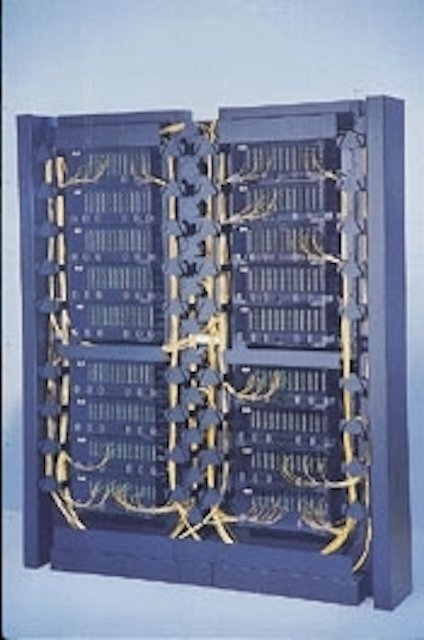 Click here to enlarge image
The LX-4000 high-density open-bay frame system is suitable for crossconnect or interconnect applications. The system accommodates up to 44 units of 13/4-inch EIA standard rack space, providing capacity for more than 1,200 terminations in a single bay. This rack system combines heavy-duty steel construction, a rugged 7-ft base frame, modular fiber-management spools, front-to-rear access slots, and integrated cable-management troughs. End guards on both sides of a multiple bay system protect and conceal the cable. The base frame comes in 19- and 23-inch-wide versions. Components of the system can be ordered separately, as a prewired unit or as a Zone 4 seismic-rated welded assembly.
FONS CORP.
NORTHBORO, MA
Connector catalog
Click here to enlarge image
The 22-page catalog lists a wide variety of flat-cable connectors, connector systems, and related components. Organized as a design engineering specification guide, the guide features the Lat-Con line of products, including headers, low-profile IDC headers, sockets, right-angle and transition connectors, ribbon and flat cable, tools, and accessories. These electronic connectors are accompanied by photographs as well as assembly and cutaway drawings and specifications.
ITW PANCON
BOLINGBROOK, IL
Test tablet and modules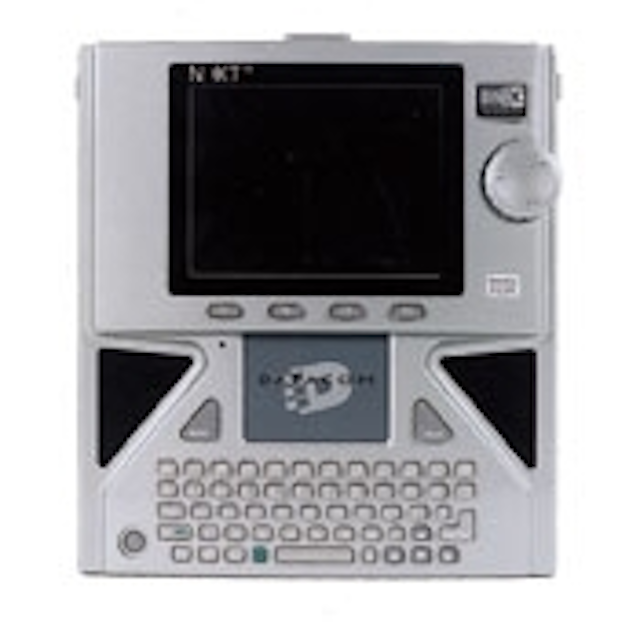 Click here to enlarge image
The N XT modular network test platform uses the Windows CE Operating System and has a built-in Type II PCMCIA slot, which supports unlimited flash memory, modem communications, and Ethernet attachment. The platform features an expandable design, which gives the user flexibility to perform a multitude of tests spanning LAN/WAN/telco through Xpand modular technology. Xpand modules plug directly into the N XT platform. The X.A.C.T. module is used for fiber-optic verification and Category 6 certification while the XAMINE module does network diagnostics and analysis. The N XT Network Test Tablet, Xpand modules, and XAMINE diagnostic analyzer are priced at $2,295, $6,600, and $1,495, respectively.
DATACOM TEXTRON
EVERETT, WA
Surge protector
The Powermax 8 Tel surge protector safeguards a computer system with a modem or other telephone line. The protector's joule technology can handle an unlimited number of surges. The company guarantees that the unit will protect equipment no matter how big the surge may be. The device either absorbs and reroutes the surge energy to ground or, in the event of a catastrophic surge over 1,020 joules, the unit disconnects the power to the equipment. The surge protector has eight protect AC outlets, all spaced to accommodate transformers for maximum flexibility. Four outlets are always on and four are switched. It comes with EMI/RFI noise filtration and a diagnostic light to indicate proper grounding. The unit is priced at $34.95.
PANAMAX
SAN RAFAEL, CA
Cable ties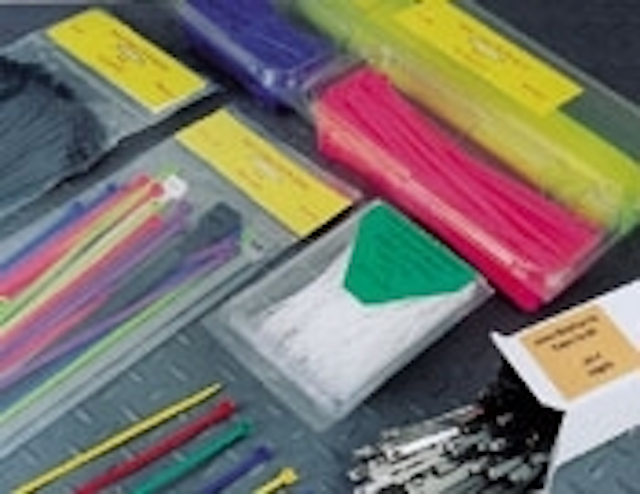 Click here to enlarge image
Cable ties are supplied in a variety of styles that can be packaged to meet specific assembly, inventory control, distributor, and point-of-sale requirements. Featuring custom-imprinted cable ties and different mounting heads, packaging alternatives include plastic kits, polybags with printed headers, labeled boxes, and bulk. Custom-packaged cable ties feature Type 66 Nylon in natural, bright fluorescent colors and black UV-resistant; stainless steel for corrosive environments; releasable ties for repeated opening and closing; and soft monofilament fabric for fiber optics.
NELCO PRODUCTS INC.
PEMBROKE, MA
Cable-insulation system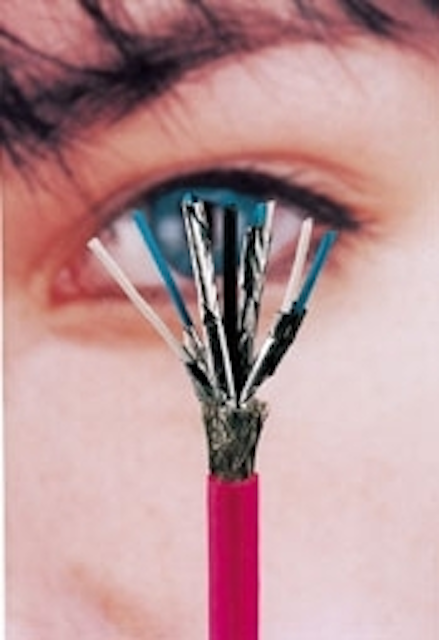 Click here to enlarge image
The Cell-Tek insulation system permits the manufacture of cables with extremely large, open eye patterns, providing transmission lines with digital bandwidth input/output >2.5 Gbits/sec over 50 ft. Featuring a uniform and dispersed cell structure that is robust enough to be used in multiple pairs within a cable without closing the eye, this insulation provides internal pair skew <1 psec/ft and pair-to-pair skew <5 psec/ft. A wide range of communications cables that are EMI/EMC shielded and exhibit >-80 dB from 0 to 1 GHz is offered.
MONTROSE/CDT
AUBURN, MA
Cabinet racks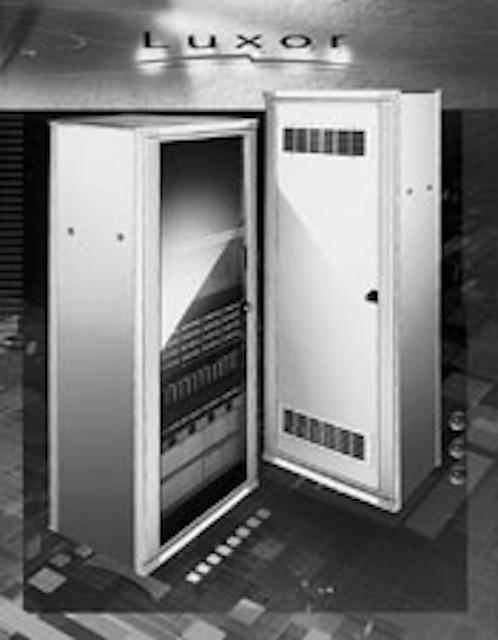 Click here to enlarge image
The Luxor series of cabinet racks comes in two styles, each offering high-tech features to meet specific enclosure requirements. The racks meet EIA-310 and IEC-297 standards and are available in a variety of sizes and configurations. All models have fully adjustable, extruded aluminum panel-mounting rails, internal cable-management bars, and gasketed doors. Some models have acrylic front doors for instant monitoring of internal components, while others have extra-wide cabinets to allow for additional cable access. All models are shipped fully assembled. Prices start at $855.85 per unit, with volume discounts upon request.
BUD INDUSTRIES INC.
WILLOUGHBY, OH
MT-RJ fiber-optic adapters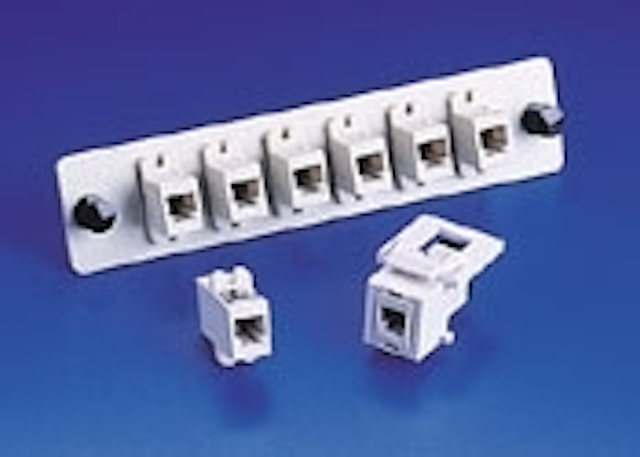 Click here to enlarge image
Singlemode and multimode MT-RJ fiber-optic adapters provide twice the density of SC fiber adapters, accommodating 24 duplex fiber connectors in the same amount of space occupied by 12 SC fiber ports. The MT-RJ adapter family consists of three packages: an individual adapter, an adapter in a keystone package, and a six-pack modular panel. The keystone package adapters fit into modular network patch panels and faceplates. The six-pack modular panel is used in wall- or rack-mount fiber enclosures. The devices feature a self-latching mechanism similar to that found on standard copper RJ adapters and connectors. With typical insertion loss of <0.3 dB, these adapters are suitable for fiber-optic networks and fiber-to-the-desk applications.
KRONE INC.
ENGLEWOOD, CO
FAQs series
Frequently Asked Questions about Residential/SoHo Structured Cabling authored by Rick Hoelzel, Ortronics In-house product specialist, provides consumers, installers, contractors, and builders with a better understanding of the technology available today. The questions address several topics, including voice, data, video, audio, and installation. Each month, a new edition will be available and feature more questions and answers for those seeking information about residential/SoHo structured cabling.
ORTRONICS INC.
NEW LONDON, CT
Surface raceway
The MediaTrak 10 nonmetallic surface raceway has three channels suitable for the simultaneous installation of both electrical and data-communications cabling. For data cabling, the unit accommodates up to 84 Category 5E cables while maintaining cable-fill requirements. The raceway features fittings that have 11/4-inch minimum bend radius. One-, two-, and three-gang boxes are available and maintain data and electrical separation. The boxes also maintain a traditional vertical orientation when the raceway is installed horizontally. The tamper-resistant unit is UL-listed for use up to 600 V.
HUBBELL PREMISE WIRING
STONINGTON, CT
Wire-management solution
The SL100 Series slotted duct organizes cable within communications closets and wiring panels as well as other applications. Available in gray and black, the device is made of a lightweight, rugged PVC material that meets UL flammability requirements. Side tabs, which route cable and wires out from the duct, have rounded edges to minimize abrasion. The duct and cover are flush to each other, allowing the ducts to run side by side with no gap between them. Slotted duct comes in sizes ranging from 1x1 inch to 4x5 inches.
WIREMOLD CO.
WEST HARTFORD, CT
By the Book
MMTA annual telecommunications review and forecast published
One of the most useful and targeted publications that crosses my desk each year is the MultiMedia Telecommunications Market Review and Forecast, published by the Telecommunications Industry Association and its subsidiary, MultiMedia Telecommunications Association (TIA/MMTA-Arlington, VA).
This year's volume includes a summary of technical, economic, and public-policy activities during the preceding year, followed by extensive coverage of network services (such as local-exchange services and public pay phones) and technological solutions (such as Centrex and frame relay). Separate coverage is given to mobile and wireless communications, including cellular, personal communication services, and paging and messaging. Shorter chapters also deal with collaborative technologies like videoconferencing and computer-telephone integration.
The volume concludes with a look at international markets, including North American markets other than the United States, Eastern and Western Europe, Latin America, and Asia/Pacific (with special emphasis on the Asian economic crisis and its impact on the telecommunications market).
For more information, contact the TIA/MMTA at www.tia.eia.org.