Scripps lays out a healthy network infrastructure
A well-designed combo of fiber-optic and copper cabling balances performance and cost.
Jun 1st, 2000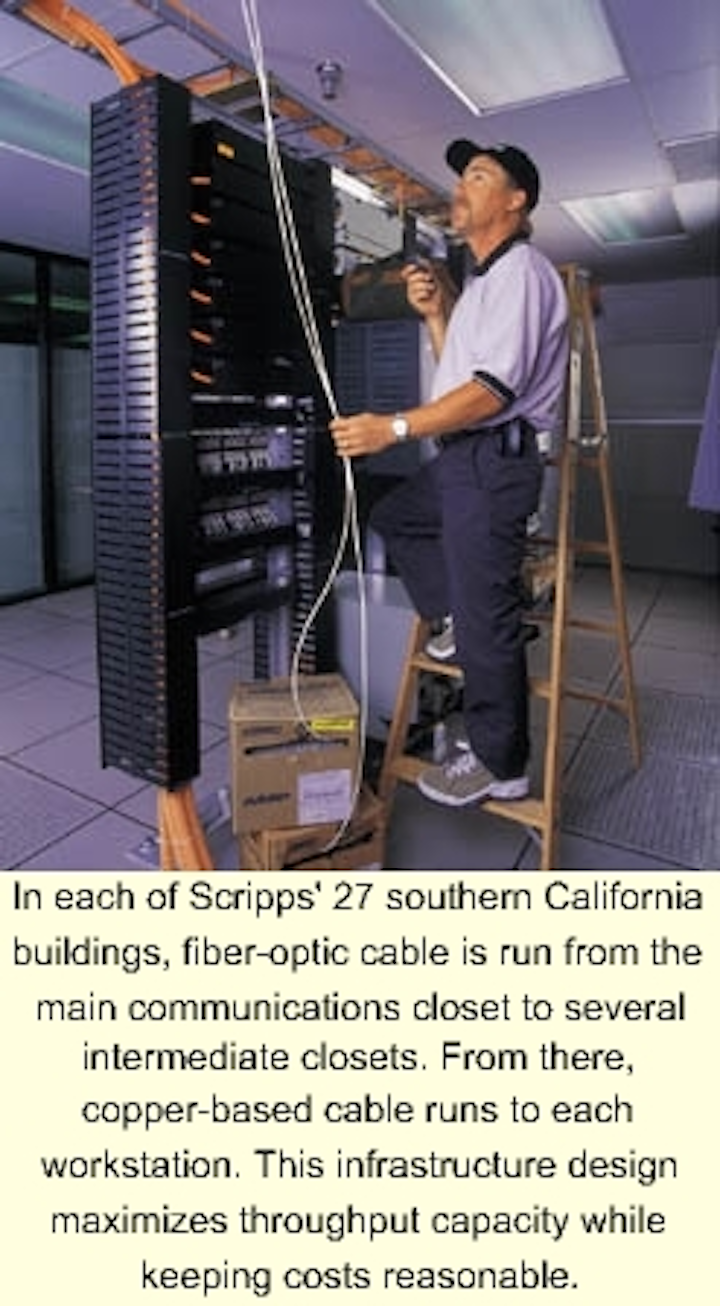 Gary Eifert / Ficom Inc.
A well-designed combo of fiber-optic and copper cabling balances performance and cost.
Like hospitals and other healthcare organizations across the country, Scripps Health Care has undergone many changes, as medicine has become increasingly technologically oriented over the past two decades. Recently, the San Diego-based health network began a process that will ensure it is ready for the new technologies of this century. Scripps is rewiring its entire telecommunications and data-networking cabling infrastructure for its nine-campus, 27-building network of hospitals and care facilities. Slated for completion in September, the project is one of the largest cabling installations in southern California.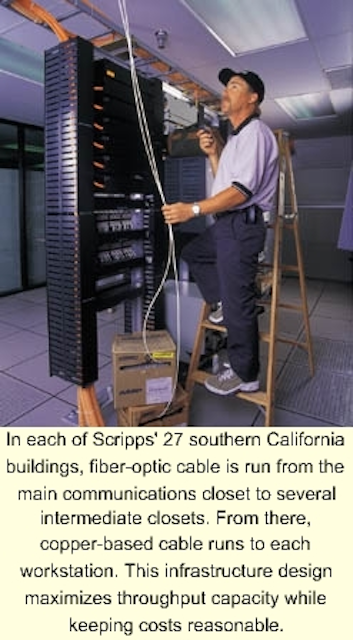 In each of Scripps' 27 southern California buildings, fiber-optic cable is run from the main communications closet to several intermediate closets. From there, copper-based cable runs to each workstation. This infrastructure design maximizes throughput capacity while keeping costs reasonable.
Click here to enlarge image
Scripps has been a provider of healthcare in southern California since the 1920s and has grown into the largest group of hospitals and care facilities in the San Diego area. A not- for-profit, community-based healthcare delivery network, Scripps comprises more than 2,000 affiliated physicians, six acute-care and two convalescent hospitals, numerous outpatient facilities, home healthcare, and associated support services. Over the past few years, hospital management and staff began to realize what many organizations in the high-technology sector learned long ago: Operating sophisticated computer and communications systems requires significant bandwidth.
With magnetic resonance imaging (MRI), computer tomography (commonly called CAT scans), and other computer-aided diagnostic tools and treatments playing an increasingly important role in the organization's day-to-day operations, Scripps doctors, nurses, and technicians were finding their network infrastructure simply could not handle the load.
Needs identified
Ron Kelley, Scripps' director of information services, describes the situation: "The healthcare industry as a whole is becoming more and more complex. Like hospitals everywhere, we maintain lots of bandwidth-intensive systems that need a state-of-the-art network cabling infrastructure in order to perform to optimum capacity. Our previous infrastructure had been installed in bits and pieces as needed over the years. It was a mixture of copper-cable and fiber systems from several different cable manufacturers, and in total, only 15% to 20% of our entire campus was wired."
As Scripps began to formulate plans to upgrade its cabling infrastructure, management placed an emphasis on ensuring high-capacity functionality for the long term, but doing so in the most cost-efficient manner possible. In addition, the healthcare network was looking to provide adequate bandwidth for its administrative offices and educational services as well as core medical-service operations.
"We wanted assurances that the performance capabilities of our new cabling system would support Gigabit Ethernet as a future protocol," Kelley says. "We not only wanted our users to be able to move X-ray images online in real time, but also to be able to implement multimedia for videoconference and educational purposes."
Following an historical pattern
For the uninitiated, the world of network-infrastructure cabling can be quite confusing. In the days before computer networks, basic untwisted-pair copper cable was the norm for transmitting analog voice traffic. For a business operating a new office and installing a telephone system, Category 1 copper cable was the natural choice. But with the explosion in local-area-network (LAN) computing in the 1980s and 1990s, cabling has become a far more complex issue. The enormous expansion of online activity, advanced digital telecommunications, and high-bandwidth network applications made possible by the Internet has complicated the picture even more.
Corporations, universities, and organizations like Scripps now must choose between cabling infrastructures based on varying grades of high-capacity copper or fiber optics. The short argument is that fiber offers the highest capacity but is expensive, while copper is nearly as good but costs less. Increasingly, network operators are installing hybrid copper/fiber systems that exploit the advantages of both, and that is exactly the route that Scripps chose. The organization opted for an Asynchronous Transfer Mode (ATM) fiber-optic backbone-the main connection that runs vertically between floors of buildings-within each building on its nine campuses and ran Category 5E copper-based cable to individual workstations.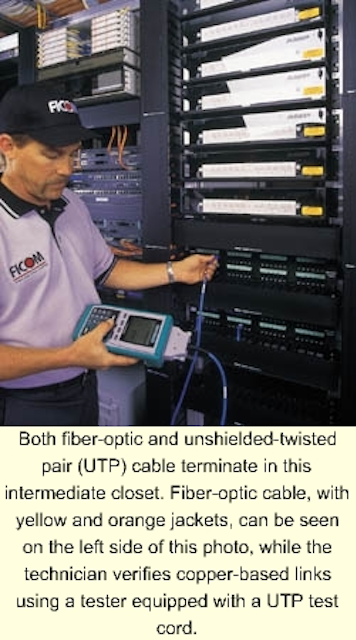 Both fiber-optic and unshielded-twisted pair (UTP) cable terminate in this intermediate closet. Fiber-optic cable, with yellow and orange jackets, can be seen on the left side of this photo, while the technician verifies copper-based links using a tester equipped with a UTP test cord.
Click here to enlarge image
Scripps contracted with Ficom Corp. (Escondido, CA) to design and implement its cabling infrastructure. Founded in 1984, Ficom has nationwide experience designing and installing cabling systems for healthcare organizations. "We anticipate installing more than 6 million ft of Category 5E copper cable and more than 50,000 ft of fiber cable, all of it manufactured by AMP," notes James Rex, president and chief operating officer of Ficom. AMP (Harrisburg, PA) manufactures complete copper and fiber-optic cabling systems, including cable and connecting hardware. "We're working closely with the facilities and IS [information-systems] divisions at Scripps to coordinate an effective and efficient design and installation process," Rex continues. "Once complete, this fiber/copper infrastructure will provide Scripps with the high-level performance they need to run all their systems, from MRIs to videoconferencing."
The Scripps installation is an enormous undertaking, encompassing six acute-care hospitals, two convalescent hospitals, and 19 medical-services/office buildings spread over a 25-mile radius. Ficom is installing a fiber-optic backbone that will run from the main communications closet in each building to a total of 127 intermediate closets. By bringing high-capacity fiber to multiple points within each building, Scripps can take full advantage of the Category 5E cabling's transmission capacity. In short, Scripps gets nearly all the capacity of fiber but at a lower cost.
Design with performance in mind
"We looked at several options in developing the most appropriate cabling architecture for Scripps," Ficom's Rex says. "Running fiber to the desk wasn't going to provide the kind of increase in bandwidth over copper that would have made a big difference for their applications. But bringing it into the buildings as the backbone and running it to intermediate closets did make sense, performance-wise and economically. In a head-to-head cost analysis between copper and fiber, the central issue often comes down to switching equipment. Fiber-switching equipment is far more expensive than that for copper. So for a huge complex such as Scripps that would require hundreds of switches, an all-fiber installation simply doesn't make sense."
In effect, Scripps is creating a fiber network that links every one of its offices and employees in the San Diego area. All nine campuses are linked to each other via an OC-3 155-Mbit/sec connection provided by Pacific Bell-a carrying capacity equivalent to 2,016 simultaneous telephone conversations.
AMP manufactured the fiber-optic and copper cabling used in the Scripps installation. Scripps chose AMP's Netconnect Enhanced Cate-gory 5 (Category 5E) copper-based cable, which exceeds the Category 5E specifications for carrying capacity. "AMP has continually developed copper and fiber products that push the bandwidth envelope," notes Rex. "The copper cable used in the Scripps implementation recently received independent recognition from the Tele-communications Industry Association [Arlington, VA] for meeting 'additional transmission performance specifications' beyond Category 5. With this type cable, Scripps will be able to significantly increase its network traffic over its present capacity."
"Once our infrastructure is complete, we expect to be the first healthcare facility in the country to allow physicians to consult with one another across a 25-mile radius to other facilities within our network," says Scripps' Kelley. "Because it will support Gigabit Ethernet, the network will let doctors in separate hospitals view the same MRI or CAT scan online and in real time. The entire staff will be able to consult with each other throughout the Scripps campus and its satellite locations and eventually with facilities in other cities."
The parties involved anticipate that at completion, the cabling infrastructure will comprise more than 7,700 outlets, each of which contains four or more cable connections. That's enough to support more than 30,000 individual computer users. Cisco Systems (San Jose, CA) hardware handles all of the system's traffic switching and routing. Rex concludes, "We anticipate that performance in the new system will improve 100-fold over the previous cabling system."
Gary Eifert is senior vice president of Ficom Corp. (Escondido, CA, www.ficom.com), a provider of voice and data cabling-installation services.