New Products
The 175-page Sound and Communications Systems catalog contains product information and a detailed glossary of terms
Jun 1st, 2000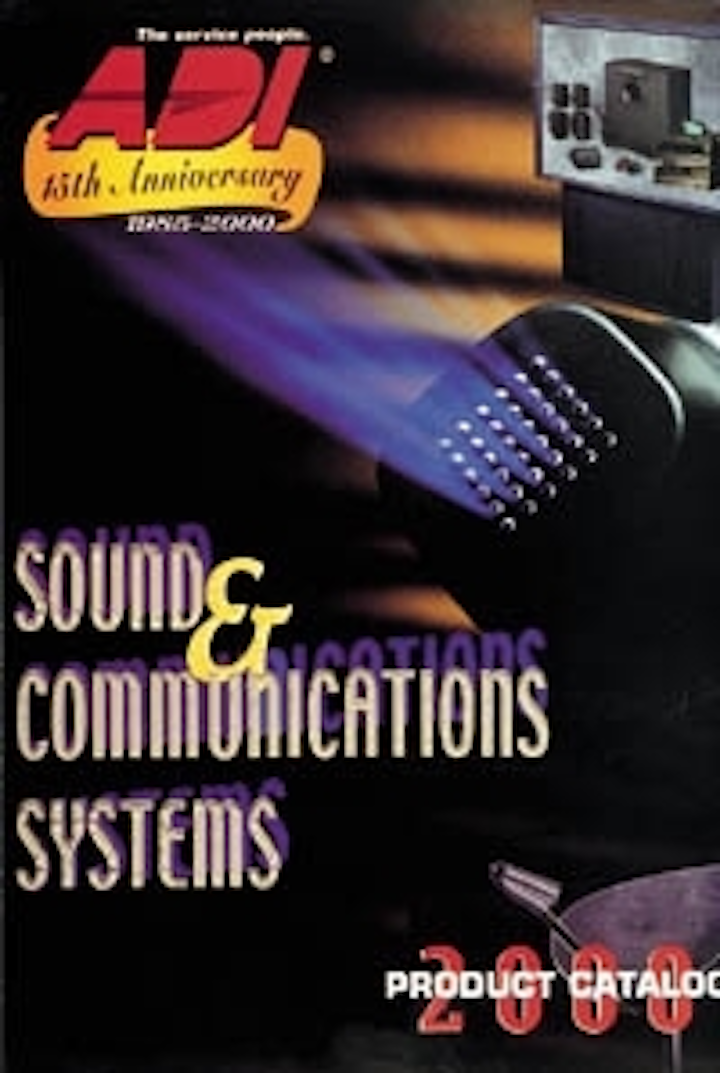 Compiled by Marcy Koff
Sound and communications catalog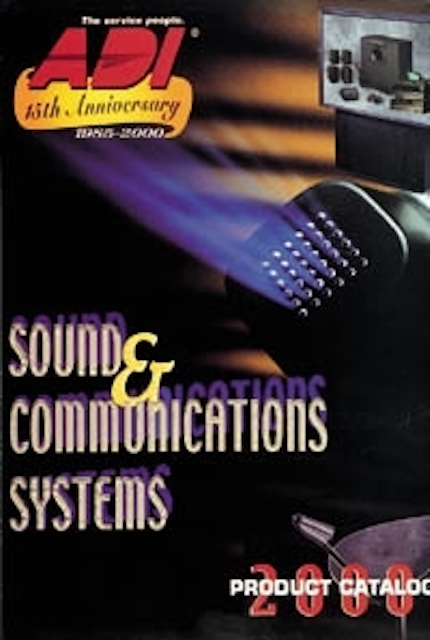 Click here to enlarge image
The 175-page Sound and Communications Systems catalog contains product information and a detailed glossary of terms. It is backed by more than 50 vendors and covers home networking and telephone systems.
ADI
MELVILLE, NY
Finger duct panel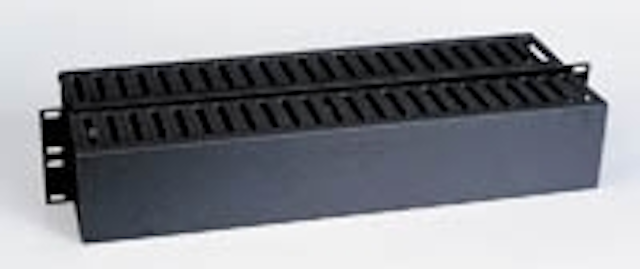 Click here to enlarge image
The Finger Duct Panel is available in front side cable-management configurations of either 1 RMS, 13/4 inches or 2 RMS, 31/2 inches; or in combined front and rear side cable-management configurations of 1 RMS or 2 RMS. The panels are compatible with all of the company's racks, wall-mount racks, and wall-mount brackets. Slotted ducts allow horizontally routed cable and patch cords to be routed or placed vertically to designated ports along the width of the rack. Each panel meets EIA-310D spacing requirements and includes a cover to conceal cables, as well as mounting hardware.
INTERNATIONAL CONNECTORS
AND CABLE CORP.
CERRITOS, CA
Redundancy manager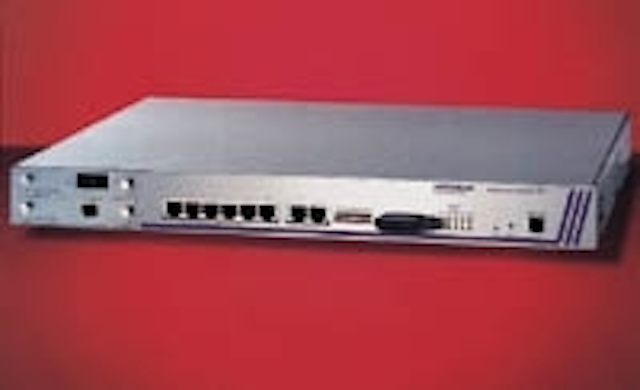 Click here to enlarge image
The RM-1 redundancy manager is designed for Ethernet redundant ring systems using the company's rail hubs and switches. The device automatically supervises the ring structure and detects and bypasses network faults within 300 msec of their occurrence. It provides eight twisted-pair ports on 10Base-T with shielded RJ-45 connectors to connect operator stations, input/output blocks, or other twisted-pair inputs, plus two free slots for 100-Mbit modules or fiber-optic links. If 100-Mbit modules are used, the user can select 100Base-TX or 100Base-FX. The redundancy manager is built on a front-accessible 19-inch chassis, suitable for control rooms or standard rackmounts. Pricing starts at $3,350.
HIRSCHMANN INC.
PINE BROOK, NJ
Foil cable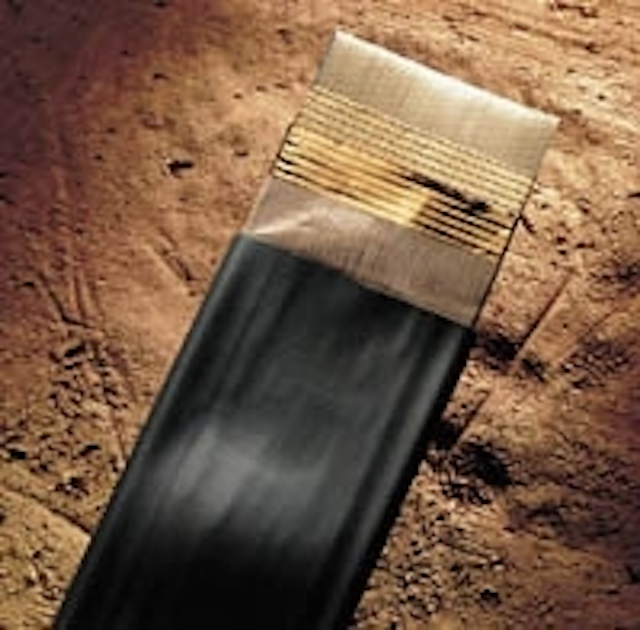 Click here to enlarge image
Low Skew Pleated Foil Cable (PFC) is suitable for connection with the company's Mini Delta Ribbon connector to form a complete assembly for applications that require shielding. The cable has a skew of less than 100 psec/meter and meets requirements for accurate high-speed data transfer in the telecommunications and data-communications markets, according to company claims. Applications include high-performance computers, workstations, servers and networks, digital video and graphics equipment, and telecommunications switching equipment. The design of the PFC enables simultaneous mass termination of up to 48 signals with the same skew specification over all signals.
3M INTERCONNECT SOLUTIONS DIV.
AUSTIN, TX
Test-measurement catalog
Click here to enlarge image
A 38-page test-equipment catalog describes the company's digital multimeters, clamp meters, specialty test equipment, voltage testers, cabling locating testers, and related accessories. The publication contains in-depth product overviews as well as product-selection guides. Highlights include the 360 series Test-Pro Contractor Multimeters.
IDEAL INDUSTRIES INC.
SYCAMORE, IL
Distance "extender"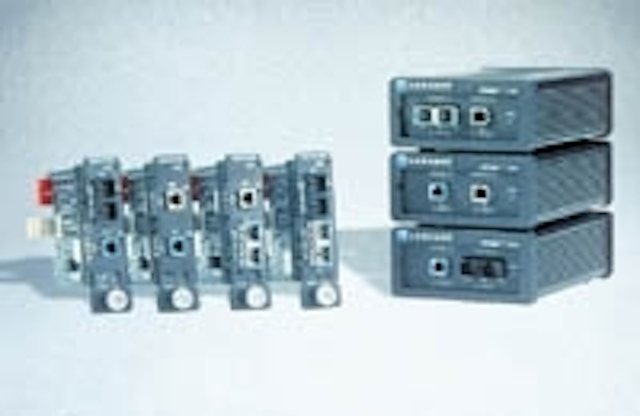 Click here to enlarge image
The AutoTwister provides extended distance capabilities to existing 10-Mbit/sec Ethernet networks. By offering fiber- optic connectivity solutions and 10/100 rate adaption in a single unit, the device expands existing copper-based networks up to 100 km over fiber and connects disparate 10-Mbit/sec local area networks over long distances. Available as a standalone unit or an intelligent module for the Intelligent 7500 chassis, the unit has a link-loss-return feature that reduces troubleshooting time by notifying a management station in case of fiber failure. It offers shared network segment isolation, auto-negotiation of full- and half-duplex configurations, and a lifetime warranty.
LANCAST INC.
NASHUA, NH
Tone generator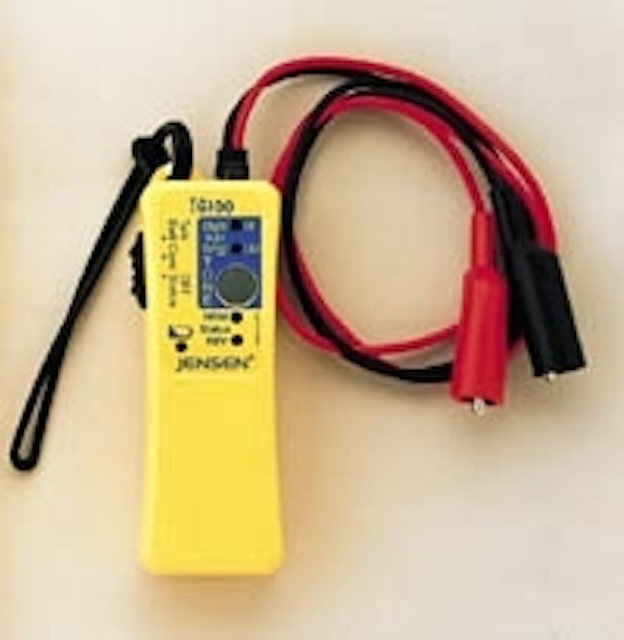 Click here to enlarge image
The TG-100 tone generator outputs a constant tone amplitude over the life of the battery and retains distant tracing qualities. The two types of tones can be set to normal and half amplitude with the switch on the front. It provides 6 V into 600 ohms with 9 V of talk battery to power test sets on dead lines. Tone can be injected while the talk battery is on, allowing test sets without monitor mode to pick up the tone.
JENSEN TOOLS INC.
PHOENIX
Insulation displacement connector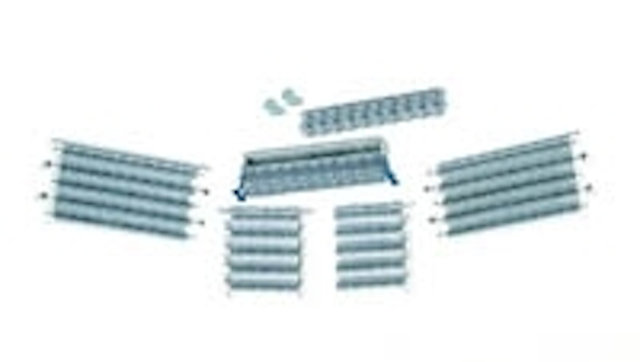 Click here to enlarge image
The Mini-Rocker insulation displacement connector (IDC) requires no tools, facilitating wire terminations. Current applications include crossconnect, building entrance terminal, and network interfaces. Available in 10-, 25-, and 50-pair configurations, the IDC can be ordered with numerous accessories to meet specific end-user requirements. The 10-pair connector modules feature a back-to-back field-termination design, permitting input and output terminations to be completed in the field. The 25-pair device has a modular block design, allowing modules to be fitted together for larger-pair-count configurations. The 50-pair block is a complete block assembly with integral fanning strips.
CHANNELL
TEMECULA, CA
Cable stripper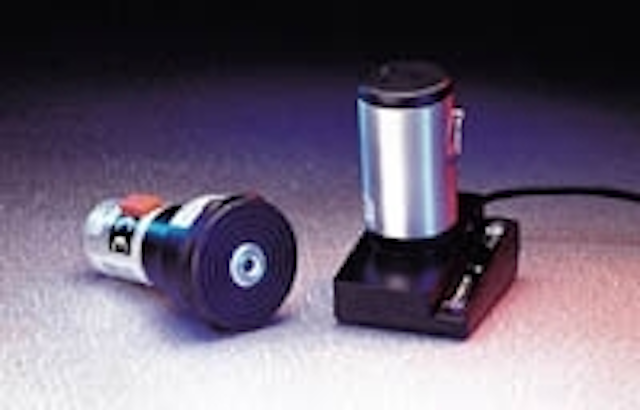 Click here to enlarge image
The BWCC-NSA battery charger/conditioner enhancement feature for a cable stripper enables the battery to be discharged and recharged in 11/2 hours for improved efficiency. The battery charger/conditioner sells for $275, while the complete cable-stripping tool with cutterhead is priced at $625.
TROMPETER ELECTRONICS
WESTLAKE VILLAGE, CA
Cover plate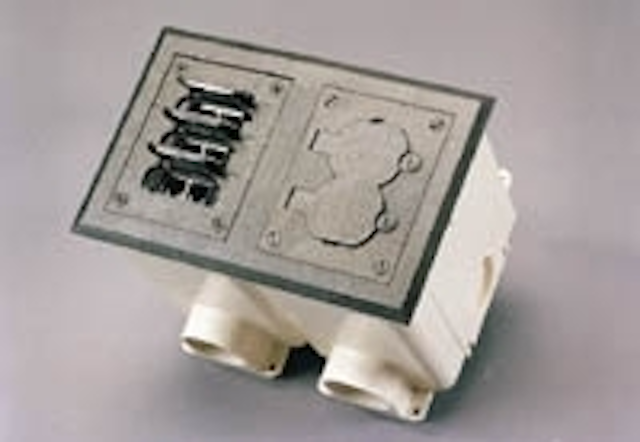 Click here to enlarge image
The nonmetallic floor-box cover plate accepts up to six modular communication activation inserts. The Activate cover has three flip lids with gaskets that maintain scrub water approval for tile and carpet installation. The cover is designed for use with Walker Modulink, Omnibox, and wood floor boxes, and Walkerduct Pro Series underfloor duct activations. The device meets multimedia requirements through the full range of Activate modular connectivity inserts for unshielded twisted-pair, fiber-optic, coaxial cable, and audio applications. When inserts are not in use, the lids flip down for a flush appearance.
WIREMOLD CO.
BRISTOL, CT
Cable-identification system
The C-ID100 cable-identification system is used to select single and multicore cables from a cable bundle or cable strand. Whether the cables are a telephone pair, inside-plant lines, jacketed or unjacketed lines, live primary lines, multicore cables, or buried outside-plant, the system ensures accurate identification, according to company claims. The unit is compact and portable for field use. The transmitter can directly connect to a live circuit up to 400 V RMS or inductively coupled to a line. The lightweight handheld receiver detects signals from a line via a coupler.
RYCOM INSTRUMENTS Inc.
Raytown, MO
Cat 6 data cable
Category 6 data cable contains a small flexible neoprene spacer that guarantees separation of the pairs and minimizes crosstalk. The space design has a diameter of less than 1/16 of an inch that cuts away during installation. Tested up to 600 MHz, the cable meets proposed Category 6, Draft 3, standards of the TIA. Standard jacket colors are blue and gray but other colors are available with minimum runs. Twisted-pairs come standard in 23-gauge solid bare copper.
COLEMAN CABLE SYSTEMS
WAUKEGAN, IL
Station and crossconnnect ID software
LabelMo designation software, a Windows 95/98/NT-compatible software program, is designed for station and crossconnect identification of the telecommunications infrastructure. The software works with laser-fed color- coded perforated designation labels for workstation outlets, patch panels, 100 crossconnects, and interface cords. When users enter the code range they would like to print, the unit automatically creates labels for workstation ports, as well as for the corresponding front and rear of patch-panel ports, 110 crossconnects, and interface cords.
ORTRONICS INC.
NEW LONDON, CT
Cable identifier
Click here to enlarge image
The Datalite cable identifier identifies cables in new installations, troubleshoots mislabeled networks, and replaces the tone generator for cable mapping. From a workstation outlet, the handheld power unit sends an electronic signal to the patch panel. The light-emitting-diode (LED) modules, plugged into the patch panel, illuminate to indicate where the cable is terminated. Power units can be set to illuminate LED modules as either red or green, allowing installers to use two units simultaneously. The device works on any communications wiring scheme. The identifier and LED modules are available separately or in kits containing one or two Datalite power units and up to 300 modules.
IDEAL INDUSTRIES INC.
SYCAMORE, IL
Clips for data, communications cable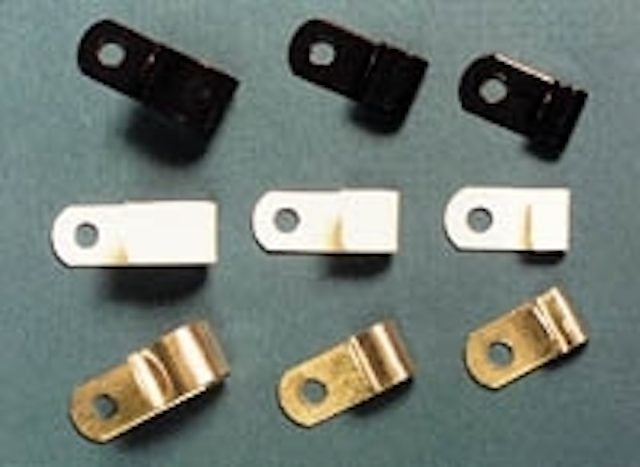 Click here to enlarge image
The EZ Clips are suitable for use with data and communications cables. Constructed from aluminum alloy, the clips mold around cable with the push of a screwdriver blade, eliminating the possibility of damage to cable from hammers or staple guns. The reusable clips are available in 1/8-, 1/4-, and 1/2-inch-diameter sizes and resist rust and UV rays.
GARDNER BENDER
MILWAUKEE, WI
Loopback test assemblies based on LC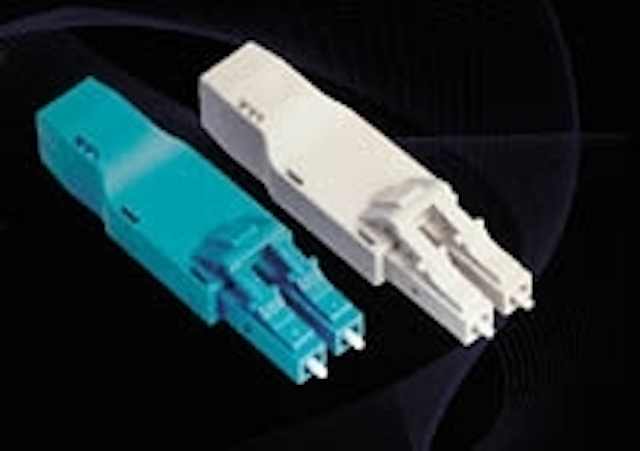 Click here to enlarge image
Loopback test assemblies based on the LC interface test the transmission capability and receiver sensi tivity of network equipment. The loopback device features compact housing, which is easy to handle and does not have the external loop of fiber-optic cable typical of other loopback connectors, according to company claims. The units come in singlemode, 50/125-micron multimode, and 62.5/125-micron multimode versions.
METHODE ELECTRONICS INC.
CHICAGO
Cable-assembly guide for datacom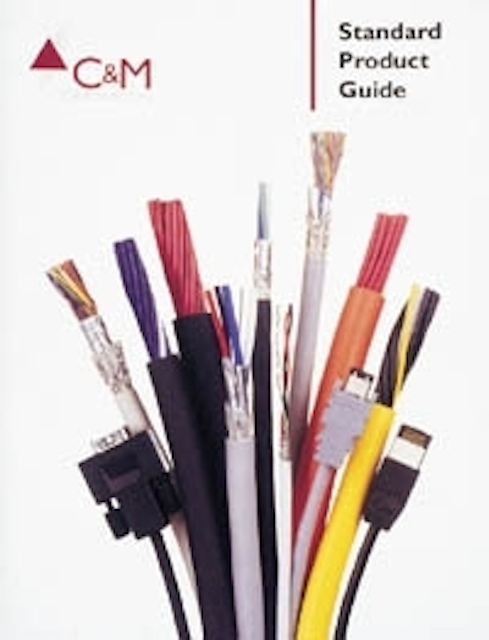 Click here to enlarge image
The 44-page Standard Product Guide features a range of cables and assemblies manufactured for the data-communications and industrial markets. The guide contains a list of standard industrial approvals, guidelines for cable installation in carrier tracks, and color-code charts to meet system requirements. Included is a glossary of cabling terms used throughout the industry. The publication contains listings of such cables and assemblies as Fibre Channel, IEEE 1394, SCSI, universal serial bus, and small-form-factor.
C&M CORP. USA
WAUREGAN, CT
By the Book
BICSI publishes dictionary
A constant problem in a new and dynamic field such as the cabling industry is that of technical nomenclature. Is it RJ-45 or 8-pin modular jack? What's the difference between hybrid and composite cable? Such issues, and many more, are addressed in the newly published BICSI Telecommunications Dictionary. The 116-page paperback, published as an adjunct to the many technical-committee activities of professional telecommunications organization BICSI (Tampa, FL), begins with an glossary, followed by a listing of acronyms, abbreviations, and units of measure. Standard cabling symbols are defined, and a helpful five-page summary chart listing applicable cabling standards is included. The volume concludes with a short bibliography and comes with a CD-ROM of its contents to facilitate searching. For more information, contact BICSI at www.bicsi.org.