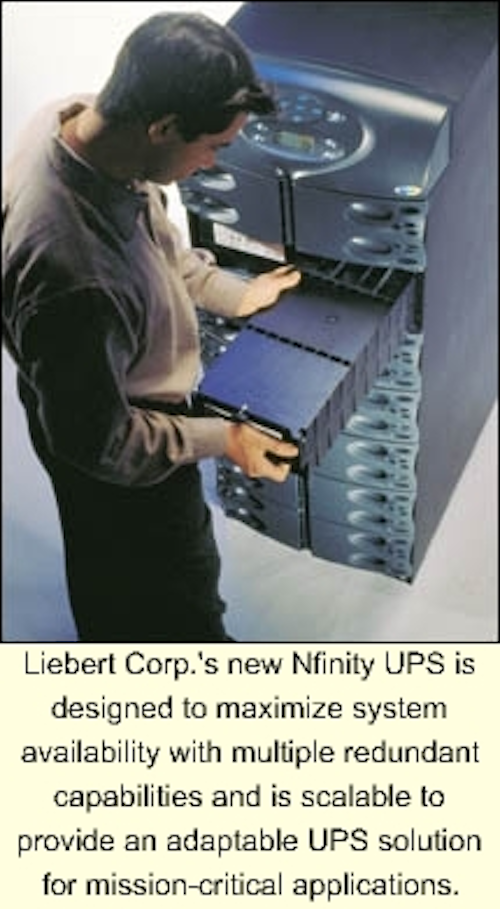 Robert Bauer / Liebert Corp.
Communications equipment demands a power-protection system that can deliver continuous performance.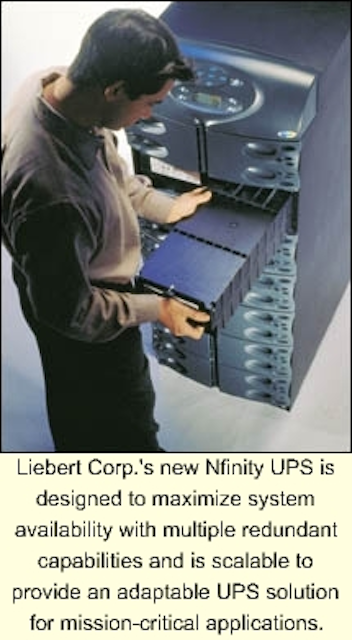 Liebert Corp.'s new Nfinity UPS is designed to maximize system availability with multiple redundant capabilities and is scalable to provide an adaptable UPS solution for mission-critical applications.
Click here to enlarge image
Demands on data and telecommunications equipment have made the "no-downtime" operating parameter a primary goal. The challenge for today's facilities manager is to develop an infrastructure that provides the old data-center safeguards, including environmental controls, power protection, cable management, and security, without the physical limitations of the data center itself.

The first concern of virtually any facilities manager is the ability to ride through power outages. But an equally important factor should be proper cooling. Excessive heat can damage or impair the operation of critical systems and peripherals, and so constant uptime cannot be achieved unless this and other environmental protection considerations are factored in.

Simply put, sensitive communications-related equipment works better in an optimal environment, which is far beyond what we'd consider the "comfort" of air-conditioning. Your equipment may not require a glass house enclosure, but it does demand an environmental protection system that will deliver you around-the-clock performance.
Using an online UPS
Today, there is a wide range of uninterruptible power supplies (UPSs) and related protection equipment for just about every application. For the increasingly mission-critical nature of most telecommunications applications, however, an online UPS should be a prime consideration. As opposed to an offline or line-interactive UPS, an online system eliminates a wider range of potential power problems, such as spikes, surges, and even those difficult-to-track harmonics common with standby generator operations.
An online UPS continually recharges the battery so if power goes down, backup is immediately available. The latest designs are available with hot-swappable batteries to ensure maximum systems availability during even routine maintenance.
Remember, too, that today's power protection extends beyond power quality to control over power quality. A UPS can play an active part in the power-management process, provided it is equipped with the appropriate connectivity and communications capabilities. Shutdown abilities can range from the ability to perform routine alerts of imminent power loss to turning off non-essential applications from a remote location, saving precious battery time for vital servers.
Different types of UPS communications are also available in a "redundant" form, such as the latest in-band/out-band redundant communications strategy. Out-of-band communications are separate from the network wire, ensuring emergency contact with administrators or the equipment manufacturer-even in the event of network failure.
Environmental factors
Sometimes, power can be perfect and the network still fails because of environmental factors. To ensure you have the right level of environmental protection, there are three factors to consider:
The physical space. What kind of access control is in place? Would it benefit from site-monitoring software that lets you oversee and control conditions remotely?
Evaluate the equipment. This involves everything from rack enclosures and locking receptacles to building firewalls that protect against hackers.
Environmental monitoring controls. There are many factors in the modern work environment to blame for network failure, including heat, humidity, and dust. You need to make sure monitors and controls are in place to accommodate all conditions.
Mean time between failures (MTBF) has become an industry-wide measurement of product reliability. Yet redundancy objectives serve as the best realistic predictor of your necessary level of availability. These objectives hold 24/7 as the operational goal. For ultracritical loads, the power system needs to be about 10 times more reliable than the load-and redundant-to avoid compromising the initial investment as well as the overall business plan. At its most basic, a redundant configuration uses two independent UPS power distribution systems with dual-input load equipment as redundant AC power is provided up to and inside the load equipment.
Total systems approach
This protection strategy eliminates as many single points of failure as possible, all the way up to the load equipment's input terminals. A number of redundant power distribution configurations have been devised specifically for telecommunications. For today's large convergent telecommunications facilities-that is, those with large, high-availability information-technology equipment-dual redundant UPS systems with redundant AC power distribution are often best.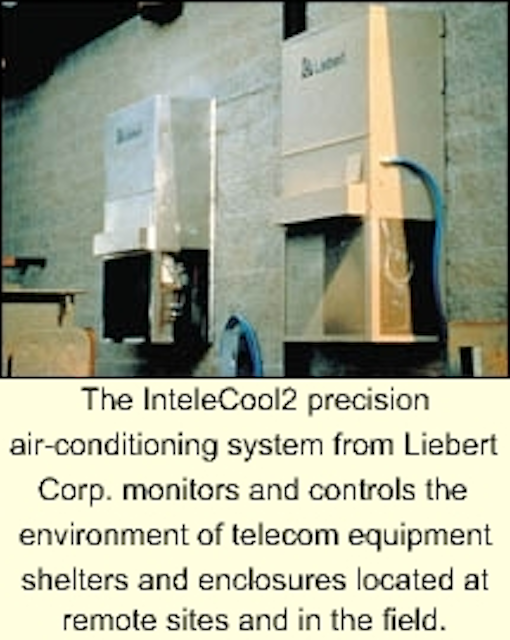 The InteleCool2 precision air-conditioning system from Liebert Corp. monitors and controls the environment of telecom equipment shelters and enclosures located at remote sites and in the field.
Click here to enlarge image
Converging communications networks often require telecommunications facilities managers to accommodate equipment that requires an AC power source. Yet accommodating these new hybrid systems isn't as simple as placing any AC UPS into an existing setup. It is important that the AC UPS provide power as reliably as the associated DC power system.

To provide a high level of customer service, many mission-critical enterprise systems must be able to communicate information not just within a single facility, but across the online business enterprise anywhere in the world. So, a private telephone system in an office in Toledo, OH, or Paris is just as vital as the Internet service provider center on the 80th floor of the World Trade Center, even though the application requirements may vary greatly.
Various support services can help specify and maintain a consistently high level of availability. The specific services you implement also will depend on the requirements of your industry and application. In general, a telecommunications facility manager must be a savvy planner to prevent the loss of service, performance, and investments in technology.
A proactive maintenance program is critical to the success of this role and should ensure 24/7 oversight as well as provide critical after-sale training, maintenance, repair, and analysis. Using outside or contract services can help ensure this demanding level of support.
For protection to be truly without fail, you must move beyond the reliability of any single power-protection device to developing a high availability system. With a solution in place that addresses power, air, and servicing, you can be assured of 24/7. For the increasingly mission-critical telecom applications, these are benefits that reach all the way to the bottom line.
Robert Bauer is president (Americas) of Liebert Corp. (Columbus, OH), a manufacturer of systems that protect sensitive electronic, mission-critical systems. You can reach Liebert at tel: (800) 877-9222, www.liebert.com.