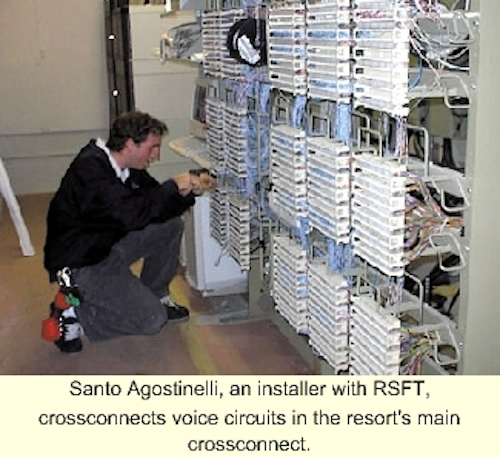 Stuart Froman / Rancho Santa Fe Technology Inc.
Situated on a lush island in the heart of San Diego's Mission Bay, Paradise Point Resort is an ideal location for a personal getaway or a fabulous business affair. The resort features 138 small, single-story buildings that house 462 guest rooms, administrative and management offices, restaurants, retail space, a fitness center, and 32,000 square feet of flexible convention and meeting space, including eight executive meeting rooms and two large multipurpose ballrooms. Located on 45 acres across from the world-famous Sea World Adventure Park, the property also features six lighted tennis courts, six swimming pools, and an 18-hole putting golf course.
When the 38-year-old facility was recently purchased by La Salle Hotel Properties of Washington, DC, the new owners and the new property manager, Kirkland, WA-based Noble House Hotels & Resorts, saw the need for a major renovation. A critical part of the renovation was the implementation of a new voice and data structured cabling system.
"Our guests require 21st century services," says Tom Vincent, general manager of the resort, "so we purchased a new phone system from NEC and intend to deliver high-speed data services. To do this, we needed to lay new cabling to and within every building on the resort."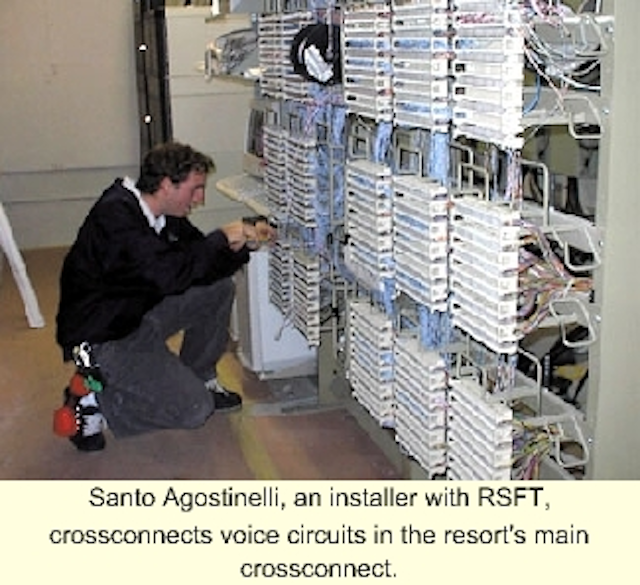 Santo Agostinelli, an installer with RSFT, crossconnects voice circuits in the resort's main crossconnect.
Click here to enlarge image
Paradise Point worked with the consulting firm of Consolidated Building Systems to issue a request for proposals (RFPs). "We knew there would be serious challenges on this project," says Vincent. "The buildings were very old and we wanted to create a modern facility that would have flexibility to provide sufficient functionality for the long term. At the same time, we planned to keep the resort open throughout the project, which meant putting it on a fast track and finding a vendor that could meet deadlines while being flexible and sensitive enough to work around the needs of our guests and staff."
Among the recommended firms was San Diego-based regional network infrastructure vendor Rancho Santa Fe Technology (RSFT). Founded in 1991, RSFT has a client list that includes manufacturing, healthcare, high-technology, telecommunications, finance, and government customers.
After evaluating the RFP responses and conducting interviews with the top candidates, Paradise Point selected RSFT to plan and execute the project. "Their areas of expertise and pricing structure fit our needs exactly, and we confirmed the company's reputation by checking references," explains Vincent. "We felt confident this was a well-rounded company that had the knowledge to deal with the complexities of older buildings, the experience to adapt to unexpected challenges, and the compassion to deal appropriately with our guests and staff."
As soon as RSFT was awarded the Paradise Point contract, Trestand Conrique, RSFT's president and director of the Communications Infrastructure Strategic Business Unit, put his team into high gear. "To deal with the tight deadlines and work around the resort's guests and staff, we needed an extremely experienced, sensitive, and attentive project manager, so we assigned Keith Dehne. In addition to 15 years' experience completing numerous standards-compliant structured cabling installs and meeting every type of structured cabling implementation challenge, Keith is an excellent listener who goes out of his way to understand and satisfy a client's needs," says Conrique.
Dehne's strategy took into account the client's special requirements. "For Paradise Point, we obviously needed to balance the accelerated schedule against the need not to disrupt the daily activity of hundreds of people working and staying at the resort," notes Dehne. "The material requirements were not off-the-shelf, and we had to look carefully at the material ordering and delivery time frames. We were also very creative in scheduling our installation activities, often working in little blocks of time between checkout and check-in. We had to keep our work areas, surrounding grounds, and even our personal appearance extremely neat. We also had to time everything perfectly to make sure that the cable was installed and tested in time to have a single, immediate cutover that would not affect the guests."
The 45-acre Paradise Point resort is built on sand, not bedrock, which created special challenges for the outside-plant portion of the network upgrade.
Click here to enlarge image
The installation for Paradise Point was scheduled in two phases. The first phase (a $465,000-plus installation), which began in December 1998 and was completed in April 1999, included voice and data cabling for all administration buildings, restaurants, multifunction rooms, meeting rooms; voice cabling for all 462 guest rooms; and data cabling for 185 guest rooms.
Phase II, scheduled for completion in April 2000, includes data cabling for the remaining 277 guest rooms. In broad strokes, the plan called for new voice trunks and fiber to be pulled throughout the island to create the communications backbone linking all the buildings. Within the buildings, Category 3 cable will be used for the phone stations and Category 6 cable along with multimode fiber will be used for high-speed data applications.
To ensure long-term viability of the installation, RSFT also included the following:
Lightning protection: With the previous telephone system, lightning strikes-which occurred once a year, on average-would create problems that could last for months. To protect the new phone system, RSFT installed a lightning protect block on the voice trunk leading into each of the 138 buildings.
Weather-tight enclosures with power: To protect the patch panels, RSFT installed NEMA 3 weather-tight enclosures in each building. The team also installed 120-volt AC power receptacles in each enclosure to power network equipment.
TIA/EIA-607-compliant grounding: All equipment racks, cable trays, and lightning protection blocks were grounded using #6 AWG stranded-copper bonding conductor and compression connectors, in accordance with National Electrical Code and TIA/EIA-607 recommendations.
15-year warranty: RSFT offers a 15-year warranty on all products, parts, and components furnished and installed by RSFT.
In addition to the logistics of tight deadlines and careful scheduling around staff and guests, RSFT quickly faced two challenges. First, because the resort island sits on sand instead of bedrock, it was critical that the new fiber be resistant to salt water. RSFT opted for custom fiber with an indoor/outdoor saltwater-resistant jacket. Unfortunately, this fiber, made by Optical Cable Corp. (Roanoke, VA), had a lead time of more than a month. But the schedule required that the voice trunks be pulled through as soon as possible to prepare for the cutover to the new phone system. Placing the needs of the customer first, RSFT decided to pull cable through the same path twice, first the voice trunks, then the data fiber when it arrived. Though it took twice the manpower, RSFT absorbed the cost rather than delay the project.
The second challenge faced by the RSFT team was the result of some confusion over existing conduit. It had been RSFT's understanding from the RFP that every building would be prepared with conduit; however, when the project began, it became clear that several solid log walls throughout the administration building, conference rooms, fitness center, and restaurants had not been prepared with surface raceway. While Paradise Point agreed that RSFT could not absorb the approximately four weeks' worth of work that this task required, RSFT also understood that this additional work could not be allowed to extend the project timeline. To resolve this problem, RSFT immediately brought in a second project manager, Mark DeHart, to focus just on the surface-raceway installation.
DeHart, another project manager with 15 years' experience, quickly assembled a team and completed the task efficiently. "Our goal was to work as quickly as possible to prepare the walls for the cabling-installation team, but at the same time we needed to maintain the same concern for the resort's guests and staff. It really helped that the Paradise Point team was very organized and communicated well with us, making it much easier for us to resolve any problems that arose."
For example, toward the end of the project, Paradise Point requested that RSFT accelerate its project timeline to provide assistance with the cutover to the new NEC phone system and ensure it happened on time. After meeting with NEC representatives and formulating the most effective strategy, Dehne's team performed more than 700 crossconnects, including half-taps to all the guest rooms, which allowed the cutover for all 462 guest rooms to take place on one night simply by removing the half-taps. The hotel guests did not lose phone service and were never inconvenienced.
"The project managers are great listeners and very flexible," comments Katie Stenzel, the Paradise Point office manager who coordinated much of the project. "They understood that we are running a business with our own issues and challenges, and they really looked for ways to assist us. This is extremely rare. Most vendors want to do as little as possible and take the easy way out. We simply could not have finished our project on time if Rancho Santa Fe had not been willing to go the extra mile."
For Paradise Point, the structured cabling installation was a success. The resort now has an excellent new phone system and is in negotiation with a provider for a high-speed data network and a new television system. "We are able to offer our guests state-of-the-art services," says general manager Vincent. "We are prepared for the future. But it's also important to note how we got there. Rancho Santa Fe Technology really had the mindset of a partner on this project and they did everything they could, both within the original scope of the project and beyond, to ensure that deadlines were met. They really went out of their way to help us out."
Vincent was also extremely pleased with the way RSFT satisfied his original concerns about finding a contractor who could work on a major installation project while the resort was full of staff and guests. "They were always presentable in guest areas and sensitive to guest security. They kept the grounds and work areas organized and clean. Most important, they always respected our guests' rights and privileges and were flexible with our scheduling issues. For instance, if we suddenly needed to switch conference rooms and utilize one they were working in, they would simply move, without question or problems."
Too often the relationship between a client and vendor comes down to nit-picking a contract, one side trying to get the most and the other side trying to give the least-all leading to frustration and delays. That did not happen on this project. "An anecdote shows how I feel about these guys," Vincent explains. "Not long ago, I ended up on an airplane sitting beside a fellow who had the Rancho Santa Fe Technology logo on his T-shirt. I didn't know if he was a company executive or an administrative assistant, but I couldn't wait to open up and say how good I thought the company was. That's pretty rare."
Stuart Froman is technical staff writer at Rancho Santa Fe Tech nology Inc. (www.RSFT.com-San Diego).
null