TECHNOLOGY: Packaging of termination and testing equipment
Manufacturers are grouping products together to offer installers a comprehensive toolkit.
Feb 1st, 2000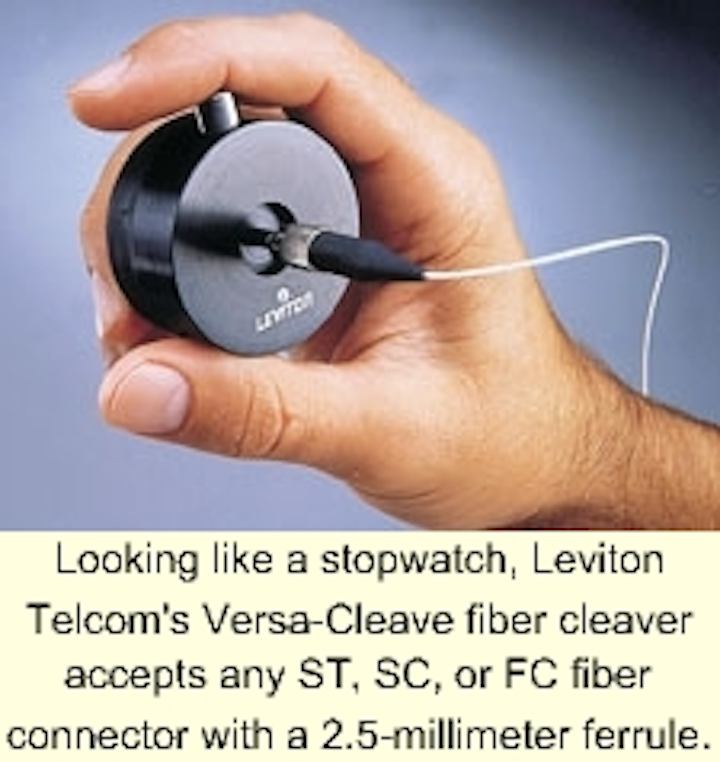 Patrick McLaughlin
The concept of speed is a common thread that traverses the full spectrum of the structured cabling industry, from the science of communications protocols to the art of cable termination. Signal transmission gets faster and faster, to the point where serious work toward the formation of a 1-billion-bit-per-second protocol currently is in progress. And much of the space in publications like this one is devoted to the technology that allows a cabling infrastructure to support such high transmission speeds. However, as high-speed protocols such as Gigabit Ethernet have emerged, the cabling industry has had to take a close look-perhaps closer than ever before-at workmanship.
And speed can be just as important a workmanship characteristic as it is a protocol characteristic. A contractor that can cut down on termination time likely will come in with a lower bid-thanks to that decreased labor cost-than slower competitors. And considering that most contracts specify that a cabling system perform to a certain standard, thereby ensuring an acceptable performance level, lower bids are popular. Therefore, it is in contractors' best interests to maintain a high level of workmanship quality while cutting down on installation time.
A possible solution, then, is for manufacturers to develop products, approaches, or strategies that allow installers to provide a quality-installed cabling system that will pass appropriate tests. Recently, makers of cable-termination equipment have made strides in providing installers with exactly that.
UTP cable termination
ICC (Cerritos, CA), for example, recently unveiled a series of tools specifically for copper-cable termination. The series includes a punchdown tool with replacement blades, a cable stripper, and a handheld termination aid. The punchdown tool was recently redesigned to fit comfortably into the operator's hand; it includes a 110-style blade and a 66-style blade. "Installers can keep the 66 blade in a storage compartment in the tool's handle," says Gordon Hara, an electrical engineer with ICC. Intended to provide a nonslip grip, the tool can be switched to either a high- or low-impact setting. Other features include a cushioned rubber top to absorb impact to the hand and reduce operator fatigue and a rotatable high/low-impact setting.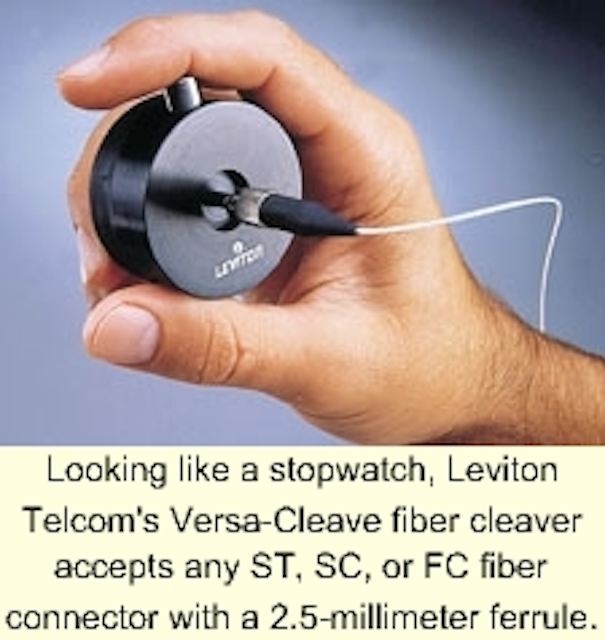 Looking like a stopwatch, Leviton Telcom's Versa-Cleave fiber cleaver accepts any ST, SC, or FC fiber connector with a 2.5-millimeter ferrule.
Click here to enlarge image
"We have offered the handheld termination aid for approximately two years now," Hara continues. "Its main function is to stabilize an 8-pin modular plug during termination." The tool fits in the installer's hand but is designed such that it can also be mounted on a table or toolbox for mass terminations.
The third piece of ICC's tool series is a multipurpose unshielded twisted-pair (UTP) cable stripper. According to the manufacturer, it will strip almost any type of round cable. It includes a tension arm, which controls the pressure of the blade penetrating the cable jacket; a stripping cavity, which accepts various size cables; and a strip-length gauge with 0.6 inch minimum of unsheathed cable. The slitting-blade slot is used to slit cable longitudinally or score the cable jacket. Users control the depth of the blade with an adjustment screw.
Cleaving optical fiber
Another new introduction, this one by Leviton Telcom (Bothell, WA), makes terminating fiber-optic cable a little easier. The Versa-Cleave, a fiber cleaver, is designed to eliminate the problem of shattered fibers during the scribe-and-break process. According to Leviton Telcom, this tool can save installers materials as well as labor, because those installers will avoid having to discard a fiber-optic connector after mistakenly breaking the fiber during a cleave. "The market doesn't need another $200 cleave tool," says Jim Underwood, general manager of Leviton's Fiberoptic Technologies unit. "The Versa-Cleave solves a common problem, while offering value."
The tool, which looks like and functions similarly to a stopwatch, is compatible with ST, SC, and FC connector styles, for both singlemode and multimode fiber, as long as the connector includes a 2.5-millimeter ferrule. Users plug a fiber-connector assembly into the tool slot and push the button. The tool's diamond blade trims the fiber strand to a 100-micron length, preparing it for a final polish before installation. An integrated debris cup catches fiber trimmings and retains them until the user can dispose of them.
A pouch that clips onto an installer's belt is one of the latest offerings from Greenlee Textron. Two recent acquisitions by the company have positioned it as a provider of termination and testing equipment for both copper-wire and fiber-optic cable.
Click here to enlarge image
Leviton Telcom says the diamond-fused cutting-blade technology gives the tool a life that exceeds 5000 cleaves. The body is made of polycarbonate and comes in a carrying case with a belt loop and hook-and-loop closure.
The tool was developed as a companion tool to the company's Thread-Lock family of fiber-optic connectors but accommodates all brands of fiber-optic connectors.
Packaging tools together
Both ICC and Leviton Telcom have introduced new products that are part of tool sets or kits. That's part of an emerging trend among makers of termination equipment. "There is a trend toward 'kitting,'" says Chris Vernon, product manager with Greenlee Textron (Rockford, IL). In October, Greenlee Textron released its Twisted Pair Termination Kit, which includes a pouch that clips onto the installer's belt. The pouch is designed to hold the company's snips, twisted-pair cable stripper, and punchdown tool. It also includes a space for a standard screwdriver and a flashlight.
In the case of Greenlee Textron, however, a recent trend toward kitting also includes test equipment. In October, Greenlee Textron acquired Progressive Electronics and Progressive Manufacturing Inc. (Mesa, AZ). Progressive's product lines include copper-cable test equipment such as tone generators and probes, wire and cable fault locators, inductive amplifiers, and accessories that are sold into the telecommunications, electrical, and electronics industries.
Then in December, Greenlee Textron announced the acquisition of RIFOCS (Camarillo, CA), a maker of fiber-optic test equipment. RIFOCS's product lines include optical power meters, light-emitting-diode and laser sources, variable attenuators, and visual fault finders. The company also makes a range of fiber-optic components and accessories designed for field, manufacturing, and product qualification in commercial, industrial, and aerospace/defense applications.
"With products ranging from handheld fiber-optic test instruments to high-precision optical components, RIFOCS further accelerates Greenlee Textron's growth in the data-signal-voice market," comments Lewis B. Campbell, president and chief executive at Greenlee Textron's parent company, Textron. "Fiber optics is the fastest-growing sector of the data-signal-voice market and will become increasingly important to our business."
These two acquisitions, along with the purchase of Datacom Textron (Everett, WA)-then called Datacom Technologies-in 1998 put Greenlee Textron in a position to offer the complete range of copper-wire and fiber-optic termination and test equipment that an installer needs. "RIFOCS brings another level of fiber-optic testing technology," says Greenlee Textron's Vernon. "We are jelling together as a premier test-equipment provider for data-communications applications. Our goal is to have everything a contractor needs to terminate and test."