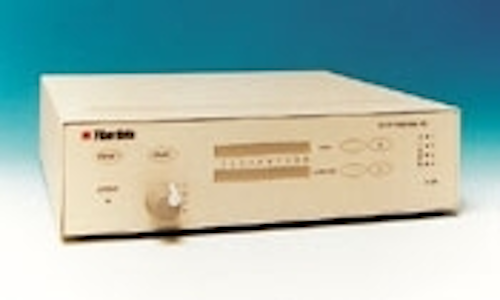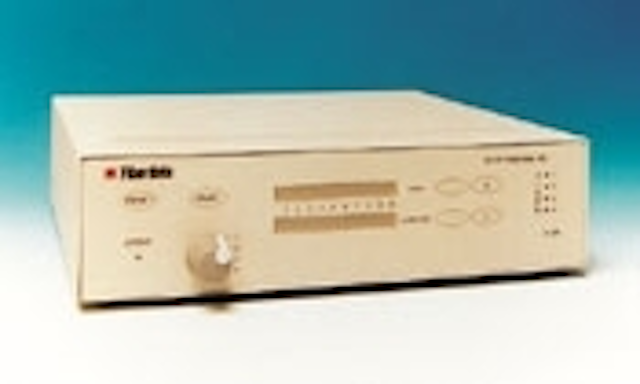 Click here to enlarge image
FiberSafe 100 advanced security system monitors fiber-optic cables in communications links. The unit works by transmitting a laser beam with collimated light though a multimode fiber-optic cable, generating a speckled pattern at the receiving end. When the cable is disturbed, even by the smallest vibration, a sensor detects change in the pattern and triggers an alarm. The 2.3-kilogram device measures 65x220x215 millimeters. Its fiber-optic transmitter uses a 780-nanometer laser and its receiver is a PIN photodiode. FiberSafe can be used with singlemode fiber by detecting attenuation alteration rather than speckle pattern.
FIBER OPTIC CENTER INC.
NEW BEDFORD, MA
Electrical testing tools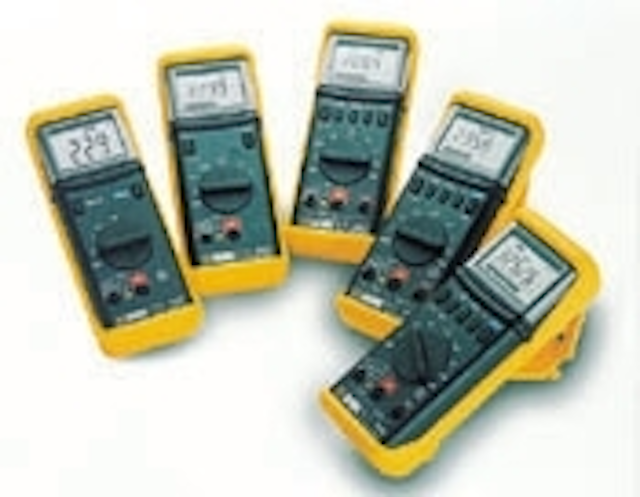 Click here to enlarge image
The CA 5000 series digital multimeters provide a choice of 2000, 4000, and 40,000 mounts. The units have a large backlit display, push-button functions, rotary range selector, and dedicated push buttons. The compact multimeters are rated to IEC 1010, 600 volts, Category III, for protection against spikes and overvoltage. All models are CE-marked and have a three-year warranty. Prices start at $79.
AEMC INSTRUMENTS
BOSTON
Aluminum outlet pole guide
A four-page application/specification guide describes the pan-pole aluminum outlet pole. The pole is tamper-resistant but allows easy access for moves, adds, and changes. The entrance fitting maintains the tia/eia required 1-inch bend radius of Category 5 and fiber-optic cabling. The pole is suitable for use with the pan-net network cabling system and can also accept standard screw-on faceplates with use of an adapter. The guide includes benefits, specifications, and ordering information and provides illustrations and fill capacities for various types of wire.
PANDUIT CORP.
TINLEY PARK, IL
Cable blower
The fiber-optic cable blower allows for the safe and fast installation of fiber-optic cable. Top speeds approach 300 feet per minute, allowing more cable to be installed in less time. A cable carrier is attached to the front of the cable, and compressed air propels it through a sealed duct. The device can accommodate cable sizes from 3/8 to 11/4 inches with typical installation distances from 4000 to 10,000 feet. The portable unit is equipped with wheels and available in eight different packages designed for specific cable and duct combinations.
CONDUX INTERNATIONAL INC.
MANKATO, MN
Steel fasteners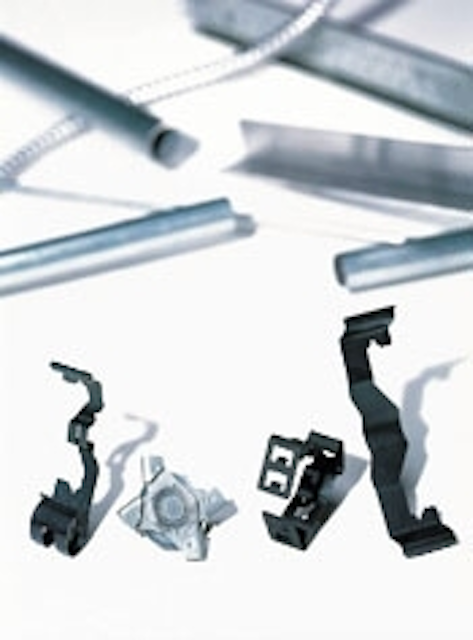 Click here to enlarge image
Steel City Spring Steel Fasteners include conduit clips, cable support from drop- wire hangers, acoustical "T" fixture hangers, and conduit hangers. The complete product offering, designed in partnership with electrical contractors, includes hangers, beam clamps and purlin clips, conduit and cable fasteners, stud wall/drywall brackets, supports and grommets, acoustical "T" fasteners, and low-voltage telecommunications hooks, brackets, and bridle rings.
THOMAS & BETTS CORP.
MEMPHIS, TN
Continuity tester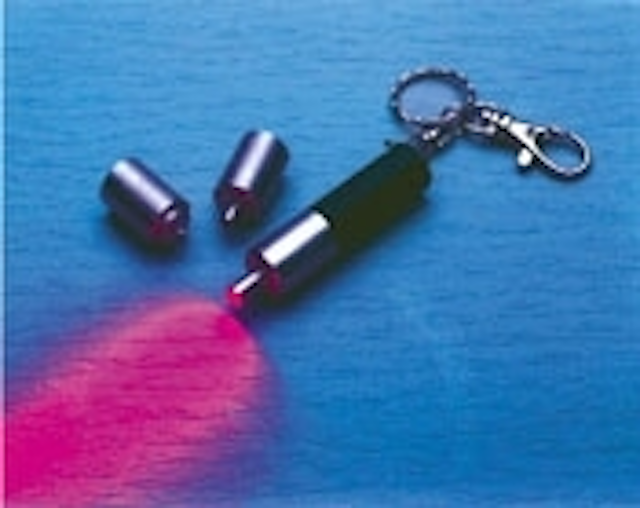 Click here to enlarge image
The l8-lp03a-r pocket continuity tester contains a light-emitting-diode (LED) light source, three different-sized adapters to accommodate different connectors, three LR44 battery cells, and a key ring. Designed for outside-plant use, the device is suitable for both singlemode and multimode fiber testing. It can achieve a testing distance up to 2 kilometers.
DC TECHNOLOGIES CO. LTD.
HONG KONG
Cabling-pulling software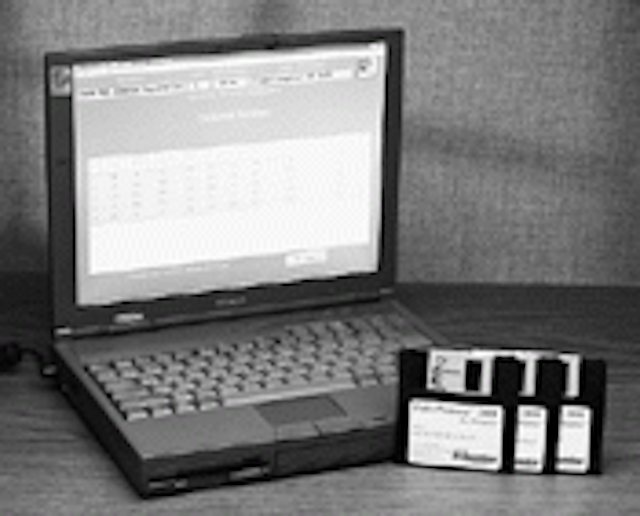 Click here to enlarge image
The Pull-Planner 2000 software for Windows calculates pulling tension and aids conduit system design for all types of cable and conduit. The software calculates sidewall pressures, jam ratios, conduit fill, clearance percentages, and lubricant quantities. It works with Windows 95, 98, and NT. Enhancements over previous versions include improved color and graphics, online help, drop-down menus, expanded cable database, printer interfaces, and clipboard use.
AMERICAN POLYWATER CORP.
STILLWATER, MN
Continuous tapes
The TLS2200 continuous tapes come in white, orange, yellow, clear, and red to facilitate identification. Tapes in 1- and 1.9-inch sizes are suitable for larger labels and fonts, and 3/8-inch tapes are good for tighter areas. All rolls are 50 feet long-double the length of most office labelers.
BRADY
MILWAUKEE, WI
J-hook fastener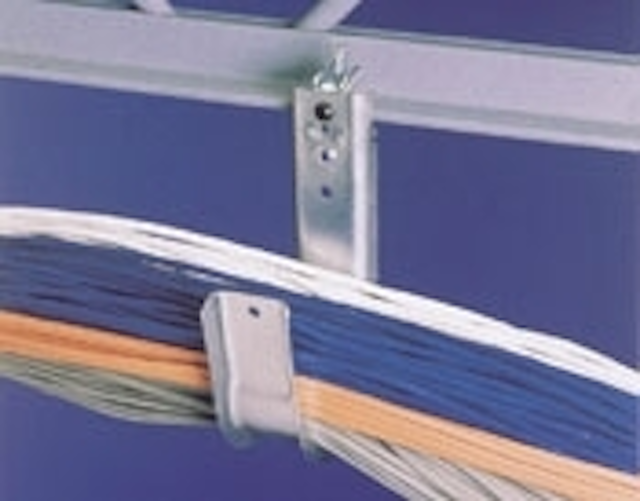 Click here to enlarge image
The CableCat CAT64 J-hook fastener is the only 4-inch galvanized J-hook on the market that is UL-listed to support up to 300 4-pair cables, according to company claims. The device can be fastened to other CADDY fasteners and then mounted to the deck, wall, beam, purlin, or underfloor pedestals. The devices have an extra-wide base loop with rounded smooth curves to eliminate snagging during installation. Each fastener has prepunched cable-tie closure holes.
ERICO INC.
SOLON, OH
Fiber distribution shelf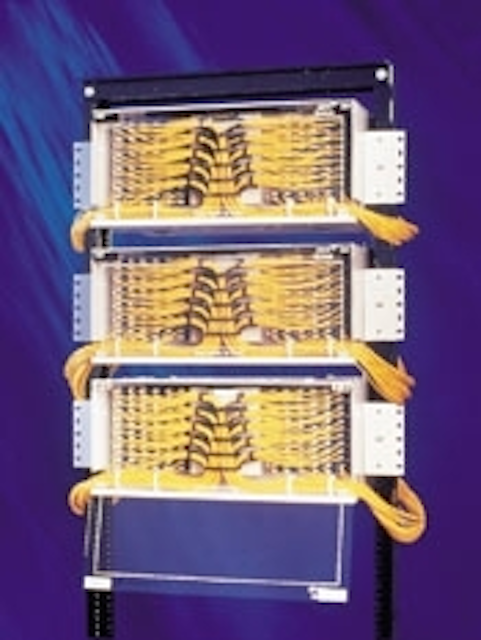 Click here to enlarge image
The HDX high-density distribution shelf fits 144 fibers into 83/4 inches of vertical rack space and contains built-in features to ease fiber management. The unit is compatible with existing LGX-style shelves and will fit into any standard 23-inch-wide rack frame. The internal cable-routing system brings all cables to the center in groups of 12 and features a built-in splicing sleeve cover. The shelves are made of aluminum with a Lexan front door. Up to three shelves can be mounted together, for a total fiber capacity of 432. Each shelf comes with a connector insertion/removal tool.
SUMITOMO ELECTRIC LIGHTWAVE CORP.
RESEARCH TRIANGLE PARK, NC
Mini-optical time-domain reflectometers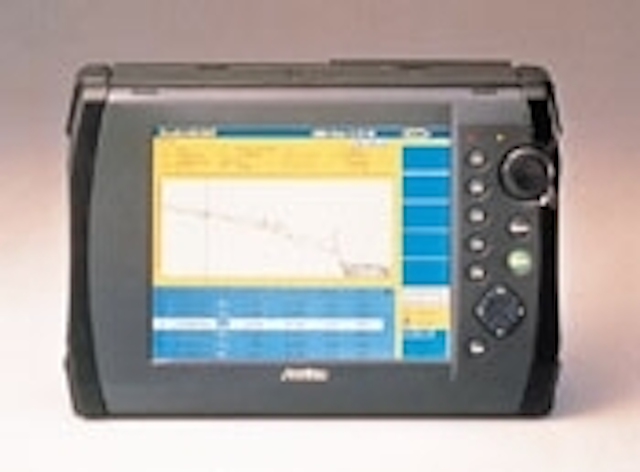 Click here to enlarge image
The MW9076 family of mini-optical time-domain reflectometers (OTDRs) provides wide dynamic range, short deadzone, and automatic execution of functions. All four models in the family display measurement results in 10 seconds after the "start" button is pressed. The models offer a choice of two color displays and a sampling speed of 0.15 seconds. The Model MW9076D is the first mini-OTDR, according to company claims, to measure chromatic dispersion. Dynamic range is 34 decibels at 1.31 microns, 33 dB at 1.41 microns, 32 dB at 1.55 microns, and 29.5 dB at 1.625 microns. The Model MW9076C mini-OTDR can conduct fiber monitoring at 1.31-, 1.55-, and 1.625-micron wavelengths. The Model MW9076B features 45-dB dynamic range at 1.31 microns and 43 dB at 1.55 microns. The Model MW9076B1 is a general-purpose unit for singlemode optical-fiber installation and maintenance.
ANRITSU CO.
RICHARDSON, TX
Firestop pillow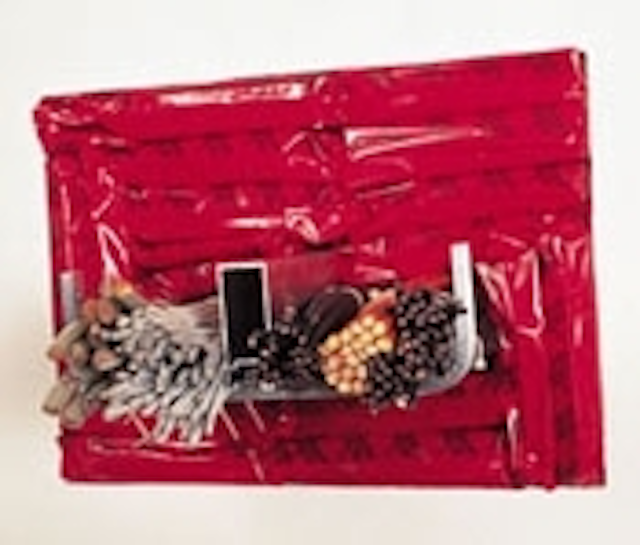 Click here to enlarge image
The FSPIL firestop pillow has been added to the company's FlameSafe firestop line of products. It features 4-pound-density mineral wool compressed between two intumescent sheets encased in a durable polyethylene liner. The pillow is approved for 1- and 2-hour gypsum wallboard and 2-hour concrete block wall assemblies. The pillow can be used for maximum 4-inch EMT conduit sleeve with data-communications cables or up to 24 x 5-inch center spine aluminum cable tray containing coaxial power, fiber-optic, and telecommunications cables. It is available in 1- and 2-inch thicknesses.
INTERNATIONAL PROTECTIVE
COATINGS CORP.
MIDDLETOWN, NJ

Compiled by Marcy Koff


By the Book
null
Keeping up with telecommunications
It's impossible to stay up-to-date on the telecommunications industry today. Even the basic terminology is changing almost daily. The difficulty of staying current is especially apparent in technical books, which often have a birth cycle from finished manuscript to publication that runs one to two years.
A valiant-and useful-attempt to update a technical audience on the latest goings-on in this rapidly changing arena is The Essential Guide to Telecommunications, Second Edition, with a copyright date of 2000. Published by Prentice Hall (Upper Saddle River, NJ), the volume is authored by Annabel Z. Dodd, a faculty member of Northeastern University's State-of-the-Art Program, where she teaches telecommunications.
Dodd points out in her preface that only 22 months elapsed between her writing the first and second editions of this book, and yet the revision was necessary because of the rapid and fundamental change going on in this area.
Dodd begins with a full discussion of basic technical terminology and concepts, followed by a section on telephone systems and cabling. She then covers the complicated world of network service providers and the public network, with a full section on the impact of the Telecommunications Act of 1996. Chapters deal with T1/T3, ISDN, DSL, frame relay, ATM, and SONET protocols, as well as the latest modem equipment (including cable modems and set-top boxes). The Internet and wireless technologies receive full treatment, along with the convergence shaping carrier networks today.
The 350-page illustrated paperback includes a glossary, bibliography, and index and is priced at $34.99. It is worth this price alone for the overview it provides of the recent feeding frenzy of mergers and acquisitions in the telecommunications industry, including information as recent as the end of 1998. If the book has a single weakness, it is that it was hastily edited-not a fault of the author's and probably viewed by the publisher as a reasonable price to pay in exchange for keeping up with this rapidly changing field.