DESIGN: TRW integrates a zone-cabling design
The next time you use northern Virginia's Dulles International Airport, stop and take notice of the new building located close to Route 267, the Dulles Airport Access Road, in Reston. The 12-story facility is home to the newly formed TRW Systems & Information Technology Group
Apr 1st, 2000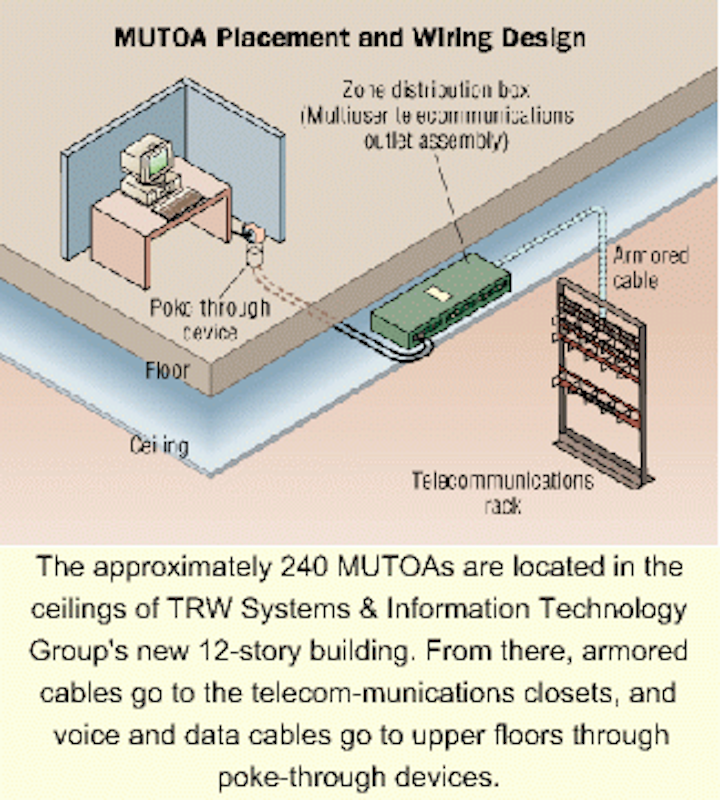 The systems-integration firm's new headquarters in Virginia includes a modular, ceiling-positioned system.
Richard E. McGrail / America Cable Systems
The next time you use northern Virginia's Dulles International Airport, stop and take notice of the new building located close to Route 267, the Dulles Airport Access Road, in Reston. The 12-story facility is home to the newly formed TRW Systems & Information Technology Group (SITG)-a union of TRW and BDM International and one of the world's largest providers of systems-integration and information-technology (IT) services.
The new building's telecommunications infrastructure was designed by Sverdrup CRSS (Arlington, VA), a division of Jacobs Facilities Inc. The building was completed in March 1999. According to Vince Wolcott, Sverdrup CRSS's deputy director of communications solutions, the SITG chose a modular zone- cabling solution for its voice and data needs for three reasons:
The ability to install it quickly enabled the SITG to meet an aggressive construction schedule.
By design, its configuration provides infrastructure flexibility.
The system provides for low lifecycle costs.
Team structure supported
"SITG is heavily involved in very-high-level software and IT solutions for numerous federal government agencies," Wolcott explains. "Fast, flexible voice/data networking is essential to the SITG style of work. The team structure they implement requires that teams be able to be grouped, moved, and reconfigured very quickly and easily. At least 30% of the building's offices and workstations are moved or modified in a given year. Those workgroups depend on the network as their primary means of communication-the faster the better. Modular zone-distribution products were ideal for this application."
Sverdrup actually selected the zone-cabling products for the project and specified products from America Cable Systems Inc. (ACS-New Bedford, MA), including the Intelligent Ceiling. The 24-port multiuser telecommunications outlet assembly (MUTOA) is equipped with a metal-clad, 1-inch- diameter homerun cable, containing a combination of 4-pair unshielded-twisted-pair Category 5E cabling for network connections and Category 3 cable for voice. Eight-pin modular jacks are included in the MUTOA boxes for data communications, and RJ-11 jacks are included for voice.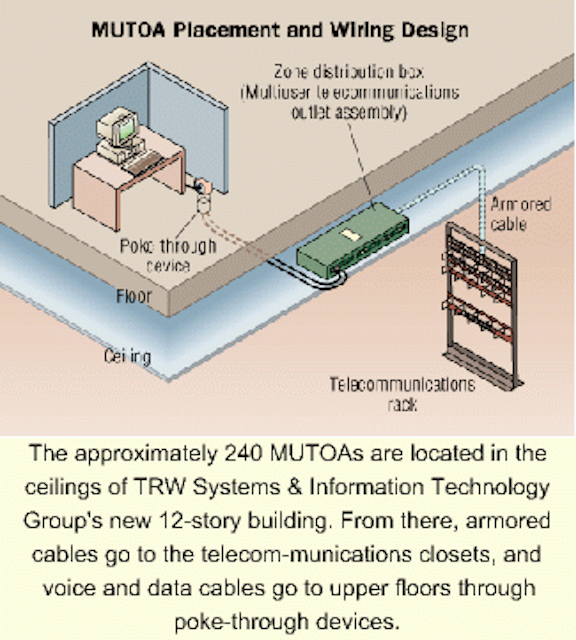 The approximately 240 MUTOAs are located in the ceilings of TRW Systems & Information Technology Group's new 12-story building. From there, armored cables go to the telecom-munications closets, and voice and data cables go to upper floors through poke-through devices.
Click here to enlarge image
Using the Sverdrup CRSS infrastructure design, ACS's engineering department used computer-aided-design techniques to determine the correct length for each homerun cable. This custom-length approach saves material and labor during installation. Each homerun cable is preterminated and attached to the MUTOA, then the completed assembly is coiled onto an individual reel with the box attached to the outside. Each reel is numbered to correspond with the installation plan.
Savings realized
The Teledata office of Henkels & McCoy in Lorton, VA, carried out the system installation. Steve Kinn, a senior project manager with Henkels & McCoy, describes the merits of using a zone system: "Instead of pulling 24 cables, you pull just one, and that's how you really save a lot of labor. The homerun cable comes preattached to the zone box, and those 24 cables are factory-terminated in the box so you save time there, too.
"We saved at least 20% on installation time," Kinn continues. "We installed the zone-distribution boxes in the drop ceiling below the floor where they were needed." He further explains that he and the installation crew ran the cables inside the drop ceiling, up to the intermediate crossconnect, where "we just had to dress the cables on a ladder rack and terminate in the Sverdrup-specified area." The Henkels & McCoy crew terminated voice cables in a wall-mounted 110-style unit and terminated data cables in a 19-inch rack that housed 48-port Category 5 patch panels. A fiber backbone connects the intermediate crossconnects; that fiber is terminated in the computer room at a light-interface unit.
The voice and data cable is extended to the desktop by means of 24-gauge Category 5 patch cables, which extend from the underfloor MUTOAs through 2-hr-rated poke-through devices, directly to computers and other office equipment through channels built into TRW's modular office partitions. The patch cables range from 8 to 24 ft in length. When moves, adds, and changes are necessary, TRW's in-house staff can reconfigure office layouts.
Installation strategies
According to Jim Hawkins, a foreman for Henkels & McCoy, "The armored homerun cable helps protect the system during installation. This is especially important when you're on an active construction site with lots of trades working at the same time. There's less chance it will get damaged. Every reel was numbered, and that corresponded to the plan. Pulling multiple cables at once really speeds things up. A prefabricated system like this is definitely easier to install."
Hawkins also notes that flexibility played a role: "The folks at ACS stayed right with us. Sverdrup CRSS and the client made some design changes along the way that changed the order of floor completion, but ACS handled it and we stayed on schedule."
According to Sverdrup CRSS's Wolcott, installers typically placed the reel containing the cable and MUTOA at the final installation location. Then they pulled the wire back through the ceiling to below the intermediate crossconnect. The installers used an overhead trapeze equipped with pulleys to make it easier to guide the cable through the ceiling. A 10-ft coil of extra cable was included with each assembly to allow even greater flexibility in future changes.
In all, the new building includes approximately 240 MUTOAs, which provide nearly 5,800 connections for voice and data devices and systems.
Custom assemblies
Wolcott also explains that the custom-built device assemblies helped fit the design strategy. For example, he specified that all components and wiring come from a particular supplier. "We guarantee our systems," Wolcott says. "If a system doesn't work right, we'll come back and fix it at our cost. With that in mind, we like to see consistency in product selection throughout a project. We used Champlain Cable and Superior Modular Products connectivity components that have been tested together to ensure performance. ACS worked with us to provide what we wanted. Not every firm will do that.
"This type of modular system reduces our risk," Wolcott continues. "It also gives me peace of mind, as a project manager, knowing there has been consistency in the design and manufacturing process. The ease of installation helps us meet very strenuous construction deadlines that are generally outside of my control. Delays, changes, and other factors are an inevitable part of every project. A modular zone-distribution system like this takes away some of the stress and reduces the labor required."
To ensure on-site reliability, ACS factory tested all assemblies to ensure the system met TIA/EIA-568A performance criteria. According to Wolcott, using the pretested system provided virtually error-free operation from the first day the system was online. And because it is a zone-cabling system, it provides flexibility that will reduce cost, time, and labor when changes are required. In addition, the on-site staff can make modifications, upgrades, and repairs with standard off-the-shelf add-ons or replacement parts.
Richard E. McGrail, president of America Cable Systems (New Bedford, MA), coordinated ACS's role in the TRW project.