TECHNOLOGY: Distributors add service to the supply chain
Cabling-industry distributors offer services that ease purchasing and ensure product performance.
Mar 1st, 2000
Patrick McLaughlin
Approximately 40 companies manufacture the cable used in today's structured cabling systems. A number of companies-some of them the same companies that manufacture cable-produce the connecting hardware that completes these voice and data systems. And each of these companies has its own method, whether technical- or marketing-based, to differentiate itself and its products from all others.
You, as the installers and users of structured cabling systems, face multiple options when selecting from among these cable and hardware makers. In addition to making these choices, you have to decide from whom you will purchase products. A 1998 survey of cabling-installation contractors showed that only 19% of contractors make most of their purchases directly from product manufacturers. The other 81% purchase through distributors. And more than half of those make their purchases through national distributors.
These national distributors do just as much to distinguish themselves from one another as do the product manufacturers. And their opportunity to add value to a purchase lies largely in the area of service. What can a distributor do to position itself as the most desirable option for a cabling contractor to go for products? A lot, as the industry has found out in recent years.
Manufacturing and distributing
Tri Net Technologies (TNT-Industry, CA) has filled installers' needs for cabling products for more than 15 years, says company president Thomas Chung. Among the products available from TNT are Belden's (Richmond, IN) MediaTwist cable and patch cords, as well as cabling products from Lucent Technologies (Murray Hill, NJ). But TNT not only carries these products but also makes them. "We are a certified assembler for Lucent's Category 5E, 25-pair patch cord, called the 525," Chung says.
Tri Net Technologies manufactures this 25-pair cable assembly that bears the Lucent name. The ability to manufacture cable to the specifications of a company like Lucent is a service that distinguishes Tri Net Technologies from other distributors.
Click here to enlarge image
The company manufactures assembly-type and injection-molded-type patch cords, he continues, as well as fiber-optic cable assemblies. Additionally, TNT conducts metal fabrication, typically used for wall-mount panels and fiber-distribution panels.
Chung adds that investments in verification and verification equipment are necessary to ensure the products that TNT ships are of acceptable quality. For example, Intertek Testing Services (ITS-Cortland, NY), which grants the ETL symbol, provides third-party verification of TNT products. "We signed a two-year agreement with Lucent to manufacture their products," Chung says. "In those two years, we spent $30,000 for testing."
The company also continuously performs in-house testing on its products. "We use an analyzer from Hewlett-Packard, as well as a tester from DCM Industries that certified modular patch cable," Chung continues. "We can perform a full channel test, including connecting hardware, with the testing capabilities we have." The company includes a testing report in each shipment to customers.
Originally a supplier of only twisted-pair products, TNT now provides fiber-optic products to its customers as well. "I've been dealing with UTP [unshielded twisted-pair] products for 15 years," continues Chung. "In that time, I have learned that UTP can handle only so much. Fiber, on the other hand, does not have the limitations of copper.
"With UTP, however, modularity is a big plus. That's one reason it has remained so popular. But now with fiber, connectors like the MT-RJ are providing the same modularity that has benefited copper for many years.
"Both domestically and internationally, I noticed that in 1999, the demand for fiber increased significantly." TNT has facilities in Mexico and Asia in addition to its U.S. operations.
Product customization
Other product distributors also manufacture products. "We manufacture so many products-connectors, test equipment, cable, and termination equipment-they're too numerous to list," says Brian Molis, director of marketing for Fiber Instrument Sales (FIS-Oriskany, NY), adding that his company offers hard-to-beat service over other equipment sources. "Particularly with respect to test equipment, we are more responsive than others. We provide immediate calibration and repair. The tester doesn't have to go through us to the manufacturer for repair. We are the manufacturer. We can also make test equipment to order for our customers."
That's another benefit that makers/distributors of products offer: customization. Molis says, "We can custom-design a cable jacket for a customer and not force that customer to order an extremely high-quantity minimum."
Despite its name, the company does not limit itself to fiber-optic products. "We started off dealing strictly with fiber products but worked our way into copper-based products," Molis says. He points out that most networks employ fiber in the backbone and use copper cabling in the horizontal, so dealing with both types is in his company's best interest. "Copper is also a significant part of the design software that we offer."
The software package is another benefit that FIS offers its customers. Last spring, the company introduced the software package, which is designed to help cabling-installation contractors design networks. Elements of the package let users calculate job and labor rates, manage customer information, design a campus layout, add floors to a building, design outside cabling runs, select cable types, request pricing and availability from FIS, and prepare a proposal.
A service that helps customize shipments is the Assemble, Wire, and Test (AWT) service available from Sprint North Supply (New Century, KS). Through the program, the distributor assembles products from multiple manufacturers; wires the equipment into a rack, hut, vault, or cabinet; and tests the completed system to specifications.
AWT can be used for any application that requires the combination of several products into one system. The customer determines which products work best for the specific application. Sprint North Supply says one of the major benefits of this service is speed: It gets service providers to market faster than they would accomplish on their own.
Training
According to FIS's Molis, one of the primary attributes that distinguishes his company from other cabling-product providers is the company's ongoing training program. "Our training program tours the country, going to approximately three cities per month. Typically, we train between 25 and 40 people per class."
FIS offers two one-day classes, Molis explains. One class combines hands-on training, fiber-optic theory, and information about cable construction, termination practices, test equipment, and specialty tools. The other class focuses more on local-area-network design and includes fiber-optic and copper media as well as active equipment. Students also learn how to use FIS's design software, and Molis says the class is aimed primarily at contractors.
The classes cost $69 each, and students who sign up for both pay $99. "It's very affordable," Molis says. "We also offer a corporate training program, where we'll go to the organization and teach at their facility." He says this training option attracts companies from all industries, and the students typically are not limited to those working in a company's information- systems department.
Similarly, communications-products distributor Communications Supply Corp. (CSC-Carol Stream, IL) offers hands-on workshops in its own facility and at locations around the country. All instructors are registered communications distribution designers (RCDDs) with experience in design and application. CSC has been authorized by BICSI (Tampa, FL) to teach the three-tier BICSI-licensed Cabling Installation Training and Registration Program.
CSC also offers full fiber-optic training, featuring a team devoted specifically to fiber optics. Any course can be customized and taught at the customer location, CSC adds.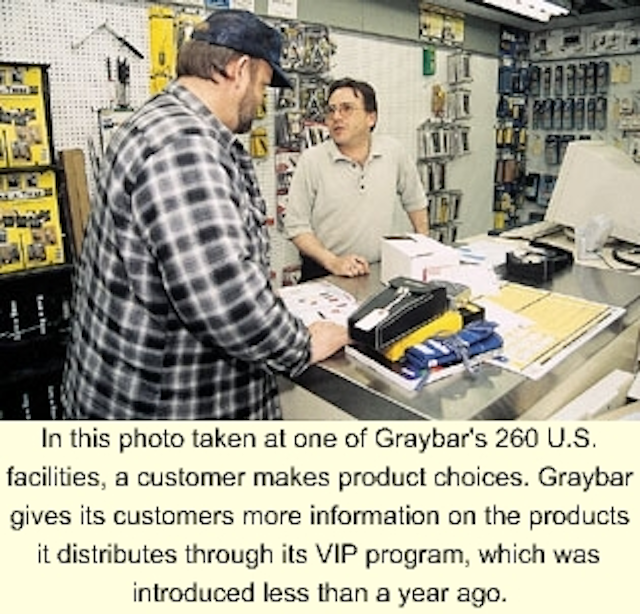 In this photo taken at one of Graybar's 260 U.S. facilities, a customer makes product choices. Graybar gives its customers more information on the products it distributes through its VIP program, which was introduced less than a year ago.
Click here to enlarge image
In addition to training, CSC provides application support services, including blueprint review, system design, product recommendations, and request-for-proposal development. Specifically for fiber-optic applications, CSC offers product specification and integration as well as custom-cut cable, cable assemblies, prepulled ductwork, and preterminated enclosures.
CSC moved to new corporate headquarters last year and has made several acquisitions to become a nationwide distributor. In July, CSC acquired Computel Inc., based in Springfield, NJ-the sixth CSC acquisition in approximately 30 months. The company maintains 20 sales and distribution centers as well as five sales offices in the United States. In February 1999, the company moved to its new corporate headquarters and distribution center in Carol Stream, IL. The 100,000-sq-ft facility includes 80,000 sq ft of warehouse space and a training center.
Product verification
Perhaps the farthest-reaching efforts by distributors to provide service to their customers are in the area of product- performance verification. Graybar recently introduced the VIP program, and Anixter (Skokie, IL) has effectively shifted the cabling-industry landscape with its Levels program. Both programs test copper-based cable and components.
The "VIP" in Graybar's program stands for "verified independently for performance." In the program, which was announced in August, ITS tests channel configurations consisting of cable and components from manufacturers whose products are available through Graybar. ITS tests the channels' near-end crosstalk (NEXT), far-end crosstalk (FEXT), attenuation-to-crosstalk ratio (ACR), power-sum NEXT, and power- sum ACR levels. The aim is to ensure that a channel can support high-speed applications, particularly Gigabit Ethernet.
The program includes two testing options: VIP 1000 and VIP 2000. VIP 1000 is for systems designed to support Gigabit Ethernet and other applications developed in the next five years. Graybar says VIP 2000 "tests for higher speeds and additional frequencies to provide similar headroom beyond the IEEE standard for cabling systems designed to work with the TIA/EIA Category 6."
To achieve entry into the VIP 1000 program, channels must achieve 22.8-dB attenuation measurements, 30.5-dB power-sum NEXT, and 7.7-dB power-sum ACR. VIP 2000 performance requirements include 20-dB power-sum ACR at 100 MHz, positive power-sum ACR at 250 MHz, and improved return-loss performance at all frequencies. Every three months, ITS randomly selects products from any of Graybar's 270 locations in the United States and tests them. Products must pass the aforementioned tests to remain on the VIP list.
According to Dennis DeSousa, vice president of communications/data marketing for Graybar, initial response to the VIP program has been positive. "Customers have praised our efforts to bring independent channel testing to the market," he says. "Our program has confirmed products must be tested as a channel."
The Levels program
The people at Anixter can tell you all about the need to test products in a channel configuration. This distributor's Levels program is widely heralded as the impetus for the current standards structure. The Telecommunications Industry Association (TIA-Arlington, VA) adopted the original Levels program, with few modifications, as the Category system.
In 1997, Anixter introduced Levels '97, which sought to sort out cable manufacturers' claims of performance beyond Category 5. In early 1998, the Anixter Levels Channel (ALC) program rolled out. This program was the first effort to test cable and components in a channel configuration before shipments to customers.
This is how the Levels and ALC programs work: When Anixter receives a shipment of product from the manu facturer, Anixter tests the product in its own laboratory to verify performance. Anixter has created Levels 5, 6, and 7 for cable, connecting hardware, and the channel configuration. If a product fails to meet Anixter's Level 5, it is shipped back to the manufacturer. "We have millions of dollars in inventory at any given time," explains Pete Lockhart, Anixter's vice president of technology. "We want to make sure it's good. We own it first, then we sell it to our customers."
Professionals in Anixter's laboratory test cabling channels for end-to-end performance. The company recently began a service by which it verifies the performance of a live channel.
Click here to enlarge image
Anixter has had the capability to test products in its own lab environment since 1995. The company recently took steps to take the program to a new height. "Our lab is approximately 3,000 sq ft," Lockhart continues. "It includes 130 permanent channels, with three or four connections each."
He further explains that the company has developed a way to pull in ad hoc cable to test that cable in the otherwise-controlled channel environment. Through the use of network- and protocol-analyzing equipment, Anixter can change one network element at a time to pinpoint a cause of failure. "Dealing with real data in the Ethernet world is like trying to grab hold of Jell-O," says Lockhart, explaining in layman's terms the difficulty of identifying data problems in live networks.
"The industry has been conducting static, megahertz-based testing of the electrical attributes of cable," Lockhart said at the most recent BICSI (Tampa, FL) conference, held in Orlando, FL, in January. "But at our Anixter Levels Lab, we can now conduct live, or active, megabits-based testing of data transmission from one end of a cabling system to another. Testing megabits means testing data, so we are significantly increasing the ability to determine if a cabling system can reliably transfer data."
He says verifying the performance of patch cords in a live network has been difficult and explains that Anixter is creating its own testbed and test procedure to help this verification.