New Products
QuadClear Fibre Channel cables for data-communications applications enable the interconnection of storage and other peripheral devices to processors in workstations and mainframes.
Mar 1st, 2000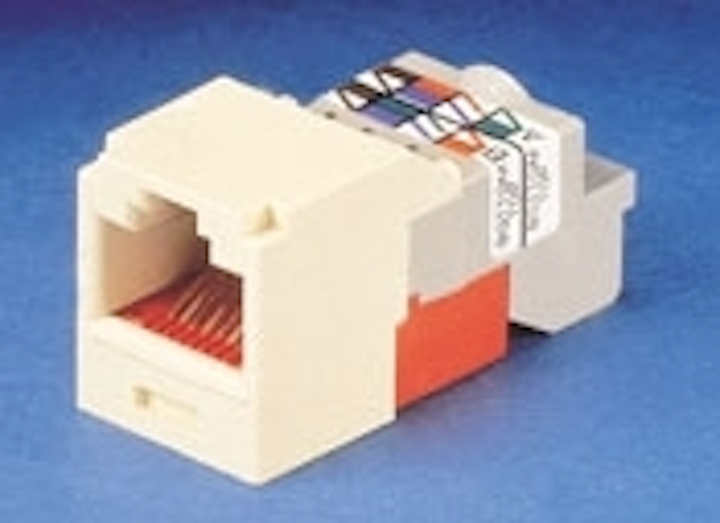 Compiled by Marcy Koff
Fibre Channel cables
QuadClear Fibre Channel cables for data-communications applications enable the interconnection of storage and other peripheral devices to processors in workstations and mainframes. The Megaflex PVC jacket protects against cut-throughs, is oil-resistant, and provides a high resistance to flex-stress cracking. A foil-braided shield features optimized braid angles to resist premature flex failure. Flame-retardant "flex-filler" material has been designed for maximum electrical and physical performance, according to the company. Solid or stranded tinned copper with polyolefin insulation is available. Foam insulation is available for applications with high flex-life requirements and smaller diameters. The cables come in 22 to 30 AWG multiconductor sizes.
C&M CORP.
WAUREGAN, CT
Modular jack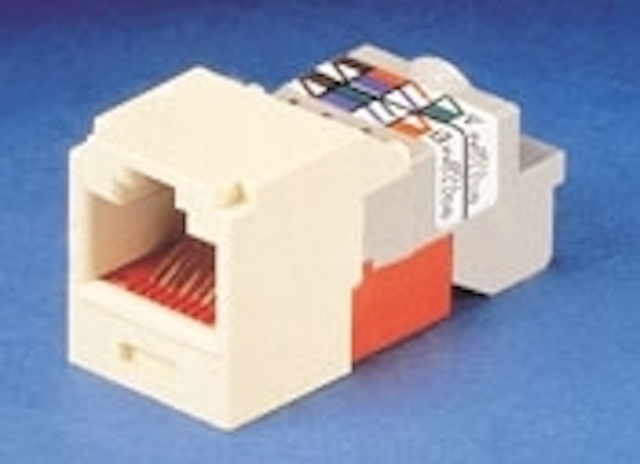 Click here to enlarge image
The Mini-Jack TX-5e modular jack complies with Category 5E performance requirements. The jack features conductor retention slots and uses Giga-TX technology, which minimizes the length of conductor untwists. Forward-motion termination places no localized stress on critical internal components for maximum reliability, according to the company. Users can terminate the jack with standard channel lock pliers or a termination tool.
PANDUIT CORP.
TINLEY PARK, IL
Patch cords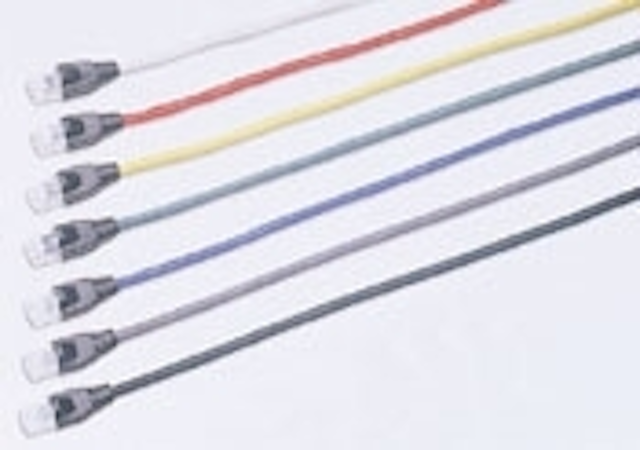 Click here to enlarge image
A new line of patch cords now comes in seven colors, six lengths, and three performance levels. Power Sum, GigaMax, and eXtreme styles come in white, red, yellow, green, blue, gray, or black. Power Sum and eXtreme cords meet or exceed the latest in industry standards, while GigaMax cords (pictured) with black strain-relief boots meet TIA/EIA TSB-95 guidelines for supporting 1000Base-T applications. The cords comes in lengths of 1, 2, 3, 5, 10, and 20 feet and are protected by a lifetime warranty when installed as part of a certified installation.
LEVITON TELCOM
BOTHELL, WA
Cabling system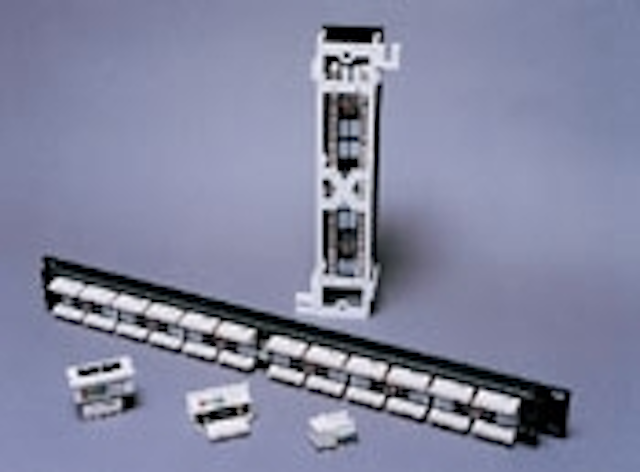 Click here to enlarge image
The Interlink Cabling System Category 5E component solution exceeds the requirements of the TIA/EIA-568A-5 standard. All products in the system also meet standards for interoperability and backward-compatibility. The system includes modular Activate inserts and keystone jacks for flexible point-of-use connections and high- density rack- and wall-mounted patch panels. Activate Category 5E inserts are fully compatible with existing faceplates and mounting bezels and integrate seamlessly into all Wiremold wire- and cable-management platforms.
WIREMOLD CO.
BRISTOL, CT
Data-communications cables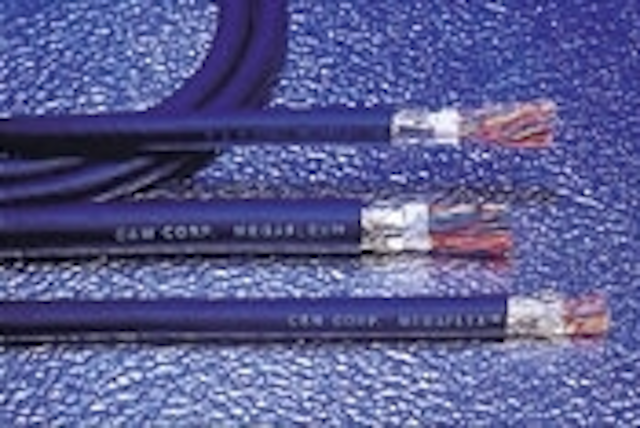 Click here to enlarge image
Megaflex data-communications cables feature flame-retardant jackets with reduced wall thickness, facilitating routing in storage cabinets or other places where tight clearance is an issue. A reduced bend radius provides greater flexibility than standard FT4 and CL2 PVC cables, according to the company. Engineered for LVD and Ultra SCSI cables and VHDCI applications, Megaflex is also available on IEEE 1394 and Fibre Channel cables.
C&M CORP.
WAUREGAN, CT
Chalk reel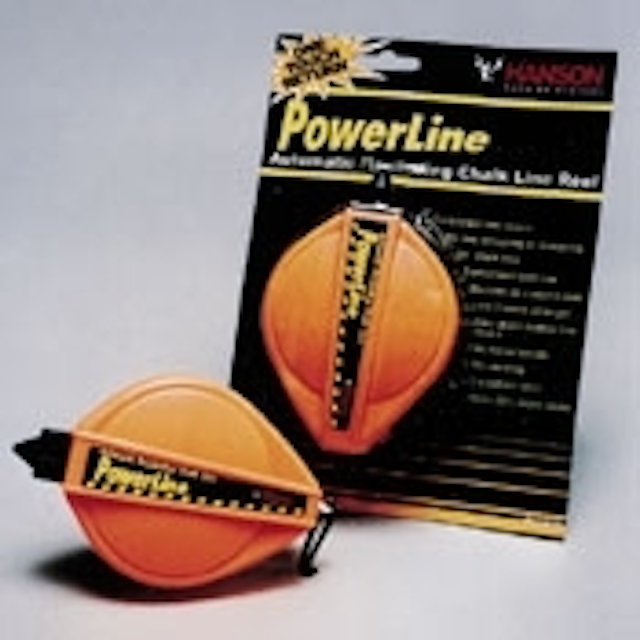 Click here to enlarge image
The PowerLine chalk reel features an automatic rewinding 30-foot chalk line. A patented technology for control return prevents line whipping, snapping, and tangling during the rewinding process. An automatic push-button return eliminates the need for hand winding and the problem of loose handles. A thumb latch lets users operate the reel in three positions-locked, free-flowing, and manual brake. Holding 30% more chalk than conventional reels, the device is constructed of ABS plastic casing and has a belt clip.
C.H. HANSON CO.
FRANKLIN PARK, IL
Telephone-line tester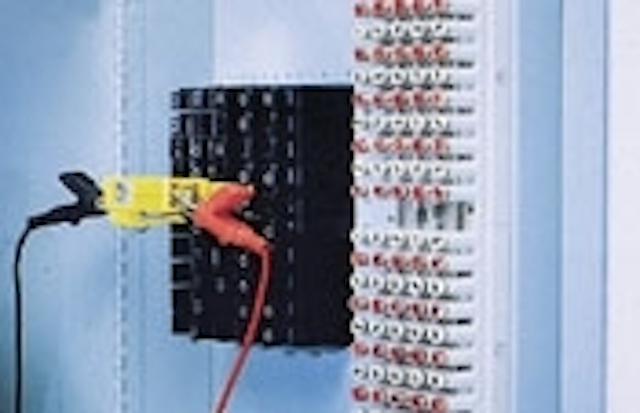 Click here to enlarge image
The Tel-Line Tester troubleshoots telephone-cable problems for outside-plant (OSP) and central-office (CO) personnel. The tester splits the CO from the field, allowing identification of the problem line. The device eliminates the need for cutting, stripping, disconnecting, and reconnecting cable pairs. The tester plugs into any 5-pin connector block located at a building entrance, cross cabins, CEV, or CO. The Tel-Line test kit comes with a tester, looping tool, and craft access wall cord. The modular OSP looping plug allows restoration of service to the customer while maintaining the ability to test the phone line.
POMONA ELECTRONICS
POMONA, CA
Pipe support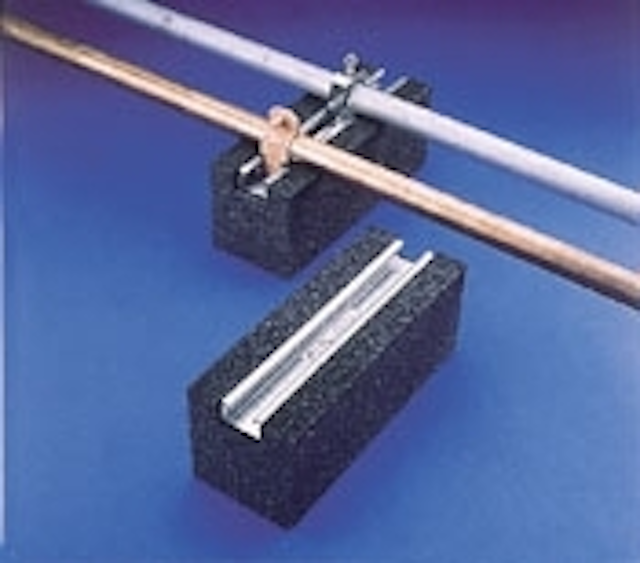 Click here to enlarge image
The Pipe Pier supports steel pipe, copper pipe, and electrical conduit to roof or floor surfaces. The device eliminates on-site drilling, cutting, and measuring while protecting the rooftop membrane from damage. The support provides numerous mounting positions and clamping options to help standardize pipe-support installations and has a protective cushioning barrier between the mounting hardware and the roof or floor. It consists of a 101/2 x 4-inch block of tough, UV-rated, closed-cell Ethafoam polyethylene foam, which absorbs vibrations and shock.
ERICO INC.
SOLON, OH
Fiber tester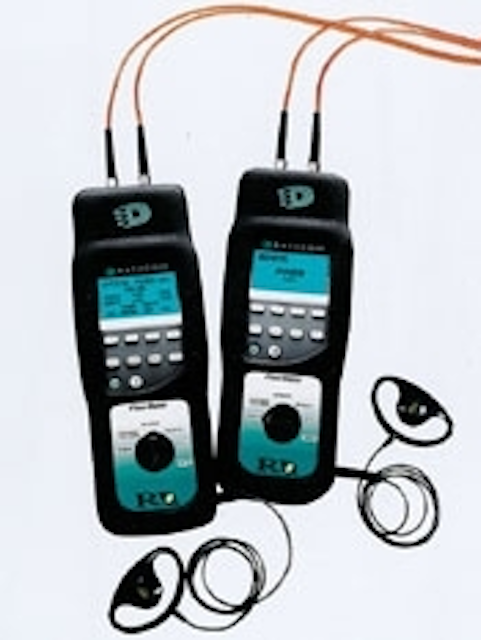 Click here to enlarge image
The FiberMeter is a member of the RA series of Fiber Certification Systems for field-testing premises-wiring multimode and singlemode fiber links. The portable tester provides automated measurement of optical loss and cable length on pairs of multimode fiber, pass/fail certification against industry standards, detailed certification reports, and a built-in talkset. The device automatically completes bidirectional loss measurements at 850- and 1,300-nm wavelengths and measures cable length and propagation delay. It consists of a pair of identical handsets, each of which includes a power meter and dual light-emitting-diode source. Each handset has a backlit graphical LCD display and memory for 1,000 test records. The tester is priced at $3,600.
DATACOM TEXTRON
EVERETT, WA
Server cabinet
The SVR series of floor-standing data-communications cabinets houses active network equipment. The unit is designed to dissipate the heat generated by network equipment. Accessories include sliding and stationary shelves and a fan tray. The cabinets are fully assembled and include a caster base and ramp. Simply unbolt from the pallet and roll into position. Once the cabinet is in place, cabling is installed through two 4-inch holes located in the top and bottom of the cabinet.
HUBBELL PREMISE WIRING
STONINGTON, CT
Product-selection guide
A 132-page product-selection guide features copper- and fiber-optic-cable products and applications. The four-color catalog includes an introductory section detailing the company's capabilities and special product offerings such as LANmark-350 and LAN mark-1000 enhanced UTP cables, the GIGAlite optical-fiber solution for gigabit applications such as Gigabit Ethernet and ATM, Adventum fiber-optic cable, and OASIS open-architecture systems interconnection solution. The guide also has a technical section with information on fiber-optic cables and references, including rating codes, standards, metric conversion, definitions, and packaging.
BERK-TEK
NEW HOLLAND, PA


---
By the Book
null
VoIP: Is it the Holy Grail?
null
Most of the technical presentations I've seen lately imply that voice over Internet protocol (VoIP) is where the public network is going to end up in the near future. If you want to learn the technical details of voice transmission over IP, take a look at Voice Over IP by Uyless Black, a recent volume (copyright 2000) in Prentice Hall's Series in Advanced Communications Technologies.
The 330-page illustrated hardcover includes a glossary of abbreviations, appendices, references, and an index. Following an introductory chapter on Internet telephony and packetized voice, the book covers characteristics of the Internet and IP, digital signal processors, voice coders, and modems. It also discusses connecting to service providers through the local loop, integrating a VoIP protocol, and performance considerations. The final chapters of the book deal with VoIP gateways and gatekeepers, internetworking SS7 with IP and H.323, VoIP supporting protocols, and other packet voice alternatives. The appendices explain telephony signaling, ISDN and SS7, and V.34 and V.90 modems.
Black is a consultant and lecturer, as well as author of all the books in the Prentice Hall Series in Advanced Communications Technologies.