Serving the application service provider
When an applications-hosting outfit is the client, the cabling infrastructure takes center stage
Dec 1st, 2000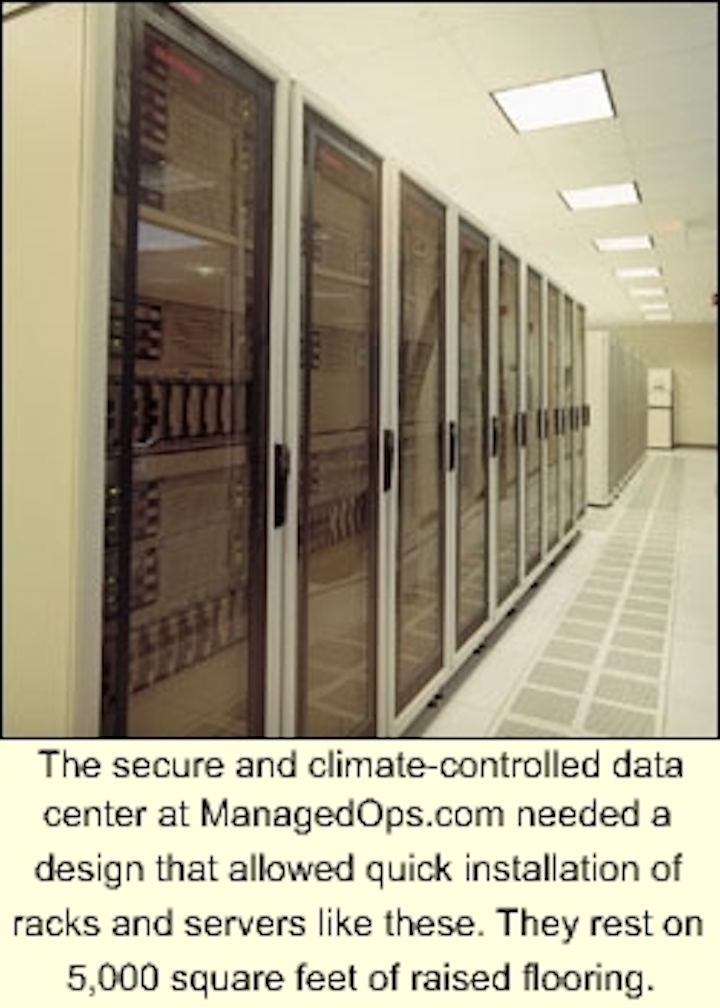 When an applications-hosting outfit is the client, the cabling infrastructure takes center stage.
Patrick McLaughlin
If analysts' predictions are correct, the worldwide application service provider (ASP), or applications-hosting market, will be a $3.5 billion industry this year-$2.2 billion of that in the United States. And it will be a $25 billion worldwide marketplace by 2004-$11.5 billion in the U.S.-according to a recent study by The Gartner Group (Stamford, CT). But Gartner analysts also say that by the end of 2001, as many as 60% of ASPs in the market could fold as industry consolidation is inevitable.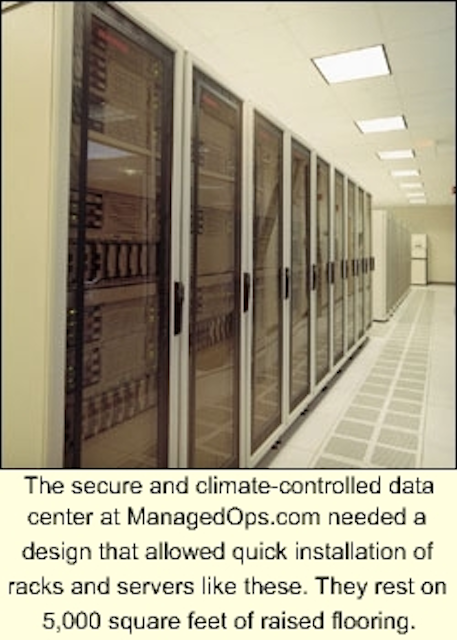 The secure and climate-controlled data center at ManagedOps.com needed a design that allowed quick installation of racks and servers like these. They rest on 5,000 square feet of raised flooring.
Click here to enlarge image
For ASPs, computing and networking are not part of the business, they are the business. So, the networking infrastructure at such an organization is paramount.

Such was the case for ManagedOps.com, an ASP in Bedford, NH that targets its services at small and mid-sized companies. Number 206 on Inc. Magazine's list of the 500 fastest-growing companies in the U.S., ManagedOps.com implements and supports Siebel and Great Plains applications running on the Microsoft platform. The company says that it lets small and mid-sized companies gain the advantages and efficiencies that larger companies have experienced for years from outsourced data centers with mini- and mainframe-based computing. Clients rely on ManagedOps.com to manage their financial, manufacturing, service-management, e-mail, Web-based services, and office-productivity applications.
The company was founded as The Taylor Group, by chief executive officer Dan Taylor, in 1987. Originally, The Taylor Group implemented customers' operations in the field, but when CEO Taylor foresaw the need for ASPs, he formed ManagedOps.com. The Taylor Group still exists, and still provides on-site client support. But with the emergence of the ASP marketplace and the anticipated growth of ManagedOps.com, the company built new headquarters in a construction project that was completed in April of this year.
Hiring and installing
Communications cabling, not just for workstations within the company but also inside the 5,000-square-foot data center, was a crucial part of the construction planning. "The communications cabling fell under the electrical section of the design specification," says Bob Stephens, data center manager at ManagedOps.com.
Rist-Frost-Shumway Engineering (Laconia, NH), an electrical and heating/ventilation/air-conditioning engineering firm, was selected as the engineer for the job. The Bedford, NH office of Interstate Electrical Services Corp. (North Billerica, MA) provided electrical services, and Interstate's communications-cabling operation secured the contract for that type of work.
"It was not a foregone conclusion that because we were doing the electrical work, we would also install the communications cabling," says Joe Ray, Interstate's project manager responsible for the communications-cabling installation. "We had to win the job just like any other bidding contractor."
And it was quite a job. The three-story building includes 93,000 square feet of floor space, 303 tons of steel, 9 million pounds of concrete, and approximately 250,000 bricks. All told, there's approximately 4 million feet (more than 750 miles) of cabling and wiring. By most estimates, that is approximately four times the number of cables typically found in a building of that size. "The sheer amount of cabling and limited cable routes created a high-cable-density installation," says Ray.
Construction began in May 1999, but cable-pulling didn't get underway until September. "Our forte is new construction," adds Ray. "So, we knew we needed to get to the site early and establish cabling routes." Ray put four- and five-person crews on the job most days from September through the project's completion in April.
Cabling aplenty
In many ways, this cabling job is actually two jobs: one that connects all ManagedOps.com employees in a conventional network, and another in the 5,000-square-foot data center that is the central nervous system of the ASP's operations. "We have 200 racks in the data center," Stephens continues. "And we need enough bandwidth to monitor 1,800 to 2,000 servers simultaneously.
"We opted to go with a gigabit-speed fiber backbone and Category 5E cabling in the data center," he continues. "At the time we were planning, Category 6 specifications simply weren't there yet. And we believe that a good Category 5E system that is well-terminated will give plenty of headroom. A complete channel (single vendor end-to-end) solution provides superior specifications in terms of attenuation and return loss. Our installation, when tested, well exceeded the design specification."
The data center rests on a 30-inch raised floor. Within that cavernous opening is enough tray to support even more cabling than is already in there. Those 30 inches of capacity will be needed if ManagedOps.com's plans to fill its data center with servers and relay racks are realized. The data center has four racks to help facilitate the management of the cable that's already there, and the cable likely to be there in the near future.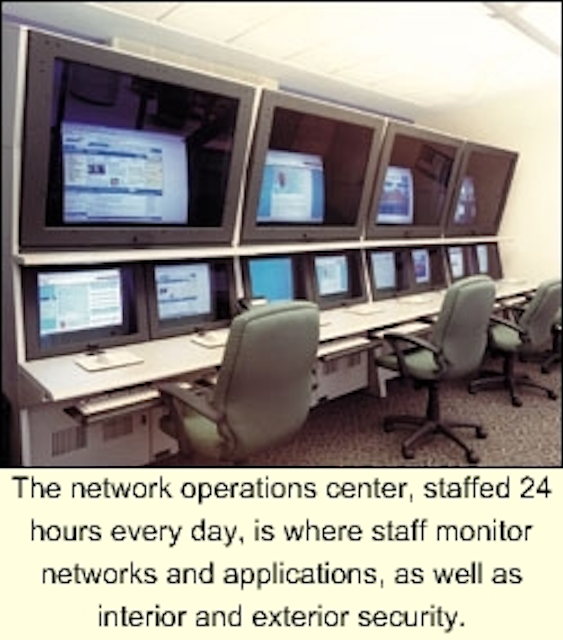 The network operations center, staffed 24 hours every day, is where staff monitor networks and applications, as well as interior and exterior security.
Click here to enlarge image
The data center is equipped with numerous redundant systems intended to ensure reliability. Those systems include air conditioning, power, and Cisco Powered Network equipment. The center also includes a 1,000 kVA generator. Its fire-protection system uses Inergen gas, which reduces oxygen to eliminate the possibility of fire.

Another bandwidth-eating area of the building is the network operations center (NOC), which is staffed every minute of every day. The NOC staff provides network and application monitoring, as well as interior and exterior security monitoring and facilities management. "We monitor everything from infrastructure all the way through application availability," Stephens says. "ManagedOps.com specializes in knowing the application from front to back, a characteristic not found in every ASP." The NOC connects to the data center with four Gigabit Ethernet links terminating in; two gigabit switches reside in the NOC.
ManagedOps.com boasts the largest Internet connection in New Hampshire, with current capacity for 20,000 connections and plans for expansion. The facility also employs an OC-3 self-healing, fiber-optic Synchronous Optical Network ring for redundancy and reliability.
Specifying products
Hubbell Premise Wiring (Stonington, CT) connecting hardware was specified throughout the project, and both the end user and the installer credit Hubbell's Andy Broulidakis with helping the project continue smoothly.
"The project was specified as a Hubbell job," says Managed-Ops.com's Stephens. "We have plenum-rated cable from the telecom closets to the desks, and all drawings were submitted to and approved by Hubbell."
"Andy Broulidakis is an RCDD [registered communications distribution designer]," explains Interstate's Ray, "and ManagedOps.com demanded that all drawings be reviewed by an RCDD. Andy was instrumental in moving the project along." For example, Hubbell, through Broulidakis, approved the use of Amphenol cables within the data center.
The facility has stacked telecommunications closets (TCs) on each of its three floors, with fiber-optic cable running between the floors. "Each closet has two data and two telephone patch panels," says Stephens. "There are also three 100-pair Category 3 telco cables going to each TC. We run fiber to each TC, then copper out to each desktop."
"Because we do so much new construction work, firestopping these or any other closets is second nature to us," continues Interstate's Ray. "The electrical-construction crew installed conduit sleeve, and our communications-cabling crew installed the caulking that went inside the sleeve."
The product that Interstate selected was FS-One intume scent sealant from Hilti (Tulsa, OK). The product is listed by Underwriters Laboratories and approved by Factory Mutual for penetration firestops. It is an odorless red paste with a boiling point of approximately 212° Fahrenheit.
Moving the modular furniture
Many of the most interesting cabling-installation stories revolve around the moving of modular office furniture, and this project is no exception. "I have to hand it to Interstate," says Stephens. "Approximately 150 cubicles were wired, terminated, and tested over a weekend."
Ray explains that the details of the furniture move did not take anyone by surprise. "The crew that was moving the actual furniture itself started on a Thursday, but we didn't begin installing the cable within that furniture until Friday. In 48 hours, we completed a total of 600 voice and data drops-installed, terminated, and tested.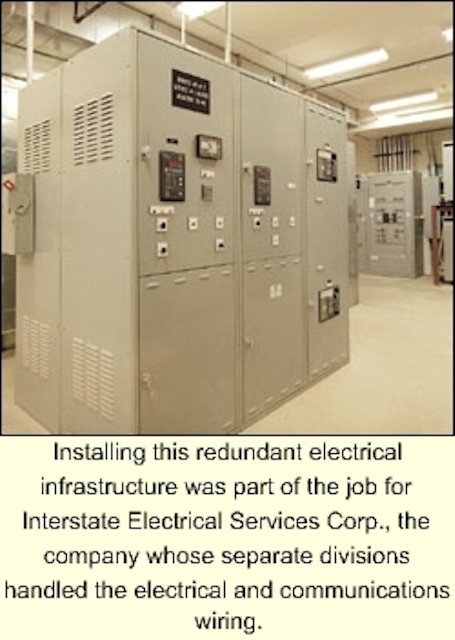 Installing this redundant electrical infrastructure was part of the job for Interstate Electrical Services Corp., the company whose separate divisions handled the electrical and communications wiring.
Click here to enlarge image
"We knew what we were in for, so we brought up some manpower from our Massachusetts office," he continues. Interstate's North Billerica, MA operation was the first of the company's offices to form a communications-cabling division. So, Ray knew that experienced help was available, and in this instance, it would be needed. "The workers were great and hung in there to get the job done," he adds.

Most of that furniture was moved to the first and third floors of ManagedOps.com's new building. The second floor was not occupied at the time of initial occupancy, although the cabling project on that floor was set to begin late in the fall and wrap up early in the winter.
In addition to the employee workstations, areas for training and education also required some intensive cabling. "A lot of training goes on here," Stephens comments. "We conduct employee, partner, and end-user training. An entire wing of the building is designed for training purposes." The main conference and training center has theater seating with 80 Internet connections.
"Many of our workstations are on the third floor; the buildout of our 30,000-foot second floor should be finished by January 1," Stephens says. That floor will include workstations as well as a fitness area.
"We had about 150 employees at move-in," Stephens says. "We currently have between 200 and 220, and we expect to have 400 to 450 when we are at full capacity."
In an industry that some are predicting to consolidate over the next year or so, ManagedOps.com expects to grow-perhaps even double-in size. Bob Stephens and the entire information-systems staff at ManagedOps.com are confident that the infrastructure that is in place, and that which soon will be put in place, are up to the task.