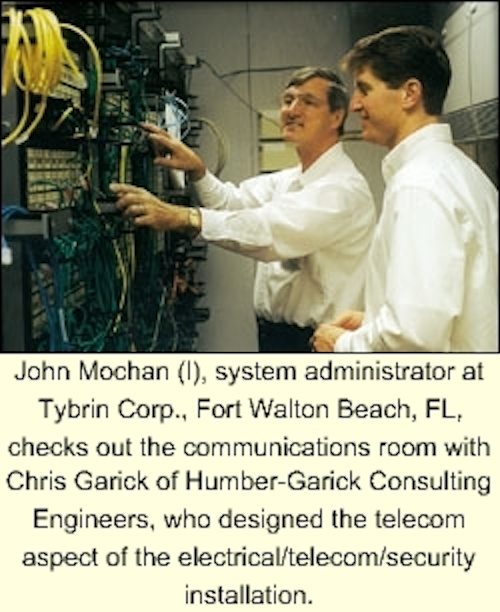 A Florida company takes the jolt out of designing for mixed media.
Steve Smith
Several years ago, while working for a consulting engineer in Gulfport, MS, Chris Garick-whose professional expertise up to that point had been primarily electrical-found himself having to design a government project loaded with communications design requirements. He suddenly needed to be expert in understanding and communicating about cable speed, outlet design, patch panels and racks. Reluctantly, Garick informed his boss that he didn't know how to do the design.
"My boss replied, 'just do the best you can; it'll be better than anybody else!'" Garick recalls. "With that, I decided I needed to work somewhere that would give me some support, and I knew that I needed to know communications design."
Garick remembered someone he'd met at a lighting seminar in San Francisco-Philip Humber, a well-known, veteran Gulf Coast electrical consulting engineer. The two pros, generations apart, hit it off well, and as they parted company, Garick says, "Phil told me that if I was ever going to seek employment at another company, I should call him."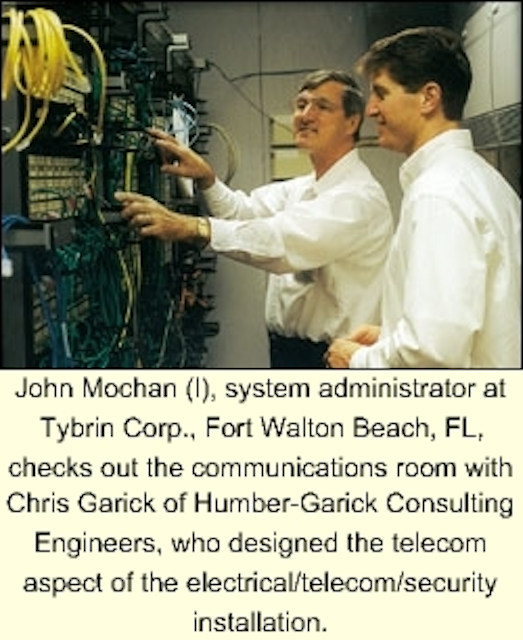 John Mochan (l), system administrator at Tybrin Corp., Fort Walton Beach, FL, checks out the communications room with Chris Garick of Humber-Garick Consulting Engineers, who designed the telecom aspect of the electrical/telecom/security installation.
Click here to enlarge image
The timing was perfect. Garick took Humber up on his offer, and the result was the birth of Humber-Garick Consulting Engineers, based in Fort Walton Beach, FL. Just as he had determined to do, Garick had found an experienced mentor and partner, and he also did something about understanding communications design-he went out and earned his registered communications distribution designer (RCDD) certification from telecommunications association BICSI (Tampa, FL).
Today, Humber-Garick Consulting Engineers is a 12-person electrical and telecommunications corporation. Its services include everything from interior and exterior power and lighting, to airfield navigational lighting, fire alarm and security systems, and telecommunications. Its projects include schools and universities, high-rises, health care facilities, commercial and industrial buildings, plus federal and local government installations throughout the southeastern U.S.
"We break electrical and telecom projects out separately, based on the client, our knowledge of project particulars, and our schedules," Garick says of the partners' work relationship. "Phil has been in the electrical design business for more than 30 years, so when communications design surged, he said 'the kids' needed to learn this. So, we both supervise electrical design, but I do all the communications design."
A secure installation challenge
One of Humber-Garick's most recent projects was designing electrical, security, and telecom systems for a new 50,000-square-foot building in Fort Walton Beach for Tybrin Corp., a company formed to engineer software for the military. The challenge for Humber-Garick was to design an installation for the private sector but as if it were on nearby Eglin AFB. A wide area network (WAN) was key to the installation, achieved through T1 lines and an extensive firewall system. Other secure aspects of the installation included a Secured Compart-mented Intelligence Facility (SCIF) vault, a card access and badge system, computer-controlled automatic lighting system, and an intrusion alarm system. All of the systems, Garick says, needed to tie together to accommodate personnel who needed to be in the building after-hours.
"When you work for the government or defense contractors," Humber explains, "security is defined as a 'need to know' basis. We did not need to know why Tybrin had to be set up this way, only that it had to be and we needed to design for it." In dealing with the SCIF installation, "it means you've got to go through special filters for anything that comes out of that space. Even the fire alarm system goes through filters there so that nobody can extract communications information induced into the power line."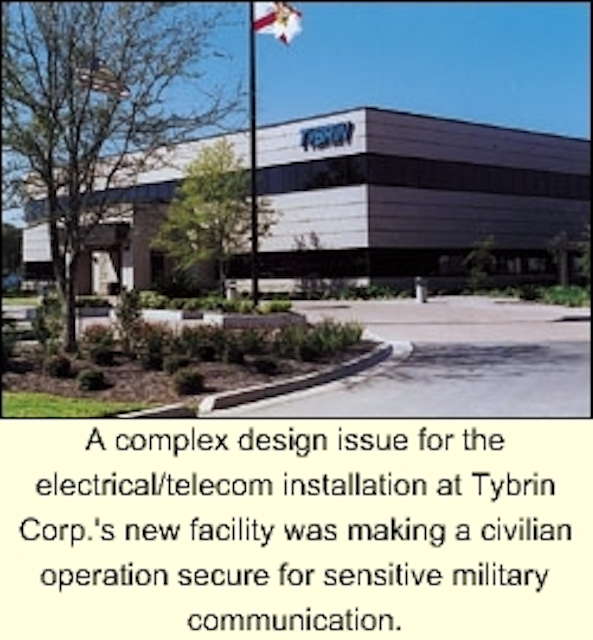 A complex design issue for the electrical/telecom installation at Tybrin Corp.'s new facility was making a civilian operation secure for sensitive military communication.
Click here to enlarge image
The telecommunications design involved five hard-walled suites with the remainder modular furniture offices. "The biggest concern," Garick says, "was to make the system completely flexible so certain areas of data outlets could be grouped together and isolated on specific mainframes. This was achievable through extensive labeling and a logical approach to the rack patch-panel design." Though there were few private offices to consider, there were many places where confidences were required. Still, Garick says, they were able to run all aspects to the same telecom closet. "All we did was section them off differently in each rack, so that this rack was for a certain section, and that one for another, and so on," he explained.
All incoming Category 5E data cables (Humber-Garick chose cable from Superior Essex) were underground, and were then fed to the modular furniture systems under the floor with floor boxes. "We ended up having some 25 cables coming through these boxes, and had to run them down the system furniture and drop them off into each cube," says Garick. A raised floor system would have been the best option, but was not economically feasible, so the engineers were faced with designing a poke-through system that was complicated by a relatively thin concrete slab between the first and second floor.
The second floor slab was 3-inches thick, and Garick said they needed a 2-inch conduit to hold the number of cables at each modular furniture connection point. "But the structural engineer would not allow only 1-inch of concrete over our conduit because it would weaken the slab and cause cracking," he said. The most appealing solution, Garick, said, was to bring multiple, smaller conduits to the box, "until we considered the number of conduit crossings in the slab with the power. There was no possibility of leaving more than 1-inch of concrete above the conduit crossings, so we went with poke-throughs."
It wasn't the easiest method, but it worked. It meant installers had to poke through and firestop everything at every floor box, feed the cable through the crawlspace, then poke-through and firestop everything to the second floor communications room.
In addition to 12 Category 5E data cables and five voice cables for every floor box, the engineers designed for installation of fiber optic cable that would connect the second floor communication room to the one on the first floor. "The fiber allows a maximum transmission rate, and we typically do this wherever possible, no matter the building type," says Garick.
The lightning factor
Perhaps the most careful aspect of the installation, the partners say, was separating the regular power from the power for the computer systems. Garick says it's because it helps keep the power "clean," and offers greater power protection. In fact, because the Gulf Coast is considered one of the most susceptible areas of the country for lightning strikes, the company makes surge protection a top priority-planning beyond ANSI/IEEE recommendations.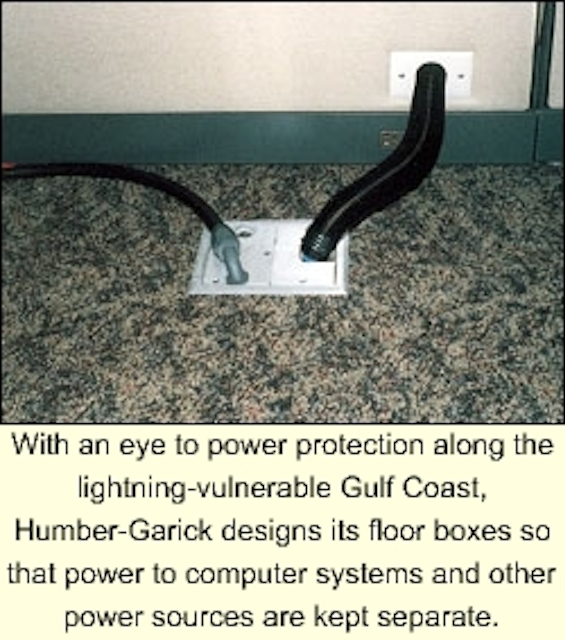 With an eye to power protection along the lightning-vulnerable Gulf Coast, Humber-Garick designs its floor boxes so that power to computer systems and other power sources are kept separate.
Click here to enlarge image
"A storm here has a lot of lightning, so we just put in the surge protection that's necessary to keep anything from getting into the system," says Garick. "It didn't used to be an issue, even seven years ago. But now, one lightning strike and one burned mainframe, that's a big issue." The best solution for Gulf Coast installations, the partners say, is to recommend protection on the main and sub-power panels. But if the owner can't afford that, they recommend that an uninterruptible power supply (UPS) be placed on each desktop. Surge protection at Tybrin Corp., for example, involved both a main power system and a mini-UPS system for each computer.
"This was a really fun project," says Humber. "We have never had any real upscale office buildings in this area over the past 10 years, and then we're able to do one. And 50,000 square feet is big for down here." A key to success of the multimedia installation, Humber says, is that the family that owns the building-the Penningtons: father Bill, mother Bobbi, and sons Ty and Brian-were involved in every step of the design process. "They were just the finest kind of people. Even when there were problems, it was handled in a real upscale way."
System administrator John Mochan would agree that his is a dream job because of the direct interest and investment paid by the family: "The company gave us a blank check. Nothing got cut back in what we requested. It's a number one data and communications set-up." Mochan, who walked out the entire building before false ceilings were installed, making notes as to where all the cables were going, enthuses that the design offers "flexibility all over the place. And I've had zero wiring problems."
Not the norm
When it comes to designing for power and telecommunications, however, the Tybrin project is an exceptional example of what happens when a customer knows what he wants, is willing to invest in the best solutions, and cooperates with the design and installation teams at every juncture. But the partners have certainly experienced the other end of the scenario.
"We've had some projects where it's hard to get the person to tell you what they want," says Humber. "In one, we were ready to publish a job, and we found out at the last minute that their telecom people never decided what they wanted." Adds Garick, "With telecom, we've found you have to be pretty specific. Some people just say 'give me whatever' and then you've got another owner who will say 'I want three right there, and three on that wall.'"
The key, Garick says, is continually seeking ways to keep lines of communication open with contractors, architects, and building owners. "Over the past four years, we've gradually tried to improve our plans by talking with contractors, and then really studying them."
"The biggest problem I've had," says Humber, "is that it's [telecom] still a relatively new industry. There have been a lot of people [installation companies] who've started out with a good name and then bellied up. And then I get caught in the middle, trying not to have a sorry job at the end of it."
Smiling, Humber talks of changing times and an ever-changing industry that has impacted his own profession and expertise: "Yeah, they all want all the bells and whistles. They bring in the architect, the mechanical engineer, the electrical engineer, and they talk about these systems and it's just sort of ho-hum. And then when it's time to discuss telecom, everyone stands up and holds their breath like it's a new kind of snake oil."
Customers and building owners may not always know exactly what they want for telecom, they just know they need it, Garick adds. "They're so aware of it that you don't have any trouble getting your telecom room. But now we have to fight for room for the electrical gear!"
---
'The owner comes first'
A Q&A with Chris Garick and Phil Humber
What should be the relationship between PEs and RCDDs when it comes to designing projects?
Our first responsibility is to the owner. So, if the building or campus requires telecommunications design, then a qualified tele-communications designer should perform this work. No PE should attempt to do work that he/she is not proficient in performing. And no PE with any reason would put him/herself in a hole of liability by doing work that they aren't qualified to do. Likewise, an RCDD should not do work that he/she isn't qualified to do. For example, if a telecommunications project requires electrical design to provide power and surge protection for their work, an RCDD should seek out someone who is properly licensed to do this design instead of doing it himself.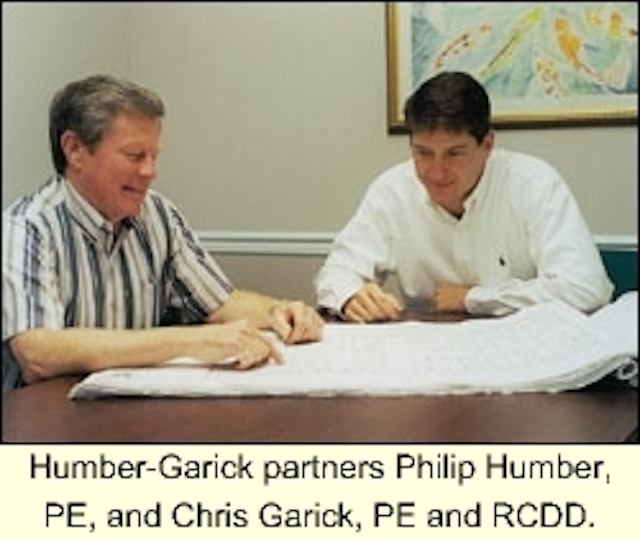 Humber-Garick partners Philip Humber, PE, and Chris Garick, PE and RCDD.
Click here to enlarge image
Also, no RCDD should perform design that the RCDD designation suggests that they should know. We were doing new and renovated school work about five years ago for Okalossa County (FL), and the construction management team required RCDDs to do the communications design. So, we went and hired one to perform this work. Apparently, this fellow had been a telecommunications installer but had not performed any designs previously. He was unable to put what he wanted to show into any legible form that could be interpreted as design. We had to can all his work and just do it ourselves.
My (Chris) personal opinion as both a PE and an RCDD is that the RCDD designation is too easy to obtain, as it requires no formal education. There is no licensed profession that does not require formal education. The accredited college program has been the gauge for determining qualifications for a long time, and I don't think BICSI should replace that. Some formal education program should be established before licensure in any state is accepted.
How do you go about selecting components-active and passive-for a particular design project?
We select components based on multiple criteria:
Does this component have a proven record of performance?
Are there any existing compatibility problems with the owner's existing equipment, or is the owner's maintenance staff more familiar with particular types of equipment?
Is there a good, responsible representative or distributor who will quickly handle any delivery or manufacturing problems?
Is this device affordable, or is it inappropriately "gold-plated?"
We specify everything that makes up the communications design that we are accepting responsibility for, and everything is submitted to us for our review in detail prior to the contractor ordering it.
What do you think about using structured cabling systems, or do you choose products and materials on a case-by-case basis?
Most of the structured cabling systems that are out there now are fine if they have been properly tested after their installation. An untested cabling installation has met no performance criteria. One of the best procedures has been the horizontal link independent testing. This allows a specifier to know that the cable and outlet will work together to achieve a specified transmission rate. But there is nothing more accountable than testing after installation.
How do you respond to a customer who insists on having a Category 6-ready installation?
An owner actually did this about two and half years ago; however, at that time, there were virtually no Cat 6-rated couplers. So, we backed the owner down to accepting a Cat 6-performing cable and Category 5E couplers. Here we are over two years later and Category 6 has not been completely defined, and the performance level we installed to has changed.
Buzz words-wireless, fiber-to-the-desktop-are among our biggest frustrations when dealing with a client. If an owner desires a trendy item, is prepared to spend the money to get it, and it meets his/her application, we design it. But if this item doesn't fit the application or if it is putting a financial strain on the building design, we sell the owner on its un-application.