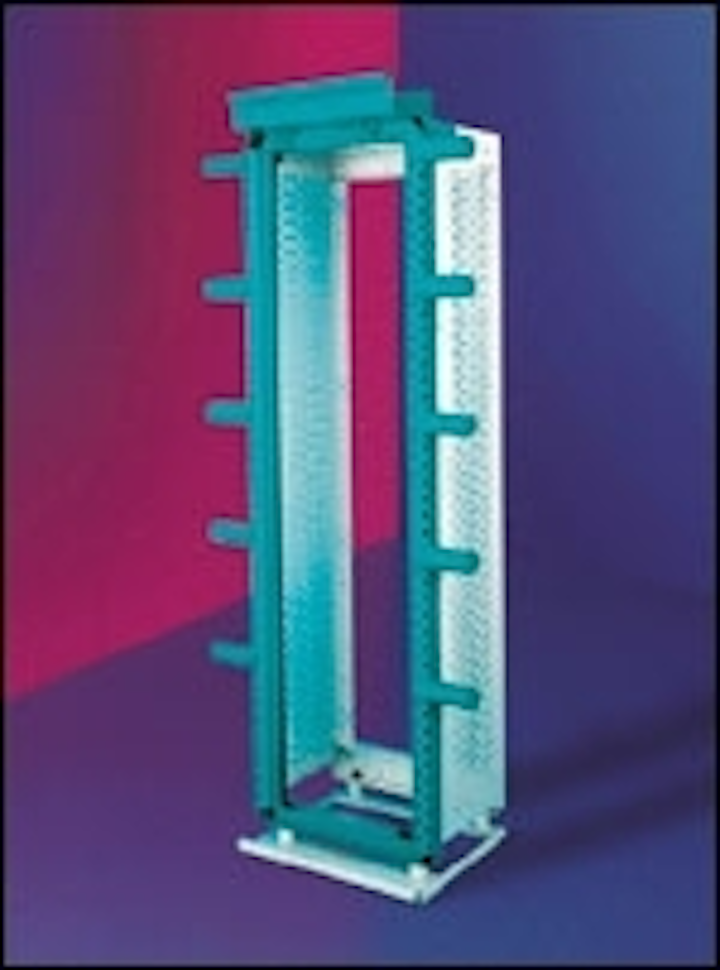 Compiled by Ryan Cliche
Use our online center to request free product information
www.onlinecenter.to/cim or fill out the reader service card.
Signal detector
The Tel/Com 205 is a non-contact, handheld signal detector that avoids interrupting digital or analog services while working on cables, installing or maintaining services, working in pedestals, cross boxes, splice cases, crossconnect frames, 66 blocks, etc. It detects all digital services in the bandwidth of 28 kbits/sec to 2.048 Mbits/sec. A key feature is the ability to detect digital signals in advance so as to not disrupt an existing service. In addition to the ability to test tones for cable identification, the device detects analog voice or analog data.
SANTRONICS INC.
SANFORD, NC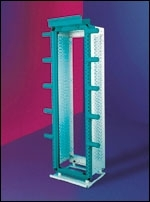 Click here to enlarge image
Rack system
When fully enclosed cabinets are not needed, the 19-inch RiPatch rack-mount solution manages, organizes, and maintains network equipment or other related components. The standard height for the rack system is 78 inches. It organizes your network equipment and is compatible with showcase, LAN/WAN, MIS, or data room environments. This rack system features sheet metal construction for cable management and protection, and lets you rack-mount both passive or active equipment.
RITTAL CORP.
SPRINGFIELD, OH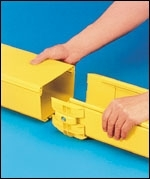 Click here to enlarge image
Routing system
A 6x4 routing system for fiber-optic cable, Fiberrunner provides routing, segregation, and protection of fiber-optic cabling between and around distribution frames, terminal devices, and splice enclosures. The structure, the company says, allows a 6-foot span to support itself even when loaded beyond the maximum fill capacity. Connection components such as a coupler, brackets, and tee-fitting parts let each component be connected in less than five seconds. The system permits multiple spillout options, including a three-sided trumpet for open access, inner duct transition to corrugated tubing, or transition to Panduit's Fiber-Duct 4x4 or 2x2 slotted duct.
PANDUIT CORP.
TINLEY PARK, IL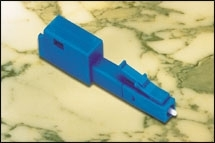 Click here to enlarge image
LC attenuators
The design for this new line of small-form-factor (SFF) and fiber LC attenuators for high performance applications is based on an all-fiber design. These devices show low wavelength and polarization insensitivity, and high repeatability. Features include low return loss, low back reflections, and ease of assembly. Custom products are available.
ALLIANCE FIBER OPTIC PRODUCTS INC.
SUNNYVALE, CA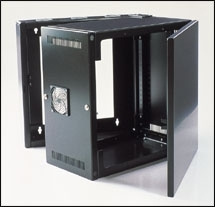 Click here to enlarge image
Cabinet system
If you need a solution for limited space applications, the Cube-iT Plus Cabinet measures 24-inches-wide by 18- or 24-inches-deep and 24- or 36-inches-high. Other features include dual-locking doors to provide security, and a lightweight aluminum design that holds 150 pounds of equipment. A latchable hinge pin allows a 4-inch-deep sub-panel to be removed and mounted onto the wall. The sub-panel features six 3-inch- diameter edge-protected pass-through ports-three each on the top and bottom-to provide cable entry and exit. Swing-out doors allow for front and rear access to cables and equipment. An optional side-mounted fan kit cools internal equipment, and an inside light illuminates the interior to view the equipment.
CHATSWORTH PRODUCTS INC.
WESTLAKE VILLAGE, CA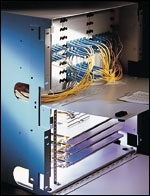 Click here to enlarge image
Cabling system adds fiber
Additions to the Interlink cabling system with fiber-optic capability include passive interconnect components, fiber-management products, and test/ termination kits. The system is a solution for premises wiring using UTP or fiber-optic cable. It includes building entrance and communications closet hardware, wire- and cable-management systems, and workstation connectivity.
WIREMOLD CO.
WEST HARTFORD, CT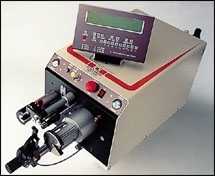 Click here to enlarge image
Stripping machine
Designed for fiber-optic cable, the FO 7045 incorporates four stripping functions that can be programmed to allow for stripping combinations. The system processes different cable types and thicknesses up to a length of 70 millimeters, and an outer diameter of up to 4.5 millimeters. Kevlar, buffer and primary coating, and the outer-jacket on the most commonly used single- and multi-mode cables are stripped in less than 14 seconds. Cable programs can be changed in less than three seconds without tooling or blade changes.
SCHLEUNIGER INC.
MANCHESTER, NH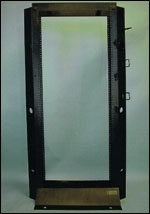 Click here to enlarge image
Cable-control rack system
The Cable-control rack system is 100% aluminum with a hybrid baked powder coat finish for corrosion protection and finish hardness. This unit is available in 10-32 or 12-24 drilled and tapped holes, designed to the Electronic Industries Alliance universal hole standard. Also included are rack-top-cable containment, cable access through the unit at 20 different locations from four sides, and cable containment foot design. It also features universal wire tie mounts that are adaptable for both inside and outside the unit.
INTEGRATING SYSTEMS AND TECHNOLOGIES INC.
CRAWFORDSVILLE, IN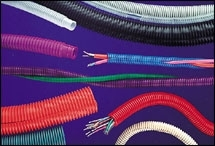 Click here to enlarge image
Flexible corrugated tubing
NewAge corrugated tubing bends without restriction for concealing and protecting hose, tubing, and cabling, or can be slit to allow installation over existing wiring or plumbing. This lightweight covering can protect contents from abrasion, puncturing, ultraviolet rays, weather, heat, and other elements. The tubing comes in several materials and sizes. Available in low-, medium-, and high-density- and flame-retardant polyethylene, and heat-stabilized or flame-retardant polypropylene, NewAge comes in 17 sizes ranging from 1/4-inch to 2-inch diameter.
NELCO PRODUCTS INC.
PEMBROKE, MA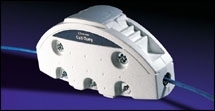 Click here to enlarge image
Fault locator
Kingfisher's Cold Clamp develops Telstra Corp.'s original concept to create a method of precisely locating faults on optical fiber communications cables. Fault location on fiber cables is typically done with an optical time-domain reflectometer (OTDR), resulting in accuracy uncertainty of 100 meters or more. This can make fault location and repair an expensive, time consuming, and risky process. If the Cold Clamp is placed on a cable close to the known general location of a fault, a small optical loss point is created, which can be locally referenced to the fault point using the OTDR. Then the exact position of the fault point can be accurately measured from the locator.
KINGFISHER
ROWVILLE, VICTORIA, AUSTRALIA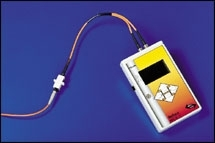 Click here to enlarge image
Adapter cables
Fotec's fiber-optic adapter cables test the loss of cable plants with small-form-factor (SFF) connectors. These "bucket fiber" cables adapt the SFF connectors to power meters and loss testers to allow simple, accurate testing of cable loss. Many duplex connectors have the fibers close together, making it difficult to get the fibers close to the detector. The bucket fiber cable allows test equipment to adapt to virtually any connector with an optical interface that is equivalent to a direct-to-detector interface.
FOTEC
MEDFORD, MA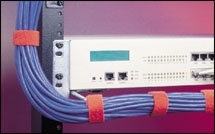 Click here to enlarge image
Cable ties
Tak-Ty hook and loop cable ties do not require any tools for network or telecommunications cable management. Their one-piece design makes the ties ideal for applications where frequent changes are common or continuous access is essential. The unit's design prevents over- tensioning or pinching of sensitive fiber-optic and high-performance unshielded twisted-pair (UTP) cabling. Available in rolls, strips, and a variety of sizes and colors for coding, one version incorporates a cinch ring for extra holding, while another includes a slot that allows for pre-wrapping of bundles or fastening to racks.
PANDUIT CORP.
TINLEY PARK, IL
Click here to enlarge image
Fiber management solutions
Wiremold's range of wall-mount fiber management products include the 12-port to 96-port capacity Wall series patch panels for use as a demarcation point at the customer's premise. The Pre-wired Fiber-Optic Backbone (PFOB) Series, a solution for installing either centralized (collapsed) or decentralized backbones, or custom networks, utilizes pre-measured, pre-terminated, and pre-tested components. Available in 48 and 96 splices, the Indoor Fiber-Optic Wall Splice Series consists of two compartments isolating trunk and distribution cable, and may be stacked with Wall series patching cabinets. National Electrical Manufacturers Association (NEMA) 24- or 48-port patch panels feature a single outer door with internal gasketing, a rain cap with screened vents, stainless steel hardware, a second inner door for security, and compatibility with ST, SC, FC, and SMA adapters. Designed for splicing fiber-optic cables in building entrance and telco central office environments, the SV432 splice vault provides access and protection for high fiber count applications. RS6 Series patch panel adapter strips combine with the Interlink Cabling System wall and rack-mount patch panels, and rack-mount patch and splice bays.
WIREMOLD CO.
WEST HARTFORD, CT
Flooring system
The AD-760 Netfloor series is a cable management system (CMS) for low-profile floor environments that enhances your ability to make moves, adds, and changes throughout the cabling infrastructure. A built-in CMS design lets you route data, phone, fiber optics, and power cabling at a constant centerline, horizontally and vertically. The completely floating system does not require any screwing, gluing, or securing to the subfloor, which helps save on labor costs and raised floor product installations. Powder-coated formed steel with a plastic connector comprises the 3.11-inch-high AD-760 series. The AD-600 series is 2.36 inches high and is composed of materials made of both powder-coated steel and polymer-based polypropylene.
MULTILINK BROADBAND INC.
ELYRIA, OH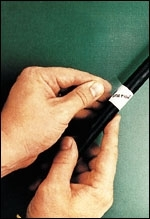 Click here to enlarge image
Cable markers
Wrap-Up Markers are designed for on-the-spot marking of any cable, either premises or outside plant. The field technician can write the appropriate cable information on the write-on area of the self-sticking marker, using any ball-point pen, nylon-tip marker, etc. Then the clear film of the marker is wrapped around what has been written, sealing in the information for permanent protection. Available in custom sizes, colors, and legends, the markers are offered in pocket packs, in lengths of 2, 3, and 6 inches; 6-inch-by-9-inch sheets, in lengths of 1.5, 3, and 6 inches; and 8.5-inch-by-11-inch sheets in lengths of 1.5, 2.25, and 3 inches.
VIP DIVISION
HOUSTON, TX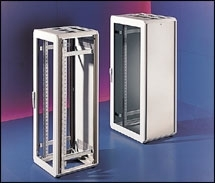 Click here to enlarge image
Network enclosure
The QuickRack enclosure is designed to give contractors, installers, integrators, and network managers a convenient, durable product for virtually any networking need. The line's Value Pack offers a variety of cabinets, with heights ranging from 24 to 47 U. Standard features include a glass front door, vented rear steel door, 19-inch mounting angles, sidewall options, front and rear horizontal rail supports, a multi-folded vertical profile, and four leveling feet. For the more advanced network cabinet offering, the line's Power Pack includes these standard features plus an eight-outlet power strip and a roof with fan tray.
RITTAL CORP.
SPRINGFIELD, OH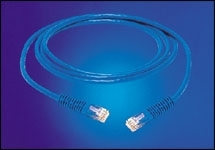 Click here to enlarge image
Upgrading solution
Upgrade your networks without replacing the existing infrastructure using the Instant Upgrade Patch Cord. Available in a choice of six lengths and five colors, the patch cord is designed to meet all Cat 5E specifications, and features the star filler, 23-gauge stranded conductors, and molded boots. The star filler, according to company claims, creates better pair separation, resulting in less crosstalk and better attenuation; the conductors use a bonding process for effective electrical results; and the molded boots keep conductors locked in place and ensure accurate bend radius. In addition, the manufacturer claims that users will experience a noticeable increase in data transfer speed.
KRONE INC.
ENGLEWOOD, CO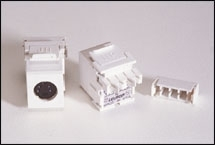 Click here to enlarge image
UTP-capable connector
QuickPort S-Video Connector can trans-mit S-Video over standard Cat 5, 5E, or 6 cabling. The product features 110-style insulation displacement connection (IDC) punchdowns on the rear of the connector to allow efficient installation and flexibility for moves, adds and changes. Running 22 or 24 arrayed waveguide grating (AWG) UTP cable is more versatile and less expensive than S-Video cable, the company says. The compact connector size helps maintain proper bend radius, and extends the life and effectiveness of the cable and network, according to company claims.
LEVITON VOICE & DATA DIV.
BOTHELL, WA
Communications products catalog
Anixter's 970-page Communications Products 2001 catalog contains more than 12,000 products, including 1,200 new items that are highlighted throughout 11 categories. Each section contains a table of contents that identifies products by vendor and contains updates on the most recent developments in LAN/WAN. A technical appendix consists of a reference guide consolidating key aspects of the Commercial Building Telecommunications Cabling (ANSI/TIA/EIA-568-A), Commercial Building Standard for Tele-communications Pathways and Spaces (ANSI/TIA/EIA-569), Administration Standard for the Telecommunications Infrastructure of Commercial Buildings (ANSI/TIA/ EIA-606), and Commercial Building Grounding and Bonding Requirements for Telecommunications (ANSI/TIA/ EIA-607) standards.
ANIXTER INC.
SKOKIE, IL


---
By the Book
New cabling guide aims high
Most of the cabling guides we at Cabling Installation & Maintenance have reviewed have been rather low-budget efforts. However, that is not the case with Cabling: The Complete Guide to Network Wiring, by David Groh and Jim McBee. Published this year by Sybex (Alameda, CA), the hardcover volume contains more than 800 pages, is well-illustrated with both black-and-white photos and line drawings, and includes a section of color plates to illustrate coding schemes.
The book is broken down into three sections: basic concepts, cabling media and components, and cable-plant design and installation. The first part covers standards, components, and tools; the second, copper, fiber-optic, and wireless media, as well as wallplates and connectors; and the third, system design and installation, installing connectors, testing and troubleshooting, and business issues. Appendixes cover cabling terms, other information resources, the BICSI RCDD designation, and home wiring.
The book lists for $49.99.


---
Cabling Classifieds
null
employment
CO Telecom Installers, Testers & Commissioning Engineers Required

We are looking for suitable qualified personnel for the installation of ironwork and overhead superstructure, cable rack and fiber protection systems, and for terminating power, data and fiber cabling. Also for the installation and system testing of DWDM & Power equipment racks. Applicants must be familiar with the AT&T, Bell, Lucent or Nortel standards, and be fit, have a clean driving license and a current passport. The remuneration package will be dependant on the applicants qualifications and experience.
Please send your current C.V. to:
Mark Everitt, Operations Director
it-International Telecom Ltd.
16743 Hymus Boulevard
Kirkland, Quebec, H9H 3L4
Canada
e-mail to: meveritt@ittelecom.com or by fax to: (514) 695-2691