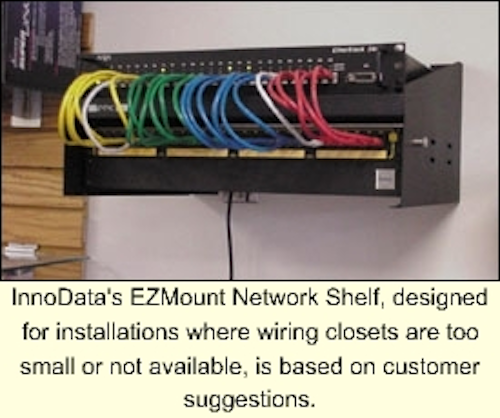 On the way to work this week, I've been listening to the audio version of A Passion for Excellence, by Tom Peters and Nancy Austin. This sequel to In Search of Excellence drummed three things into my head. To succeed in the contemporary business world, you need to:
Pay attention to your business;
Listen to you customers; and
Innovate constantly.
These three things sound pretty simple and straightforward. They're just common sense, right? Right, they are, but that doesn't mean they're easy to put into practice. To test that observation, I tried to think of someone whom I'd met recently who embodied all three business practices.
I immediately came up with one name, Bob Laukonis of InnoData (Derry, NH). Bob and his wife Dee are a husband-and-wife small business team, manufacturing wall brackets for mounting hubs, routers and other active electronics.
Why did I think of Bob Laukonis? I've met with him twice for product demonstrations, most recently at the last BICSI show. Bob constantly stresses that his company's motto is "We listen." All of his products have come from suggestions made to him in conversations with customers about what they need. So, Bob listens.
Does he innovate? Yes, he does. "I was asked for a solution for a small network, 20 to 30 drops," Bob says. "The problem was, there was either no floor space for a rack, or there was a rack that was half empty. I researched the problem for two years, but didn't find a product that fit, so I introduced my first product, the EZ Mount Network Shelf."
The EZ Mount Network Shelf attaches to a wall, so it takes up no floor space. The shelf itself sits away from the wall, so there is space behind it for cable access. It accepts any brand of patch panel, fits up to 48 ports, and swivels forward for punchdown.
InnoData's customers then suggested that the same kind of swivel mounting would be useful in standard relay racks, so Laukonis came out with the EZ Mount Swivel Bracket, which can either be mounted in a rack or attached underneath the EZ Mount Network Shelf to expand its capacity to 96 ports. Bob has also introduced a smaller shelf designed for mini-hubs, and was on the point of launching a hinged, lockable enclosure for his network shelf when last we spoke.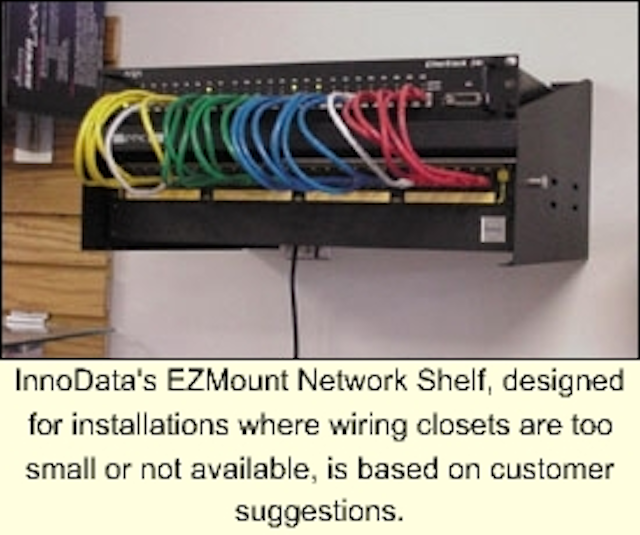 InnoData's EZMount Network Shelf, designed for installations where wiring closets are too small or not available, is based on customer suggestions.
Click here to enlarge image
So, Bob is certainly innovative, having come out with four separate products in only a few years. He also pays close attention to his business. That is clear from the care he takes in designing his products. The EZ Mount Network Shelf, for example, is designed to be mounted to walls using 16-inch spacing-the standard separation for wall studs. The swivel rotates in its own footprint, so no extra space is required to work on the patch panel.
At the last BICSI, Laukonis had a prototype of his enclosure on hand. Consisting of a top, front, and sidewalls, it mounted directly to the screws supporting the shelf. There was a padlock mount on the front cover, plus a window so status lights can be observed, and ventilation slots with mounting for a fan. The new product, Secur-A-Shelf, probably needed a little fine-tuning, but Laukonis was happy to demonstrate his prototype and listen to suggestions and criticisms. I feel sure an improved model was being shipped 30 to 60 days following the BICSI show, as promised.
Bob Laukonis and InnoData are a fine example of good, solid, new-product ideas coming out of the cabling industry itself. We have covered many such product launches in the pages of Cabling Installation & Maintenance, including the Perfect Patch, the Gopher Pole, the 2nd Man Cable Pulley, and the innovative fire-stopping products of Unique Fire Stop Products. My hope is that we will cover many more.
You can contact Bob Laukonis at Inno Data at (888) 334-3930, or e-mail bobl@ezmt.com.
Click here to enlarge image
Arlyn S. Powell, Jr.
Group Editorial Director
arlynp@pennwell.com