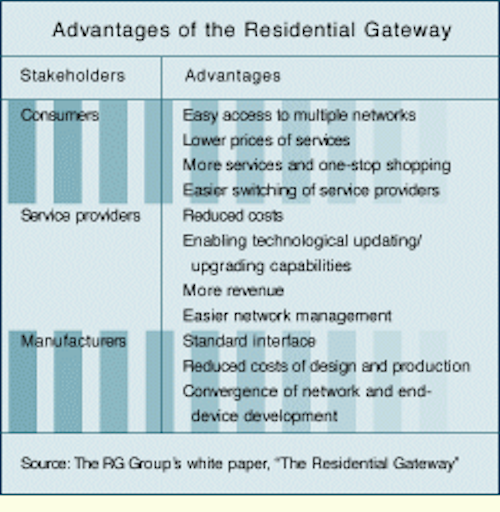 What exactly is an RG, and what applications will it enable in the home? Depends on whom you ask.
Hongjun Li
Parks Associates
Deregulation, convergence, and technological innovations are dramatically changing the way consumers live. Multiple existing and emerging products and services are competing for entry into consumers` homes: dial-up and high-speed Internet access, digital video, home automation, energy management, advanced telecommunications services, and many others. Competition allows more and more consumers to have a choice among different service providers, creating the need for easier switching and access to services. In the home, the number of devices and appliances has been continuously increasing, creating the need for home networking so that consumers can have more flexible and convenient access to services delivered to the home. It is against this background that the residential-gateway (RG) concept came into being.
Origin of the residential gateway
The generic definition of a residential gateway is "a network interface device that provides means to access a service delivered to the home, such as telephony, cable TV, and Internet service." However, the term "RG" has taken on new connotations since 1995. While some people use RG as just another term for devices such as set-top boxes and modems, others say that the term refers to an entirely new concept: a whole-house, intelligent network-interface device that has yet to be developed.
This new RG concept was initiated in 1995 by the RG Group--an informal consortium of the David Sarnoff Research Center, Hewlett-Packard Co., Bell Communications Research Inc. (or Bellcore, now Telcordia Technologies), B&C Consulting, GTE Corp., IBM Corp., and reltec Corp. In October 1995, the RG Group released a white paper entitled "The Residential Gateway." The white paper proposed using the term "RG" to represent a centralized intelligent interface between external residential access networks and in-house networks. This RG is believed to have the following two key functions:
•As the physical interface terminating all external access networks to the home as well as the termination point of internal home networks
•As the enabling platform for residential services to be delivered to the consumer, including both existing services and new ones yet to come.
Essentially, the RG Group envisions the RG as a "single, intelligent, standardized, and flexible network interface unit that receives communication signals from various external networks and delivers the signals to specific consumer devices through in-home networks." By introducing the RG concept, the RG Group hopes to provide an effective approach to integrate previously separate external networks and enable a wealth of new applications.
The RG Group argues that a single, centralized, intelligent, and standardized residential gateway will provide multiple advantages to all stakeholders, including consumers, service providers, and manufacturers. But numerous complex issues must still be resolved before such a gateway can be developed and deployed in the mass market. The tables illustrate the pros and cons of the RG device as envisioned by the RG Group. Wayne Caswell, one of the authors of the RG Group`s white paper and a retired IBM veteran, believes that resolving these issues involves 10% hardware or software and 90% business models and politics.
Applications enabled by RGs
Different RGs enable different types of applications. The device envisioned by the RG Group enables virtually all the major applications a consumer may use at home. For example, the specification of a centralized RG currently being developed by the TR-41.5 committee of the Telecommunications Industry Association (TIA--Arlington, VA) is aimed at enabling the following categories of applications:
•Telecommuting
•Internet access
•Distance-learning
•Telemedicine
•Video telephony
•Home-appliance management and integration
•Security-systems management
•In-home power regulation and management
•Automated meter reading
•Neighborhood cordless roam phones
•Video delivery and distribution
•Virtual VCR and video-on-demand
•Video intercom
•CD jukebox
•Online advertising and electronic catalogs.
Convergence gateways aim at enabling integrated voice, video, and data applications. The typical examples of convergence gateways are advanced set-top boxes from General Instrument (e.g., DCT-5000) and Scientific-Atlanta (e.g., Explorer 2000). There are, of course, some other convergence gateway products. For example, NextLevel Communications LP (www.nlc.com) has developed a device called N3 Residential Gateway, which is typically connected to a VDSL (very-high-speed digital-subscriber-line) network. It can separate voice, video, and data signals and send them to their appropriate endpoints. As to video distribution, N3 provides three concurrent, independent MPEG II video/audio outputs, allowing different TV sets to receive different video signals at the same time. US West chose to use NextLevel`s N3 for the deployment of its US West Choice TV and Online service in Phoenix.
MacroDyne (www.macrodynepower.com), a company based in Charlotte, NC, has developed a new convergence gateway called NIU Broadband Controller. The NIU terminates a cable-TV network and is installed outside the customer premises. According to a white paper released by the company, the NIU eliminates the need for a set-top box and is capable of regulating four frequencies (channels) simultaneously for each subscriber`s residence. In addition, the NIU can be configured to provide additional services such as high-speed Internet access and telephony. MacroDyne`s NIU Broadband Controller has not yet been commercially deployed.
The applications enabled by most of the service-specific and thin-server gateways are limited to a particular category such as Internet access, telephony, energy management, and home control/security. Newly emerged thin-server gateways may enable multiple categories of applications. Ericsson`s e-box, for example, is designed to enable energy management, home automation, home care, home security, and shared Internet access, among others. Other service-specific and thin-server gateways include 8 x 8`s Symphony (an Internet telephony gateway), the controller of Home Wireless Networks` wireless telephone/data system, Global Convergence Technologies` Cendis, Coactive Networks` Connector 2000, TeCom`s Home Manager, Emerald Gateway`s ESG 400, Comverge Technology`s Customer Connection, and Scientific-Atlanta`s former MainGate system (S-A`s Control Systems business has been sold to Comverge Technologies).
All the residential gateways that have been or are being developed will not be covered here. Parks Associates expects to see new RG announcements from various industries in the future. Current RG development is typically characterized by the integration of cross-category applications in a single device. Parks Associates believes that such a trend will continue to underline future RG development efforts.
RG standards efforts
Many companies have developed their own RG products. However, more sophisticated and coordinated RG development requires the creation of standards. Since the RG Group released its white paper, there have been three major initiatives to create standards for residential gateways.
TIA`s TR-41.5 committee--This committee has attempted to create specifications for a centralized gateway device that includes the following features:
•The physical interface to terminate all external access networks to the home, with multiple residential services being delivered over each type of access network
•The enabling platform for residential services to be delivered to the consumer, for example, telephone, television, and PC networking, or the termination point of internal home networks.
The proposed standard, originally referred to as a multimedia premises reference architecture, will be called tia/eia/tsb-110, but the development of the RG standard has been slow.
ISO/IEC`s HomeGate--ISO (the International Organization for Standardization--Geneva) and the IEC (the International Electrotechnical Commission--Geneva) have proposed a residential-gateway model for HES (home electronic system). This model is called HomeGate, defined as the connection between a wide area network (WAN) and an in-home local area network. HomeGate`s functions include WAN termination, protocol translation, resource arbitration, firewall security, and privacy assurance.
Working Group 1 of ISO/IEC JTC 1/SC 25 developed the first specification of HomeGate in October 1998. The working group has been seeking comments by developers of residential and commercial gateways. The HomeGate specification will eventually become part of a new standard under development, entitled "Interconnection of Information Technology Equipment."
According to both TIA and ISO/IEC officials, the model from TIA and ISO/IEC may look very similar. The two organizations have pledged cooperation with each other. Parks Associates expects they will continue their respective standards efforts but will eventually seek to adopt a single international standard for the residential gateway.
Open Services Gateway Initiative (OSGi)--In March 1999, 15 leading technology companies announced an alliance, called the Open Service Gateway Initiative (OSGi), to establish a specification for an open service gateway. The goal of the alliance is to create an open interface for connecting consumer and small-business appliances with Internet services. OSGi will enable, consolidate, and manage voice, data, Internet, and multimedia communications to and from the home and small office. The service gateway will also function as an application server for a range of other high-value services such as energy measurement and control, safety and security services, health care monitoring services, device control and maintenance, and electronic commerce services. OSGi will also be designed to complement and enhance existing and emerging residential networking technologies like CEBus, lonworks, VESA, Bluetooth, HomePNA, HomeRF, and HAVi. The first draft of a specification from OSGi is expected to be ready the first quarter of 2000.
Still seeking consensus
Almost everyone involved in the RG debate agrees that the current residential network interface solutions would be more effective with the deployment of a centralized gateway. But that is where the agreement ends. Because of the nature of existing external access networks, the diverse business models from service providers, the different network interface devices that already exist or are under development, and many other tech-nical and business issues involved, there will be no single RG solution for the foreseeable future.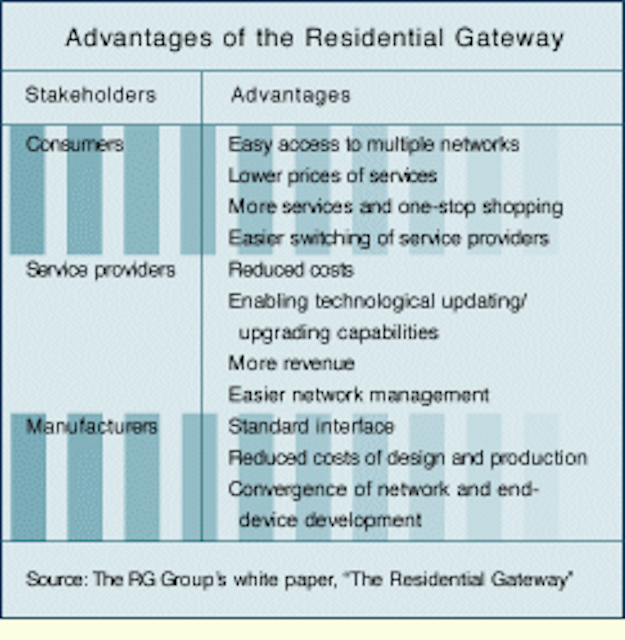 Click here to enlarge image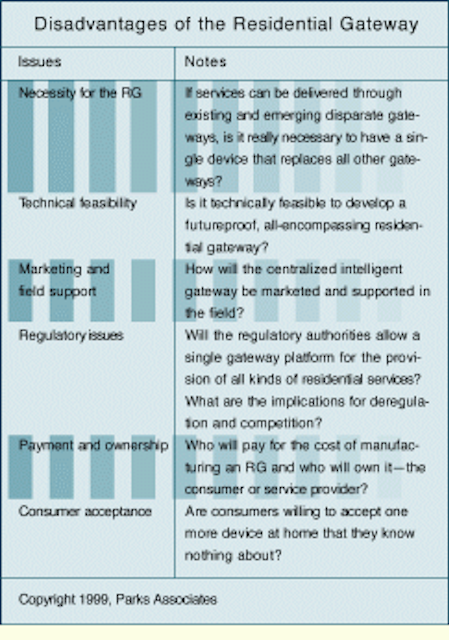 Click here to enlarge image
RG classifications
The definition of the term "residential gateway" (RG) depends on whether it refers to a single, centralized, whole-house residential gateway--as advocated by the RG Group--or a more generic residential gateway that could be one of multiple gateways outside and/or inside the house. Because different people and industries interpret the term differently, it is understandable that there are many devices called residential gateways.
The cable-TV industry views the RG as a set-top box; the computer industry regards an enhanced PC as a residential gateway; and the security and home-automation industries see the RG as a specialized device mounted on an inside wall next to the wiring distribution hub. Grayson Evans, president of the Training Department, views cable modems, digital-subscriber-line (DSL) modems, and digital set-top boxes as the first versions of a viable residential gateway being deployed. However, some other advocates of residential gateways believe that the RG definition should not be so broad.
Timothy Schoechle of the International Center for Standards Research, University of Colorado, has provided a new classification of residential gateways that encompasses most of the differing views of residential gateways. His classification is as follows:
•First generation--single wide-area network (WAN) to single local-area-network (LAN)/application
•Second generation--single WAN to multi-LAN/application
•Third generation--multi-WAN to multi-LAN/application
Parks Associates` view is that if the term "RG" refers to a single residential gateway, then only a centralized whole-house gateway (proposed by the RG Group and termed "third-generation gateway" by Timothy Schoechle) can be called a gateway device. But because a few existing products already provide some specific gateway functions and because there are very different views from industries, the term "RG" can be used in a broad or generic sense. Although Schoechle`s three-generation model provides a neat, historical approach to classifying different gateway devices, it is inadequate to cover gateway devices that are network-independent and yet enable only specific services. Parks Associates provides an alternative classification model on the basis of two aspects: access network and RG functionality (services/applications enabled by a given RG).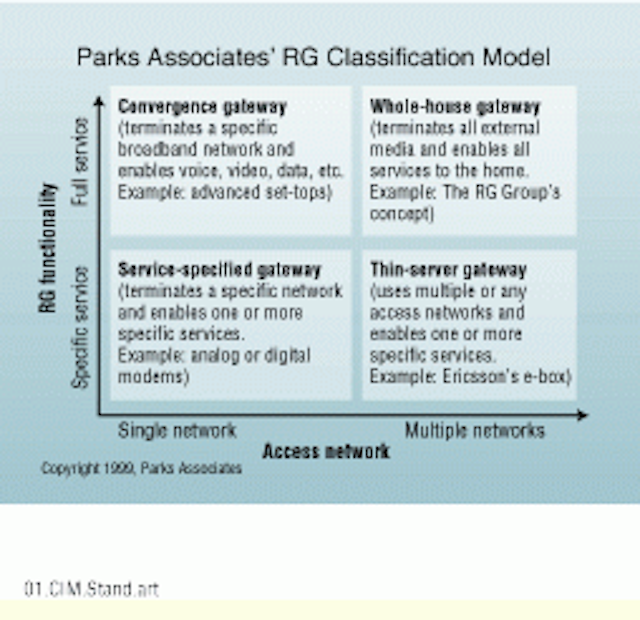 Click here to enlarge image
Hongjun Li is director of research and general manager of Parks Associates, a Dallas-based market-research and consulting firm specializing in emerging residential technologies. Li can be reached at hongjun@parksassociates.com or (972) 490-1113.