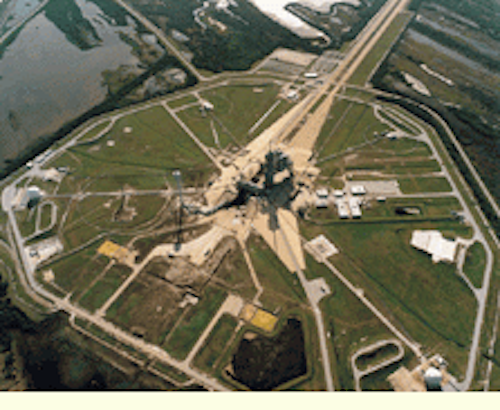 The Kennedy Space Center`s unique video-distribution needs drove the move from a copper to a fiber-optic network.
Anita S. Becker
In 1978, the first fiber-optic cable was placed for testing at Kennedy Space Center (KSC) in Florida. Before that time, the transmission of critical engineering video for NASA`s (National Aeronautics & Space Administration) space shuttle launch sites was dependent upon twinaxial copper cable installed more than 20 years ago.
Today, KSC is in the process of moving to an all-fiber-optic backbone and virtual network from a copper-based point-to-point network. "Our decisions are really being driven by the economics of the system," explains NASA`s Bill Toler. "The future of communications is not in the point-to-point arena, so we are deploying Asynchronous Transfer Mode [ATM] technology. Digital video is certainly a driver."
Toler, the lead engineer for transmission and cable systems, explains, "The process of moving from physical point-to-point networks to virtual networks has just gotten into full swing within the last year." KSC`s fiber-optic backbone currently has Cisco Stratcom BPX ATM switches, and Cisco 8540 multiservice switch routers are being evaluated for eventual deployment into the backbone. "The ATM effort has been a steady thing ever since I`ve been here," says Toler, who has been with NASA since 1984 and has seen the enormous project through almost from the beginning. "ATM and Synchronous Optical Network [Sonet] technologies are allowing us to realize the fiber`s full potential."
In the early 1980s, NASA began to develop specifications to make the procurements necessary for moving its wideband network from 16-gauge, aircore, twinaxial cable to a fiber-optic video network. Using frequency-modulation techniques, the older 1-volt, peak-to-peak video transmission system is being transferred to the fiber-based system. The new system consists primarily of 50/125-micron multimode cable at runs of 15,000 to 20,000 feet and uses light-emitting diodes (LEDs) rather than lasers. The result was the desired fiber-optic wideband system. "Our aim was to recreate the analog video telecommunication capability over fiber optics," explains Toler.
About 253 miles of cable, containing 13,000 miles of fiber, have been placed to date. "A considerable amount of twinaxial cable had been installed years ago for KSC`s video and higher-bandwidth signals," says Toler, explaining the need for the upgrade. "We started the actual transition from copper in the late 1980s because the twinaxial cable went out of production. The copper wideband equipment has continued to be reliable and maintainable throughout the phase-out period."
Before the upgrade, NASA`s voice and data traffic was transmitted over the same circuit. "Today, NASA`s video, voice, and data traffic is mainly multiplexed on 50/125-micron multimode fiber," Toler says. The cable plant is shared by shuttle data systems, payload data systems, and institutional systems.
The capacity for high-quality video is important to NASA. Systems engineers and other Launch Control Center (LCC) personnel analyze videotaped images from shuttle operations closely. "There are 70 cameras on each launch pad watching the launch and providing engineering video," says Toler. The operational television (OTV) images are transmitted to the LCC for recording and distribution throughout KSC and to other NASA centers. Within the next four years, the OTV system will transition from analog to serial digital video, operating at 270 megabits per second per channel. The 270-Mbit/sec digital video streams will be transmitted to the LCC for recording and display on engineering consoles and will also be compressed for distribution to other areas.
In the interest of efficiency and economy, NASA and Houston-based United Space Alliance (USA), the prime shuttle operations contractor, found it was more cost-effective to transmit analog video over multimode fiber for the short term. The multimode fiber`s capacity was maximized using 1300/1550-nanometer wavelength-division-multiplexing technology developed by NASA and its engineering-development contractors.
Last May, KSC performed the first test on the new fiber-optic interface from Kennedy`s outside plant to the shuttle`s mobile launch platform (MLP). The MLP and the space shuttle are electrically and mechanically mated with supporting pad facilities and ground-support equipment, and all interfaces are verified in a series of launch-pad validation checks.
This article originally appeared in the June 1999 issue of OSP Engineering & Construction, another PennWell publication.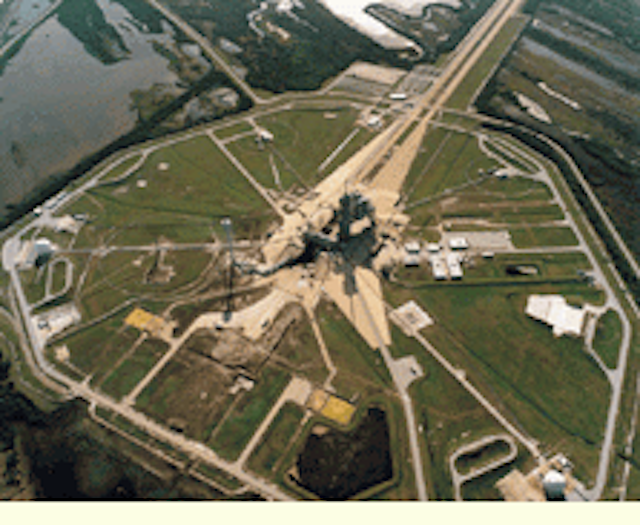 Click here to enlarge image
The Kennedy Space Center project has placed about 253 miles of cable, containing 13,000 miles of fiber, to date.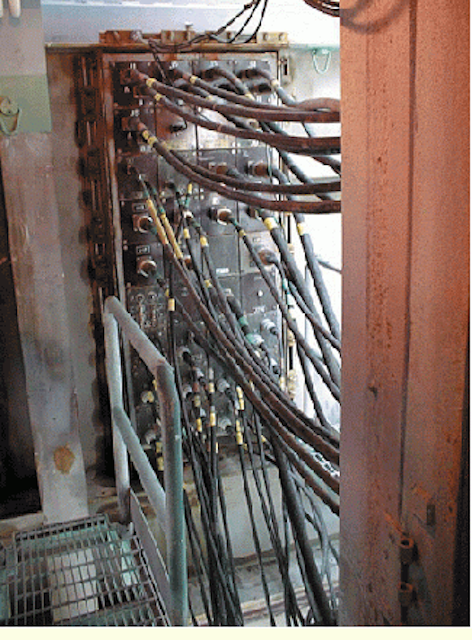 Click here to enlarge image
A new fiber-optic interface (in panels J6 and J7) allows direct optical transmission between the Launch Control Center and the space shuttle`s mobile launch platform.
Anita S. Becker is associate editor of Integrated Communications Design, another PennWell publication.