Copper splicing: It's not a lost art (yet)
High-speed data on campus may require cable splicing.
Jul 1st, 2000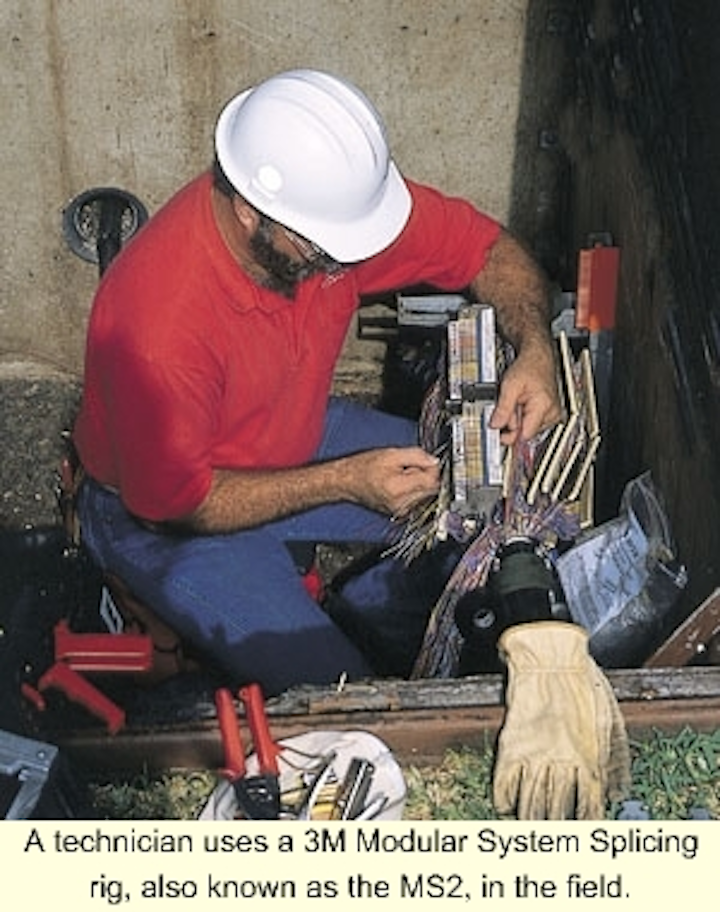 High-speed data on campus may require cable splicing.
Arlyn S. Powell, Jr.
Splicing copper cable is usually considered a telephone-company procedure and, therefore, of little or no interest to those in the premises and campus markets. However, copper-cable splicing does have a campus outside-plant application that is both current and important.
Doug Dahms, an international market manager with 3M Telecom Systems Div. (Austin,TX), who has 27 years of copper-splicing experience, explains: "Not all voice connections will handle high-speed data applications. Twist-and-sleeve and compression connectors used by telcos to splice high-pair-count copper cables in the past are subject to copper-oxide buildup and high-resistance faults over time, which doesn't affect voice traffic but may degrade high-speed data protocols such as ADSL [asymmetric digital subscriber line]."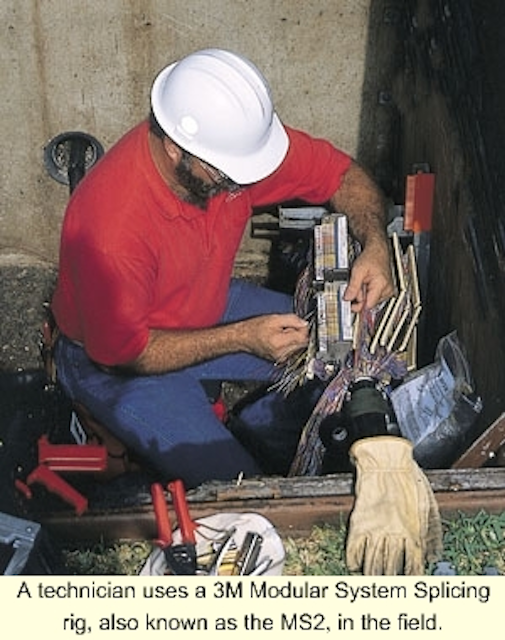 A technician uses a 3M Modular System Splicing rig, also known as the MS2, in the field.
Click here to enlarge image
Twist-and-sleeve connectors, according to Dahms, rely on stripped wire ends being twisted together and then covered with a paper sleeve; compression connectors simply press the two stripped wire ends that are to be joined together. "The same problem develops with the familiar screw-terminal connections in an outside-plant environment over time," he adds. "What is needed is an insulation-displacement connection [IDC], which is gas-tight."
IDC connections, familiar to premises installers in punch-down blocks, are also used in the outside plant, then, to avoid oxide buildup. "When telcos upgrade their plants so they can offer high-speed data services," Dahms explains, "the copper in the ground represents a large investment. So does the infrastructure such as vaults and conduits. It makes sense, then, to just go in and redo the splices with IDC connectors."
Reconditioning high-pair-count copper cable in the campus outside plant by replacing splices is not a job for amateurs, and in fact, both telcos and cabling contractors are likely to subcontract the work to splicing specialists.
3M, long a dominant player in the copper-splicing market, offers two methods of splicing or resplicing cables: discrete and modular. The discrete method depends on the Scotchlok connector, a device that crimps the two wires together. The modular method is more efficient and usually less expensive than discrete connectors. It relies on a splicing rig and module that is used to connect the wire pairs in groups.
"Attaching a discrete connector requires that the circuit be interrupted," explains Dahms. "This is unacceptable to many telcos. Modular units, on the other hand, are described as 'make-before-break,' because they make the new IDC connections, while at the same time cutting off the old splices. This requires about 6 inches of slack in the cable, but it allows you to cut over without interrupting service."
3M offers two basic types of splicing rigs: Modular System Splicing, or MS2, and the 3M 710 Module. Each can handle a 25-pair cable or binder group, so that 100 wire ends are connected simultaneously. The IDC connections that result, according to 3M, are Category 5-compliant, UL-listed, and also meet the gas-tight specifications of most telcos and the International Telecommunications Union (ITU-Geneva).
"For high-pair-count applications, we recommend the modular approach," says Dahms. "With discrete splices, an experienced technician can do about 50 to 75 per hour. With a modular unit, that number increases to 200 to 300 per hour. A modular unit is also more accurate when it comes to lining up wires to be spliced, so it offers greater accuracy and better wire management. And a modular unit can help the technician identify bad pairs, so it's useful for troubleshooting."
Insulation-displacement connectors, like the MS2 splicing module, are key to ensuring the copper network is ready for high-speed data applications.
Click here to enlarge image
Dahms emphasizes that experienced independent splicers are likely to have the proper rigs and modules. (The rigs come in several different versions, depending on whether they will be used in the central office or in the field, and whether they will be used to splice high-pair-count or more modest-sized cables. An MS2 splicing rig only works with an MS2 module, and the same is true of the 710 rig.) Since an individual telco is likely to standardize on one rig or the other, professional splicers usually carry both.
The procedure for splicing or resplicing a copper cable involves removing the outer cable sheath, splicing the binder groups in order, and restoring the integrity of the cable by covering the splice point with a closure.
Dahms explains that two basic types of splice closures have been used in the outside plant. Encapsulated closures are sealed by filling the closure and its seams with a water-resistant sealing compound. These units are difficult to re-enter, since breaking the seal and removing the sealing compound can be time-consuming, arduous, and messy. More popular with telcos today are mechanical closures, which can be re-entered to rework splices.
If added protection against moisture is needed, 3M recommends use of a sealant box as secondary protection of a closure. A sealant box will remain watertight when immersed for up to one year. Aerial closures-free-breathing and therefore subject to condensation in the day-night cycle-and pedestals-usually placed above ground-can be protected with gel modules, which are tested to withstand immersion for 56 days (versus one year for the more rugged sealant box).
"In older facilities," adds Dahms, "all high-pair-count cables were pressurized, but pressurization is difficult to install and difficult to maintain. Today, a telco, faced with the need for pressurization, would migrate to a fiber-optic cable or jelly-filled construction. The latter type is packed with petroleum jelly to keep out moisture. When water gets into a cable, it migrates to the lowest point, which is usually the splice point, just where you don't want moisture."


---
A few cautions....
3M's Doug Dahms offers several cautions when considering copper-wire splicing:
Telco voice cables frequently contain devices called bridge taps and load coils. Taps must be removed to accommodate digital-subscriber-line networking-another reason that copper-cable splices must be replaced in the customer-owned outside plant (OSP).
The techniques, equipment, and expertise required to splice copper wires are completely different from those needed for optical fiber. The two processes do not overlap at all.
Although copper-cable splicing is permitted in the OSP by the standards of the Telecommunications Industry Association (Arlington, VA), it is forbidden for Category 5 installations inside a building. In most cases, outdoor cable must be spliced to differing indoor cable at the demarcation point or entry facility, which must lie within 50 feet of where the OSP cable enters a building.
---
For More Information...
3M is currently developing Web-based training for copper splicing. In addition, the company is now training the master trainers of BICSI (Tampa, FL) in preparation for BICSI offering a customer-owned outside-plant specialization and registration early next year. In addition to the 3M Telecom Systems Div. (Austin, TX), the following companies are listed in PennWell's OSP Engineering & Construction Buyer's Guide 2000 issue as offering copper-wire splicing tools:
Anixter Inc. (distributor-Skokie, IL)
Cable Connection & Supply (distributor-Faribault, MN)
Clauss Fiberoptic/Telecom Div. (Fremont, OH)
Ideal Industries (Sycamore, IL)
KGP Telecommunications (distributor-Faribault, MN)
King Safety Products (St. Charles, MO)
Nutmeg Utility Products (Cheshire, CT)
Paladin Tools/Connectool (Ashland, VA)
Primus-Sievert (Cherry Valley, IL)
PT Technologies (Safety Harbor, FL)
Sprint North Supply (distributor-New Century, KS)