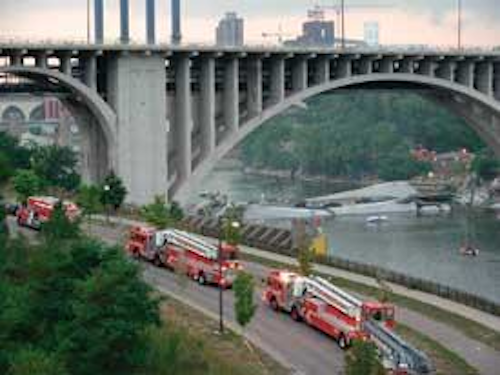 Many failures and some successes mark cities' efforts to deploy wide scale Wi-Fi.
by Betsy Ziobron
Citywide Wi-Fi initiatives have received significant attention over the past few years, with networks built or contemplated in more than 400 cities across the U.S. Concerns surrounding finances, interference, and security, however, have many cities evaluating Wi-Fi business models while others are scrapping the idea altogether.
Various business models
When deploying a citywide Wi-Fi network, cities must first decide on a viable business model. The key issues involve deciding who is going to own the network, who will pay for installation and maintenance, and what applications to support. Cities typically select from one of the following models or a combination of models: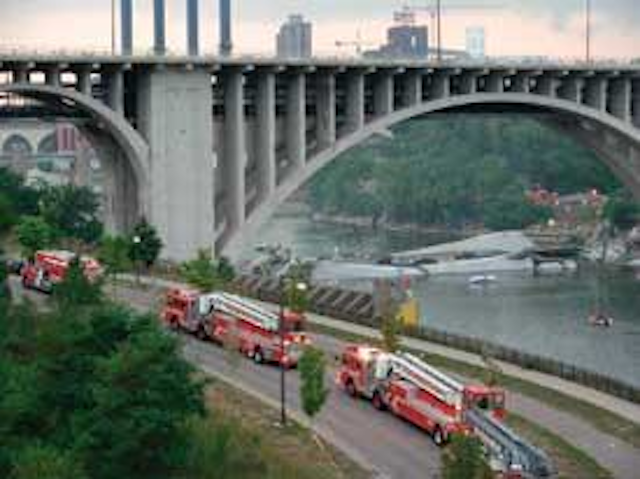 When emergency crews began rescue efforts on the scene of the Minneapolis bridge collapse in August, rescue workers on the floating mobile command center used the city's Wi-Fi network to communicate with city agencies.
Click here to enlarge image
Nonprofit. Some cities, like Boston, are turning to nonprofit organizations that volunteer to deploy and operate the Wi-Fi network mainly through grants, loans, and donations. For example, Boston's Wi-Fi plan calls for a nonprofit to deliver Wi-Fi at wholesale prices to those who want to provide access either free or for a charge. In this scenario, community-based or other nonprofit organizations could use grant money to offer service, and the city could purchase access at wholesale prices for its own municipal use.
Private investment. This model involves cooperation and investment from local businesses to fund and implement the network, with minimal municipality involvement. That's the model that Nashua, NH decided to adopt when they sought to deliver free service to the public and customers of the city's downtown businesses.
"We came into the game late enough to know that attempting to have the entire deployment paid for by an outside vendor wouldn't work," says John Barker, director of Nashua's Information Technology Division. "We decided on a sponsorship model where local businesses contribute funds, understanding that they get some exposure and it's a civic contribution that ultimately brings more people downtown, which is good for the city and business opportunities."
Third-party provider. Some cities are turning over utility poles and other real estate to third-party providers who install and operate networks. In this scenario, the operational costs are typically paid for via subscriber rates and advertising dollars. Often, in exchange for access to poles, the city has leverage in negotiating rates for city officials or low-income residents. Unfortunately, many cities are finding advertising revenue coming up short, and that this business model simply isn't working.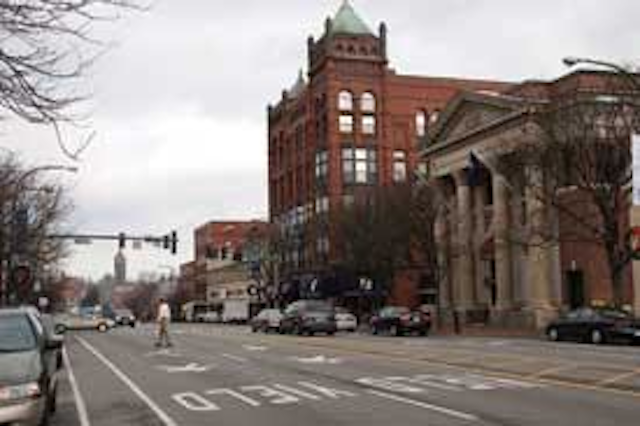 Downtown Nashua, NH had its Wi-Fi project put on hold for approximately six months while planners opted against rooftop access-point installation in favor of on-pole installation.
Click here to enlarge image
Municipal. Wi-Fi networks installed, owned, and operated by a municipality are typically paid for through grants, city budgets, and taxpayer dollars. In this scenario, some cities charge residents for access, which is often limited to specific downtown areas or city parks. Other municipalities limit the network to specific applications, such as mobile communications for emergency services, automated meter reading, intelligent traffic controls, or city workers who need access when out in the field. For example, in late 2006, Rock Hill, SC decided to deploy a city-owned and -operated network for the sole purpose of improving public safety and public-worker efficiency.
Woes for many
Every city faces challenges when embarking on a citywide Wi-Fi deployment, and contracting with a third- party vendor is materializing as a flawed model.
"Reality is finally coming to many cities who somehow thought that advertising or charging for some level of premium service was going to pay for Wi-Fi," says Barker. "The reality is that advertisers are not lining up, and users will not pay for the service. Short of a captive audience like an airport, there's no environment where users will pay for citywide Wi-Fi. They have service at home, at work, at school, and in libraries, or they can walk along and find an environment where the signal is bleeding out of a building."
The Chicago Sun-Times recently reported that its home city decided against deploying Wi-Fi due to rising costs, declining demand, and increased competition, along with the fact that potential third-party providers demanded that Chicago pay an annual fee to use the network for city services.
"A municipal Wi-Fi network was initially envisioned as a way to provide cheaper, high-speed access to consumers; but given the rapid pace of changing technology, in just two short years, the marketplace has altered significantly," said Chicago's chief technology officer, Hardik Bhatt in a recent press release. "When neither organization could justify a business case for the type of partnership outlined in our proposal, we realized after much consideration that we need to re-evaluate our approach to provide universal and affordable access to high-speed Internet as part of the city's broader digital inclusion efforts."
Chicago is still pursuing private-sector sponsorship to subsidize computers, software, and education for providing low-income residents access to the Internet through schools, libraries, and community centers.
"The poor and disenfranchised are not grabbing their valuable laptops, if they have them, and wandering into public parks in poor neighborhoods where they're more worried about crime," says Nashua's Barker. "They're going into community centers and libraries for free Internet access."
San Francisco's plan to bring citywide Wi-Fi to residents in early 2008 was also cancelled in late August due to disagreements over a contract with Earthlink, the Atlanta-based Internet provider that recently announced significant layoffs and cutbacks. Financial and contract issues are affecting proposed Wi-Fi deployments in several other U.S. cities, including Houston and Milwaukee, and several Wi-Fi mesh startup companies are suffering.
Interference and security are also at the forefront of concerns, and proper testing is a must.
Just like premises deployments, citywide Wi-Fi can be affected by interference from other wireless devices attempting to transmit over the same channel, including microwave ovens, handheld phones, newer Bluetooth devices, and even garage doors. When Chaska, MN deployed one of the first citywide Wi-Fi networks, planners didn't realize that wet, leafy trees would absorb signals and hamper coverage, and the city had to add more antennas. Managing operations like maintaining security to avoid viruses and attacks is another challenge that many cities across the U.S. have not considered when deploying wireless networks.
Even choosing the right business model is not without challenge. When Nashua's Chamber of Commerce adopted a sponsorship model for its downtown mesh Wi-Fi project, organizers thought they were on the right path by removing political decision-making powers and financial dependence on the city or third-party provider. "We had the funding from local business and had hoped to have the network up and running by the end of September, but our downfall was the belief that it would be easy to get access points up on rooftops," says Barker. "In some instances, we had trouble finding out who owned the buildings, and then some owners wouldn't let us penetrate the roof for electrical connections."
As a result of these challenges, Nashua has postponed its downtown Wi-Fi project until March 2008 and is now looking into using existing poles, which they had originally tried to avoid.
"We didn't want to negotiate with the utility company or bring a whole lot of politicians into the process, but you can never put your eggs in one basket," says Barker. "Now, we are working to determine who owns the poles-the city or the utility company-and I believe we'll need approval from both. The reality is that putting off deployment will give us the extra time we need to work through these issues, and in the long run, the technical advantage of using poles will make it worthwhile."
Success in small doses
Despite deployment woes in many cities, some citywide Wi-Fi deployments are proving successful. Many of those involve the municipal model where networks primarily support emergency services.
"When you refer to Wi-Fi for emergency operations, everybody nods their heads," says Barker. "However, the complexity of planning, and the amount of money involved, is a larger undertaking. We really need to treat Wi-Fi for emergency operations like any other city system, but it will still be challenging-just like it's challenging to maintain garbage service, water, roads, and bridges."
The City of Nashua released a request for proposal in October for a municipal broadband project that is completely separate from its downtown Wi-Fi project for public access. The multi-year phased project will redesign the entire city network with fiber and point-to-point Wi-Fi technology aimed to support emergency communications, as well as traffic signaling, and video inside cruisers, at intersections, and in schools.
"Our municipal project won't be for public use at all, but it is, of course, for the citizens of the city-protection for them and the ability for efficient communications during emergencies," he says. "We'll be looking for grants through Homeland Security, funds for emergency operations, and bonding from the city. The savings we can draw from not paying for leased T-1 lines also becomes a significant chip in the game."
When a bridge collapsed in Minneapolis in August, the city used its partially built network to help support rescue and relief efforts, demonstrating the importance of municipal Wi-Fi systems. Within moments of the bridge collapsing, Minneapolis opened the Wi-Fi service and placed additional access points in areas surrounding the disaster, hoping to alleviate the flooded cellular network.
The Wi-Fi network provided an alternate connection for city personnel to electronically exchange information, enabled rescue workers on the floating mobile command center to communicate with city agencies during the rescue and salvage operation, and provided access for traffic-routing information, Red Cross collection banks, and news outlets.
"I'm not really sure what the relief effort would have looked like if this network had not been in place, " says Joe Caldwell, chief executive officer of the company building and providing Wi-Fi service in Minneapolis. "Wi-Fi's role in the emergency response during the bridge disaster proves the technology's potential to save lives across America."
Nashua's Barker agrees: "9/11 was a turning point in cities realizing that a Wi-Fi system for emergencies is critical, but just like a road, a bridge, or a hospital, you can't show [return on investment] on emergency Wi-Fi. There's a lot of soft value that you can't justify with dollars, but when disaster strikes, no one is going to want to hear that emergency personnel couldn't communicate because we didn't want to put the money into the system. Like any major city infrastructure, citizens are beginning to expect it.
BETSY ZIOBRON is a freelance writer and regular contributor to Cabling Installation & Maintenance. She can be reached at: bziobron@comcast.net