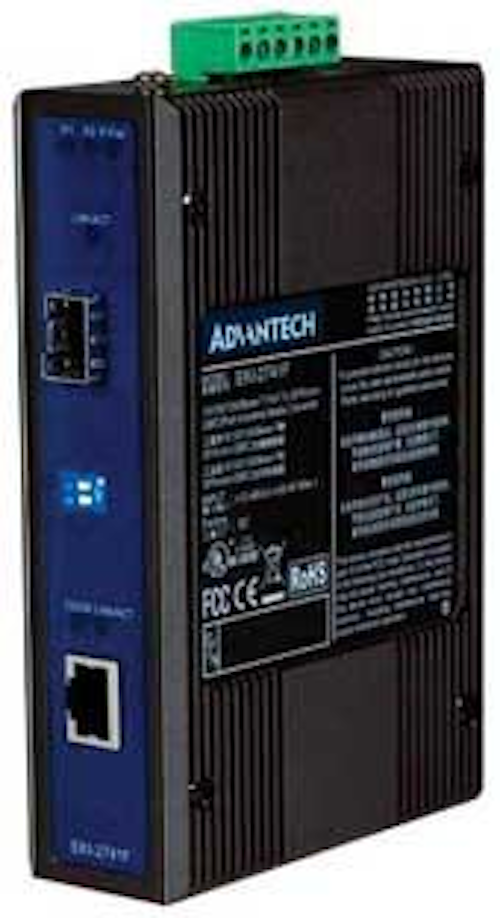 Converter extends GbE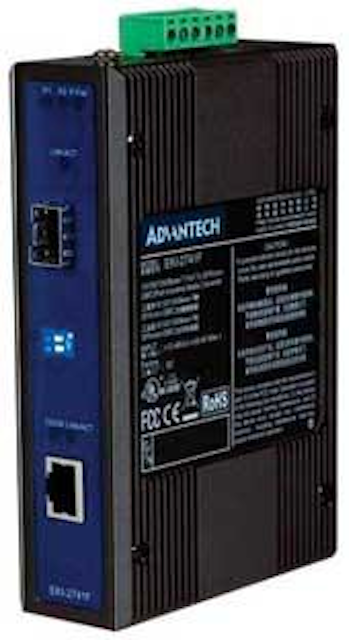 Click here to enlarge image
By combining Gigabit Ethernet with EMI/RFI noise immunity and electrical isolation of fiber-optic cable, the EKI-2741 Industrial Ethernet media converter allows extended Gigabit Ethernet (GbE) connections spanning thousands of feet to several miles. The converter supports 1000Base-SX connections over multimode fiber up to 1,800 feet, and 1000Base-LX connections over 6.2 miles. It also supports a small-form-factor-pluggable (SFP) slot for industry-standard fiber-optic transceiver modules for connections up to 70 miles. Featuring a thin DIN-rail-mount metal chassis, the EKI-2741 is built for limited panel space, and ruggedized for industrial applications with dual 12 to 28 volts DC power inputs, 4,000 volts Ethernet ESD protection, power line surge protection of 3,000 volts, and an operating temperature range of -10° to 60° C.
ADVANTECH AUTOMATION CORP.
www.advantech.com/ia
Tester adds PoE certification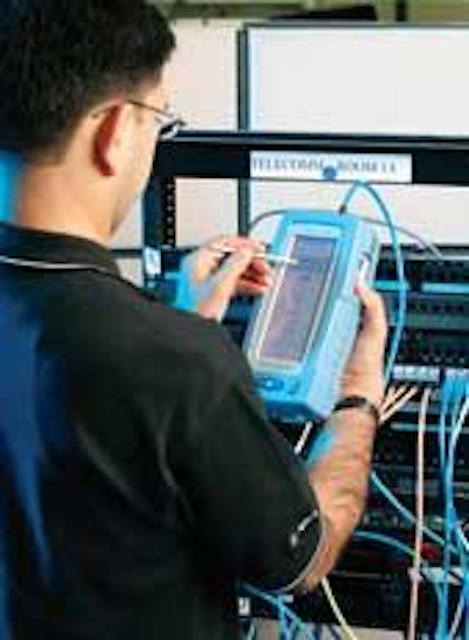 Click here to enlarge image
A new version of software for the WireScope Pro handheld LAN cable tester ensures proper certification of structured cabling in the presence of Power over Ethernet (PoE) mid-span devices and AC-coupled patch panels. PoE mid-span cabling configurations are generally AC-coupled so that DC power is applied in the direction toward networked devices, but not toward the legacy switch ports. The software upgrade lets WireScope Pro test AC-coupled cabling configurations across PoE midspans or across PoE patch panels. With a frequency range of up to 1 GHz, WireScope Pro is capable of testing all common cable standards, including beyond the ISO/IEC Class F limit of 600 MHz.
AGILENT TECHNOLOGIES
www.agilent.com
HDMI shielded twisted-pair
Click here to enlarge image
These high-definition multimedia interface (HDMI) cables are designed to provide a reliable interface between any compatible digital audio/video source and a compatible digital audio and/or video monitor in a home theater installation, as well as providing support for standard, enhanced, or high-definition video and multi-channel digital audio on a single assembly. The 26-AWG shielded twisted-pair cables are available in lengths of 1, 2, 3, 5 and 7 meters. All cables are UL-rated for residential and commercial use.
BELDEN
www.belden.com
Small round Cat 6A; outdoor Category 6
The LANmark 10G2 UTP cable features what the company claims is the industry's smallest round outside diameter (.300-inch nominal). It features a patent-pending design that incorporates four twisted pairs cabled with three monofilament elements to ensure a completely round cross-section. The cable is guaranteed to meet electrical component requirements of the proposed TIA-568-B.2-10 standard for Category 6A, supporting IEEE 10GBase-T out to 100 meters. According to the company, with its small round design and reduced bend radius, the cable simplifies high-density installations, such a data centers, and improves airflow in the pathway.

Click here to enlarge image
The LANmark-6 OSP (outside plant) cable includes a water-blocking gel compound within the core that encases the four UTP copper pairs and a flexible, black polyolefin, UV-resistant jacket. With a total outside diameter of .250 inches, the cable is designed to support such facilities as portable classrooms, detached garages, guard shacks, and other wet locations. The cable is also suitable for exterior security cameras. This NEC and TIA/EIA-568.B.2-1-compliant cable can provide data, video, and power on all four pairs through Power over Ethernet capabilities.
BERK-TEK
www.berktek.com
U.S.-made cabling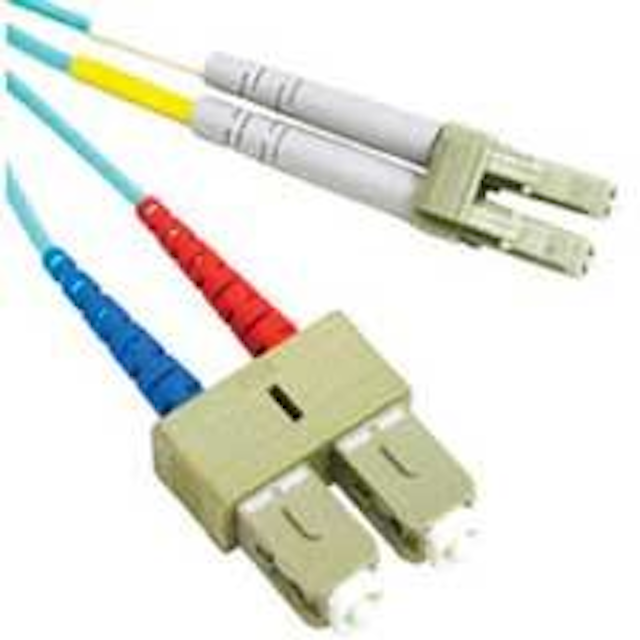 Click here to enlarge image
USA-made fiber-optic patch cords are designed for federal contractors, resellers, and end users, as well as customers who need to procure products that are manufactured exclusively in the United States. All manufacturing and testing of these patch cords take place at the company's facilities in Iowa and North Carolina. Available in a variety of fiber types, the patch cords can be custom-ordered to satisfy length and type requirements, and are covered by a lifetime warranty against defects from manufacturing or workmanship.
CABLES TO GO
www.cablestogo.com
Plug-and-play fiber riser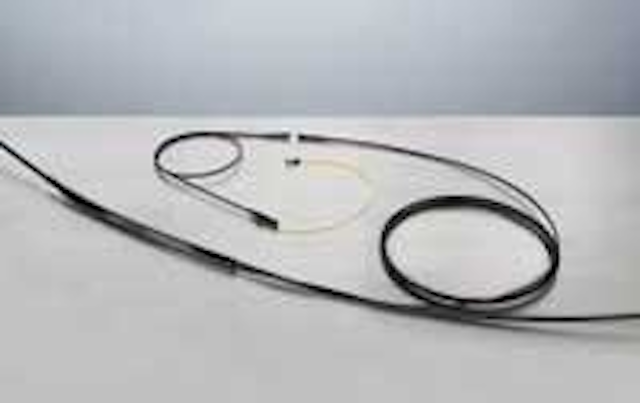 Click here to enlarge image
The Plug & Play ISP System is designed to provide a cost-effective method for deploying optical fiber in inside plant (ISP) riser and factory floor environments, and at speeds significantly faster than traditional field installation. The system features fire-retardant optical-fiber cables with tether attachment points (TAP) pre-installed at customer-specified intervals. Each TAP provides access to the fibers via a single or dual 12-fiber tether that is terminated with the company's OptiTip MT connector. This configuration allows up to 24 fibers per TAP to be dropped via single cable pull at each floor in a riser, or each workstation on a factory floor. Systems are available in singlemode and multimode, and consist of factory-terminated and tested distribution trunk cables, tethers, and harnesses com- patible with 2.0-inch duct.
CORNING CABLE SYSTEMS
www.corningcablesystems.com
Network troubleshooter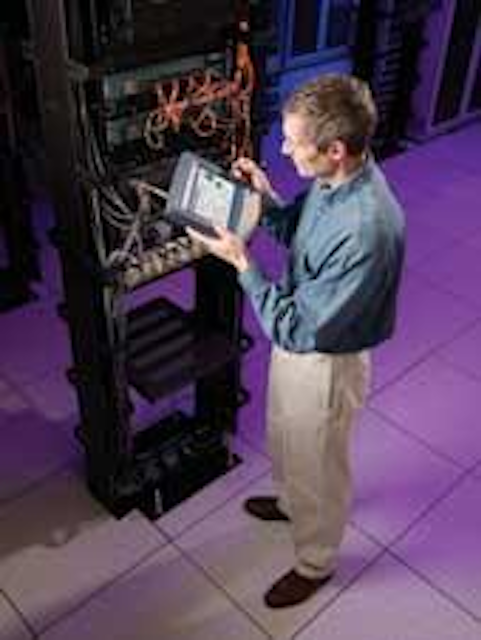 Click here to enlarge image
The OptiView Series III portable monitoring and troubleshooting tool for network maintenance now offers a troubleshooting expert option designed to significantly reduce the time needed to identify problem areas. New views of network traffic include round-trip network latency, plus the response time of the far-end server. Traffic data is presented via a new graphical transactions chart, showing results in an intuitive, visual format. The chart includes drill-down capability, providing a simplified means of capturing packet-level detail. In addition, an OptiView Reporter feature turns automated network discovery into complete network documentation using Visio-based mapping.
FLUKE NETWORKS
www.flukenetworks.com
KVM over Category 5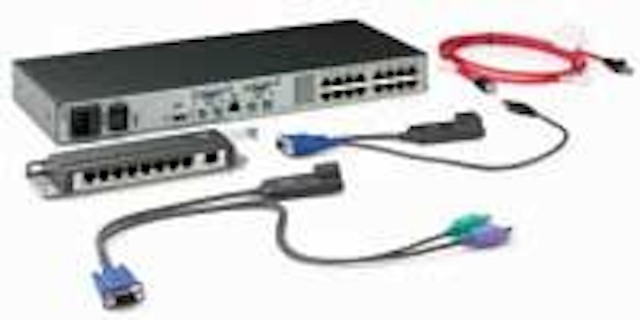 Click here to enlarge image
HP Server Console Switches are designed to provide a KVM (keyboard/video/mouse) solution for data center management-including blade servers, network devices, and infrastructure-with the ability to manage up to 256 servers from a single KVM console. Switches use Category 5 UTP cables between devices, and allow for field termination to custom lengths, eliminating coils of cabling in the rear of the rack. An Interface Adapter (IA) that connects from the cable to the server KVM ports provides keep-alive and naming functionality; should the Category 5 cable become disconnected from the switch, the IA will still respond as if the KVM were present, allowing a server reboot without errors.
HEWLETT PACKARD
www.hp.com/go/infrastructure
Data center SAN kit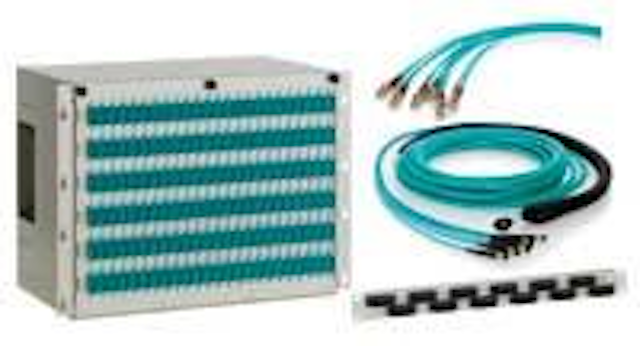 Click here to enlarge image
The Replicator Kit series of products supports new high-density SAN switches from Cisco, Foundry Net, Brocade, and others used in the data center. A port-replicated patch panel incorporates logical port management (LPM), which simplifies physical patching between the switch and associated equipment by directly replicating port configurations at the MDA. Associated trunks, MTP panels, and harnesses complete each kit. The kits are available in multimode and singlemode versions, and all factory terminations feature a maximum insertion loss of .5 dB to ensure 10-gigabit capability.
LEVITON VOICE & DATA DIVISION
www.levitonvoicedata.com