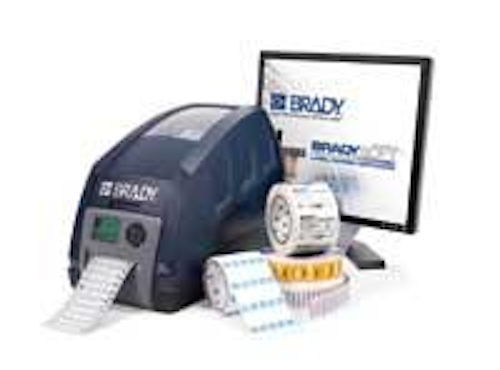 Load, click, and print thermal transfer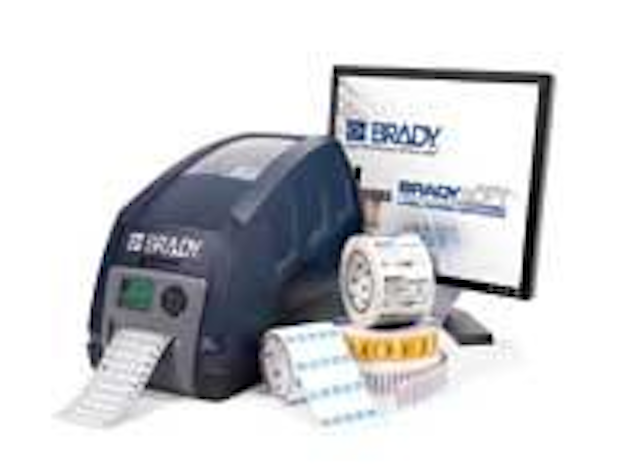 Click here to enlarge image
The IP Series printer system, featuring smart-cell technology, lets the printer, material, ribbon and software communicate together, letting you load the material, click the software interface, and quickly print a variety of labels, tags, and sleeves. According to the company, compared to other printers requiring up to 15 minutes to change materials, the IP Series needs only five minutes to load. Bi-directional smart-cell technology recognizes the correct material and ribbon combination, visually tracks usage levels, and adjusts sensor positions. Available in 300 or 600 dpi, the IP Series has a straight path to loading media and ribbon, eliminating the need to wind and thread material through a series of mechanics. The ribbon spindle is automatically centered, helping to reduce ribbon wrinkle.
BRADY CORP.
www.bradycorp.com
Thermal transfer printer with integrated memory cassettes
Click here to enlarge image
Labels for the Cougar LS9 handheld thermal transfer printer are provided in a fast-loading P1 label cassette that contains an integrated memory device for automatic formatting, recall of last legend used, and number of labels remaining in the cassette. The Cougar prints on a wide variety of continuous industrial label materials for wire/cable marking, component labeling, and safety/facility identification. A partial cut features provides the flexibility to choose tear-apart strips of labels for simplified installation.
PANDUIT
www.panduit.com
Multi-functional labeling software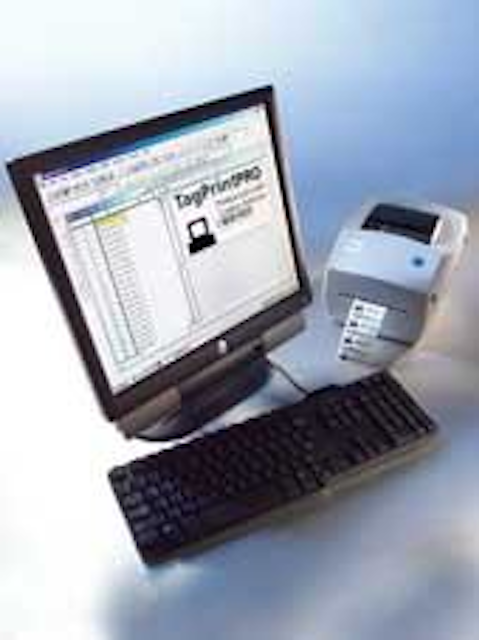 Click here to enlarge image
TagPrint Pro labeling software is designed to provide solutions for industrial identification and speed label- making. It features what-you-see-is-what-you-get label creation, bar coding, serialization, label sets, wire lists, graphics, and text choices. The software can be used with the company's selection of label options, including laser, ink jet, dot matrix, thermal transfer, and ShrinkTrak printable heat-shrink tubing.
HELLERMANNTYTON
www.hellermann.tyton.com
Portable thermal transfer printer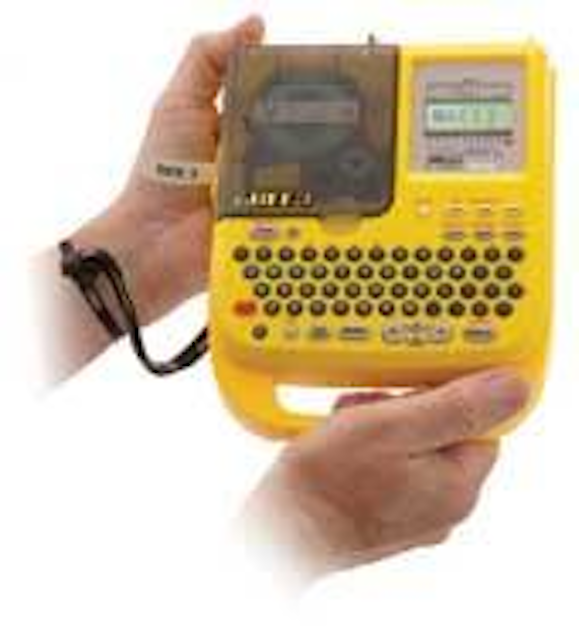 Click here to enlarge image
The 3-in-1 LABELShop BEE3 portable thermal transfer printer provides label, bar code, and heat-shrink tube capability for identifying wire and cable items wherever a durable, adhesive-backed label is needed. In an introductory offer, the company will provide a BEE3 printer and six AA batteries free with the purchase of two supply cartridges, a power adapter, and adjustable wrist strap. A three-year unconditional warranty is also included.
K-SUN CORP.
www.k-sun.com
Desktop labeling solution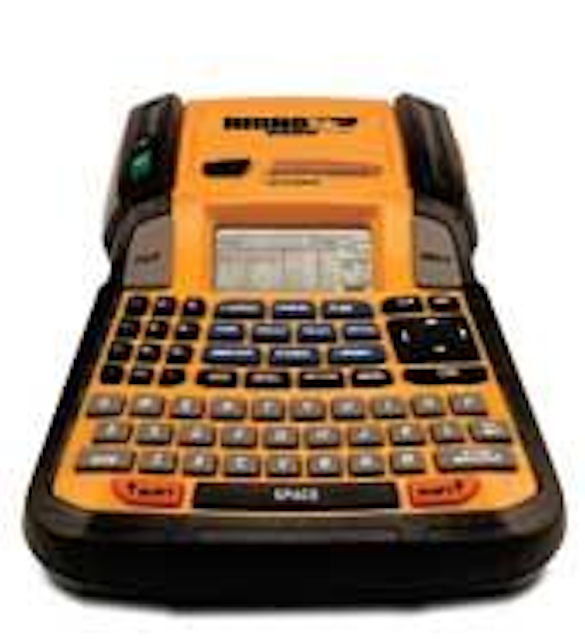 Click here to enlarge image
The RHINO 6500 desktop labeling solution features printer and RHINO CONNECT software bundled together. Built especially for the needs of electrical, datacom, security, and construction markets, the RHINO 6500 features batch printing, which lets you quickly download, print, and automatically cut large labeling jobs, such as for preparing labeling kits for multiple-site cabling installations. Its PC connectivity lets you create label files on your computer using the RHINO CONNECT software or other Windows-compatible software (such as Excel) for direct printing to the 6500 or for downloading the filed for use at the job site. According to the company, this feature is especially useful for electrical and panel assembly, cable harness shops, or multi-building/site projects that require all labels to be consistent and uniform. Other features include a library of more than 250 categorized industry terms and symbols, as well as built-in memory to store more than 1,000 custom labels, such as terms, symbols, graphics, and logos. The 6500 is designed with features such as a large back-lit screen and multiple label display, motorized auto-cutter, industrial casing with an integrated protective bumper, and simplified label access, label cartridge size sensor, automated label cartridge insertion/ejection system, and QWERTY keyboard.
RHINO/DYMO
www.rhinolabeling.com
RFID, snap-around labeling options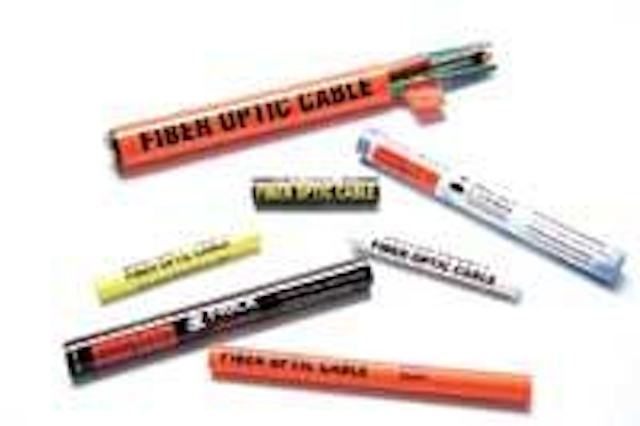 Click here to enlarge image
These cable markers include traditional clippers, durable aluminum versions, and SnapAround designs. Many offer write-on areas that let you record critical data right on the marker. They also can incorporate the company's SmartMark RFID technology that lets you verify inspection locations via a handheld GPS unit. All markers are designed to install quickly with new dedicated installation tools, and can be manufactured in any size or color, including your own message. The company provides full design services to help you create markers with customized messages, phone numbers, and logos.
WILLIAM FRICK & COMPANY
www.fricknet.com
High-speed printer with UV technology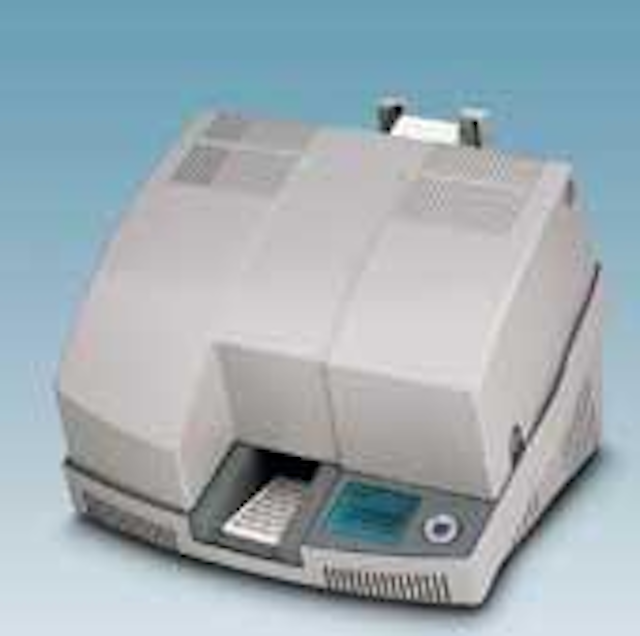 Click here to enlarge image
Using ultraviolet (UV) technology to print markers for terminal blocks and other equipment, the Bluemark printer provides non-smearing, non-smudging markers that are resistant to harsh chemicals and environments. Featuring an output of up to 10,000 markers per hour, the Bluemark's liquid plastic-based ink and UV-curing process provides permanent and immediately useable labels without the need for drying time. Along with a USB interface, the printer is network-compatible via Ethernet, or wirelessly controlled via Bluetooth. A new Clip Project advanced planning and marking software runs the Bluemark, featuring an on-screen graphic interface for simplified set up and printer alignment. You can also import marking files from Excel or text files.
PHOENIX CONTACT
www.phoenixcon.com