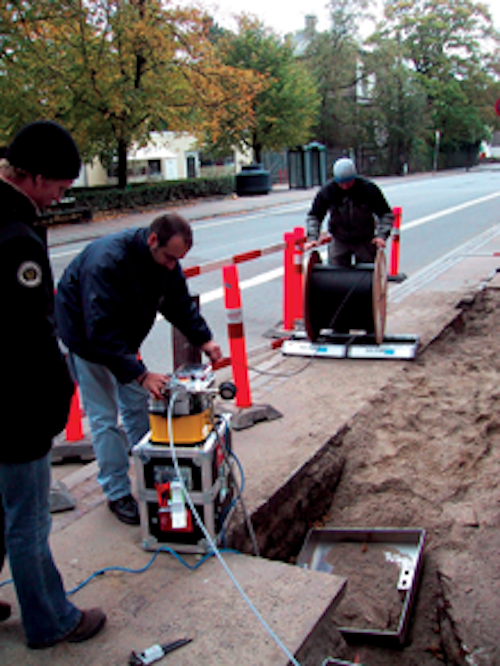 Vendors enhance product lines as blown fiber increases market share in specific markets and regions.
by Betsy Ziobron
First installed in the mid-1980s by British Telecom for use in outside-plant (OSP) applications, blown optical fiber is a system in whichfiber is blown into a network of microduct tubes via an air-delivery system of compressed air or nitrogen. While blown fiber still represents a very small percentage of the premises marketplace, and critics continue to question the system's fiber protection and cost savings, acceptance is being fueled by new standards and the buy-in of some key customers. Meanwhile, vendors continueto enhance their systems with new products and features, and manyclaim growth in specific marketsegments.
Gaining ground
"We're now seeing real live applications that require a lot more bandwidth and create an increased demand for fiber," says Kurt Templeman, product manager for Sumitomo Electric Lightwave, which manufactures the FutureFLEX air-blown optical fiber system (www. futureflex.com). "That, combined with fiber-rich customers, is certainly helping the blown fiber market."
According to Sumitomo, acceptance of blown fiber has improved, and the company has experienced significant growth in the commercial premises marketplace where they focus their efforts.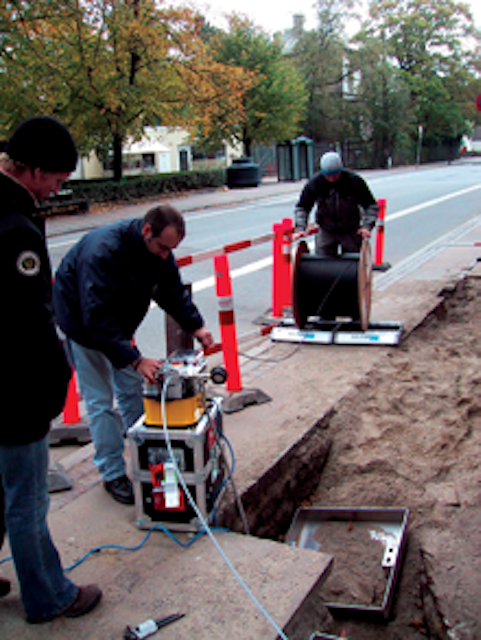 Emtelle recently launched blowing equipment that allows installers to blow in fiber with counts of 1 to 96 using a single machine, sharply reducing setup time.
Click here to enlarge image
"The technology is not so far out in left field anymore, and there are many 'who's who' that are installing it, which is giving much more credibility to the technology," says Templeman. As an example, the company says that blown fiber at McCarran International Airport in Las Vegas led to similar airport projects, including Dallas/Forth Worth, Miami International, and Boston's Logan.
Avoiding disruption during network expansions and reconfigurations continues to be a huge factor in determining which market segments experience the most growth. As a result, most blown fiber vendors are experiencing success in areas like convention centers, stadiums, airports, hospitals, and military applications.
"Blown fiber eliminates disruption of day-to-day business operations when changes are required," says Tibor van Melsem Kocsis, commercial director for Emtelle (www.emtelle.com), manufacturer of the Fiberflow blown fiber system. "There is no opening of the ceilings, and these customers can literally ask one person to go to the central office and blow in new fiber."
According to van Melsem, lack of disruption is also significant in fiber-to-the-home (FTTH) applications where Emtelle is gaining traction throughout Europe. "When you look at FTTH in urban areas, disruption is even more of an issue," he explains. "In Germany, there are several cities where nobody gets a permit to dig up a street. In some of those areas, we have installed microducts throughout sewer systems that allow communities to blow in fiber to specific locations."
General Cable (www.generalcable.com), which offers the Blolite system, has not seen as much growth in the commercial arena, but has experienced success in military and non-military specialty markets. "We are gaining traction in specialty markets because these customers can really see the value of replacing the fiber, and many of the applications require infrastructures to be spec'd in for 50 or 60 years," says Greg Carnes, fiber product manager for General Cable.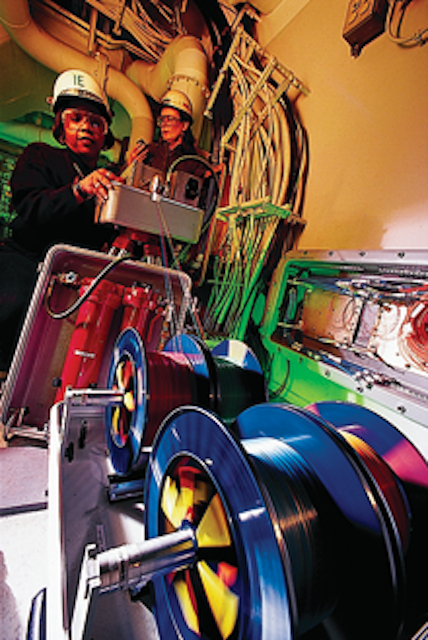 Blown optical fiber is a system in which fiber is blown into a network of microduct tubes via an air delivery system of compressed air or nitrogen. (Source: General Cable)
Click here to enlarge image
Acceptance is also being fueled by an increase in the number of companies focusing on the technology, such as Prysmian (formerly Pirelli Cables and Systems), Ericsson of Sweden, and Dura-Line. "We've seen a huge increase in the number of companies that have moved into blown fiber," says van Melsem. "It's good to have competition because that means people see that there is a market for this technology."
Standards to boot
For years, critics of blown fiber have pointed out the lack of standards as one of the foremost issues for not supporting the technology; however, The International Electrotechnical Commission (IEC; www.iec.ch) recently published the first global blown fiber standard (IEC 60794-5), which included definitions of blown fiber products and a test menu for customers.
"While the IEC standard won't be the driving factor for market growth in Europe, it will definitely help; when technology is written down in standards, it always has more credibility," says van Melsem. According to Emtelle, the standard will enable those who manufacture, install, and operate blown fiber technology to communicate with greater clarity, cooperate more efficiently, and design and install increasingly effective blown fiber systems.
IEC 60794-6, Microduct Cabling for Installation by Blowing, covers OSP products and addresses issues like optical fiber, microducts, installation and operating conditions, and testing and quality assurance. The test methods called out in the standard are based on the already widely accepted IEC 60794-12 standard. Currently in draft form, two other standards (IEC 60794-5-10 and 60794-5-20) will further detail the acceptance criteria for the testing of mini-cables and fiber unit systems. It is expected that these standards will be finalized late this year or early 2008.
Although the new IEC standard will have more influence in Europe than in the United States, domestic manufacturers believe it can only help the acceptance of blown fiber technology here. "It certainly can't hurt us to have a standard, but only time will tell what its influence will be here in the U.S.," says Carnes of General Cable.
Some vendors focus more on blown fiber technology than others, but all continue to promote their products with new features and technologies. Sumitomo Electric Lightwave recently expanded its FutureFLEX product line with new hybrid fiber bundles that the company says can yield a three-fold increase in efficiency for each individual tube.
"We're now seeing a wide array in the types of fiber coming into network operation centers because customers are laying multiple topologies over the same backbone infrastructure," says Templeman. "These customers require different types for various applications, like voice, data, security, and building automation, which is why we decided to offer the hybrid bundle."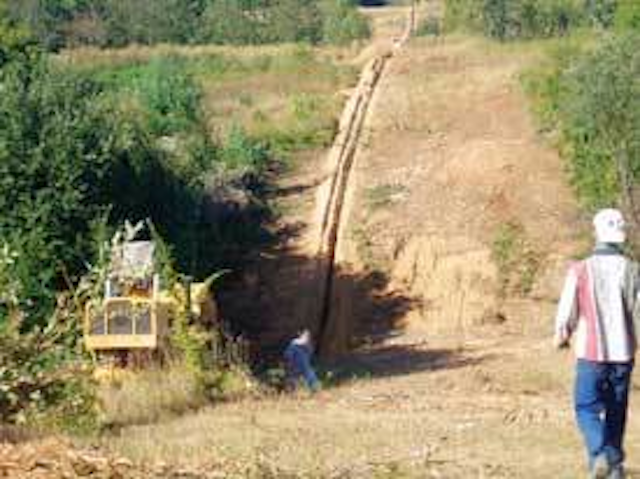 In Europe, blown fiber is a popular means of bringing fiber to the home, which means that a fiber-optic system sometimes must travel through difficult terrain. (Source: Emtelle)
Click here to enlarge image
These new hybrid bundles allow traditional 50- and 62.5-µm multimode, singlemode, and laser-optimized 50-µm fiber to share one of FutureFLEX's 19 tubes, whereas previously they were blown into one or more of the inner tube cells, requiring a two-step fiber insertion.
Emtelle has focused most of its recent efforts on products that contribute economically to the acceptance of blown fiber to the home by driving down the cost of labor, which can account for nearly 70% of the total cost for a FTTH investment. "As soon as we can drive down that cost of labor, by either reducing the amount of labor required or simplifying the process, that has a huge impact on the total cost," says van Melsem. "We believe that training is one of the key differentiators that make a blown fiber installation successful. By offering focused, simple training, consultants, engineers, and installers can understand the various dynamics involved and provide better, faster installations."
Emtelle has also introduced a full line of enclosures that are geared toward blown fiber systems, and also recently launched blowing equipment that lets installers blow in fiber with counts of 1 to 96 on the same machine. "The new blowing equipment allows installers to reduce setup time and become very familiar with one machine," says van Melsem. "When it comes to labor costs, we see reducing setup time as a real benefit."
While blown fiber is not a huge focus for General Cable, the company says it is a good product line that it will continue to promote. General Cable's Blolite is available in all fiber types, and the company recently introduced a larger 19-tube cable. "Because we've been successful in specialty markets, we can continue to make product enhancements and offer our products in the commercial space as well," says Carnes.
Worldwide potential
Throughout the world, blown fiber has growth potential in several specific markets and regions. In Europe, the most significant area for growth is in the FTTH market, where labor rates are high, operating expenses are of constant concern, and the business models are an advantage.
"There are quite a few business models in Europe that are driving FTTH," says van Melsem. "We're seeing things like local authorities investing with commercial companies to improve the infrastructure. Denmark alone, which is a relatively small country, has 1.3 billion Euros reserved to build out FTTH."
Van Melsem adds, "When it comes to FTTH, investments can be easily upgraded when takeup rate goes up. Maintenance is cheaper, and the use of preterminated blown fiber reduces the amount of labor and specialized skills required."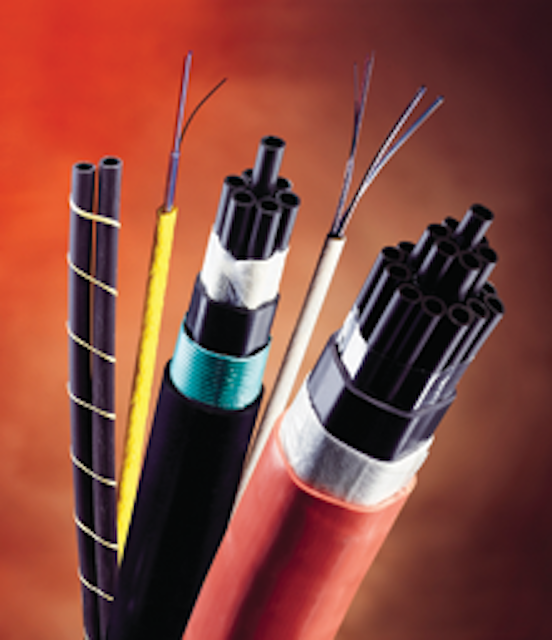 Sumitomo reports significant growth in deployment of its FutureFLEX blown fiber system in the commercial premises marketplace where the company focuses its efforts.
Click here to enlarge image
The FTTH market in the U.S., however, does not offer as much growth potential. "Incumbent service providers like Verizon are not bending over backwards to put in blown fiber," says Templeman. "The cost models in Europe don't necessarily work here in the U.S. They have a lot more multiple-dwelling units and historical concerns than we do."
Global reach
The Middle East is another region showing recent interest in blown fiber technology,with daily requests coming out of countries like Pakistan, Iran, Iraq, and United Arab Emirates (UAE), where a lot of money is being targeted to build, or rebuild and revitalize, the region. Installers and designers in that region are considering which technology they should invest in, and certain regulations are pushing some installers to consider blown fiber.
"Here in Iran, we have a producer of traditional fiber that our government urges all the installers to buy from," explains Naser Vahidi, an Iranian installer. "If we want to work independently, we have to approach our projects with another type of solution, like blown fiber. "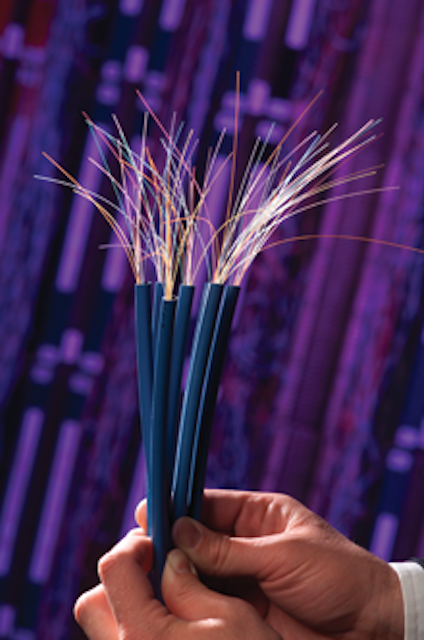 General Cable has experienced success in the military and non-military specialty markets with its Blolite blown fiber system.
Click here to enlarge image
A good deal of blown fiber is being installed in Dubai, UAE, which has recently attracted worldwide attention through innovative real estate projects and is increasingly developing as a hub for IT and finance. "Dubai has unbelievable structures, and they want everything to be the most advanced," says Alexandra Manning, marketing communications manager with Sumitomo. "Money is not an issue, and they understand that they have many resources to protect, they're going to have a lot of changes, and the blown fiber system makes the most sense."
Healthcare opportunities
In the U.S., the most potential for growth continues to be the healthcare, education, and entertainment industries, as well as military and specialty applications.
"When it comes to hospitals, blown fiber offers a very clean installation that saves IT departments so much hassle with infections disease control agencies and officers," says Manning. "Once the tubes are installed, they can blow fiber anywhere without disturbing the airflow or having to move patients to accommodate installation."
Despite better acceptance and growth, product enhancements, and worldwide potential, blown fiber technology still has an uphill climb. "Acceptance has a lot to do with the period of time that a market or region has been familiar with the technology, " says van Melsem. "When we deal with customers that have been deploying traditional technology for a long period of time, it makes it more complicated to convince them otherwise. That's human nature."
BETSY ZIOBRON is a freelance writer and regular contributor to Cabling Installation & Maintenance. She can be reached at: bziobron@comcast.net