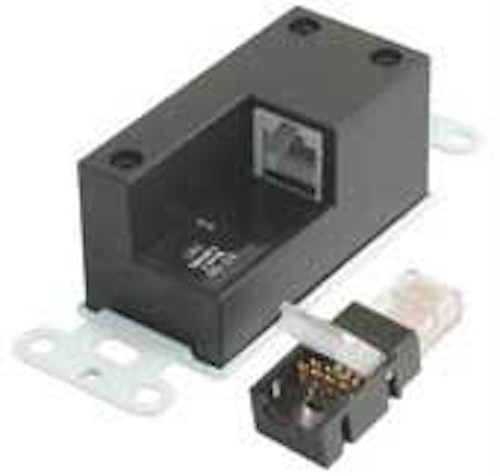 USB signal extender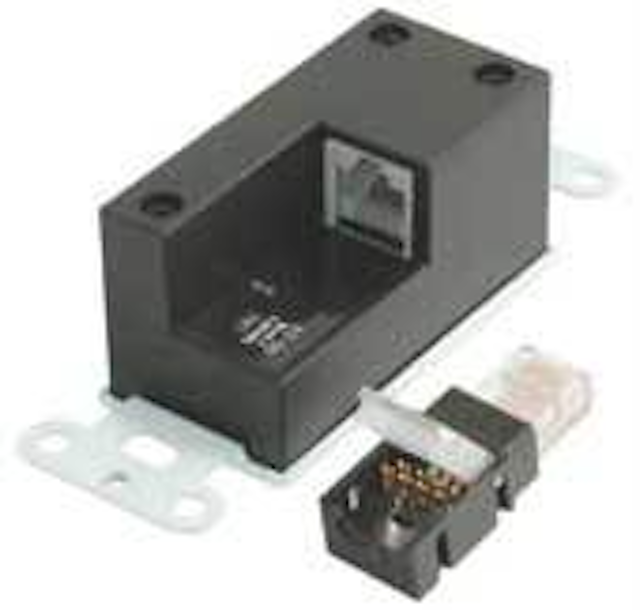 Click here to enlarge image
The patent-pending USB SuperBooster wall plate allows a USB signal to run over Category 5, 5e, and 6 patch cords, enabling a USB device to function with a host computer up to 150 feet (compared to typical wall plates at 15 feet). SuperBooster is designed for peripheral access in remote locations, and for secure placement of critical equipment. The plug-and-play device consists of a transmitter unit with USB Type B female input and RJ-45 female output connectors, and a receiver unit with RF-45 female input and USB Type A female output connectors. Choose pre-terminated network cables or pull un-terminated cable and use the tool-less IDC RJ-45 connectors that are included with the device. No external power is required.
CABLES TO GO
www.cablestogo.com
Sliding splice shelf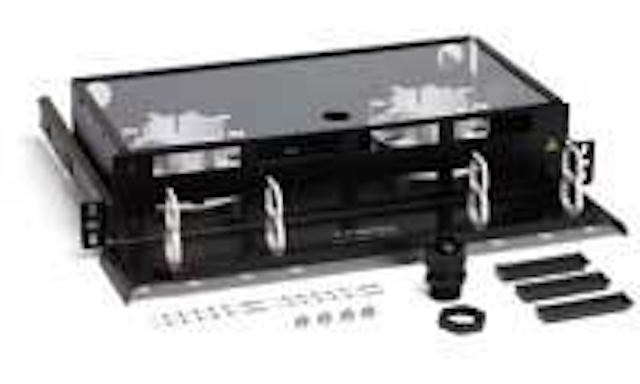 Click here to enlarge image
Designed to accommodate up to 96 LC, 48 ST, or 48 SC adapters, the RFE-SLF-EMT/2U frame-mounted, slide-out termination shelf can also be used as a splice unit to store 96 single fusion splices, 72 mechanical splices, or 36 mass fusion splices. The shelf comes with slots for eight ganged adapters and three blank panels (also available with adapters installed). The unit is 3.5 inches high, 17.2 inches wide, and 8 inches deep.
COMMSCOPE/UNIPRISE
www.uniprisesolutions.com
Data center UPS
Click here to enlarge image
The Powerware 9395 uninterruptible power supply (UPS) is designed for data centers, manufacturing operations, medical facilities, and other large system applications. This three-phase, double-conversion, online UPS integrates the capabilities of a redundant multi-module UPS system into a pre-wired solution. Designed to operate at 95% efficiency, Powerware 9395 offers a small footprint and low weight for UPSs in its class. Cabling can enter from either the top or bottom of the cabinet, and the system can integrate with the company's Power Xpert Architecture web-based solution for measuring, monitoring, connecting, and managing power systems.
EATON CORP.
www.eaton.com
Cabling solutions, testers
The Copper & Fiber Cabling Solutions catalog features items most commonly used in premises networks. The resource reflects the company's expanded line of copper products and its end-to-end cabling solutions. In addition, a new family of fiber-optic test equipment includes oversize buttons, large display screens, and protective rubber boots. The line includes OTDRs, optical loss test sets, visual fault locators, and talk sets.
FIBER INSTRUMENT SALES
www.fiberinstrumentsales.com
Structured wiring tester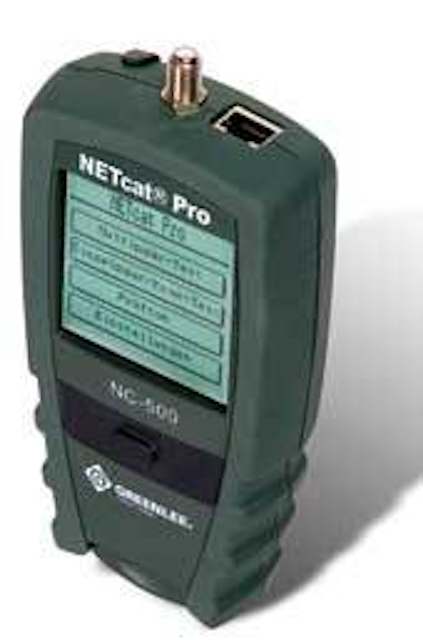 Click here to enlarge image
NETcat Pro NC-500 structured wiring troubleshooter is a digital tool designed for fast and accurate check of cables, wiring, and network service. This one-button, touch-screen tool tests wiring continuity and proper pair allocation, measures cable length, and determines what type of network service is available. NETcat generates four distinct tones for tracing low-loss cables, such as Category 5 and 6, can detect shorts as well as reversed, crossed and split pairs, and identify active network devices on 10/100Base-T networks.
GREENLEE
www.greenlee.com
Three-phase PDUs

Click here to enlarge image
HP 8.6 and 11 kVA three-phase modular power distribution units (PDU) are designed for dense data center environments requiring rack-mount power distribution. Each unit uses a standard input plug and has six IEC C19 outlets. These modular PDUs consist of two building blocks: the control unit and up to six optional extension bars. You can mount the control unit in a 1U/0U space, and mount the extension bars directly to the frame of the rack. The extension bars have seven outlets each, bringing the possible total number of outlets to 42 for each PDU.
HEWLETT PACKARD
www.hp.com/go/infrastructure
Industrial wireless mesh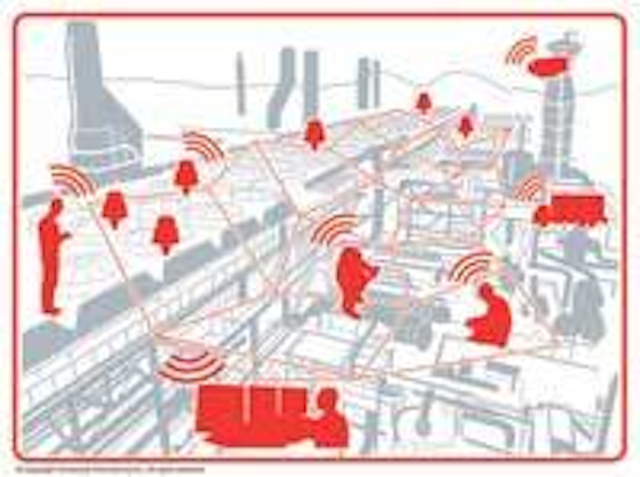 Click here to enlarge image
OneWireless, an industrial wireless mesh network solution, promotes plant safety and efficiency with a scalable infrastructure that supports wireless-enabled devices in strategic locations throughout a facility. Scalable to 30,000 devices, OneWireless also works with wired transmitters, mobile worker devices, and standard Wi-Fi and Ethernet clients. Its open, standards-based infrastructure can simultaneously support multiple industrial protocols and applications.
HONEYWELL
www.honeywell.com
Rack panels, snagless cable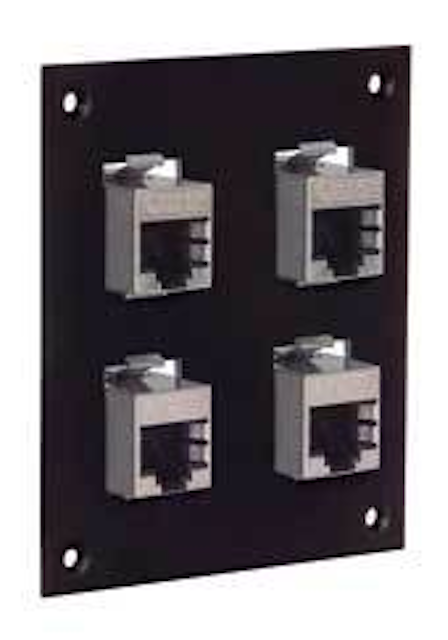 Click here to enlarge image
Black universal sub panels (USP) are constructed of .06-inch steel and feature both popular and hard-to-find connectors, providing flexibility for mixing interfaces needed to support data center and other rack-mount communications applications. Available connectors include fiber-optic, RJ-45/RJ-11/RJ-12, coaxial, D-sub, video, USB, and Firewire couplers.

Click here to enlarge image
In addition, MTP-style fiber-optic patch panels are 1U high and feature 16 MTP couplers, and are especially suited for data centers or anywhere IT professionals need to manage MTP ribbon fibers. In addition to the patch panels, the company also offers MTP panel-mount couplers and MTP connector and coupler dust covers.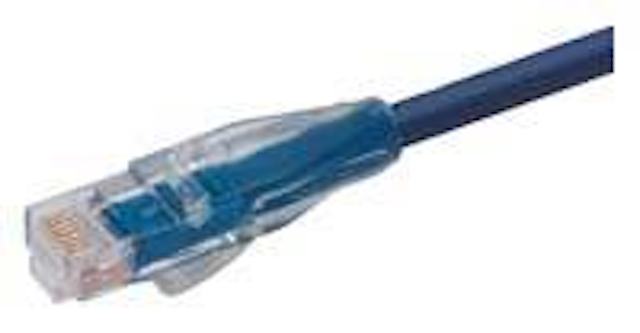 Click here to enlarge image
Also, shark-fin style snagless patch cord boots are designed for high-density patch panels. Boots are made of a flexible material designed for simplified latch depression, and are built for quick patch cable connection since the boot is the same width as the plug. Fully compliant with Category 5e performance specifications, the shark-fin cables come in nine standard colors, and lengths from 3 to 100 feet (custom lengths available).
L-COM CONNECTIVITY PRODUCTS
www.l-com.com
Structured cabling solutions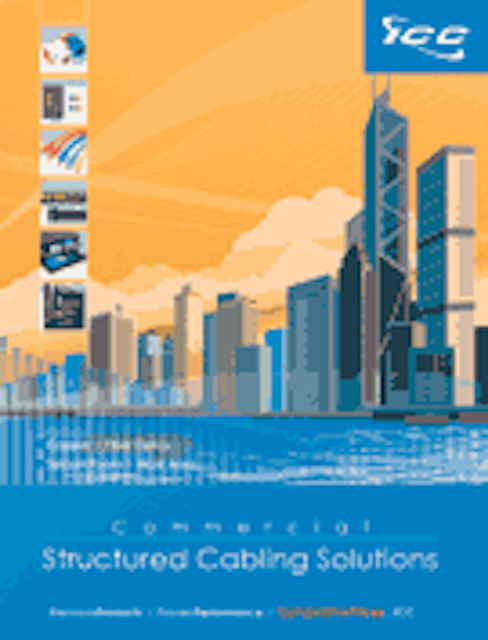 Click here to enlarge image
The 2007 Commercial Structured Cabling Solutions catalog features the company's latest products, including fiber-optic plug-and-play MPO cassettes, 10-Gbit fiber-optic jumpers, Category 6 shielded modular connectors, HDMI Decorex inserts, and 4-pair punchdown tools. The catalog also features expanded product information and user guides.
ICC
www.icc.com
LC, SC fiber connector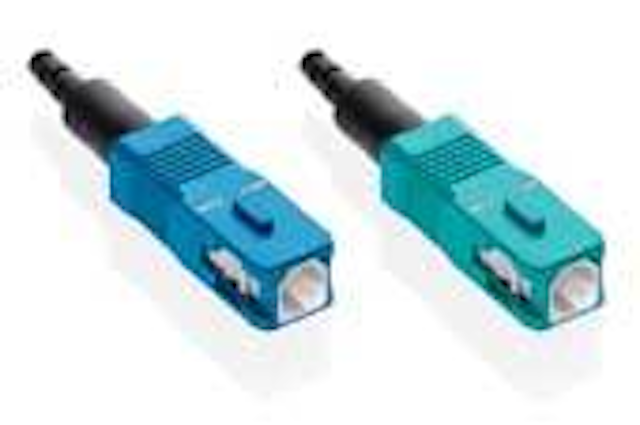 Click here to enlarge image
FastCam fiber-optic connectors now include LC and laser-optimized SC versions. These pre-polished devices are designed to provide simplified, precision mechanical termination of singlemode and multimode fiber, without the need for special tools, epoxy, or hand-polishing. Meeting TIA/EIA performance and intermateability standards, the connectors are available in ST, SC and LC styles for termination on 250- or 900-µm cables in 50/125 and 62.5/125-µm and 50/125-µm laser optimized multimode and singlemode types.
LEVITON VOICE & DATA
www.levitonvoicedata.com
Raised floor clamp, catalog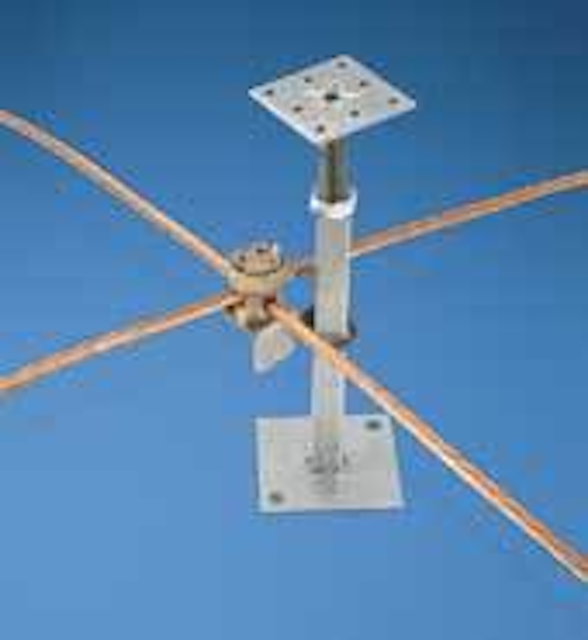 Click here to enlarge image
Designed for grid-based underfloor mesh common bonding networks (MCBNs), the quad-bolt StructuredGround access floor grounding clamp ensures direct contact between the perpendicular MCBN conductors, minimizing overall resistance and creating a strong bond that protects network equipment. The captive U-bolt mounts to round and square pedestals with a single-hinged bolt to speed installation.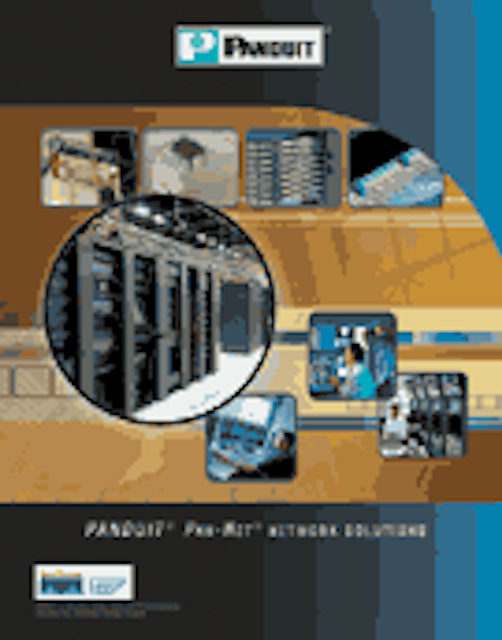 Click here to enlarge image
Also, the Pan-Net Network Solutions catalog features end-to-end connectivity solutions, from the work area to the telecommunications room and data center. Roadmaps illustrate typical applications to help you select the appropriate product for your installation. Also included are updates on emerging technologies, copper and fiber cabling selection guides, and partner programs. In addition to the print version, this catalog is also available on CD and by visiting the company website.
PANDUIT
www.panduit.com
Aerial drop closure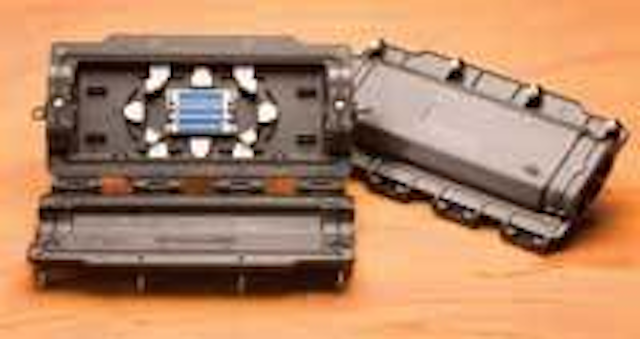 Click here to enlarge image
The Coyote aerial drop closure is designed to provide a protective environment for splicing fiber-optic drop cable in FTTx aerial applications, and its proprietary splicing platform allows for low-count fiber splicing without the need of a splice tray. Made of a thermoplastic resin, the drop closure kit includes everything needed to splice up to 12 fibers "out of the box." No special tools are required. A grommet-sealing system simplifies the installation process and provides added protection from the elements. In a standard configuration, the aerial closure will accept two standard splicing platforms for a total capacity of up to 24 fibers.
PREFORMED LINE PRODUCTS
www.preformed.com
Small-scale polishing tool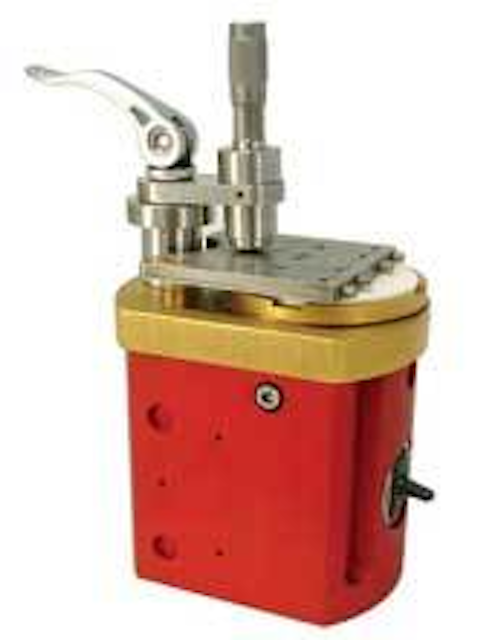 Click here to enlarge image
Featuring a built-in DC motor (optional 12-volt battery) to power the turntable, the FP180m fiber connector polisher is designed for small-scale production and laboratory applications, as well as for terminating fibers in the field. The tool polishes up to three connectors or ferrules simultaneously, features quick release for convenient removal of the polish fixture, and provides adjustable force that ensures a consistent surface finish for a wide variety of connector types. Other features include a quick-change mechanism designed for fast removal of the polishing fixture, and a universal fixture that fits all connectors with the same ferrule diameter.
PRINCETEL INC.
www.princetel.com
Small business WLAN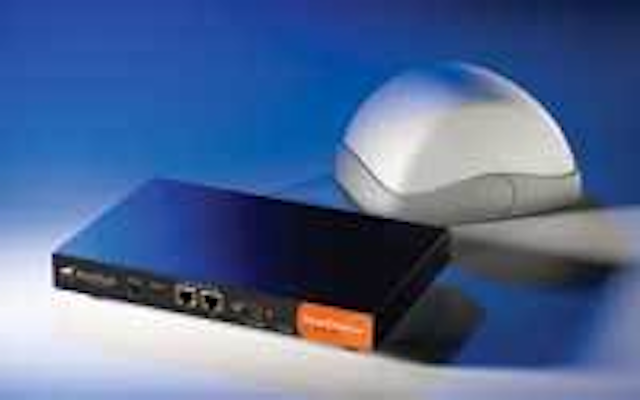 Click here to enlarge image
The ZoneFlex multimedia WLAN system targets small/medium businesses and hot zone operators, leveraging three proprietary technologies to enable plug-and-play WLAN, eliminating Ethernet cabling to access points, and providing simplified user administration (including up-to-date encryption keys and wireless settings). The system is designed to offer robust security, whole-site wireless coverage, and predictable performance for data and voice traffic.
RUCKUS WIRELESS
www.ruckuswireless.com
Cable ties, holders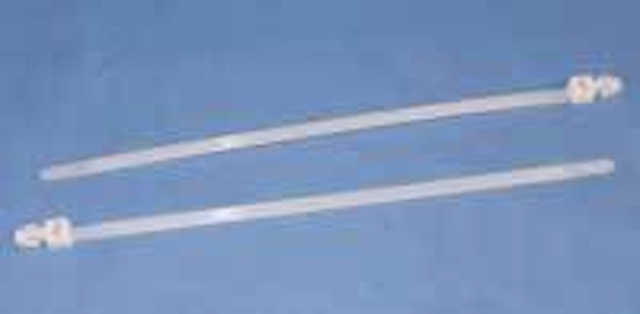 Click here to enlarge image
The WIT-50RLA series of self-mount cable ties snap into a pre-drilled hole. Bundling can be done before or after mounting. The arrowhead mount rotates in the hole to self-align the bundle. Available in four lengths, the ties offer 50-lb. tensile strength and are RoHS-compliant.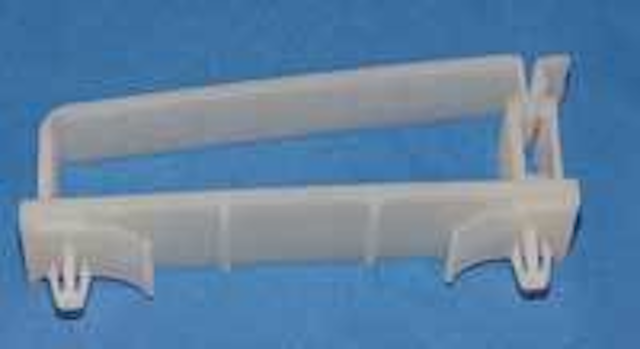 Click here to enlarge image
Built for quick installation in a panel and then snapped in place, the FTH-30 series cable tie holder has the same mounting head as a cable tie, and holds a bundle with pre-assembled cable tie, or can be used as a standard tie holder using ties that are not pre-assembled. When the tail end of the cable tie is inserted, the FTH-30 locks it into place.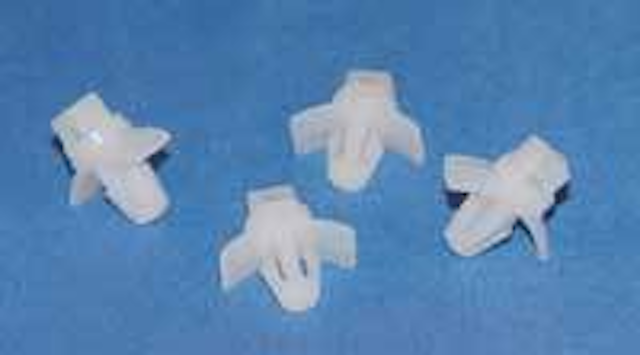 Click here to enlarge image
The FCCB series arrowhead-mount cable clamp features tension wings that provide extra pressure to the board to ensure a snug fit while managing a variety of thicknesses for flat, ribbon, or round cables.
RICHCO
www.richco-inc.com
Three-phase 'smart' PDU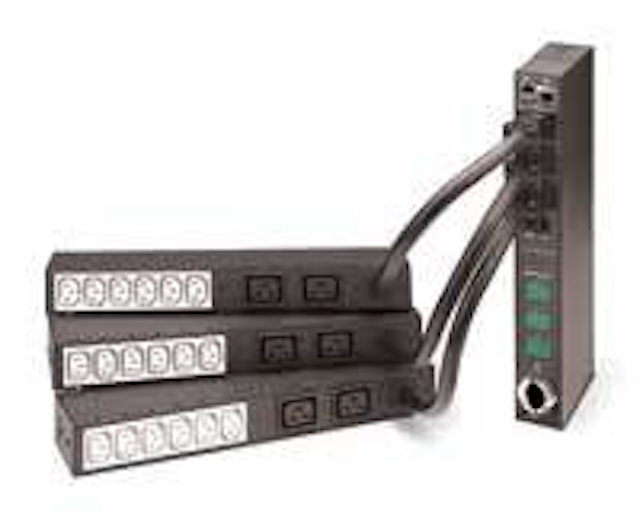 Click here to enlarge image
The Sentry Modular Cabinet Power Distribution Unit (CDU) family is designed to take a three-phase in-feed and distribute single phase power via basic CDUs that can be placed anywhere in the cabinet. These 'smart' devices offer a secure network interface to view current, power, temperature, and humidity levels via a web browser, as well as receive SNMP-based alarms and e-mail alerts when thresholds are exceeded. Each CDU has an associated LED meter for load balancing. The master unit contains the LED meters, a temperature/humidity probe input, serial and IP connection, and link port to connect an expansion CDU . A single power in-feed of three-phase 208-volt 30/60-amp or 400-volt 32-amp can provide from 10.8 to 22.2 kW of power to the cabinet.
SERVER TECHNOLOGY INC.
www.servertech.com